The Palit GTX 460 Sonic Platinum 1GB video cards might just be the best bang for the buck video cards on the market. With two factory overclocked Palit GTX 460s you can enjoy games with pure smoothness, as well as experience smooth 3D performance.
[review_ad]
Introduction – Palit GTX 460 Sonic Platinum 1Gb GDDR5 Video Cards in SLI
Our previous reviews showed how nicely the latest Fermi GTX 460s perform compared to the higher end GTX 470 and top of the line GTX 480. While the charted performance on the GTX 460 did lack compared to the GTX 480 (this was due to a lower amount of stream processors on the GTX 460), the real-life performance in today's latest games was still quite pleasing. In some instances, the stock GTX 460 did have a bit higher performance over the GTX 470, and Palit has now introduced an even faster version of the mainstream GTX 460: the Palit GTX 460 Sonic Platinum 1GB GDDR5.
The Palit GTX 460 Sonic Platinum comes with 336 Stream Processors, along with a 1GB 256-bit GDDR5 memory. The stock GTX 460 also had these specifications, but the performance increase the Sonic Platinum has actually comes from the core speed and memory speed improvement. The Palit GTX 460 Sonic Platinum runs at a core speed of 800MHz, a shader clock speed of 1600MHz, and a memory frequency of 2000MHz. That's a 125MHz increase over the standard 675MHz core speed, a 250MHz increase on the shader clock speed, and a 200MHz increase on the Memory frequency from 1800MHz. Palit also redesigned the layout of the GTX 460 (including the cooler), to make sure that the GTX 460 Sonic Platinum runs optimally.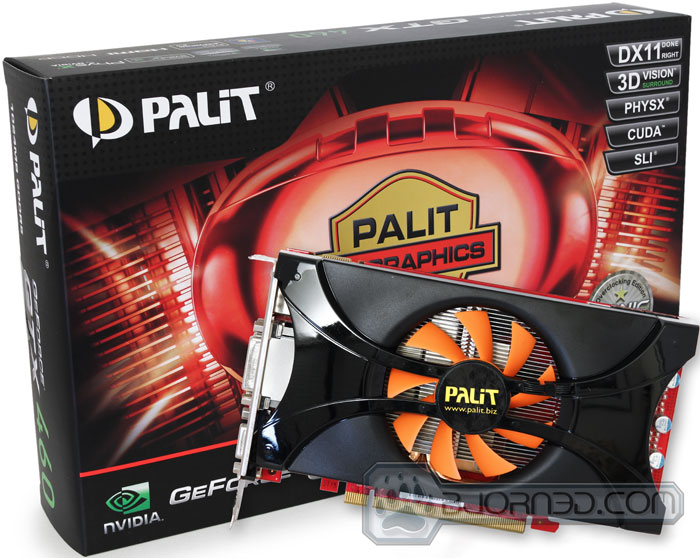 The problem with the stock GTX 460s, is that they lack in performance on higher resolutions, especially above 1920 x 1080. While some users only own monitors that only go up to 1680 x 1050, others might want to experience full performance at these resolutions. This is where the Sonic Platinum comes in with the extra performance. To spice things up a bit more, Palit provided us with two GTX 460 Sonic Platinum video cards for some SLI action. We will see how well it performs at high resolutions like 1920 x 1200, and do price and performance comparisons between two GTX 460s and one GTX 480. We'll also compare performance differences between two GTX 460 reference cards and the Sonic Platinum cards.
Because the GTX 480 retails at around $499, it will be interesting to see how these GTX 460 Sonic Platinum ($249 MSRP) compare against one single GTX 480. Is it possible to get more performance out of two GTX 460s than out of one GTX 480 for the same price? We'll answer these questions in this review.
Palit GeForce® GTX460 Sonic Platinum overclocking edition provides 17.5% faster than default speed. Built from the ground up for DirectX 11, Palit GeForce® GTX460 Sonic Platinum delivers up to 5x the DirectX 11 tessellation performance. Palit GeForce® GTX460 Sonic Platinum packs highly detailed visuals into your games- without sacrificing high frame rates. And with NVIDIA 3D Vision, PhysX, and CUDA technologies, Palit GeForce® GTX460 Sonic Platinum powers all the incredibly realistic effects that your games can throw its way.

Specifications & Features

Bus interface: PCI Express 2.0 Support

Microsoft DirectX11 support

NVIDIA PhysX technology

NVIDIA 3D Vision Ready

NVIDIA CUDA technology

NVIDIA SLI Ready

Microsoft Windows 7 Support

OpenCL Support

OpenGL 4.0 Optimization and Support

NVIDIA GeForce® Unified Driver Architecture (UDA)

Dual-link DVI Support

HDMI 1.4a Support

NVIDIA PureVideo HD Technology

* NVIDIA 3D Vision requires 3D Vision glasses and a 3D Vision-Ready displays.
| Feature/Specification | Nvidia GTX 460 1GB GDDR5 | Palit GTX 460 Sonic Platinum 1GB GDDR5 |
| --- | --- | --- |
| CUDA Cores | 336 | 336 |
| Graphics Clock (MHz) | 675MHz | 800MHz |
| Processor clock (MHz) | 1350MHz | 1600MHz |
| Texture Fill Rate (billion/sec) | 37.8 |  44.8 |
| Memory Clock (MHz) | 1800MHz |  2000MHz |
| Standard Memory Config | 1GB GDDR5 | 1GB GDDR5 |
| Memory Interface Width | 256-bit | 256-bit |
| Memory Bandwidth (GB/sec) | 115.2 | 128.0 |
| Height / Length / Width | 4.376in / 8.25in / Dual-slot | 4.376in / 7.5in / Dual-slot |
As previously mentioned, the Graphics Clock speed has been improved by 125MHz on the Sonic Platinum, along with a 250MHz increase on the Processor (Shader) Clock speed and and a 200Mhz increase in the Memory Clock Speed. All of these improvements help tremendously in rendering games at a higher frames-per-second rate. Since Palit completely redesigned their PCB, their GTX 460 only comes in at 7.5 inches instead of the standard 8.25 inches. This also helps a lot in HTPCs and cases that are short on space.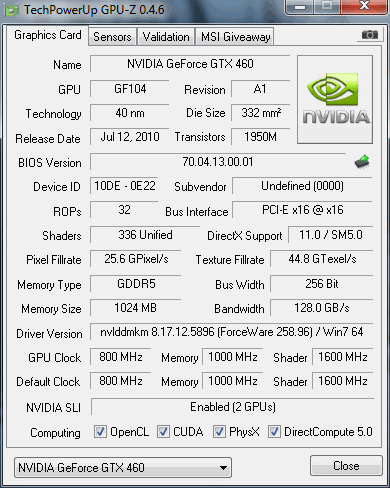 The Evolution of Multi-Display Gaming powered by GeForce® GTX 400 Series GPUs
Imagine expanding your gaming real estate across three displays in Full HD 3D for a completely immersive gaming experience. With the introduction of NVIDIA GeForce GTX 400 GPUs, you can now use the award winning NVIDIA 3D Vision to build the world's first multi-display 3D gaming experience on your PC.
NVIDIA PureVideo
Available on most NVIDIA GeForce, NVIDIA APX applications processors and NVIDIA Quadro GPUs, PureVideo is for playback of standard-definition DVDs, PC video and mobile content. Learn More
What is CUDA?
CUDA is NVIDIA's parallel computing architecture that enables dramatic increases in computing performance by harnessing the power of the GPU (graphics processing unit).
With millions of CUDA-enabled GPUs sold to date, software developers, scientists and researchers are finding broad-ranging uses for CUDA, including image and video processing, computational biology and chemistry, fluid dynamics simulation, CT image reconstruction, seismic analysis, ray tracing and much more.
2010-09-10