Could the GIGABYTE GTX 480 be faster than even the new Nvidia 500 series? We'll take a look at that in this review.
[review_ad]
Introduction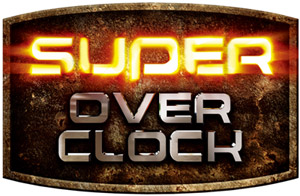 It has been a while since we have reviewed a GTX 480 video card, and with the newly released GF114 GTX 580 GPUs, Nvidia announced that their older GTX 480 (GF100 GPUs) have been discontinued from production. Interestingly, in November 2010, GIGABYTE still announced their highly anticipated GTX 480 Super Overclock video card (also known as the GTX 480 SOC), and it seems that there are still quite a few cards available online. GIGABYTE is famous for their Super Overclocked cards, which use very high quality components that not only provide fantastic results under factory overclocked settings, but also allow users to run their cards at frequencies above the already highly-overclocked specifications that other manufacturers have. These cards are designed with extreme overclockers in mind, providing them with features and voltage settings that require exotic cooling (LN2) or powerful water cooling to keep the card cool. In return these cards can reach frequencies unmatched by most others on the market. GIGABYTE also installed a more efficient vapor chamber designed air cooler with their triple fan design. With such cooling, the users can enjoy overclocked performance at quiet operation while maintaining great temperatures during full load.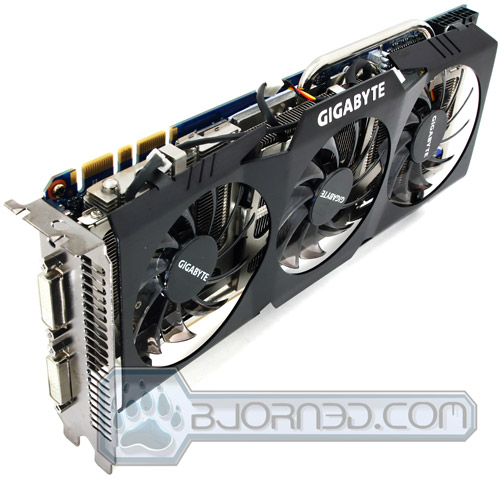 The GIGABYTE GTX 480 SOC has quite a bit of performance up its sleeves. With factory overclocked frequencies, the GTX 480 SOCruns at 820 MHz Core Clock speed, 1640 MHz Shader Clock (or in another words Processor Clock speed), and 3800 MHz memory Clock frequency. The reference speeds from Nvidia that most manufacturers use on their stock cards run at 700 MHz Core Clock, 1401 MHz Shader Clock speed, and 3696 MHz memory clock frequency. So we can definitely see some performance increase in the frequencies all around. With the GTX 480 SOC's components and cooler, there is more overclocking potential possible, and it will be interesting to see if it is possible to reach the speeds that current GTX 580s run at without breaking a sweat on overclocking.
Before we continue to the other pages in this review, let's examine what features the card offers for users interested in overclocking their video cards. One very nice feature for this card is GIGABYTE'S OC GURU overclocking tool, which provides the user with overclocking features that other overclocking tools like MSI Afterburner 2.1.0 BETA 7 do not. Sometimes overclocking tools that are not provided by the manufacturer have limitations on their GPU voltages ranges, the frequency settings, and much more, but In most cases we find other overclocking tools besides the one that the manufacturer provides the best.
| | |
| --- | --- |
| In this case it's the other way around. We have tested MSI Afterburner 2.1.0 BETA 7 to see what it offers us with the GTX 480 SOC. After a few minutes of playing with it, we were very disappointed because it only gave us the option to overclock up to 1.14V for the GPU on the GIGABYTE GTX 480 SOC and it had no memory overvoltage options. With GIGABYTE's OC GURU tool, we were able to overvolt the card by up to 1.4V over the standard 1.075V that the card came with. The OC GURU tool also provided us with additional 0.3V overvoltage on the memory. After playing around with the voltages a tiny bit, a 0.4V bump in the Core voltage made the card overheat with GIGABYTE vapor chamber air cooler at 100% fan speed. This just shows that with even higher voltages on the cards, users can use water cooling, or even liquid nitrogen to take their cards to the next level. Using the OC GURU application that GIGABYTE included with their GTX 480 SOC video card might be a bit confusing for some–it was definitely confusing for us. Because OC GURU would not read the voltage settings from the card,  and when the voltage would be altered, none of the other applications like GPU-Z or MSI Afterburner could read the voltages accurately, we were confused as to whether the application was actually altering the voltages at all. After testing and tweaking, we realized that it was definitely changing the voltages even though the voltage reading would not work. We hope that GIGABYTE will fix this problem in their future software update. | Click Image to Enlarge |
GIGABYTE also includes a very nice feature on their cards. This video card comes with two BIOS chips which not only provides security for the user in case overclocking fails, but also the option to switch between a standard BIOS and an LN2 BIOS. The LN2 BIOS is for extreme overclockers using liquid nitrogen to cooler their video cards. Sometimes video cards won't boot because the GPU and other components get too cold, and with this BIOS the cold bug issue is fixed.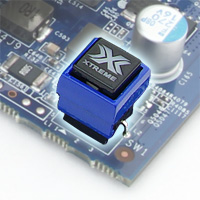 Both BIOSes are programmable, so one can be saved with a certain overclocked setting, while the other one stays at factory overclocked settings. The BIOS can be switched while the PC is running, even in Windows, and the new settings will take effect instantly.
In this review, we will mainly focus on checking out how the GIGABYTE GTX 480 SOC compares to Nvidia's latest GTX 580 video card, and also give appropriate advice to those considering buying a GTX 480 as their primary or secondary (SLI) GPU. Let's check out if the GTX 480 SOC still has enough potential to keep up with some of the latest DirectX 10 and DirectX 11 titles on the market.
Specifications
On the first page, we discussed the differences between a reference card GTX 480 and the GIGABYTE GTX 480 SOC. Now let's take a look at how the card compares to the GTX 580 that was recently released in November 2010. The biggest difference we can see is the number of CUDA Cores that each card has. The GTX 580 has a total of 512 CUDA cores while the GTX 480 SOC only has 480. The interesting part to remember though is that the GTX 480 SOC runs at a higher core clock and shader frequency than the GTX 580. We will put both cards to the test along with some lower end cards to see how they compare to each other.
Besides the CUDA Cores and the frequency differences, the cards are quite identical. Of course, the GTX 580 had GPU transistor optimization for lower power consumption, temperatures, and another another PolyMorph engine has been added, but we still think it's a fair comparison.
| | | |
| --- | --- | --- |
| Series | GeForce 400 Series | GeForce 500 Series |
| Chipset | GeForce GTX 480 | GeForce GTX 580 |
| Key Features | SOC | Reference Card |
| Core Clock | 820 MHz | 772 MHz |
| Shader Clock | 1640 MHz | 1544 MHZ |
| Memory Clock | 3800 MHz | 4008 MHz |
| CUDA Cores | 480 | 512 |
| Memory Type | GDDR5 | GDDR5 |
| DirectX | 11 | 11 |
| D-sub | Yes (By Adapter) | Yes (By Adapter) |
| DVI | Yes | Yes |
| HDMI | Yes | Yes |
| Memory Size | 1536 MB | 1536 MB |
| TV-OUT | No | No |
Overclocking

The GIGABYTE GTX 480 Super Overclock video card is a snap to work with in the overclocking field. Its new vapor chamber design air cooler provides enough air to cool down the card at quiet operations. For those used to the noise level on standard GTX 480 video cards, the fans on the GIGABYTE GTX 480 SOC can be ramped up quite a bit to achieve the same noise levels as the reference cooler. However, the GIGABYTE Vapor Chamber design cooler will provide even better performance during gaming, especially after the card is overclocked past it's factory overclocked settings. We can see that the GIGABYTE GTX 480 SOC was able to achieve higher clock speeds at lower voltage settings. This is perfect for those trying to get the most out of their cards without needing to push the voltages too high.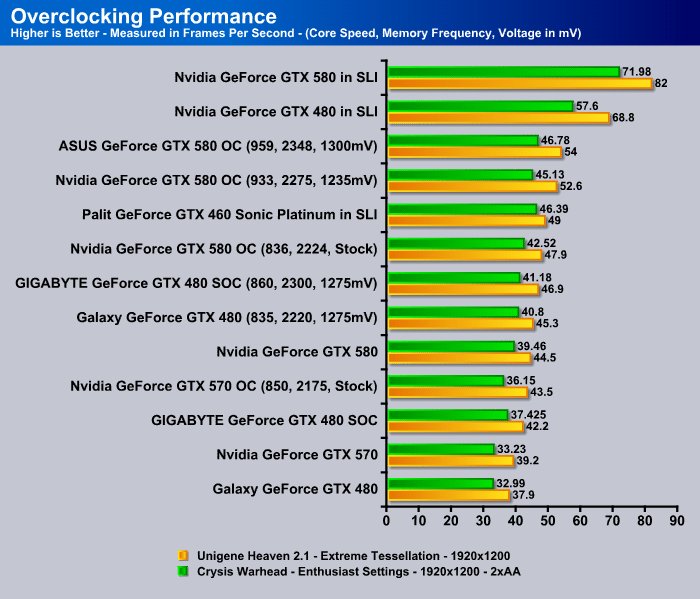 TEMPERATURES

To measure the temperature of the video card, we used MSI Afterburner and ran Metro 2033 for 10 minutes to find the Load temperatures for the video cards. The highest temperature was recorded. After playing for 10 minutes, Metro 2033 was turned off and we let the computer sit at the desktop for another 10 minutes before we measured the idle temperatures.
| Video Cards – Temperatures – Ambient 23C | Idle | Load (Fan Speed) |
| --- | --- | --- |
| 2x Palit GTX 460 Sonic Platinum 1GB GDDR5 in SLI | 31C | 65C |
| Palit GTX 460 Sonic Platinum 1GB GDDR5 | 29C | 60C |
| Galaxy GeForce GTX 480 | 53C | 81C (73%) |
| GIGABYTE GeForce GTX 480 SOC | 42C (48%) | 81C (59%) |
| Nvidia GeForce GTX 580 | 39C | 73C (66%) |
| ASUS GeForce GTX 580 | 38C | 73C (66%) |
| Nvidia GeForce GTX 570 | 39C | 81C (58%) |
Let's take a closer look at the temperatures the GTX 480 SOC had to offer. It seems that the focus for this card was put into maintaining quiet operation during full load. We can see that the Galaxy GeForce GTX 480 had to run its fan at 73% while maintaining the same temperatures as the GIGABYTE GTX 480 SOC at only 59% fan speed only shows how GIGABYTE's new cooler design excels. GIGABYTE's triple fan design is perfect in our opinion, because three fans don't need to run as fast as a single fan would need to run at to accomplish the same amount of air being pushed through the heatsink fins. With lower RPM, there is less noise caused by the air being pushed through the fins of the heatsink, as well as less motor noise from the fan itself. We are quite impressed with the GTX 480 SOC in our temperature tests.
POWER CONSUMPTION

To get our power consumption numbers, we plugged in our Kill A Watt power measurement device and took the Idle reading at the desktop during our temperature readings. We left it at the desktop for about 15 minutes and took the idle reading. Then we ran Metro 2033 for a few minutes minutes and recorded the highest power consumption.
Interestingly, the GIGABYTE GTX 480 SOC showed interesting drops in power consumption while running overclocked. It's very interesting that the GTX 480 SOC is running at almost the same speeds that our Galaxy GTX 480 OC was running at, though the Galaxy GTX 480 OC used far more power than the GTX 480 SOC. We realized that the GIGABYTE GTX 480 SOC was able to run at lower voltages while overclocked than the Galaxy GTX 480 running at stock speeds. After overclocking the GIGABYTE GTX 480 SOC, the power consumption was a bit higher then the Galaxy GTX 480, though the performance was higher as well. However, if we compare the GIGABYTE GTX 480 SOC to an Nvidia GTX 580 reference card, we can see that the GTX 480 SOC uses far more power than the GTX 580, while the GTX 580 is able to run a bit faster than the overclocked GTX 480 SOC. The GTX 580 has a far better power efficiency than the older GF100 chips. This is not surprising, since Nvidia did re-engineer at the transistor level to optimize their GF110 GPUs for better power efficiency while providing even more performance overall for a single GPU.
Features
Besides the Super Overclock information that GIGABYTE included below, I feel that their SOC cards come with higher quality components to accomplish stable overclocks. They provide the possibility for liquid nitrogen users to take advantage of the card to the fullest. We'll put this to the test and see how far we can push the card with their vapor chamber cooler.
GIGABYTE Super Overclock Series
1. Powered by NVIDIA GeForce GTX 480 GPU
2. Supports PCI Express 2.0
3. Microsoft DirectX 11 and OpenGL 4.0 support
4. Integrated with industry's best 1536 MB GDDR5 memory and 384-bit memory interface
5. Supports NVIDIA PureVideo® HD technology
6. Features Dual link DVI-I*2 / mini HDMI with HDCP protection
RoHS Compliant
As a citizen of the global village, GIGABYTE exert ourselves to be a pioneer in environment care. Give the whole of Earth a promise that our products do not contain any of the restricted substances in concentrations and applications banned by the RoHS Directive, and are capable of being worked on at the higher temperatures required for lead free solder. One Earth and GIGABYTE Cares!
Shader Model 5.0
Shader Model 5.0 adds support for indexed temporaries which can be quite useful for certain tasks.Regular direct temporary access is preferable is most cases. One reason is that indexed temporaries are hard to optimize. The shader optimizer may not be able to identify optimizations across indexed accesses that could otherwise have been detected. Furthermore, indexed temporaries tend to increase register pressure a lot. An ordinary shader that contains for instance a few dozen variables will seldom consume a few dozen temporaries in the end but is likely to be optimized down to a handful depending on what the shader does. This is because the shader optimizer can easily track all variables and reuse registers. This is typically not possible for indexed temporaries, thus the register pressure of the shader may increase dramatically. This could be detrimental to performance as it reduces the hardware's ability to hide latencies.
PCI-E 2.0
PCI Express® 2.0 –Now you are ready for the most demanding graphics applications thanks to PCI Express® 2.0 support, which allows up to twice the throughput of current PCI Express® cards. Doubles the bus standard's bandwidth from 2.5 Gbit/s (PCIe 1.1) to 5 Gbit/sec.
HDCP Support
High-Bandwidth Digital Content Protection (HDCP) is a form of copy protection technology designed to prevent transmission of non-encrypted high-definition content as it travels across DVI or HDMI digital connections.
Microsoft Window 7
Microsoft Windows 7 is the next generation operating system that will mark a dramatic improvement in the way the OS takes advantage of the graphics processing unit (GPU) to provide a more compelling user experience. By taking advangate of the GPU for both graphics and computing, Windows 7 will not only make todays's PCs more visual and more interactive but also ensure that they have the speed and responsiveness customers want
Mini HDMI Ready
High Definition Multimedia Interface (HDMI) is a new interface standard for consumer electronics devices that combines HDCP-protected digital video and audio into a single, consumer-friendly connector.
PureVideo HD
Available on HD DVDs and Blu-ray discs, high-definition movies are bringing an exciting new video experience to PC users. NVIDIA® PureVideo™ HD technology lets you enjoy cinematic-quality HD DVD and Blu-ray movies with low CPU utilization and power consumption, allowing higher quality movie playback and picture clarity.PureVideo HD technology provides a combination of powerful hardware acceleration, content security, and integration with movie players, plus all the features found in PureVideo.
CUDA Technology
NVIDIA® CUDA™ technology unlocks the power of the hundreds of cores in your NVIDIA® GeForce® graphics processor (GPU) to accelerate some of the most performance hungry computing applications. The CUDA™ technology already adopted by thousands of programers to speed up those performance hungry computing applications.
Windows Vista
Enjoy powerful graphics performance, improved stability, and an immersive HD gaming experience for Windows Vista. Catalyst™ software is designed for quick setup of graphics, video, and multiple displays, and automatically configures optimal system settings for lifelike DirectX 10 gaming and the visually stunning Windows Aero™ user interface.
Microsoft DirectX 11
World's first DirectX 11 GPU with full Shader Model 4.0 support delivers unparalleled levels of graphics realims and film-quality effects.
SLI™ Technology
Delivers up to 2X the performance of a single GPU configuration for unparalleled gaming experiences by allowing two graphics cards to run in parallel. The must-have feature for performance PCI Express graphics, SLI dramatically scales performance on 60 top PC games.
OpenGL 4.0® Optimizations
Ensure top-notch compatibility and performance for all OpenGL 4.0 application
40nm Technology
Faster clocks, double the transistor density of earlier 40 nm technology. 40nm technology helped make GTX 480 series products the most advanced GPUs ever highest clocks speeds, incredible feature integration, full performance and precision all the time, and ability to take advantage of future, higher-speed memories.
What is CUDA?
CUDA is NVIDIA's parallel computing architecture that enables dramatic increases in computing performance by harnessing the power of the GPU (graphics processing unit).
With millions of CUDA-enabled GPUs sold to date, software developers, scientists and researchers are finding broad-ranging uses for CUDA, including image and video processing, computational biology and chemistry, fluid dynamics simulation, CT image reconstruction, seismic analysis, ray tracing and much more.
2011-02-04