Can adding a USB 3.0 adapter to an older system help speed up external storage access? SilverStone believes it can, and provides us with one to prove their point. Let's see what it can really do.

Introduction
The USB 3.0 standard was announced to the world in November of 2008. The first consumer products were shipped to vendors in November 2009, and the first certified consumer products were announced in January 2010 at CES in Las Vegas.
With more and more USB 3.0 devices such as high speed external HDD enclosures and external Blu-Ray burners becoming available, and many newer cases having front USB 3.0 ports, as well as the number of add-in ports for 3.5 bays now on the market, there are many consumers considering using a PCI-E USB 3.0 adaptor instead of replacing the system motherboard. Most of these adaptors have internal USB type-A ports which use a cable to connect just like an external port. However, for those that need 19-pin connectors, SilverStone has the only solution that we could find on the market.
To quote their website;
  "SilverStone EC03 is an expansion card that connects to the motherboards via a single lane PCI-E gen 2.0 slot. Its single USB 3.0 internal connector offers output for dual front port USB 3.0 super speed interface which enables data transfer with maximum compatibility and stability. For those looking to use cases or drive bays that supports the new USB 3.0 internal connector standard, the EC03 is the quickest way to upgrade any motherboard with PCI-E gen 2.0 slot to be compatible with the new standard"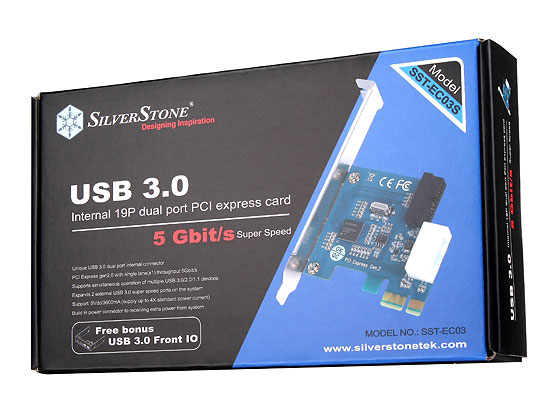 We have to ask, does it live up to the claims, and is it worth the cost? In the following pages we will attempt to discover just those answers as we look at the SilverStone EC03B/S. The "B" or "S" on the end denotes the color of the port housing: B=Black; S=Silver.
The EC03 is currently listed on Amazon.com at about $32 USD, but we see ranging from $29 to $62 online, so shop around.
Features & Specifications
Features
Supports standard USB 3.0 internal connector
PCI Express 2.0 with single lane (x1) throughput 5Gbit/s
Supports simultaneous operation of multiple USB 3.0/2.0/1.1 devices
Offers up to two external USB 3.0 super speed ports
5. Support 5V bus power from computer's power supply
Build in power connector to receiving extra power from system
5 gb/s adapter sliverstone USB 3.0 2012-02-29