Crucial has finally entered the enthusiast memory market and has made quite a splash with its Ballistix line. This review covers Crucial's current flagship DDR2 modules rated at 667MHz (PC2-5300). Two 512MB modules go up against Corsair's PC2-5400 1GB TwinX kit.
Introduction

---
Many of us wondered for years why Crucial, a long time leader in the memory industry, never entered the "performance DDR" segment. I just always figured they were making enough money selling to OEMs and to the average consumer who just wanted some RAM. Crucial was the first big name in memory that I heard of when I first got into computers. My ABIT BX6 motherboard needed some blazing PC133 modules, and considering Crucial's excellent reputation, I didn't hesitate to buy Crucial brand memory. I was very pleased with the modules I purchased and never had a problem with them. Once I really got into computers though, I rarely looked at Crucial again for RAM because the company didn't cater to enthusiasts.

That is no longer the case today. Earlier this year, Crucial introduced an enthusiast line called "Ballistix," which is obviously intended to grab gamers' attention. The Ballistix DDR has grabbed plenty of positive attention and feedback from users and reviewers alike. Crucial sent us some DDR2 from the Ballistix family, so we'll get to see firsthand if Crucial truly can deliver what enthusiasts want.

I received two 512MB PC2-5300 DDR2 Ballistix modules (PC2-5300 = 667MHz). As many of you know, DDR2 isn't exactly surpassing DDR in popularity and won't any time soon for a number of reasons. The biggest reason is the lack of motherboard chipsets that require DDR2. Additionally, DDR2 hasn't hit the lower latencies and speeds that will truly show its potential yet. That definitely doesn't mean people aren't buying it yet though. If you are interested in an Intel 925X motherboard, then you are definitely eyeing some DDR2, so follow along as I compare the Crucial Ballistix PC2-5300 to the Corsair PC2-5400 DDR2 that I reviewed last month.
Features, Specifications and Closer Look

---
Like other performance modules, the Ballistix modules feature an aluminum heat spreader to help keep the memory chips cooler. I really like the color that Crucial chose for this first generation of Ballistix RAM. While the effectiveness of heat spreaders is debatable, they at least make handling the modules a little easier.
Features
Aluminum heat spreader
Exclusively designed for high-performance systems
Gold edge contacts
Serial Presence Detect (SPD) with EEPROM
1.18″ (30mm) PCB height
Lifetime Limited Warranty
Specifications
Crucial Part Number: BL6464AA664
Module Size: 512MB
Package: Ballistix 240-pin DIMM
Feature: DDR2 PC2-5300 (667MHz)
Configuration: 64Meg x 64
DIMM Type: UNBUFFERED
Error Checking: NON-ECC
Speed: DDR2-667
Voltage: 1.9V
Memory Timings: 4-4-4-10
Closer Look
Just like Crucial has been doing for years, each module comes in its own cardboard box. Within the box, the module is protected by a cardboard insert and an anti-static bag. It doesn't look like Crucial is offering "matched pairs" like so many other performance memory companies, so this is how you'll receive your memory if you choose to go with Crucial.
The modules are surrounded by an orange-ish, gold heat spreader and of course feature the Ballistix and Crucial logos. Overall, they are good looking sticks of RAM if you ask me. No need to settle for just performance or looks when you can have both, right?
Performance / Benchmarks

---
As I mentioned in my Corsair DDR2 review, I haven't been able to get past a front side bus (FSB) speed of 250MHz with my test system motherboard — ABIT's AA8 DuraMAX. Consequently, this means that I am not able to test the Ballistix RAM beyond its 667MHz rating. Once I get a system set up that can overclock better, I will update this review with the overclocking potential of the Ballistix PC2-5300. Here are the components found in my current LGA775 test system.
Test System Configuration
NVIDIA Reference PCI-Express GeForce 6800 GT – DirectX 9.0b, ForceWare 61.77
Maxtor 2 x 120GB Serial ATA 7200RPM Hard Drive w/ 8MB Buffer in RAID0
Windows XP with Service Pack 2
Hyperthreading – enabled
As I mentioned above, I am comparing the Ballistix modules' performance to that of the Corsair 675MHz DDR2 (Twin2X1024-5400C4PRO). Although the Corsair is rated faster, I kept the speeds and system settings the same for each set of tests, so the sets were on even ground during benchmarking. Performance was pretty similar, as I expected, so I'm only going to present the SiSoftware Sandra 2004 SP2b and PCMark04 memory results. Gaming performance and system performance was virtually even and therefore boring to report. In the graphs, I present the performance of the Crucial and Corsair DDR2 modules at the following CPU clock/RAM clock combinations: 204/544 and 250/668. I maintained a 3:4 CPU to memory ratio and memory timings of 4-4-4-12 throughout all of the testing.
Why 204/544 you ask? Well, 204MHz is the default FSB of the AA8 DuraMAX, which means at 3:4 ratio, the memory is running at 544MHz. I'm not sure if all AA8 DuraMAX boards come with this little overclock, but mine did, and to keep things simple, I used these default values for my first set of numbers.
SiSoftware Sandra 2004 SP2b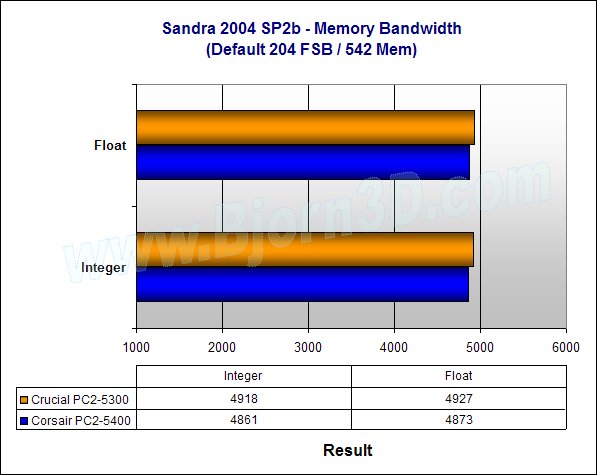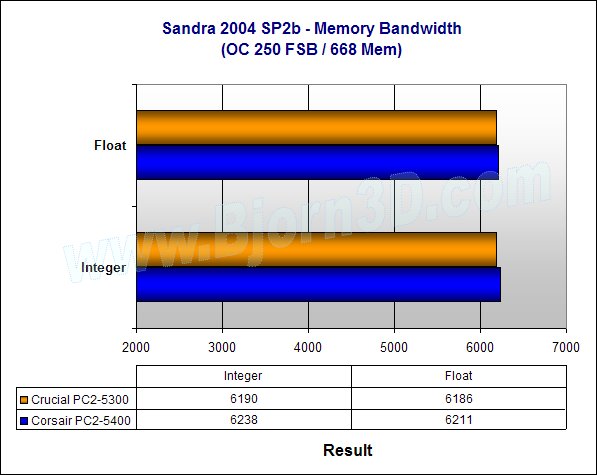 This is kind of interesting. At the default FSB of 204MHz, the Crucial RAM pulls ahead by over 50MB/s for both the float and integer bandwidth. After overclocking to 250MHz though, the tables turn, and Corsair's modules surpass the Ballistix's float and integer results by 25MB/s and 48MB/s, respectively.
PCMark04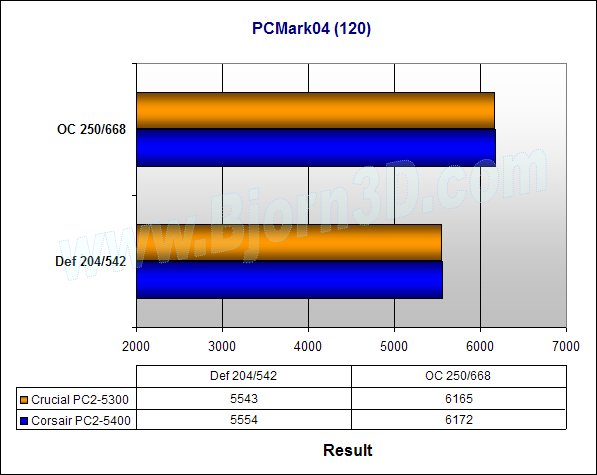 In PCMark04, the Crucial memory is slightly behind the Corsair kit at both speeds. The difference is far less significant this time though.
Conclusion

---
The fact that I can't really test the overclocking potential of these kits makes it really hard to determine a winner between the two. At the two speeds I tested, they basically offer equivalent performance. So then, the next way to compare them head-on is price. The Corsair Twin2X1024-5400 PRO 1GB kit can be found for about $360-400, depending on where you shop. With the Crucial Ballistix PC2-5300 though, I was a little surprised to find that each 512MB module is listed at about $215, which means 1GB (2x512MB) would cost approximately $430. Checking Crucial's online store reveals another story though. You can get two 512MB PC2-5300 Ballistix modules for $347.98 (plus there is currently a 4% discount when you buy two 512MB modules).
Therefore, as long as you buy directly from Crucial, the Ballistix memory wins the price battle by at least a small margin although you could get non-PRO Corsair DDR2 modules, which would offer performance equivalent to that of the PRO modules of the same speed, for $330-350. For those of you not familiar with Corsair's PRO Series, they offer activity LEDs and larger heat spreaders but no inherent performance gain over their non-PRO moodules. If you don't want the activity LEDs and larger heat spreaders offered by Corsair, but you are deciding between Crucial's Ballistix PC2-5300 and Corsair's non-PRO XMS2 PC2-5400, then the choice might not be very easy. Brand preference and overclocking headroom might be the two biggest determining factors.
With that said, I can definitely recommend the Crucial Ballistix PC2-5300 512MB modules to those of you seeking some good DDR2. Crucial's reputation helps make their memory an easy sale, and I think most of us are happy to see that they have successfully entered the enthusiast RAM market. It is safe to bet that we will see exciting things to come from this memory industry veteran.
Pros:
+ Great performance
+ Nice heat spreaders
+ Limited lifetime warranty
Cons:
– Not cheap
Final Score: 9 out of 10 and the Bjorn3D Seal of Approval