Anyone looking at spending about $300 on a new video card should take a look at Gigabyte's GeForce 6800. It offers a fanless cooling solution and one of the best game bundles I have seen in a long time.
Introduction

---
I think it's fair to say that Gigabyte is a company that usually offers rather pedestrian cooling solutions on the video cards in its line-up. Gigabyte is not known for breaking the reference design mold too much, which is not necessarily a bad thing, especially if you consider the high-quality products with good bundles that are usually offered by Gigabyte. The company's GeForce 6800 offering – the GV-N68128DH – is quite a change-up for them. The card features a completely fanless cooling solution that consists of a rather large heatsink and a heatpipe design. What? A high-end video card with no fan? Yeah, that's right. Keep in mind, though, that the chip on this board is a standard GeForce 6800, which means it's the least powerful of NVIDIA's current high-end graphics accelerator solutions.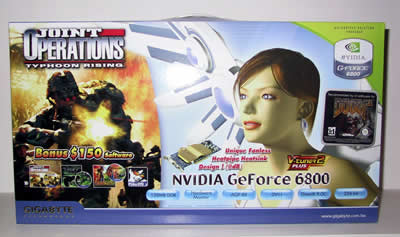 Unlike the 6800 GT and 6800 Ultra, the standard 6800 has only 12 active pixel pipelines (the GT and Ultra each have 16). I say "active" because all 16 are actually on the chip, and, if you read around on the Internet, you are sure to find ways to "unlock" these other pipes (keep in mind that this is risky and will likely void warrantees, etc.). Of course, the 6800 is also clocked slower than its bigger brothers.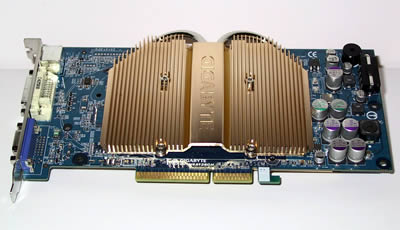 Gigabyte was kind enough to supply Bjorn3D.com with one of their retail GeForce 6800 boards, and I was lucky enough to get it in my hands. To see how the new baby of NVIDIA's high-end performs, I thought it would be interesting to see how it performs against NVIDIA's previous generation flagship product – the 5950 Ultra. This will give us an idea of how much of a performance jump NVIDIA offers to owners of previous generation boards. Also, the unexpectedly poor results I was getting on the Source Engine Video Stress Test (and the not-so-stellar performance overall) led me to upgrading the BIOS on the 6800. Updating the BIOS resulted in a significant increase in performance in nearly every benchmark I ran. In fact, I have never seen any BIOS upgrade of any product affect performance as much as this one did. So, I've decided to include in the performance comparison separate numbers for each BIOS. UPDATE (11/8): I had an outstanding question with Gigabyte on this, and a contact there has confirmed that the BIOS included on early versions of the board enabled only eight of the chip's pixel pipelines. The latest BIOS updates the board to have 12 active pipelines like a 6800 should have, and the mystery of the performance boost is solved!
Besides the sweet cooling solution, Gigabyte offers something else that should make people take notice – three recently-released (within the last 10 months) games. The bundle offered with this board is one of the best I've seen in a while, because it does not include what I would consider "throw-away" games, like Big Mutha Truckers. The games offered in this package are Joint Operations: Typhoon Rising, Spell Force: The Order of Dawn, and Thief: Deadly Shadows.

Specifications & Features

---
Specifications:
Graphics Chip
NVIDIA GeForce 6800
Memory
128 MB DDR
Memory Bus
256 bit
Core Clock
325 MHz
Memory Clock
700 MHz (effective)
Maximum Resolution
2048 x 1536 @ 85 Hz
Bus Interface
AGP – 8X
Output Options
VGA
DVI
TV-Out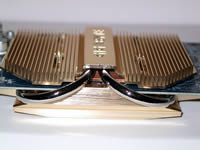 Features:
Fanless Design
Large heatsink and heatpipe design keep the chips cool.
GeForce 6800

12 parallel rendering pipelines
…and more

Dual 400MHz RAMDACs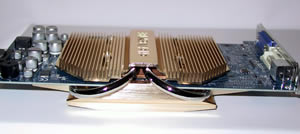 Package Contents:
6800 Video Card
GV-N68128DH Graphics Accelerator User's Manual
Cable for composite video out
DVI-to-VGA adapter
Driver installation disc, which also includes:

PowerDVD 5.0
V-Tuner2 Plus (Gigabyte's overclocking utility)

Duke Nukem: Manhattan Project
Full Version Games:

Joint Operations: Typhoon Rising
Thief: Deadly Shadows
Spell Force: The Order of Dawn

Performance

---
I always like to see how the previous generation of high-end graphics chips perform against the current high-end solutions. To that end, I decided to put the Gigabyte GeForce 6800's performance up against a BFG 5950 Ultra that I reviewed about a year ago. Keep in mind that this 6800 actually represents the lowest tier of the current high-end solutions from NVIDIA. Of course, the architecture of the chips on these boards is different, but the 6800 also has only half as much memory as the 5950 Ultra. However, the new architecture gives it four more pixel pipelines than the previous generation for more parallel pixel pumping power. As you'll see below, the new architecture is a worthy successor to NVIDIA's previous king of rendering.
You will also see two full sets of benchmarks for the 6800 because there is a significant difference in performance from the BIOS ('F1') that was on the board when I got it and BIOS 'F2' which is the latest one available from Gigabyte. These results are very interesting and well worth examining.
UPDATE (11/8): I had an outstanding question with Gigabyte on this, and a contact there has confirmed that the BIOS included on early versions of the board enabled only eight of the chip's pixel pipelines. The latest BIOS updates the board to have 12 active pipelines like a 6800 should have, and the mystery of the performance boost is solved!
Test System Configuration
AMD Athlon 64 3200+
Hitachi Deskstar 7K250 80GB Serial ATA 7200RPM Hard Drive w/8MB Buffer
Operation System: Windows XP with Service Pack 1
Chipset Driver: 3.13
Graphics Card Driver: Forceware 61.77
DirectX Version: 9.0c
AquaMark3
The AquaMark3 benchmark utilizes a real 3D game engine (called krassTM) with DirectX 9.0 features, such as Pixel Shaders 2.0, to render a beautiful underwater world. This engine is used in AquaNox 2: Revelation and the RTS game Spellforce, which Gigabyte includes with this board. I ran the default benchmark (1024×768, No AA, 4x AF, maximum details) that can be run in an unlicensed version of AquaMark3 and one benchmark with custom settings – basically the same as default but with 4x AA enabled.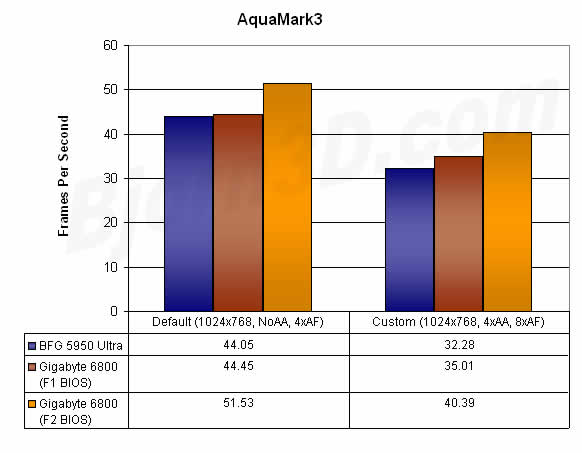 At first, I thought I was basically CPU limited with this benchmark, but the new BIOS proved otherwise. There is a double-digit percentage increase in performance from the 5950 Ultra to the 6800 and from F1 to F2! As you will see below, this was not a fluke!

Performance

---
Doom 3
Doom 3 has a reputation for being a power hungry PC game. Since its advanced graphics features include bump mapping, specular and diffuse lighting, shadows, and volumetric fog, Doom 3 can really test the might of any system. One important thing to keep in mind is that 8x anisotropic filtering is enabled automatically when the "High Quality" setting is selected.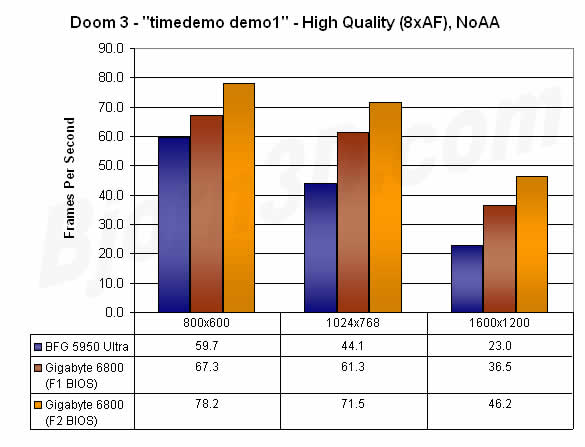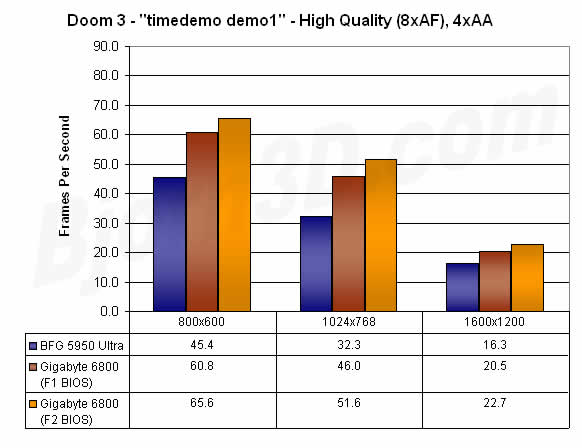 Even the lowest tier of the high-end chips from NVIDIA provide enough horsepower to play Doom 3 at a respectable resolution while maintaining playable frame rates. I have played it at 1024×768 on High Quality mode with 4x anti-aliasing enabled for a couple hours, and I haven't noticed any major slowdowns yet. Admittedly, I haven't really made it very far, so I'm sure there are some more involved firefights that would make this board hiccup a bit at these settings.
Halo
I ran Halo 1.04 and used the timedemo feature for these benchmarks. The timedemo feature does not really provide a realistic in-game performance number; I would compare it to a flyby type of benchmark. Nevertheless, it provides some idea of how the 6800 will perform in this game.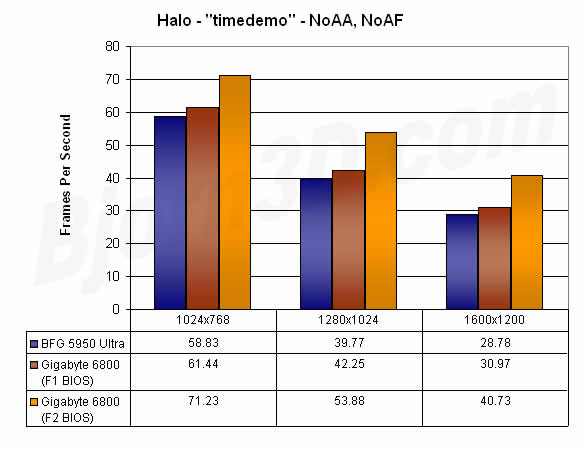 As expected, the Gigabyte 6800 should allow Halo to be played at a higher resolution than the 5950 Ultra did, as long as it has been flashed with BIOS version 'F2'.
Far Cry
Far Cry is a very popular game from Crytek. Its developers were not shy about using PS 2.0 to make this game look fantastic, and they did quite a fine job. Just like Doom 3, Far Cry can test the might of nearly any system. To benchmark using the time demo feature of Far Cry, I used the PCGH_VGA Timedemo from 3dcenter. In the advanced graphics settings area of the game configuration screen, the lowest that anisotropic filtering can go is 1x, which means that at least 1xAF is enabled at all times.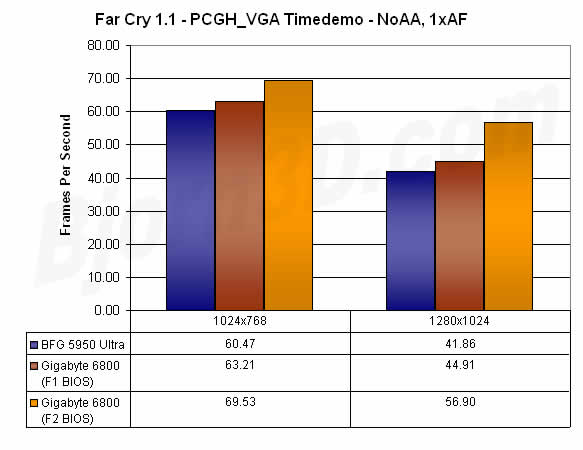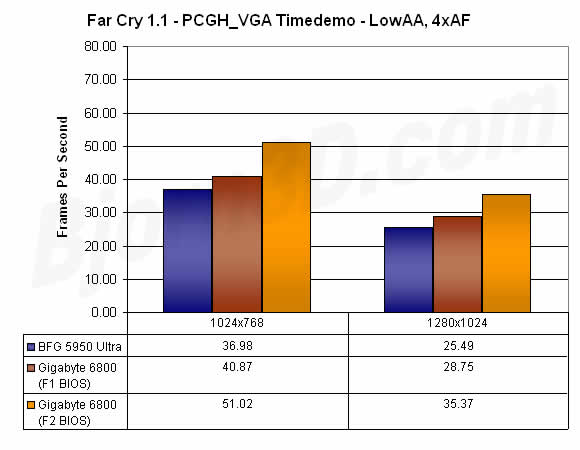 Even with the 6800, you cannot crank up the detail level of Far Cry too much, if you want to maintain a decent frame rate.
Source Engine Video Stress Test
Since the Half-Life 2 release is right around the corner, I thought some people might still be looking for a last minute upgrade and would like to see how this card stacks up with the Source Video Stress Test. This benchmark is available via the Counter-Strike: Source main menu, and it simply renders various scenes using Valve's Source Engine. It remains to be seen if it gives any real impression of what to expect from real game play, but it's one of the best tools we have right now for trying to figure out what to expect from a system and Half-Life 2. Of course, the real game will involve much more stress on the CPU for A.I. and physics calculations and the GPU for lots of other eye candy.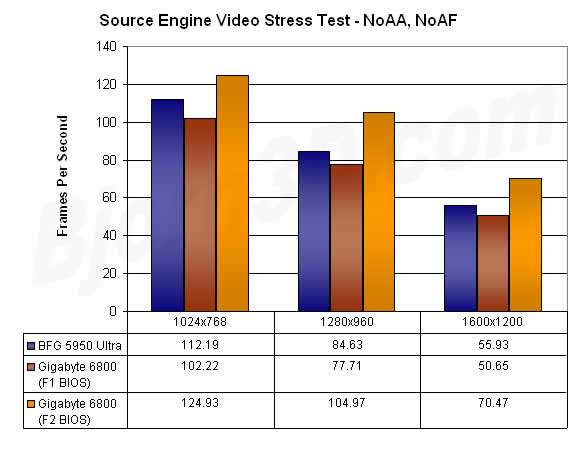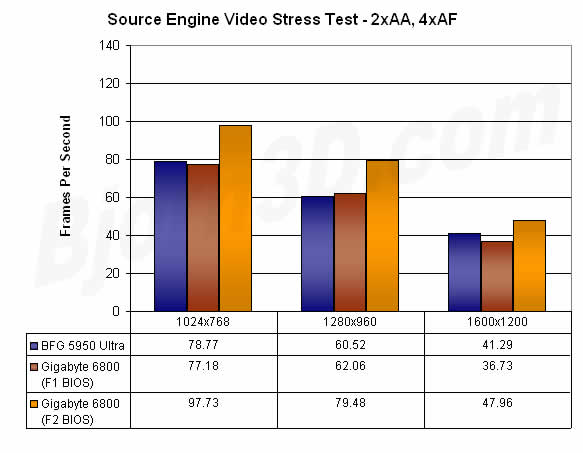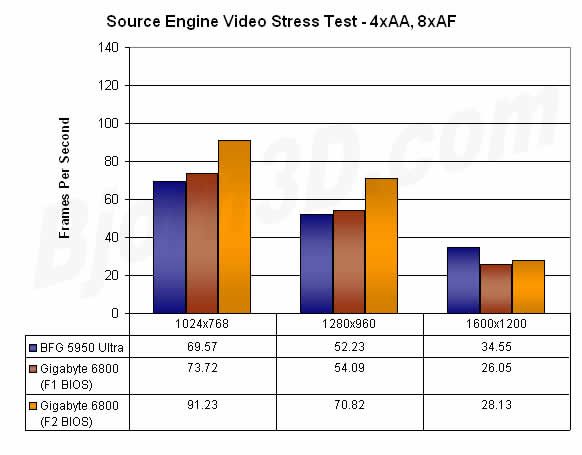 The results for the Gigabyte 6800 with the F1 BIOS are really what prompted me to check if this board had an updated BIOS. As you can see, the new BIOS drastically improves the performance in this benchmark. It puts the 6800's performance more in line with what is reasonable to expect. The one blemish on the Gigabyte 6800 comes in at 1600×1200 with 4x anti-aliasing and 8x anisotropic filtering enbaled, where I believe its 128 megabytes of memory become the limiting factor that allow the 5950 Ultra, with its 256 megabytes of memory, to outpace it.
The table below provides a look at the average performance gain offered by the 6800 and each available BIOS.
| | | | |
| --- | --- | --- | --- |
|   | % Gain with F1 from 5950 | % Gain with F2 from 5950 | % Gain from F1 to F2 |
| AquaMark3 | 4.68% | 21.05% | 15.65% |
| Doom 3 | 35.42% | 56.25% | 15.04% |
| Halo | 6.09% | 32.69% | 24.99% |
| Far Cry | 8.78% | 31.91% | 21.14% |
| Source Video Stress Test | -5.79% | 20.12% | 27.15% |
Gigabyte's 6800 equipped with the 'F2' BIOS is certainly a solid performer. The performance with the older BIOS is underwhelming and was quite unexpected. In other words, the newer BIOS is needed to make this board perform like it should.
Overclocking
While I was doing my other benchmarking, I noted that the idle temperature of the Gigabyte 6800's core was usually 55-57°C. After playing an hour of Dooom 3, the core reached 61°C. Gigabyte's heatpipe design must work quite well to allow the core to only increase in temperature by a few degrees. This made me excited about overclocking this board. I jumped right up to 400 MHz for the core clock and 800 MHz (effective) for the memory clock. I played the demo for Prince of Persia 2 for 20 minutes, and it was stable with no visual anomolies. This made me even more excited about what kind of performance increase I thought this board had in store for me. Unfortunately, that excitement was short lived because I started up Doom 3, and the system locked up before even reaching the game's menu.
I decided to try again with a more average overclocking, so I set the core and memory clocks to 368 MHz and 786 MHz, respectively. The performance boost these clock increases give Doom 3 and the Source Video Stress Test are shown below. Of course, all of these benchmarks were run with the 'F2' BIOS.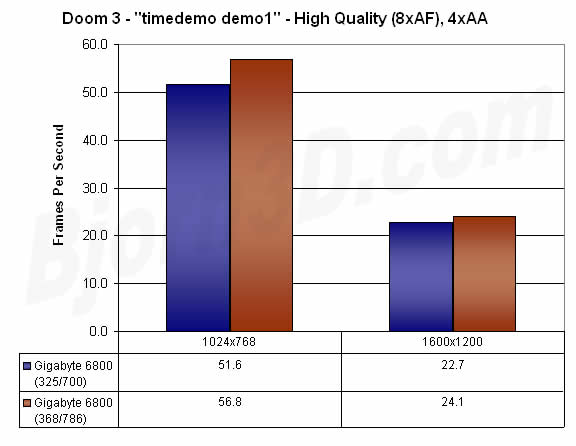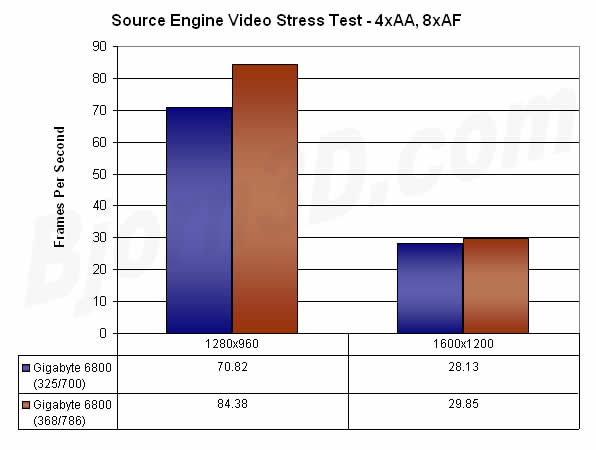 Conclusion

---
Gigabyte's attempt to break away from the reference design with the 6800 can be declared a success. The heatpipe design on the GV-N68128DH adds no noise to a system but provides adequate cooling for the core and memory. As long as they have enough room for the board's large heatsink, small form-factor and home theater PC fans are most likely rejoicing when they learn about this GeForce 6800.
The GV-N68128DH performs well when paired with the latest BIOS available for it. It is disconcerting that this BIOS update is basically required to make the board perform like it should, but at least it does do the trick. This BIOS issue is really the only negative experience I have had with this board since I installed it a couple weeks ago. UPDATE (11/8): I had an outstanding question with Gigabyte on this, and a contact there has confirmed that the BIOS included on early versions of the board enabled only eight of the chip's pixel pipelines. The latest BIOS updates the board to have 12 active pipelines like a 6800 should have. I am sure that future shipments of the board will have the correct BIOS flashed to them, and most people will not experience the issue that I did. 
Gigabyte also deserves props for coming through with such a great bundle this time. Sure, there will be people who have one or two of these games, but this bundle really does offer something for most everyone. You have Thief: Deadly Shadows for people who like a good stealth-based first-person shooter, Spell Force: The Order of Dawn for real-time strategy RPG buffs, and finally Joint Operations: Typhoon Rising for those who like a more traditional FPS combat game.
The GV-N68128DH from Gigabyte is a solid GeForce 6800 offering. Although it includes a great bundle featuring three games that were released this year, Gigabyte seems to have thrown in this great bundle for "free." The GV-N68128DH is competitively priced and can be purchased for around $300. Needless to say, I am quite impressed that this board can be picked up today for $285 from newegg.com. That would make the choice easy for me if I were in the market for one of these boards.
Pros:
+ Won't add noise to your system
+ Solid performer (with latest BIOS)
+ Bundle includes three recent (and good) games
+ Competitively priced even with one of the best bundles around
Cons:
– Had to update BIOS to make it perform up to par