Kingston Technology offers a full line of USB flash drives. The DataTraveler Elite represents the company's high end in this line. It offers very fast data transfer rates and cool features, making it worth a look for anyone who wants a serious flash drive. Check out this review to see what makes the DataTraveler Elite such a good flash drive.
Introduction

---
Flash memory is a huge business right now because of consumers' insatiable appetites for more digital devices that require more and more storage capacity. They most often get this storage in the form of flash memory cards. That is not the only use of flash technology, though. Flash memory is also responsible for the proliferaion of a very popular floppy disk replacement – USB flash drives. Kingston Technology, a worldwide leader in the manufacturing of memory products, offers a full line of flash memory products.

Kingston's USB flash drive family – the DataTraveler line – features various models with capacities ranging from 64 megabytes to two gigabytes (check out Kingston's comparison of the DT line here). The DataTraveler Elite drives represent Kingston's premier USB drives, featuring the fastest read and write speeds in the DataTraveler line. Also, the DataTraveler Elite drives are the only ones that combine software and hardware features for securing user data. The two-layer security mechanism requires a user to set up a password-protected private zone on the DT Elite, and the hardware-based data encryption, which utilizes Advanced Encryption Standard (AES-128), further protects the data in the privacy zone by encrypting it. The data encryption process should have very little effect on the performance of the device because encryption is handled by a dedicated co-processor. This level of data security is why Kingston markets the DataTraveler Elites as an ideal solution for business and corporate IT users. But, I know there are plenty of "regular" geeks who are also worried about keeping their data as secure as possible, so this type of solution might appeal to them as well.

Kingston was kind enough to supply Bjorn3D with a 1 GB DataTraveler Elite for this review. Read on to find out how this device performs and if Kingston provides useful utilities with it.
Specifications & Features

---
Specifications:
Interface
USB 2.0
Capacity
1 GB
Operating System Compatibility
Window 98+, Me, 2000, XP
Maximum Write Speed
14 MB/s
Maximum Read Speed
24 MB/s
Operating Temperature
0°C to 60°C
Data Retention
10 years
Size
3.1″ x 0.9″ x 0.4″
(77.4mm x 22.1mm x 10.1mm)
Features:
Includes TravelerSafe+ access security software for Windows
Utilizes 128-bit Advanced Encryption Standard (AES) hardware-based encryption (privacy zone)
Includes MyTraveler file management software and boot utility (requires motherboard support)
Available in other capacities: 256MB, 512MB, 2GB
Five-year warranty

Package Contents:
Kingston DataTraveler Elite
Installation Guide
Warranty card in seven different languages
Neck strap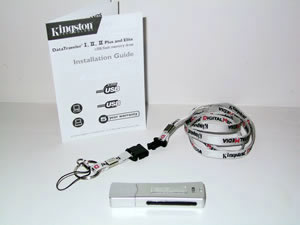 Software

---
Kingston includes two applications, MyTraveler and TravelerSafe+, on the DataTraveler Elite to help users manage data on it.
MyTraveler
MyTraveler is a tool that allows you to access the DataTraveler Elite through its virtual console interface and customize how your system reacts when the drive is inserted into a USB port. This application allows you to change the sound (if you even want one) that is played when the DataTraveler Elite is inserted into a port, make various applications autorun upon insertion, and see the current state of the DataTraveler Elite.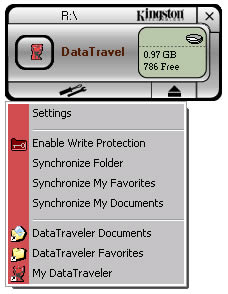 MyTraveler also has some great features that are meant to improve the experience with the DataTraveler Elite by making some common things people might do with it easy. There are options to synchronize Windows' My Documents and My Favorites or any other folder with their respective repositories on the DataTraveler. This worked very well and made it easy to keep an updated backup of My Documents, since it brings up the screen below to show what needs to be synchronized and lets the user decide what to do from there. MyTraveler is also used to set the DT Elite to read-only mode. I have seen other flash drives that have a hardware switch for write protection, but I think this method is actually better since there is no mechanical switch that could break.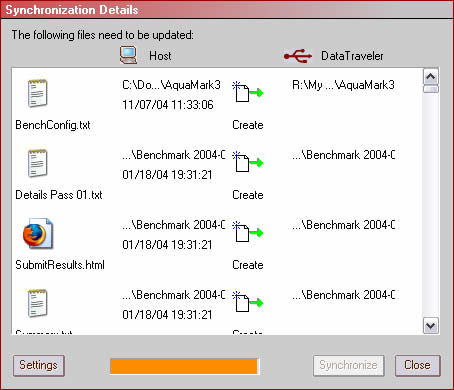 TravelerSafe+
Kingston provides TravelerSafe+ to manage the security of the DataTraveler Elite. With TravelerSafe+, public and private zones can be set up on the drive. The private zones are secured with a password and 128-bit AES encryption. Each time a user wants to access data in the private zone, he or she must log in to it by using this software and then supply the correct password. In practice, this works fairly well.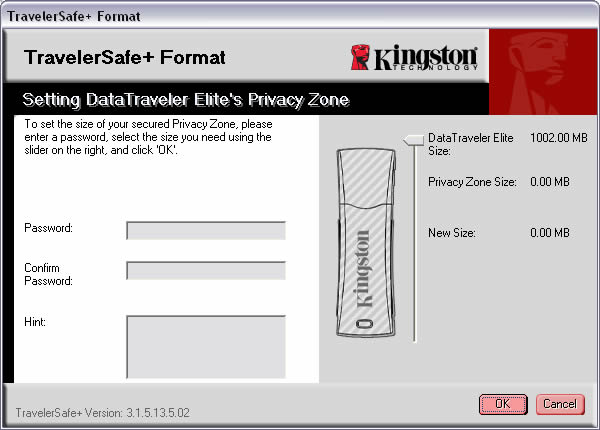 There is one issue that I had with this software, though. I could format the entire drive and change the privacy zone size or even get rid of it without having to enter the password that I set on the privacy zone. It's good that it disallows someone from getting to your data, but to allow them to erase it all is questionable. If data is important enough to be in the secured zone, it is likely that it is important enough that it should be protected from malicious formatting. However, Kingston may have chosen to make it work this way in case people forget their password and because the DT Elite will lock out the privacy zone after 25 consecutive incorrect password entries and only allow a format if this happens. Basically, there are two ways to accomplish the same thing, and Kinston's engineers or marketing team must have decided this was the better design. I could also see them arguing that a device like the DataTraveler should not be used as the only source for any data, meaning if data is important enough, it should not be stored on only a flash device. Overall, I have mixed feelings on this issue. I think the best of both worlds would be giving the user the option to password protect the format option and still have the lockout feature after 25 incorrect passwords to thwart brute-force attempts at cracking the DT Elite password.
The only other annoyance that I experienced with the DT Elite and TravelerSafe+ is the fact that you cannot access both the public and private zones at the same time, not even after logging in to the private zone. It's a usability issue that I think Kingston should look into changing if they haven't already.
Kingston Boot Utility
The Boot Utility that can be downloaded from Kingston's website allows users to make the DT Elite a bootable device, assuming booting from USB is supported by the user's PC. Under Windows 98 and Windows ME, the utility copies standard DOS boot files from the operating system (just as if you were to use the built-in utility in these operating systems for creating a bootable floppy disk). However, on more recent Windows operating systems, like XP, the Boot Utility copies FreeDOS boot code to the DT Elite. Setting up the DT Elite as a bootable device would be a very convenient way to perform BIOS flashes or do any other task that requires booting into a DOS environment.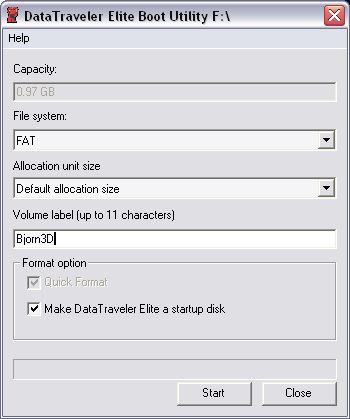 Under my Windows XP environment, I set the flash drive up as bootable and rebooted my PC. Then, I set up the BIOS to boot from USB. When the system came up again, it booted off the DT Elite into FreeDOS and worked as advertised. It was ready for me to run any utility that can be run in a DOS environment and that I copied onto the device.

Performance

---
With rated read and write speeds of 24 MB/s and 14 MB/s, respectively, I expected a lot from this USB drive. Rest assured, I was not disappointed.
SiSoftware Sandra 2004.SP2b File System Benchmark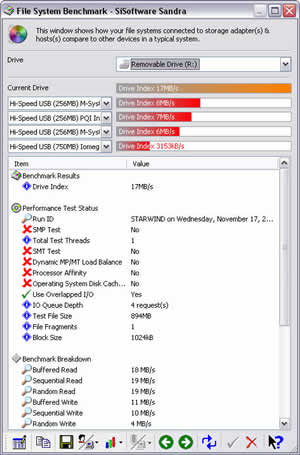 It would be nice to see a higher random write speed, but, other than that, the DT Elite flies!
I also ran some real world benchmarks on this drive by doing some simple copy and paste operations with various files and timing the operation. Each time I copied a set of files from the system's hard drive to the DataTraveler Elite. I have calculated the approximate write speed for each of these tests by dividing the amount of data transfered by the number of seconds the operation took.
| | | | |
| --- | --- | --- | --- |
| File Set | Total Size | Elapsed Time | Write Speed |
| Various 2-10 MB Files | 990 MB | 125 sec. | 7.92 MB/s |
| Six 109-178 MB Files | 901 MB | 104 sec. | 8.66 MB/s |
| One 962 MB File | 962 MB | 98 sec. | 9.81 MB/s |
Although these numbers don't quite reach the level of the Sandra benchmark above, they still show that the DT Elite is a very fast flash drive. Basically, what this boils down to is being able to fill up the entire DT Elite in two to three minutes no matter what size of files are being copied. Perhaps it would take a little bit longer if the average file size was much less than in these examples, but I have no doubt that the performance would still be top-notch.
I performed a read test by copying back the 901 MB of files to the hard drive. The files were all copied in 50 seconds, which means that the transfer rate was 18.02 MB/s. That's a few megabytes per second short of the rated speed, but it's as high as I have ever seen for a USB flash drive. Also, it matches the performance of the Sandra benchmark. The performance of the DataTraveler Elite can be summed up in one word – impressive.
I created a private zone using TravelSafe+ as large as it would allow and then repeated some of these tests. The results did not change at all. The encryption/decrypion co-processor must work efficiently to accomplish this. Users don't have to sacrifice performance to get security. It's the best of both worlds.
Conclusion

---
Kingston offers a full line of USB flash drives. The DataTraveler Elite represents the top tier in this line and offers the fastest data transfer rates and the most robust security in the line. Overall, my experience with the DataTraveler Elite has been a great one. With MyTraveler, TravelerSafe+, and the Boot Utility software, Kinston provides software that adds value to this great piece of hardware. MyTraveler helps users manage the devices settings and synchronize files. TravelerSafe+ gives users a way to have two separate zones on the flash drive, one being private (password protected) and the other being public. The Boot Utility allows users to set up the DT Elite to be a bootable device that can be used to run BIOS update utilities and the like. The applications are not perfect, but they do add to the DataTraveler Elite experience.
With the help of PriceGrabber, I was able to find the Kingston DataTraveler Elite for less than $110. Unfortunately, that makes this device about $30 more expensive than other 1 GB USB flash drives, but that price premium may be worth it to some people for the five year warranty, high performance level, and security features that some cheaper alternatives don't offer.
Pros:
+ Great performance!
+ Included software works well
+ File synchronization made easy
+ Provides an easy way to get into a DOS environment
Cons:
– Could lose cap since it separates from drive
– Cannot browse private and public zones at the same time
– Slightly bigger than most USB flash drives (but it still fits easily in a pocket)