With DVD±R/W drives quickly becoming ubiquitous, the market is saturated with different products, and it seems like nearly everyone is getting into the DVD burning fray. Read this review of the Lite-On SOHW-1633S to see if it could meet your needs.
Introduction

---
Lite-On is certainly a respected company in the optical drive market. The company has OEM deals with Sony and other major players in the optical drive market. Lite-On has even branched into consumer electronics with its optical drive technologies. (Check out Shane's review of one of these products here.) I think one thing that makes Lite-On stand out, though, is its good brand combined with great value. When you buy Lite-On drives, you usually get a good quality product for a good price. It seems as if Lite-On reduces the cost of its products by doing simple things, like making the packaging only as big as it needs to be and putting the main installation manual on a CD only. I think most people can appreciate these things if it saves them money, even if it's only a little bit.
Being a major player in the optical drive market, Lite-On is no stranger to the latest technologies available. For instance, Lite-On currently offers several drives capable of writing to DVD+R DL media and one of these drives (the SOHW-1653S) offers write speeds as fast as any other drive available today for almost any media. Today, I will actually be looking at the SOHW-1633S, which was Lite-On's top-of-the-line model until the 1653S was released. The 1633S simply offers slower write speeds for DVD-R and DVD+R DL media.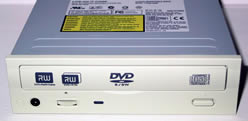 The SOHW-1633S is no slouch, though. Along with 2.4x DVD+R DL, 8x DVD-R, and 4x DVD±RW writing, it offers top-notch DVD+R writing at 16x. Of course, it is rated to read media at equally impressive speeds. Lite-On also adds in its own buffer underrun prevention technology, SMART-BURN, and other features to make the burning process as easy as possible. To top it off, Lite-On throws in a great software bundle, featuring software from Ahead Software, makers of the very popular Nero suite of applications. To help its users maximize compatibility with various DVD players, Lite-On also provides its own "bitsetting" utility (get it here). Bitsetting makes it possible to make a burned DVD look like a DVD-ROM, i.e., more like a stamped DVD, and this is useful if a DVD player doesn't recognize burned media.
Specifications & Features

---
Specifications:
Interface
IDE
DVD+R Write Speed
Up to 16x – CAV
DVD+RW Write Speed
Up to 4x – CLV
DVD-R Write Speed
Up to 8x – Z-CLV
DVD-RW Write Speed
Up to 4x – CLV
DVD+R DL (DVD+R9) Write Speed
2.4x – CLV
DVD Read Speed
Up to 16x – CAV
CD-R Write Speed
Up to 48x – P-CAV
CD-RW Write Speed
24X – Z-CLV
CD Read Speed
Up to 48X – CAV
Data Buffer
2 MB
Access Times
DVD: 160 ms
CD: 160 ms
Size
145.0 (W) x 41.3 (H) x 170.0 (D) mm
Here's what Nero InfoTool tells us about this drive: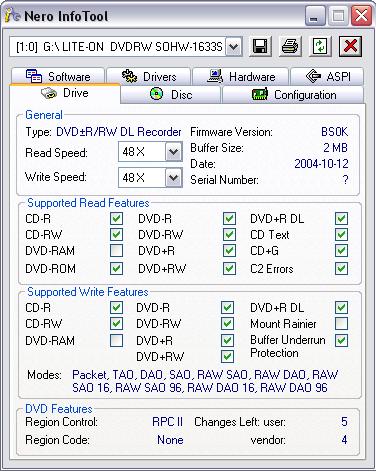 Features:
Here's a run down of the features, as described on the product's web page:
ATAPI / E-IDE Half-Height internal DVD+R / DVD+RW / DVD-R / DVD-RW / DVD-ROM / CD-R / CD-RW / CD-ROM combination drive
Support Double Layer DVD+R9 Recording Function
SMART-BURN avoiding Buffer UnderRun Error, Automatically adjusting writing strategy & running OPC to provide the best burning quality
SMART-X function adjusts CD-DA / VCD / DVD data extraction to a fastest allowable speed according to both data request rate from host and disk quality
VAS® system reduce vibration and noise during recording and reading
Support Fixed Packet, Variable Packet, TAO, SAO, DAO, Raw Mode Burning & Over-Burn
DVD read compliant : DVD single / dual layer ( PTP / OTP ), DVD-R ( 3.9 GB / 4.7 GB ), DVD-R multi-borders, DVD+R, DVD+R multi-sessions, DVD-RW, and DVD+RW
CD read compliant : CD-DA, CD-ROM, CD-ROM / XA, Photo-CD, Multi-session, Karaoke-CD, Video-CD, CD-I FMV, CD Extra, CD Plus, CD-R, and CD-RW
Support both 8 cm and 12 cm disc of CD and DVD family
Conform to Orange Book : Part 2 CD-R Volume 1, Part 2 CD-R Volume 2 Multi Speed, Part 3 CD-RW Volume 1 ( 1x, 2x, and 4x ), Part 3 CD-RW Volume 2 : High Speed, Part 3 CD-RW Volume 3 : Ultra Speed
Supported transfer mode : PIO mode 4, DMA mode 2 and Ultra DMA mode 2
Package Contents:
The package contents of the retail package are as follows:
Quick Installation Guide
Nero OEM Suite:

Nero Express 6
InCD 4
NeroVision Express 2
Nero BackItUp
DOS driver

PowerDVD 5
Audio cable
DVD+R / DVD-R media
Mounting screws
Installation

---
When there is not much to say about an optical drive installation, that is a good sign. It was as simple as it should be. Windows XP recognized the drive, and it was ready to be used right away. For those who have never installed an optical drive, the Quick Installation Guide should be enough to guide them through the process. It provides all the necessary information without any fluff.
I upgraded the firmware to version 'BS0K'. It was as simple as clicking on an executable and telling the program to continue. Of course, rebooting Windows and letting the operating system re-recognize the drive is also necessary.
One thing that anyone who is very familiar with optical drives will probably note right away after looking at this drive is that it is noticeably smaller than most optical drives, at least most that I have ever dealt with. It seems to be at least half an inch less deep than any drive I have and even more than an inch compared to some. This makes the drive a good candidate for small form-factor PCs or any cramped case.

Performance – Write

---
To test the Lite-On SOHW-1633S, I used Nero's CD-DVD Speed 3.42 to perform various read and write tests. As I stated previously, this drive has the 'BS0K' firmware on it. I used the following media for these tests:
Mitsubishi Kagaku Media/Verbatim 2.4x DVD+R DL
Mitsubishi Kagaku Media/Verbatim 16x DVD+R
Memorex 8x DVD-R
Memorex 4x DVD+RW
TDK 48x CD-R
Test System Configuration:
AMD Athlon 64 3200+
Gigabyte GA-K8VNXP (BIOS version F4) (review)
Corsair TWINX1024-3200LLPRO (review)
Gigabyte GeForce 6800 (review)
Hitachi Deskstar 7K250 80GB Serial ATA 7200RPM Hard Drive w/8MB Buffer
Windows XP with Service Pack 1
Chipset Driver – 4.48
Write Tests
2.4x DVD+R DL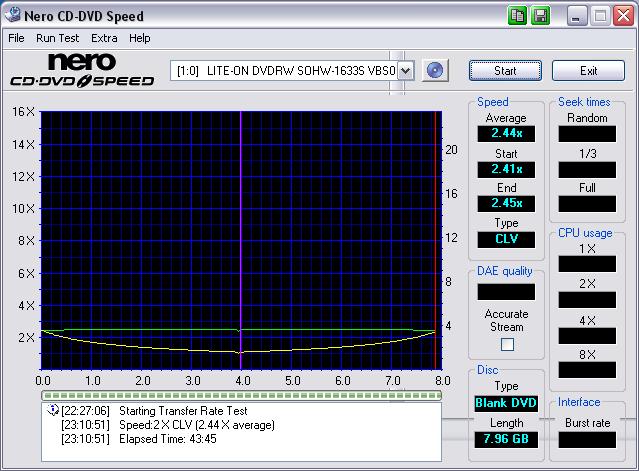 As we can expect from a drive operating in constant linear velocity mode, the write speed varies only slightly from start to finish, and it maintain the 2.4x transfer rate that it is rated at. It appears as if we can expect this drive to write eight gigabytes of data in under 45 minutes. There are DVD+R DL burners on the market today, from Lite-On and others, that can burn DL at 4x, so this drive may not be the ideal solution for someone wanting to burn a lot of eight gigabyte discs. However, with the price of DL media being many more times that of single-layer media, I would think that only people who need to store huge CAD designs or complete data sets on a single disc would be compelled to use DL media regularly for data. On the other hand, people who like to back up their DVD movies regularly are probably quite interested in DL burners as well. People who do this a lot may want to look at a 4x DL burner, like Lite-On's SOHW-1653S.
16x DVD+R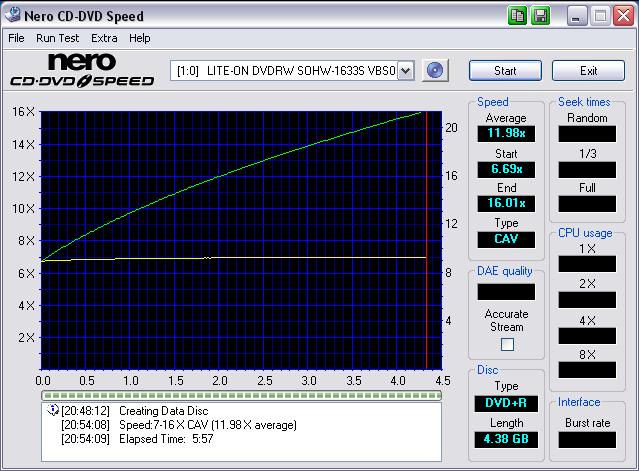 This drive certainly shines in DVD+R burning. It wrote 4.38 gigabytes of data in less than six minutes and averaged nearly 12x speed! Unfortunately, since 16x media is some of the newest around, it isn't too easy to find yet, and it certainly will cost a premium when compared to slower-rated media.
8x DVD-R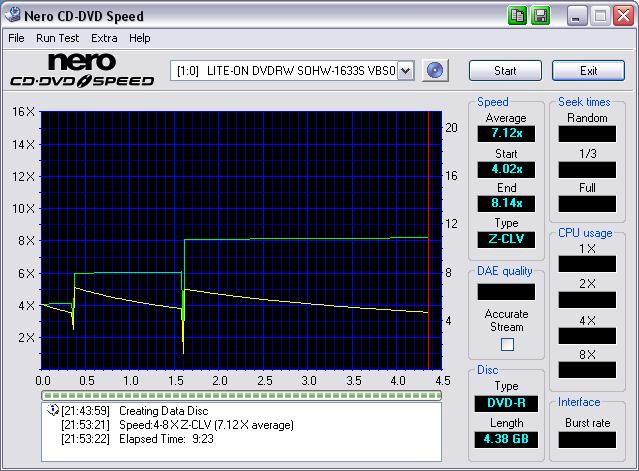 If you would rather burn DVD-Rs, this drive will burn 4.38 GB in less than 10 minutes, which is not too bad. It is a couple minutes slower than the Plextor PX-712A that I reviewed a few months ago, though.
4x DVD+RW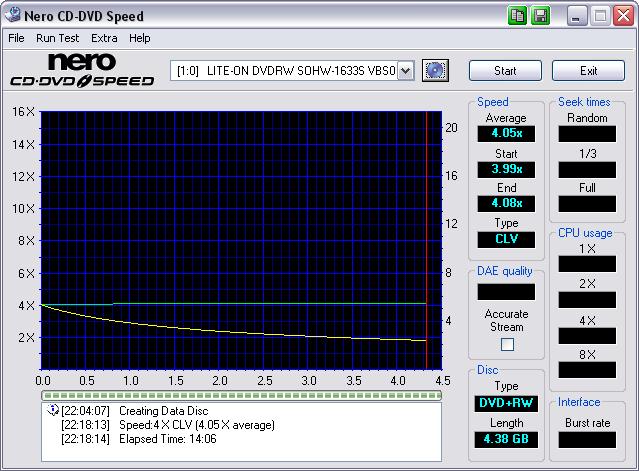 Obviously, DVD+RW performance at 4x is going to be much slower than either of the previous tests. Still, the SOHW-1633S wrote the same amount of data to DVD+RW in about 14 minutes, which is quite respectable.
48x CD-R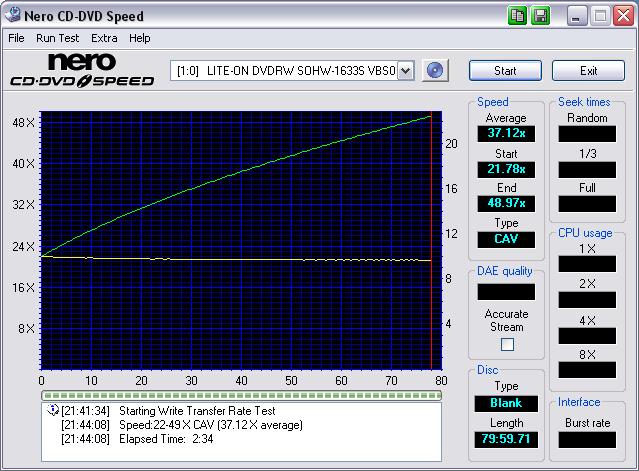 I think it is fair to assume great performance in CD burning from modern DVD/CD burners, and this drive from Lite-On does not disappoint. It will finish writing 700 megabytes of data in well under three minutes.

Performance – Read

---
Read Tests
DVD+R DL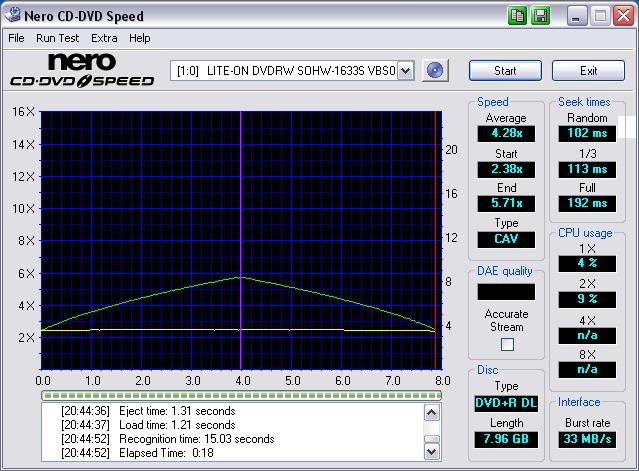 DVD+R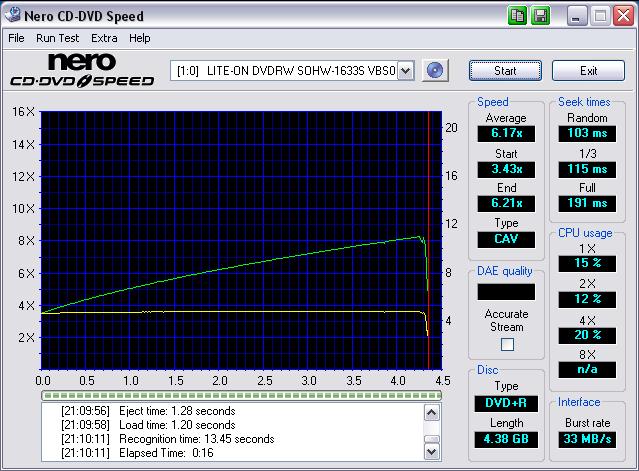 DVD-R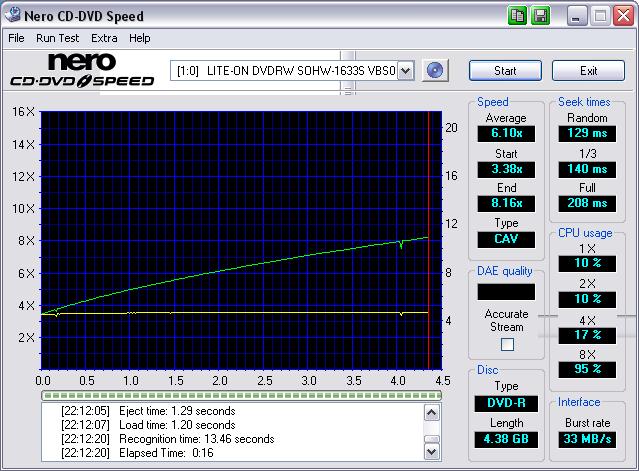 DVD+RW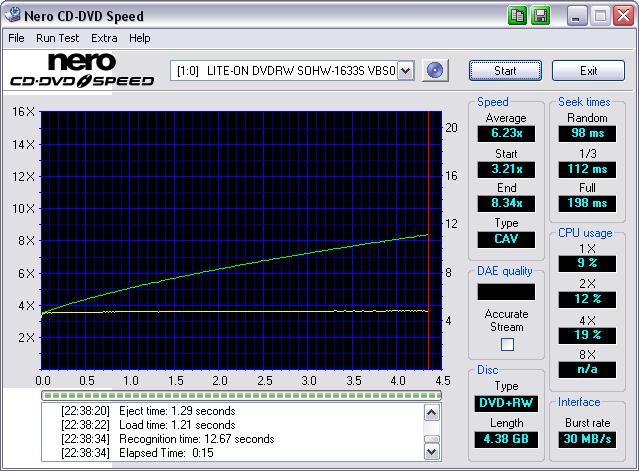 Data CD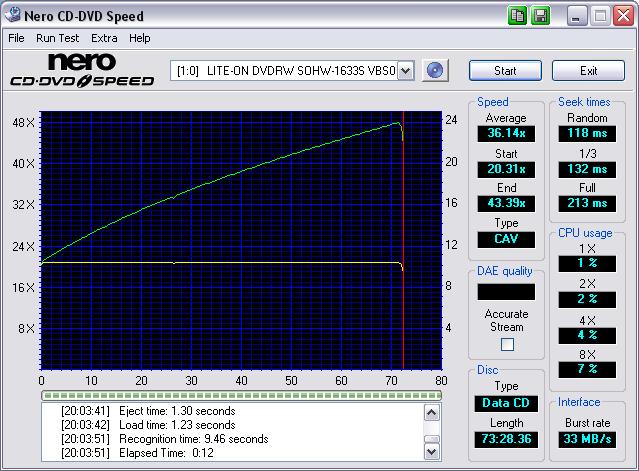 For each of these read tests, I simply ran the read test in CD-DVD Speed using the discs that were written during the write performance benchmarking. Overall, I would say that the read performance is a bit disappointing, but the burst rate of 33 MB/s is impressive. I just would have liked to see the higher average read speeds for all media types.
Dual-layer stamped DVD (Mallrats)
To see if the drive could handle stamped media better, I turned to the Mallrats DVD, which is a dual-layer DVD.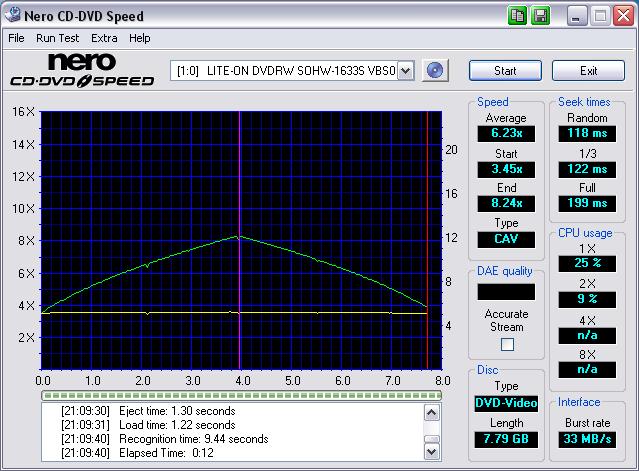 Unfortunately, this drive may only get near its 16x DVD read rating with single-layer stamped DVDs, and I could not find one with an adequate amount of data (at least 4 GB would be ideal) on it. I did run through CD-DVD Speed with a stamped DVD with 1.8 GB of data on it, and the read speed reached 11.5x, so at least we know the drive is capable of getting better read speeds.
Conclusion

---
The Lite-On 1633S probably will not blow anyone away with its performance, but it can provide good quality and value to those looking for a solid DVD burner. I think its performance can be summed up as average. Also, Lite-On bundles very good software with its drive, and that's a big plus to me. For people with mini PCs or a cramped PC of any size, the SOHW-1633S could help the situation because it is not as deep as most optical drives.
You should be able to find this drive for around $80. I even found it at newegg.com for about $68 for black and $71 for beige. This is definitely a good price for a good drive.
Pros:
+ Great write performance on 16x DVD+R media
+ Decent read and write performance on other media
+ Lite-On provides a bitsetting tool for tweakers
+ Good software bundle
Cons:
– Mediocre read performance with written media