There's nothing like a series of natural disasters to convince you that a backup power source is an excellent investment! Join us for a look at four different UPS models.
Introduction

---
Bonnie. Charlie. Frances. Ivan. Jeanne. Are these the names of 17th century British ships? Paris Hilton's puppies? Guests at a swinger's party? No, they were Atlantic hurricanes in 2004 that had a direct impact on my home state of Florida. I was fortunate in that their destructive power was primarily focused outside of my city, but my home was still directly impacted by several of the storms. In addition to high winds and heavy rain, our home's power continually surged, dimmed, and went out completely for over 36 hours. By the time Frances blew through, I was really convinced I needed a UPS!
What is a UPS?

---
An Uninterruptible Power Supply is essentially a battery that sits between a PC (or other electronic device) and a power source. It protects sensitive electronic equipment from blackouts, brownouts, spikes, surges, noise, and interference. A blackout is when all power is suddenly lost, and its effects on a PC can be catastrophic. In addition to losing data from unsaved documents, your PC's hard drives could crash from the sudden power loss. A brownout is a period of low voltage that is typically evidenced by dimming lights. An overburdened electrical utility can cause brownouts; even a hair dryer can cause a momentary brownout! Brownouts are often followed by an overvoltage spike that can fry a power supply or scramble all of your precious, complex, and expensive electronics. Surges are epitomized by lightning strikes – one direct hit can leave your $5,000 Über-PC a useless boat anchor. In addition to being hurricane prone, Florida is the lightning strike capital of the world, a fact that has cost me two PC motherboards so far.
All of the review UPS units feature line conditioning, also known as Automatic Voltage Regulation (AVR). This feature is what protects your equipment from surges, spikes, etc. by ensuring the power stream remains steady without any fluctuations in voltage.
Most of you are probably using a surge suppressor for no other reason than they conveniently offer multiple electrical outlets. Today's UPS devices combine the convenience and functionality of a surge suppressor with continuous power availability from the battery. In addition, they come with software that allows for functions such as graceful unattended PC shutdowns, the auto-saving of open documents, and e-mail notification of problems.
Review Units

---
I looked at four different UPS units for this review. Belkin submitted their Office Series 550VA UPS, Tripp-Lite sent the INTERNET750U, and Minuteman UPS added the MBK750E and MN 525.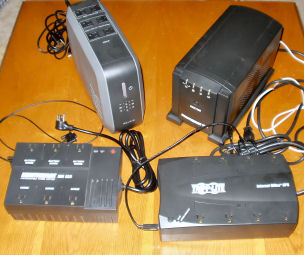 Comparative Features

---
| | | | | | | | | |
| --- | --- | --- | --- | --- | --- | --- | --- | --- |
| Unit | Output volt amp capacity* | Output watt capacity | AC surge suppression | Outlets | Other Protection | Communication | Connected equipment insurance | Pricegrabber Price a/o 11/05/04 |
| Belkin Office Series 550VA UPS | 550VA | 330 Watt | 890 Joules | 6 total surge protected outlets, 4 with battery backup. | 1-In 2-Out RJ11 Telephone/Fax Surge Protection | USB | $75,000 Connected Equipment Warranty | $46.45 |
| Tripp-Lite INTERNET750U | 750VA | 450 Watt | 1170 Joules | 8 total surge protected outlets, 4 with battery backup. | Tel/DSL modem protection with line splitter | USB | $100,000 Ultimate Lifetime Insurance protects connected equipment from surge damage (USA and Canada only) | $61.64 |
| Minuteman MN 525 | 525VA | 275 Watt | 500 Joules | 6 total surge protected outlets, 3with battery backup. | Phone / modem (RJ-11) protection | Serial | MINUTEMAN Platinum Protection Plan® insures equipment for up to $40,000 (U.S. and Canada) | $45.67 |
| Minuteman MBK750E | 750VA | 450 Watt | 500 Joules | 6 total surge protected outlets, 4 with battery backup. | RJ45/RJ11 network/modem surge protection | USB | $50,000 MINUTEMAN Platinum Protection Plan® (U.S. and Canada) | $76.17 |
* Abbreviation for Volt Amps. The unit of measurement of apparent power. Most UPS systems are rated in volt amps. Actual wattage is typically 60-70% of this figure.
Review system specifications

---
AthlonXP 2500+ @ 3200+
Biostar M7NCD Pro
512MB memory
Western Digital 120GB HD
Maxtor 60GB HD
Lite On 52X CD-RW
NEC 4X DVD-RW
How I Tested

---
At its core, a UPS is a rechargeable battery. Batteries have a finite life, so a UPS cannot power a PC indefinitely. For that reason, all of the manufacturers in this review recommend powering only the components needed for emergency use. In other words, your PC's power supply and monitor should be plugged into the battery terminals of the UPS. Your scanner and printer should not. Note that the UPS is supplying everything hanging off of your PC's power supply. As you can see from my review specs, my system is nowhere near state-of-the-art but it does have a fair amount of power sucking juice from the power supply. All those devices will be drawing from the UPS in an outage – a UPS is a tool to help you manage an emergency, not to finish a session of Doom 3!
The PC and monitor were plugged into each UPS unit and the UPS unit was plugged directly into the wall socket. The UPS units were allowed to charge for the period of time recommended by their respective manufacturer's documentation prior to first use. Each unit's power management software was installed and configured, then the first (and really easy) test was performed: I pulled the plug on the UPS and watched what happened. Next, for the units offering controlled shutdown options, I performed the same trick but with an unsaved Notepad document hanging in the balance. Each unit will be evaluated on its test results, appearance/utility, ease of setup, documentation, and software functionality.
Belkin Office Series 550VA UPS

---
Appearance/Utility
The Belkin UPS has the least utilitarian appearance of all the units. Its two-tone gray finish looks stylish and would not look out of place on or under any desk. It has large indicator lights to display current status (online, on-battery, etc.). It stands upright and the power outlets are on top of the unit. This could pose a space issue if you want to put the unit under a shelf, or on top of another piece of equipment. That concern aside, the 550VA UPS wins the Best Looking UPS award in this beauty pageant.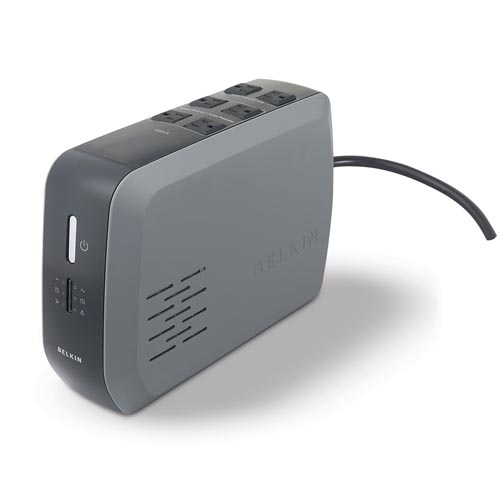 Setup
Setup is literally plug and play (I promise I won't use that pun again in this review). The included Bulldog Plus Software installs easily and is relatively easy to configure. I say "relatively" because what I discovered with almost all the units' software packages is that they are intended to work in both the single PC home setting and in complex server/office environments. Thus the average home user is going to have options they never dreamed of when they bought the UPS. That said, the Bulldog Plus Software installs easily and requires no setup or intervention to perform basic monitoring of the PC and a gentle shutdown during a power outage.
Documentation
The provided paper documentation only covers the setup and features of the hardware. All software documentation is in a PDF file on the installation CD. The printed manual, however, does a thorough job of explaining the hardware features of the Belkin unit.
The software documentation is very thorough and does an excellent job of describing the many advanced features of the Bulldog Plus Software. However, the manual does require that you carefully read through it to pick out the features you are most interested in. Most home users won't be interested in the same functionality of someone monitoring multiple servers, but they'll still need to carefully skim the manual to get the pieces they find pertinent. A "UPS For Noobs" section would be helpful. This observation applies to most of the other review products as well.
Software Functionality
As noted previously, the Belkin software offers a wealth of functions. They include:
Graceful operating system shutdown
Scheduled tests, shutdown/restarts of the UPS, turn on/off receptacles
Flexible events
Notification: Pager, e-mail and audible alarm, network broadcasting and SNMP
Real-time values of voltage, current, frequency and loading…
Historical data & graph
Network monitoring
Multi-computer shutdown/restart
Support Simple Network Management Protocol (SNMP)
Support Desktop Management Interface (DMI)
Support HTTP, remote monitor and control using Internet browser
Joe User is probably most interested in the first item. By default, the Bulldog Plus Software will shutdown the PC after two minutes of battery usage. This time can be extended or diminished as necessary. An Auto Save feature saves open documents to the Temp directory using a standard file naming system. The application keeps a log that helpfully tells you which applications were shut down along with any documents it saved.
Chances are that if you're home when an outage occurs, you'll notice that the lights went out. However, in an office setting you may be physically removed from the PC's being monitored and may need to know when there's a problem. This could also be helpful if you're running a game server at your home and want to keep tabs on it while you're at work or out and about. If that's the case, the Bulldog Plus Software can contact you in the ways listed above. One note: Your communication path will require power. If you're using a broadband or external dial-up modem it will have to be plugged in to the UPS to work when the power is out (sorry if that seems insultingly obvious). Bulldog Plus Software also allows you access through a local Web server and your browser.
All told, the Bulldog Plus Software is very powerful and flexible but relatively simple to use for non-techies who are willing to invest a little time in learning its features.
Tripp-Lite INTERNET750U

---
Appearance/Utility
The Tripp-Lite INTERNET750U looks very much like a wider surge protector/power strip. It is reasonably compact and low to the ground. The I/O button is simple, as are the display lights. One minor design quibble – the USB cable plugs into the unit at the opposite side from the power cable. This means either the USB or power cord will be poking its head up when you're trying to hide unsightly cables. Again, this is a very minor issue but it keeps the INTERNET750U from being completely unobtrusive.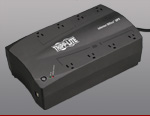 Setup
Like the Belkin, the INTERNET750U hardware is very easy to install. If you can plug in a power cord and a USB cable, you're all set. Software, however, is a bit more problematic. The installation CD is essentially a hyperlink to download the latest version of the software. The CD includes v11 of Tripp-Lite's PowerAlert Universal Network Power Management Software, but the the installation program directs you to download link for v12 if you want the current version. Keeping installation CD's synchronized with Web files is a problem that every manufacturer faces, but it seems a little defeatist to just give up and rely on people to download the current version on their own. At least there is reference to a more current version.
One further installation note: PowerAlert Universal Network Power Management Software requires that Java be installed on the host PC. Java is no longer supplied with Microsoft's operating systems, so you will need to download and install it separately if it doesn't already exist on your PC.
Documentation
The paper documentation is brief as it only covers the installation and operation of the UPS unit. Software installation and operation documentation is only available through the company Web site or by installing the older version of the software on the installation CD. The paper documentation is sufficient for getting the UPS operational without the software monitor. Version 12 of PowerAlert includes a readme file and PDF Quick Start Guide, but not downloadable manual. The most detailed documentation available is in HTML format on Tripp-Lite's Web site. While nicely done, there is no real subsitute for a paper manual or at least a printable PDF document. The available HTML Help Files are very similar to Belkin's in that Joe User will need to filter out the advanced subjects to find what he needs for non-advanced setup.
Software Functionality
Once located, downloaded, and installed, the PowerAlert Universal Network Power Management Software is as versatile as Belkin's. It has a different look and feel to it because it is Java-based, but it is easy to use and navigate and doesn't differ too much from what a Windows user is used to. PowerAlert is unique in that it designed to be used on multiple platforms and with "every brand of UPS system". Pre-compiled builds for most Linux distributions are included and the Linux source is available free if you're the code savvy type. In addition, PowerAlert is Palm and Web Phone compatible and it works with Tripp-Lite's Watchdog application, software that resets locked-up applications and reboots the machine if the reset fails.
Again, I focused on the automation aspects of the software and not on battery strength. Tripp-Lite's software is simple to configure, once you know what you want it to do. That may sound facetious, but it's an issue that all but one of the review units will pose for average buyers: They will have to filter out the administrator-level functions to find the simple tasks they want to perform. That isn't really difficult, assuming one is willing and able to filter out extraneous information.
The INTERNET750U and PowerAlert Universal Network Power Management Software responded predictably and effectively to the sudden interruption of power I induced (meaning I pulled the plug). I especially like the fact that actions taken by the software, such as auto-saving documents, are logged. Reviewing the log is simple and can be a real time saver when facing a mysterious power down.
Minuteman MN 525

---
Appearance/Utility
The MN 525 is very similar in size and shape to the Tripp-Lite INTERNET750U. It's basic black, low and fat. Well, not fat – just somewhat taller than a standard power strip. Its distinguishing characteristic is that it uses a serial port (a DB-9 cable is supplied) for software communication. This may be good news for people with older PC's that lack USB ports, or have simply run out of ports and are loathe to add another USB hub. Regardless of the connection type, the layout and size of the unit are compact enough to fit into most desktop situations and the cables all exit from the same end, which is a plus if you're trying to keep the rat's nest from getting too tangled.
Setup
Other than using a serial connection instead of USB, the MN 525 installs the same as the Tripp-Lite and Belkin models. The MN 525 does require a dedicated COM port, but that should not be an issue for the vast majority of PC's. The included PowerCenter software is the most current version available and it installed without incident or drama.
Documentation
The paper documentation is thorough and does an excellent job of describing both the hardware and software functionality. The included software is on a 3.5″ diskette, which might pose a problem if you've disposed of your diskette reader. The current version available for download is PowerCenter v1.0.2 (dated 8/12/03), but the diskette version is v1.0.1. In other words, download the newer version and don't even bother with the diskette.
Software Functionality
The PowerCenter software is probably the most simple to use of all the review items. The GUI resembles a device one might find in a rack of esoteric network hardware. Functions are accessed by clearly defined buttons on the "panel" and menus within the main interface continue the same graphic theme. It's a neat solution and one that home users should find intuitive and simple to use.
In addition having a simpler interface, PowerCenter's features are a subset of the other manufacturers' UPS units. PowerCenter allows for auto and scheduled shutdown and document saving, but it does not include any of the notification features of the other software packages. If you don't need the notification features then the services that PowerCenter does offer work very well and are easy to configure and use.
Minuteman MBK750E

---
Appearance/Utility
If the Belkin, Tripp-Lite, and MN 525 units all resemble bulked up power strips, then the MBK750E is the Arnold Schwarzenegger of the lot. This is one impressive looking UPS! It roughly approximates the size and appearance of a toaster. It's not really much bigger than the other units, but its unique shape really stands out. Although the feature is not mentioned in the product documentation, the MBK750E sports a cooling fan. It is very quiet so it's unlikely you will even notice it during normal operation. UPS units, however, do tend to get warm so the fan is a nice feature. In addition to Automatic Voltage Regulation (AVR), the MBK750E includes Independent Battery Bypass™. According to Minuteman, Independent Battery Bypass™ "allows the MBK-E to provide AVR and surge and spike protection with weak or even dead batteries without dropping the load from utility AC power." Frankly, I can't tell if that is marketing hyperbole or a unique feature. None of the other units describe such functionality in their features lists, so I'm inclined to believe this is a distinctive offering of the MBK750E. The MBK750E is the only review unit with RJ-45 (network cable) protection.
Setup
The MBK750E uses a USB cable and port for communication, but it's really USB-to-Serial virtual COM interface. The MINUTEMAN SentryII™ software requires the installation of a "Virtual COM" driver to communicate with the PC and UPS. Unfortunately, installation of the driver turned out to be a fairly complicated ordeal for me. The first issue I ran into was a conflict between Windows XP and the USB driver. I contacted Minuteman technical support and was directed to an update that resolves the issue. I quickly ran into another issue, however. The name "Virtual COM" should have clued me in that the communication port is virtual. But it didn't, so I kept trying to connect the SentryII™ software to COM1 or COM2. Tech Support again came to my rescue and informed me that the driver creates a virtual COM3 port. Once I had that sorted out I was able to use the SentryII™ software and complete the setup of the UPS.
Documentation
As noted in the Setup description, the included documentation and software leave a few gaps in the installation and setup process. The paper documentation does a very good job of describing the hardware, but does not include any software information. The SentryII™ manual is a PDF file on the installation CD. The manual does a good job of explaining the ins and outs of SentryII™, but again it does not include the crucial step of using the virtual COM port. Maybe I'm the only one to whom that isn't immediately apparent, but I doubt it. Perhaps the intended audience is a network or PC adminstrator, but even those gurus need a little more explicit instruction now and again. I was also unable to find a Web link to the XP-specific SentryII™ file without Tech Support's assistance.
Software Functionality
Once the installation and setup issues were resolved, SentryII™ was ready to go. SentryII™ is accessed through a local Web server and its interface is clean and relatively intuitive. High level functions are accessed through the main index page and the drill-down depth doesn't go so deep that one gets lost. SentryII™ is clearly designed for server administrators, however. There's no pretense of a cute GUI, this application is all business. Features include:
Easy-to-use Web browser-based management
Based on multiple events, automatically shut down multiple servers and/or multiple workstations running a variety of Operating Systems, including Windows NT/95/98/ME/2000, Linux/Unix, and Netware Servers from a single UPS by installing the SentryII Remote Client on each connected machine
Note: No additional UPS or special hardware is required for machines running the remote client software
Allow up to 10 users to administer or view status of a single UPS
Manage a UPS connected to a PC or server remotely over TCP/IP protocol using built-in Web server without the need of any add-on components
Configure responses for power events such as input failure, low battery, and weak battery
Send email notification of power events to up to 5 email addresses
Send SNMP traps as power event notifications
Send message to a pager automatically when an event occurs
Run a program automatically when an event occurs
Perform a safe, unattended shutdown of UPS and/or operating system
Stay updated with built-in alarms & diagnostic tools
Schedule events like UPS and operating system shutdown and/or restart
Manage older contact-closure UPS systems (Requires appropriate cable)
View bar graph of 3 selectable power status indicators
View graph over time of major power measurement indicators such as input voltage, output voltage, battery charge, output load, and frequency
Auto-event logging
One feature is missing, though: The ability to auto-save documents. This is unfortunate, as the software does everything BUT that. Once again I contacted technical support who directed me to a set of free tools that will induce hibernation on a NT or XP PC. SentryII™ will execute a program or batch file based on an event (such as a power failure). Hibernation will save a snapshot of your current session, including open documents. This is not an ideal solution, but at least there is one. One note: Minuteman's technical support was outstanding. In an age where technical support is rarely technical or supportive, they went out of their way to answer all my questions quickly and accurately.
Conclusion & A Visit From Mother Nature

---
Nature conspired to provide the ultimate lab test for the UPS units: a real hurricane. Jeanne came through my city as a tropical storm. I took advantage of the situation by testing out all of the units in this real-world situation. Brownouts, blackouts, surges, spikes – we had them all. All of the units handled the storm admirably. Shutdowns precipitated by power outages went smoothly and the PC stayed powered up and secure during all other power events. The units that offered the auto-save feature did indeed save my test Notepad file and logged the event so that it was easy to go back and find my "lost" work.
As noted earlier, I purposely did not address battery life in the reviews simply because it so dependent on the machine's power requirements. Also, the specifications of the review units did vary between 525VA and 750VA so it is an unfair expectation that the lower spec unit will last as long as the higher rated one (note that most of the models are available in higher VA output). Based on that, I believe that the the "other" features and qualities of the units are the true determining factors for which one you should pick. Here are some recommendations based on my experience with the UPS units:
Home PC, no administrative needs – The Minuteman MN 525 will fit nicely in a home environment where remote administration or communications are not required. The PowerCenter software is very simple to use and works well at automatically shutting down a PC and saving open documents. This is an ideal unit for basic PC power protection.
Home PC or small office with some administrative needs – The Belkin Office Series 550VA UPS is, in my opinion, the most physically attractive of the units and would look the best sitting out in public view. Its Bulldog Plus Software offers many administrative functions that can be used in a multi-computer environment. It is also relatively simple to configure if one is only interested in the auto-shutdown and auto-save functions. The Tripp-Lite INTERNET750U offers the same functionality as the Belkin. It is also accessible for both administrators and those with simple power management needs. It does feature a higher Joule rating (surge protection) and more battery-powered outlets than the Belkin, however. Both units will server both basic needs users and moderately complex environments well.
Server farm or large office – The Minuteman MBK750E is overkill for the average home user. Its size is a bit cumbersome to hide on a desk or by one's feet, but the fan and advanced features make it ideal for a server/office environment. The ability to remotely administer machines through the Web interface across multiple platforms also makes this the selection for "pros". The only thing lacking is the auto-save feature for documents. However, this feature can be added through free tools.
Looking at them individually:
Belkin Office Series 550VA UPS
Pros:
Nice styling.
Powerful and versatile software.
Cons
Top-mounted power outlets may not fit every desktop environment.
Advanced features of software a bit overwhelming for those with simple power management needs.
Tripp-Lite INTERNET750U
Pros:
Compact footprint.
Powerful and versatile software.
Software works on many platforms and all other UPS units.
Cons
Printed documentation does not cover software.
Current software not included with UPS, must be downloaded.
No downloadable software documentation for current version.
Minuteman MN 525
Pros:
Compact footprint.
Simple, neat software.
Cons
Software comes on a floppy, is outdated.
Lacks advanced management features (this is only a con if you really need these features).
Minuteman MBK750E
Pros:
Fan cooling.
Powerful and versatile software.
Looks like it could jumpstart a tractor.
Cons
Software installation is potentially tricky, software patches difficult to find.
Lacks ability to auto-save open documents.
The good news here is that UPS units are affordable, work well, and offer bells and whistles beyond battery backup. Don't wait for a natural disaster, start protecting your valuable equipment today!