GT should stand for Good Times because that is what you are going to get when you use a 6800 GT graphics card. Take a look at the latest and greatest from Albatron and see if you want to add a last second gift to your Christmas list.
Introduction
---
ES, XL, SE, GSR and every other combo of letters used to describe a car, razor, or your favorite deoderant can be confusing. So which one is the best, which one is fully loaded, and which one sucks like a black hole? The same kind of system has been floating around the video card world for a while now, and NVIDIA's latest line of 6 Series cards has their own to throw around. Well today we are going to take a look at the Albatron 6800 GT, the gran turismo of the video card world. We won't call this the model with heated leather seats and navigation, but it definitely comes with 17″s and a moonroof.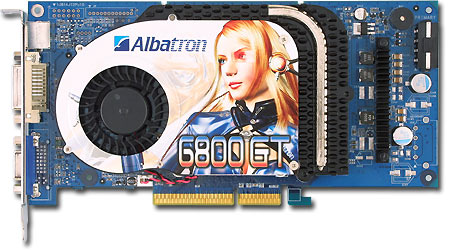 Specs and Features
---
Albatron 6800GT:
Grapics Engine: GeForce 6800 GT
Memory Size: 256MB DDR III
Memory Bus: 256bit
Engine Clock: 350MHz
RAMDAC: 400MHz
Max. Resolution: 2048×[email protected]
Bus Standard: AGP 8X / 4X
VGA Output: Yes
TV Tuner: No
TV-out: Yes
VIVO(Video-in.Video Out): No
DVI: Yes
3D GAMES: Duke Nukem: Manhattan Project Game Pack
I'm a big fan of video cards (duh, like we aren't all big fans of video cards), and I've been continually upgrading since I had my old Voodoo2 card that cost me a pretty penny about 8-9 years ago. If you think about the level of graphics improvement in such a short amount of time, the technology is amazing. I went from having trouble running Monster Truck Madness at a decent framerate to probably running that game into the stratosphere now. Heck, your decent on-board graphics on most systems will usually perform better than those old and busted cards of yore.
NVIDIA's line of 6 Series cards have a full set of features that ride along the edge of graphics technology. The following is a list of features for the 6800 GT chipset that Albatron has posted on their site for your enjoyment.
GeForce 6800 GT Chipset Features
Superscalar 16-Pipe GPU Architecture
CineFX 3.0 Engine – Powers the next generation of cinematic realism. Full support for Microsoft DirectX 9.0 Shader Model 3.0 enables stunning and complex special effects.
The Industry's First On-Chip Video Processor
UltraShadow II Technology – Enhances the performance of bleeding-edge games. 2nd-generation technology delivers more than 4x the shadow processing power over the previous generation.
Intellisample 3.0 Technology – The industry's fastest antialiasing delivers ultra-realistic visuals, with no jagged edges, at lightning-fast speeds. Visual quality is taken to new heights through a new rotated grid sampling pattern.
High-Speed GDDR3 Memory Interface – Support for the world's fastest GDDR3 memory delivers fluid frame rates for even the most advanced games and applications.
256-Bit Memory Interface with Advanced Memory Control – Delivers more memory bandwidth and efficiency to power the latest games and applications at blazing speeds.
128-Bit Studio-Precision Computation – 128-bit studio-precision computation through the entire pipeline prevents image defects due to low precision and ensures the best image quality for even the most demanding applications.
Full-Speed 32-Bit Color Precision
Full MPEG Support
Advanced Adaptive De-Interlacing
Video Scaling and Filtering
Integrated TV Encoder – Provides best-of-class TV-out functionality for resolutions up to 1024×768
Microsoft DirectX 9.0 & OpenGL 1.5 Optimizations and Support
AGP 8X AGP 8X – enables more complex models and detailed textures, creating richer and more lifelike environments.
Dual 400MHz RAMDACs
0.13 Micron Process Technology
6800 GPUs
---
To see the differences in the Ultra, GT, and standard 6800s, take a look at the chart below. As you can see, the jump from the standard 6800 to the GT is a significant one. Unleashing all 16 pipelines, the extra 128MB of memory, and increase in clock speeds are all big improvements over the standard GeForce 6800. It really starts to show you how similar the Ultra and the GT are. The only thing that really differentiates between the two are the core and memory speeds.
| | | | |
| --- | --- | --- | --- |
| Card | Memory | Pipelines | Speed (core/memory) |
| GeForce 6800 Ultra | 256MB GDDR3 | 16 pipelines | 400MHz/1.1GHz |
| GeForce 6800 GT | 256MB GDDR3 | 16 pipelines | 350MHz/1GHz |
| GeForce 6800 | 128MB GDDR | 12 pipelines | 325MHz/700MHz |
Contents and Bundle
---
Well, the WinDVD software package is easily the best part about this bundle. Duke Nukem: Manhattan Project is a horrendously boring and horrible game; it should have been freeware in my opinion. The game demos included in the GamePack disc are okay (Max Payne and Zax demos aren't really up to par with much these days), but they are nothing worth writing home about. Standard driver CD is included with the coolbits registry overclocking fix as an install option. I liked the fact that a manufacturer included the universal overclocking tool in their driver disc. It's not a bad bundle, but of course it could be better.
The Card
---
You can't get much closer to a reference design than the Albatron 6800 GT, because that's what it is. If you peel back that label on the top of the heatsink and fan, there sits the original mermaid sticker from NVIDIA. The standard green PCB board (no this one wasn't blue like the image on the first page) adorned with a large heatsink/fan unit with a heatpipe winding through it pretty much makes up the majority of this card. Nothing fancy like LCDs or custom cooling solutions are sprinkled about on this card. I personally don't have a problem with simplicity and overall performance taking the leading role instead of flash and pizzazz. DVI, VGA, and S-Video connections are your available outputs on the card. It is unfortunate that the card does not have any VIVO function to allow input into the card.
The overall size of the card is nothing out of the ordinary. It is easily comparable to the length of every NVIDIA card since the 5900 series mammoths arrived a while back. I had no problems fitting it into my case. The power connection on the back was very easy to plug in and pull out. Sometimes you find those pesky ones that need a prybar to take apart; this one was easy as pie.
Hey, don't I know you from somewhere? A little peeling away of the loosely applied sticker on the top of the card, and an old friend pops her head up. Yup, this is definitely an NVIDIA card with Nalu the mermaid flashing her digitally rendered fins around on the front. I discovered the other sticker accidentally while installing the card. The top sticker peeled back when I brushed the video card against my sound card.
Testing
---
To test out the performance of the card, I decided to throw a kickin little application called BenchemAll into the mix. This application runs a batch of different benchmarks with specific settings all at once, unattended. You then get a nice little results report that gives scores and FPS numbers for each benchmark. It is an impressive little application that makes benchmarking a very easy process.
I included the standard gamut of benchmarks into the mix with 3DMark05, 3DMark03, AquaMark3, Doom III, Code Creatures, and the Counter Strike: Source Stress Test. The combination of old and new standards with 3DMark03 and 05 mixed in with the latest and greatest games with Doom III and the Source engine used in Half-Life 2 will give you a good idea of what to expect if you throw this in your box.
I also compared the Albatron 6800 GT with a card that I recently reviewed, the BFG 6800 OC, which is a standard 6800 series card. This should help you decide if you want to stick with the basic or add on a performance package like the GT.
Test System:
AMD 64 3200+ @ 2.0Ghz
2 x 80GB Hitachi Deskstar SATA HDDs in RAID 0
Allied 500W Aluminum PSU
AOpen 8x DVD-R/RW
Lian-Li PC-V1000 case
NVIDIA ForceWare 66.93 drivers used in all tests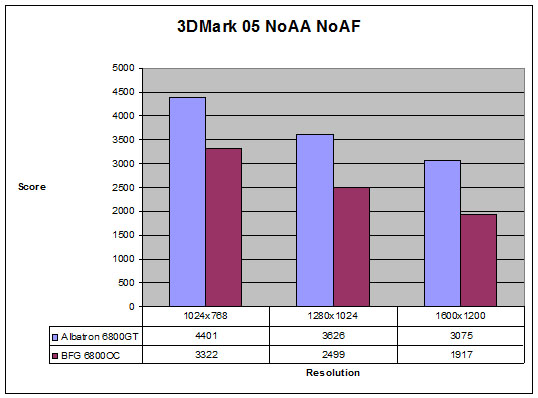 Not too many surprises in this department. 3DMark05 is a taxing benchmark application. Everytime the video cards catch up, Futuremark jumps ahead and finds a way to make your video card struggle, no matter how powerful it is. It is definitely raising the bar on benchmarks.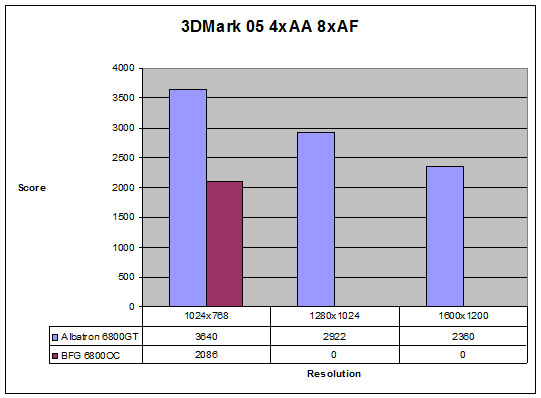 I didn't expect to run into any issues while benchmarking these two cards, but I did. This is the first time I have had the opportunity to benchmark the BFG card with the 3DMark05 application. At 1280×1024 with 4xAA and 8xAF turned on, I got an error stating that I had run out of video memory. Remember, the BFG card only has the standard 128MB of memory compared to the 256MB of 2ns DDR3 that the GT has. Guess that extra memory is starting to actually make a difference now isn't it.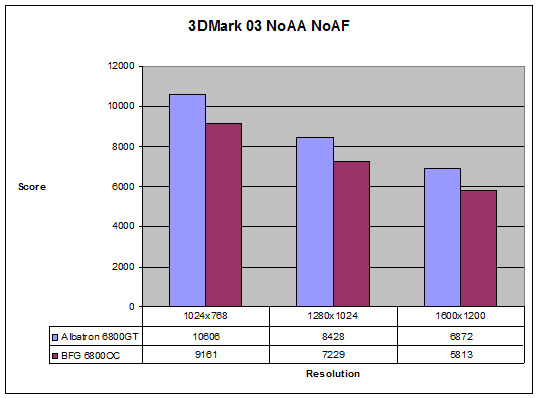 The GT adds a good 1,000 marks or so on the classic 3DMark 03 benchmark. Remember those days when you were lucky to get 5,000 marks on this one? Those days are definitely over.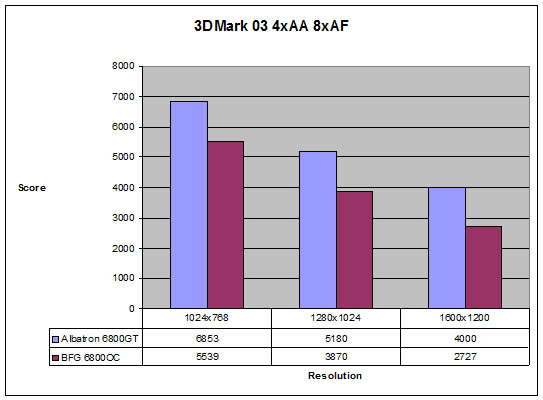 The numbers don't lie! The GT powers over the 6800 when you turn up the eye candy. With an average jump of around 1,300 points with every resolution the increase is present across the board.
Code Creatures & Doom 3
---
The Code Creatures benchmark has been around for quite a while but is still a great test of your video card. If you have the opportunity to check it out sometime, you really should.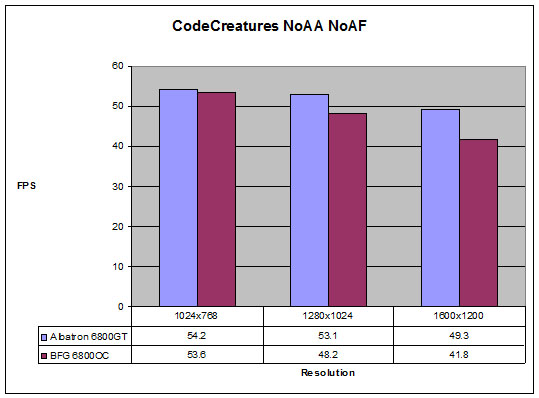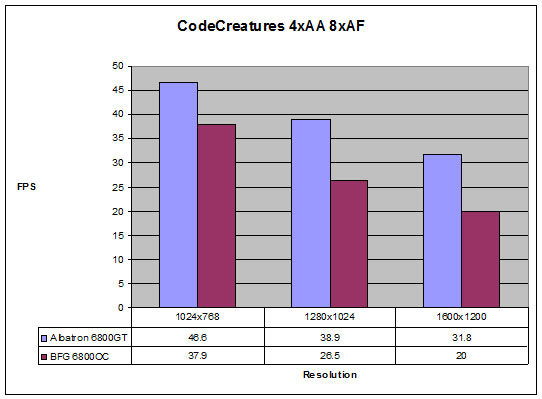 Without the AA and AF turned on, the standard 6800 succeeds in at least "keeping up" with the GT. Now when you really start to crank it up with the AA and AF, or eye candy as most of us call them, then you start to see where the 16 pipelines and additional juice in the GT make a statement that can be seen and heard.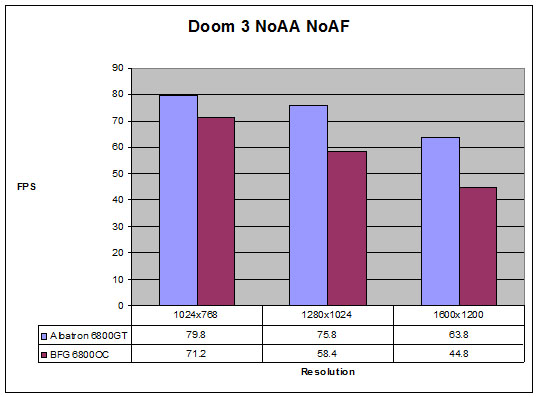 Ahhh, Doom 3, I still haven't beaten this game yet. It scares the living daylights out of me. Get some 5.1 surround and a GT, and you will see what I'm talking about too. As you can see the GT does a whole lot better at higher resolutions than the standard 6800 can. With near 20 FPS differences all the way up to 1600×1200, the GT outperforms the standard by a substantial margin.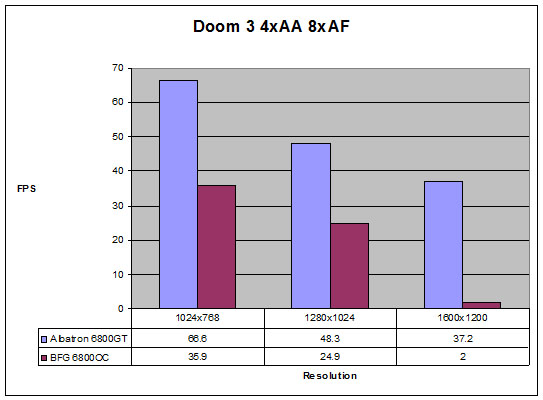 This one looks a little fishy, I know. I ran the test on the BFG card several times and repeatedly got no more than 2-3 fps. I haven't had this trouble on this card before, so I am going to chalk it up to something "squirrely" going on at that resolution. Ignoring that fact, the GT just beats up on the regular 6800 with playable framerates beyond 1024×768 with 4xAA and 8xAF turned on. If you haven't seen Doom 3 with AA and AF turned on, get a GT and do it….talk about eye candy that will make you wet yourself.
Counter Strike: Source Stress Test
---
If any of you are like me, you have this game, love this game, and can't get enough of this game and the awesome graphics it provides. Valve included the Counter Strike: Source Stress Test to test out your video card with the awesome new Source engine.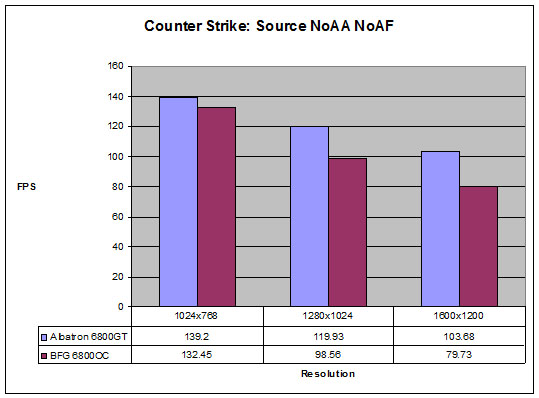 Neither card struggles with the CS: Source Stress Test without AA and AF turned on. The framerates are more than playable on either card all the way to 1600×1200.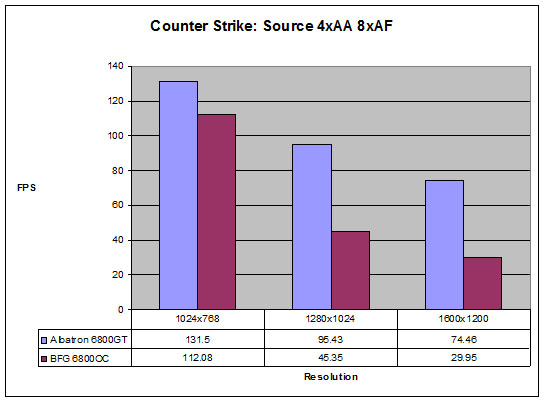 As all the previous tests have shown, the GT flexes its muscle at the higher resolutions with AA and AF turned on. Huge margins separate the two cards when you jump to 1280×1024 and higher. If you want to play HL2 with all the eye candy cranking at 1600×1200, this card may be your express ticket to gaming heaven.
Overclocking
---
To overclock the Albatron 6800 GT, I added the "coolbits" registry entry that allows you to adjust the clock frequency directly in the NVIDIA driver panel. I chose to start with the manual overclocking but had the drivers detect the optimal settings for the overclock. After a quick test, the drivers set the core speed to 412MHz from the stock 350Mhz and the memory speed to 1.12GHz from the stock 1.00Ghz. These are pretty big jumps, so I decided to stick with those settings for a few 3DMark05 benchmarks.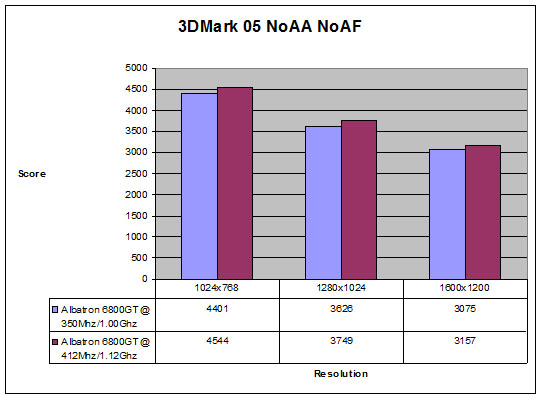 At the stock noAA/noAF settings, the additional clock speeds made a pretty decent jump up on the scale. It doesn't show a huge jump that could warrant risking damage to your card by bumping it up any further.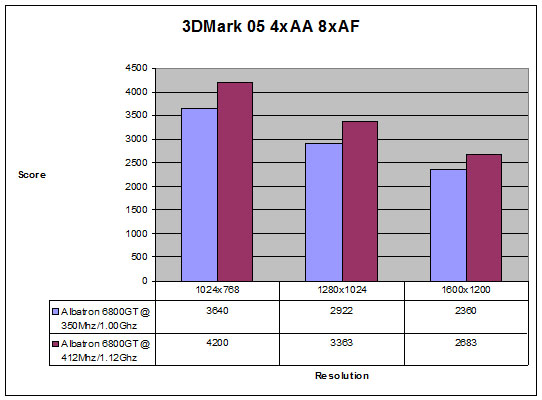 Here is where the overclocking really shows its muscle. When 4xAA and 8xAF are thrown in the mix, the overclocking really starts to show. Almost a 600 point jump at the lower 1024×768 resolution and a decent 300 point jump all the way up to 1600×1200 is a very substantial increase.
Yes, if you were observant earlier, you will notice that the clock speeds are now faster than the 6800 Ultra clock speeds. Does this mean you can get Ultra performance out of the GT? Things that make you go hrmmmmmmmmmmmm.
Final Thoughts
---
So where does all of this leave us? Well, it leaves me with the feeling that for the best bang for your buck, the GT is the way to go. If you are looking for a card that will blow your mind when you want see how your games are supposed to look, the Albatron 6800 GT may be the route you want to take. It is a no-frills card that simply performs like it is supposed to. The price tag is sure to make a dent in your bank account though. The street price for the 6800 GT is going to be around $400 no matter where you look. I was able to find the Albatron 6800 GT at Newegg for $406.00 while I was writing this. When you compare it to the Ultra cards, you are getting a bargain going for the GT model. Ultra cards can be anywhere from $100-$200 more than that on a given day. The GT will give you close to the same performance as the Ultra can for quite a bit less.
Pros:
+ Powerful
+ Appealing simplicity
+ Best bang for your buck
+ Great overclocker
Cons:
– Unappealing simplicity (some like simplicity, some don't)
– $400 no matter how you look at it is a lot of money
– Weak bundle, gimme a game worth playing!
If you are looking for a video card for the holidays, you should definitely take a look at the Albatron 6800 GT. When push comes to shove, it performs like a champ and can hold its own against just about anything you throw at it. Just make sure you have been a good boy or girl because Santa is going to have to shell out a little cash to put this under your tree. I give the Albatron 6800GT a 9 out of 10 and the Bjorn3D Seal of Approval.