DFI LANParty UT 915P-T12 offers some very unique and innovative features, like CMOS Reloaded and a Karajan audio daughter card to make the already good Azalia sound even better. Recent reviews have shown this to be one of the top overclocking 915P boards around. Check out the review to learn more about this exciting offering from DFI.
INTRODUCTION

---
Several months ago, DFI decided to extend its highly-awarded and feature-packed LANParty line by introducing the LANParty UT line. The UT line is meant to up the performance part of the price per performance ratio, which means it has a lighter bundle and sometimes fewer features than its non-UT brethren. So, the UT line is for users with tighter budgets who still want an enthusiast board but not quite as many extras as offered by the regular LANParty line or for someone who wants LANParty performance and tweaking options but just doesn't want to pay for the bigger bundle.
Today, I'm looking at the LANParty UT 915P-T12, which is a board based on the Intel 915P chipset. It offers support for both DDR and DDR2, but you can only use one type at a time of course. With four DIMM slots, this leads to a limitation of 2GB for the maximum amount of RAM, which should be more than plenty for 99.9% of users. The board also features dual Gigabit LAN (one being on the PCI-Express bus), PCI-Express x16 graphics and DFI's proprietary Karajan audio card. To find out more, check out DFI's press release and be sure to keep reading.
FEATURES, SPECIFICATIONS and BUNDLE

---
DFI is no slouch when it comes to adding cool and unique features in its LANParty line of motherboards, and that even goes for the UT family members. Amongst those features are the Karajan audio card and CMOS Reloaded. The proprietary Karajan daughter card is intended add to the goodness that is Azalia. Since the audio connectors are on a separate card that plugs into the motherboard, the amount of noise and interference should be reduced and result in even clearer analog sound overall. CMOS Reloaded is a feature that most of you have probably heard about by now. It allows you to save BIOS configurations in the BIOS setup screen. You can name, save and load up to four different BIOS configurations.
In addition to those cool features, DFI also throws in dual Gigabit LAN, one of which is based on the PCI-Express bus, the ability to use DDR or DDR2, and a PATA-to-SATA adapter module. With the PATA-to-SATA adapter, you can connect an additional parallel IDE drive via a SATA connector. Lot's of good stuff you don't find on many other boards!
Features
Karajan Audio (Dolby 7.1, 8ch supported)
Dual Gigabit LAN (1x PCI interface, 1 x PCIe interface)
SATA / PATA converting daughter Card
100% Japanese Capacitors
PCI express x16, x1 supported
CMOS Reloaded
Dual Channel DDR2 533 + DDR 400
Genie BIOS
EZ-on / EZ-touch
UV-reactive slots and connectors
Specifications
CPU
* Intel® Pentium® 4 Prescott processor
    – Hyper-Threading Technology
    – 533MT/s and 800MT/s (200MHz) system bus interface
* Socket LGA 775 (LAN Grid Array)

Chipset
* Intel® 915P chipset
    – Intel® 915P Memory Controller Hub (MCH)
    – Intel® 82801FB I/O Controller Hub (ICH6)

Memory
* Two 240-pin DDR2 DIMM sockets that support DDR2 400 and DDR2 533 DIMMs
* Two 184-pin DDR1 DIMM sockets that support PC2700 (DDR333) and PC3200 (DDR400) DIMMs
* Supports dual channel (128-bit wide) memory interface
* Supports up to 2GB system memory
* Supports non-ECC x8 and x16 DIMMs
* Supports 256Mb and 512Mb DRAM densities
* Supports unbuffered DIMMs

BIOS
* Award BIOS
* Genie BIOS provides:
    – CPU/DRAM overclocking
    – CPU/NB/DRAM overvoltage
* 4Mbit flash memory

Power Management
* Supports ACPI specification and OS Directed Power Management
* Supports ACPI STR (Suspend to RAM) function
* Wake-On-Events include:
    – Wake-On-PS/2 Keyboard/Mouse
    – Wake-On-USB Keyboard/Mouse
    – Wake-On-Ring (external modem)
    – Wake-On-LAN
    – RTC timer to power-on the system
* AC power failure recovery

Hardware Monitor
* Monitors CPU/system temperature and overheat alarm
* Monitors 12V/5V/3.3V/Vcore/Vbat/5Vsb/3.3Vsb voltages
* Monitors the speed of the CPU/system fan
* CPU Overheat Protection function monitors CPU temperature and fan during system boot-up – automatic shutdown upon system overheat

LAN
* Gigabit ethernet controllers – Marvell 88E8053 PCI Express and Marvell 88E8001 PCI
* Full duplex support at both 10 Mbps, 100 Mbps and 1Gbps

Audio
* Azalia audio codec with independent variable sampling rate
* S/PDIF-in/out interface
* 8-channel audio output

IDE
* Supports ATA/33, ATA/66 and ATA/100 hard drives

Serial ATA
* Supports four SATA (Serial ATA) interfaces which are compliant with SATA 1.0 specification (1.5Gbps interface)

IEEE 1394
* Supports two 100/200/400 Mb/sec ports

Rear Panel I/O Ports
– 1 mini-DIN-6 PS/2 mouse port
– 1 mini-DIN-6 PS/2 keyboard port
– 2 S/PDIF RCA jacks (S/PDIF-in and S/PDIF-out)
– Karajan audio card (6 audio jacks)
– 1 IEEE 1394 port
– 2 RJ45 LAN ports
– 6 USB 2.0/1.1 ports

I/O Connectors
– 1 connector for 2 additional external USB 2.0/1.1 ports
– 1 connector for 1 external IEEE 1394 port
– 1 connector for 1 external serial port
– 1 front audio connector for external line-out and mic-in jacks
– 1 CD-in internal audio connector
– 1 S/PDIF connector for optical cable connection
– 1 IR connector
– 1 CIR connector
– 4 Serial ATA connectors
– 1 IDE connector
– 1 floppy connector
– 2 ATX power supply connectors
– 5 fan connectors
– 4 diagnostic LEDs
– 1 diagnostic LED connector for external 4 diagnostic LEDs display
– EZ touch switches (power switch and reset switch)

Expansion Slots
* 1 PCI Express x16 slot
* 3 PCI Express x1 slots
* 3 PCI slots

Compatibility
* PCI 2.2 and Azalia compliant

PCB
* 6 layers, ATX form factor
* 24.5cm (9.64″) x 30.5cm (12″)
Package Contents
One LANParty UT 915P-T12 system board
One Karajan audio card
One Serial ATA to Parallel ATA adapter module
One Serial ATA power cable for the adapter module
One IDE round cable
One floppy round cable
Two Serial ATA data cables
One Serial ATA power cable
One card-edge bracket mounted with a DB-9 serial port
One I/O shield
One "Mainboard Utility" CD
One LANParty UT 915P-T12 User's Manual
One CMOS Reloaded User Guide
BOARD LAYOUT and INSTALLATION

---
Board Layout
The board layout of the LANParty UT 915P-T12 is pretty good, although some choices could have been better. For instance, the NVIDIA 6800 GT I was using was relatively difficult to uninstall because the locking mechanism isn't very easy to use. I've never liked these kind of locks, but this one was a little more annoying to me than most. Plus, there are some capacitors right by it, making it more cramped and harder for a finger to get down there and work the mechanism. Plus, the location of the floppy connector could pose a problem for some, but this seems to be a very common location for many 915/925 boards.
The CPU socket has plenty of clearance, which means that you shouldn't have many issues with large heatsinks and fans. The northbridge features a large heatsink for passive cooling. Although it would be nice to see an active cooling solution, this heatsink should do the job just fine and won't add to overall system noise. You can see, in the second pic, that this board features one PCI-Express x16 slot, three PCI-Express x1 slots (the third is in the upper right-hand corner) and three PCI slots. One thing I like about this board is the fact that it has five fan headers (one four-pin header for the CPU HSF and four three-pin headers for system fans).
In the first image below, you can see the small heatsink on the southbridge. It's definitely nice to see some kind of cooling on this important chip. Additionally, you can see the four SATA ports, floppy connector, EZ-on/EZ-reset buttons, PATA IDE connector, and the third PCI-Express x1 slot in this corner of the board. In the final corner and image, you can see the four DIMM slots, two of which are for DDR (orange) and two for DDR2 (yellow). The power connectors are also seen in this pic.
Since this motherboard features DFI's proprietary Karajan audio daughter card, I thought it would be worth showing the rear I/O panel with it not installed and with it installed. Here you'll find the PS/2 mouse and keyboard ports, S/PDIF in and out, analog audio inputs and outputs (on the Karajan card), two Gb LAN jacks, one FireWire port and six USB 2.0 ports.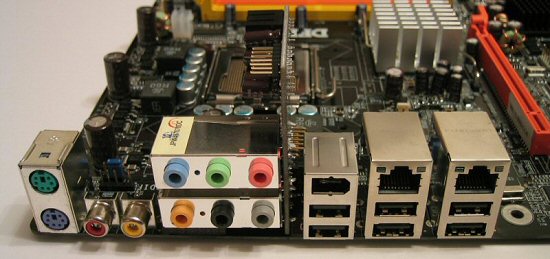 Installation
Usually, hardware installation is completed without any real problems, but this time that wasn't the case unfortunately. Before putting the motherboard in the Lian-Li PC-V1000 case that I was using, I went ahead and plugged in the Karajan audio card. Cool, that was the easy part; no problems there. But, then when I tried to place the motherboard in the case, I ran into a problem. The Karajan card actually runs into the rear 120mm case fan and prevents the motherboard from sliding in all the way. Egad! I was really surprised by this, and I hope no one experiences this problem after buying this board. I seriously doubt it's a problem with many other cases though. You can see what I'm talking about in the first picture below.
I had no other issues while doing the hardware, software and driver installation, but the issue with the Karajan card and V1000 is definitely one to be aware of. One more thing to note is that the video card must be removed if you need to swap out RAM. I thought this problem had gone away with newer motherboards, so I was surprised to see it here. Overall though, it's not a huge issue since most users don't swap out RAM very often.
TEST SYSTEM, OVERCLOCKING and BENCHMARKS

---
As you know by now, the LANParty UT 915P-T12 is compatible with both DDR and DDR2. I decided to use DDR2 in my testing since I've had better luck overclocking with it. I will be comparing this DFI board to the two ABIT LGA775 boards I have reviewed — the AG8 (915P) and the AA8 DuraMAX (925X). Since both of the ABIT boards had a default front-side bus (FSB) clock of 204MHz, I bumped up the LANParty UT 915P-T12's clock to 204MHz for a fair comparison.
Both the LANParty UT 915P-T12 (when DDR2 is installed) and the AA8 DuraMAX have a default CPU to memory ratio of 3:4, so the memory is set at 542MHz with the Corsair Twin2X1024-5400 PRO DDR2 that I used. Memory timings were set at 4-4-4-12 for these two boards. The AG8, on the other hand, was using a default 1:1 ratio, which means the Corsair TwinX1024-4000 PRO DDR memory was clocked at 408MHz. Its timings were 2-4-4-7.
Although both of the ABIT systems featured two 120GB Maxtor SATA drives in RAID 0, I only used one SATA drve in the DFI system since it doesn't feature any RAID capabilities. The only tests this would substantially affect are file system tests, which are not the focus of this review. Here are the test setups used for this article.
Test System Configuration – DFI LP UT 915P-T12
| | |
| --- | --- |
| Test System Configuration – ABIT AG8 | Test System Configuration – ABIT AA8 DuraMAX |
Overclocking
With the LANParty line, DFI caters to enthusiasts and tweakers, and that can be seen in the BIOS. In order to get the best overclock possible, I set Performance Mode to "Disabled" in the BIOS. I also disabled the onboard PCI-Express LAN and set the PCI-Express clock to "Auto." While this board has been known to get up to 270-280MHz FSB, I wasn't quite able to push it that high. The highest stable FSB overclock I could reach was 250MHz.
CPU Voltage = 1.4375V
FSB Max = 250MHz
Multiplier = 15 (CPU = 3.75GHz)
Northbridge Voltage = 1.8V
Benchmarks
SiSoftware's Sandra 2004 SP2b (CPU Arithmetic, CPU Multi-Media, Memory Bandwidth and File System)
Futuremark's PCMark04
Bapco's SYSmark 2004 (SP2)
Super PI
POV-Ray 3.6
AquaMark3 – 4xAA / 8xAF
Futuremark's 3DMark03 – default settings
PERFORMANCE – SYSTEM

---
Because the LP UT 915P-T12 is a 915P board like the AG8, it's logical to expect it to perform similarly to the AG8. But, that's not the whole picture of course since it's using DDR2 like the AA8 DuraMAX, so maybe it will fall somewhere in between on some benchmarks. Let's take a look and find out.
SiSoftware Sandra 2004 SP2b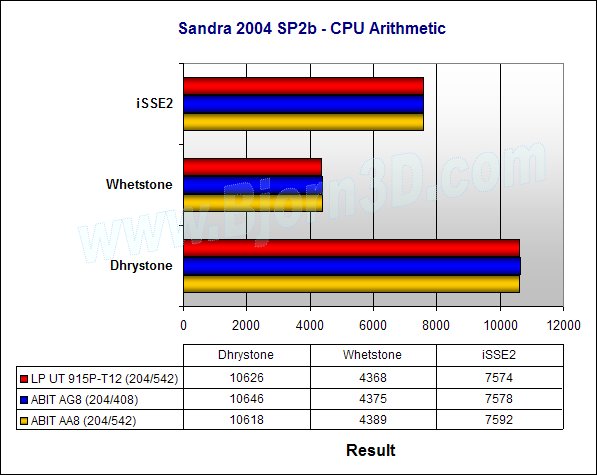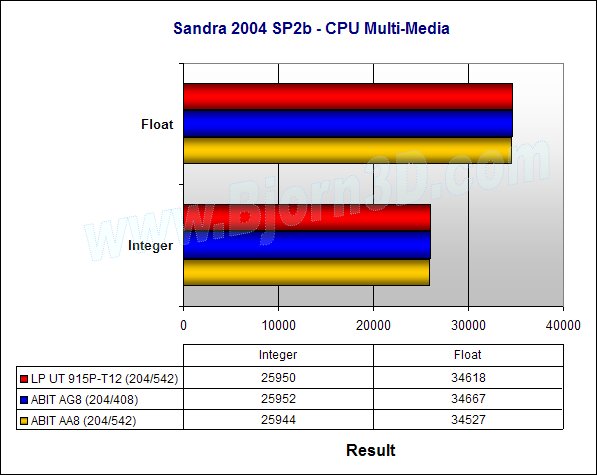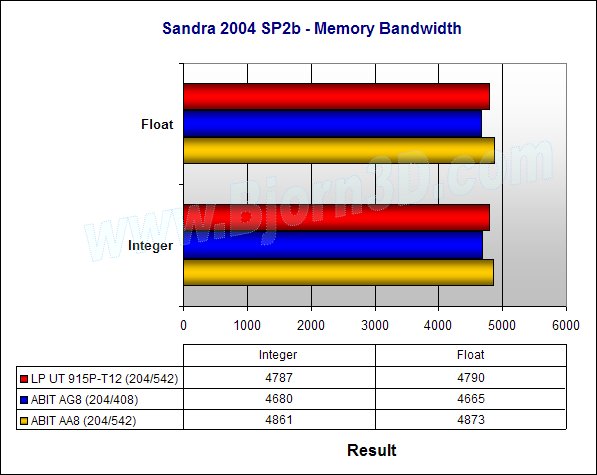 The results fall along the lines I had expected. The CPU benchmarks are all too close to call. The memory bandwidth test shows the DDR2-wielding LP UT 915P-T12 performing right in between the DDR2-based AA8 DuraMAX and DDR-based AG8.
FutureMark PCMark04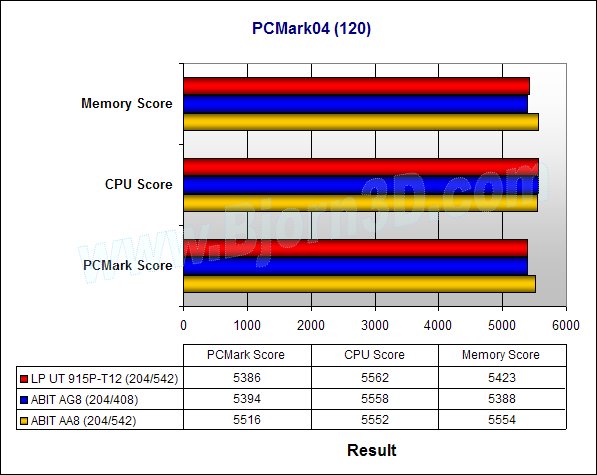 The story is very similar with the PCMark04 benchmark. Nothing is surprising yet about the test results.
PERFORMANCE – SYSTEM (cont'd)

---
Bapco SYSmark 2004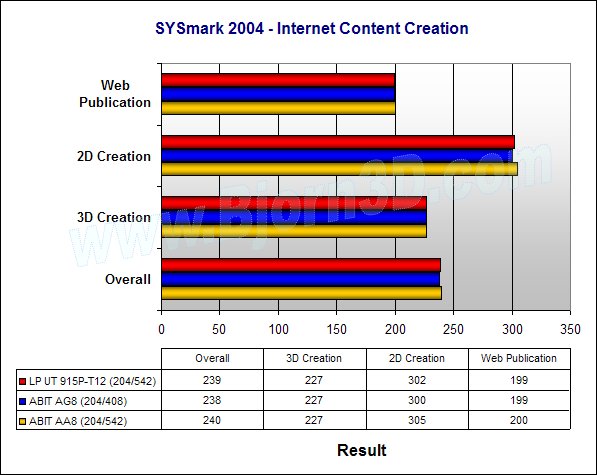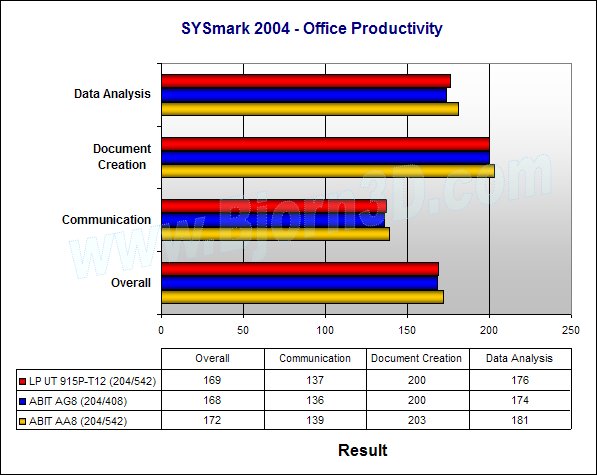 Here we see the LP UT 915P-T12 edge out the AG8 slightly, but it doesn't quite match the power of the AA8 DuraMAX, which is based on the superior 925X chipset (something to definitely keep in mind).
Super PI and POV-Ray
The Super PI benchmark calculates the number pi out to a specified number of digits. I selected the highest option, 32 million. This benchmark really tests the CPU more than anything, so close results should be expected, and that's exactly what we see. All three boards put up identical numbers.
Super PI – 32M

Mobo
Result

LP UT 915P-T12 (204/408)

30 min 11 sec

ABIT AA8 (204/542)

30 min 11 sec

ABIT AG8 (204/408)

30 min 11 sec
Another CPU-intensive benchmark that I ran is POV-Ray 3.6 (Persistence of Vision Ray-Tracer). POV-Ray is a freely available tool that can be used for ray-tracing, and it has a built-in benchmark capability, which is what I used for this comparison. LP UT 915P-T12 takes a slight lead over both ABIT boards here.
POV-Ray 3.6

Mobo
Result

LP UT 915P-T12 (204/408)

89.88 PPS

ABIT AA8 (204/542)

88.80 PPS

ABIT AG8 (204/408)

89.77 PPS
PERFORMANCE – GAMING, AUDIO and FILE SYSTEM

---
Gaming
Although a little unorthodox for a motherboard review, I decided to compare the boards' performance with high image quality settings rather than disabling them. I prefer to see how they rank against each other at settings that I'd actually use rather than lower ones.
AquaMark3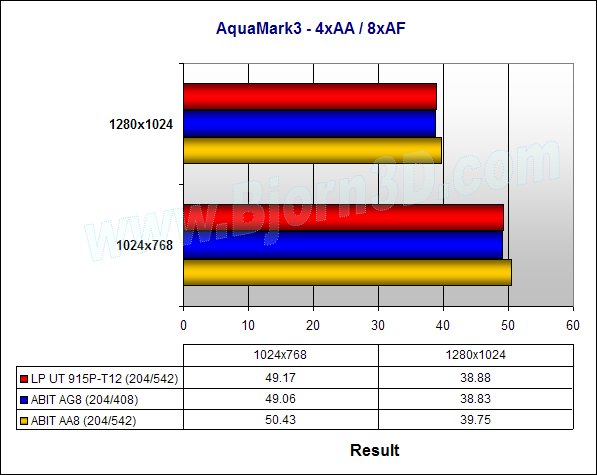 Futuremark 3DMark03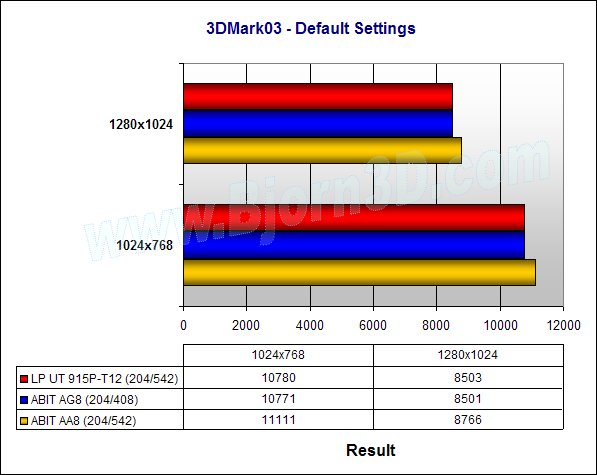 The LP UT 915P-T12 and AG8 perform almost identically, which happens to be a little bit behind the performance of the AA8 DuraMAX.
Audio
When I first heard about the Karajan audio from DFI, I was eager to check it out. Needless to say, I was a little disappointed that the audio card interfered with the installation of the motherboard in my Lian-Li case, but I had to check it out. So, after transplanting everything to another case, I took the Karajan audio for a little test spin with my Logitech Z-680 5.1 speaker system.
While I do wish that this and more motherboards would include a digital optical connector rather than coaxial, I was rather pleased with the sound quality. It was definitely superior to that of the AG8, which doesn't use the Intel HDA codec. I would have no problems using the LP UT 915P-T12's onboard sound for my music, movie and gaming needs.
File System
I ran the Sandra File System benchmark to make sure the LP UT 915P-T12 performs up to snuff when it comes to hard drive performance. With the single 120GB Maxtor SATA drive, the result was 50MB/s, which is a good score. Other similar file system benchmarks I ran confirmed these results.
CONCLUSION

---
DFI has become a very popular name due to its LANParty line, which has always packed in a lot of great feaures and a large bundle. These extras come at a price that put the LANParty boards out of reach for many users who are interested in them. That is where the LANParty UT line comes in. It offers a way for users to step into the LANParty line at a more affordable price but at a compromise of course. The most obvious difference is the smaller bundle of goodies included in the UT line, but the UT line is also not quite as feature-rich either.
At about $165, the LANParty UT 915P-T12 is not the cheapest 915P board around, but it has proven to be one of the best overclockers around so far. Plus, it is made with higher quality parts than many other boards, and it offers the fun and excitement of UV-reactive slots and connectors. DFI also allows you to choose which type of memory (DDR or DDR2) you want to use with this board.
One of the biggest things missing from this package is RAID. I was more than a little surprised to see that it isn't included at all on this board. While it does not feature any RAID capabilities, it does offer a high quality onboard audio solution in the Azalia 8-channel audio and the Karajan daughter card. As I already mentioned a couple times, the Karajan card can pose a problem in at least one case, the Lian-Li PC-V1000. Despite the problems I encountered, DFI still has a winner here with the LANParty UT 915P-T12. I would recommend it to an enthusiast who wants to do some serious overclocking with an LGA775 processor.
Pros:
+ Good performance
+ Compatible with both DDR and DDR2
+ UV-reactive slots and connectors
+ Good onboard sound
+ Nice overclocking options
Cons:
– No RAID
– Karajan audio card doesn't work with Lian Li V1000 case
Final Score: 9 out of 10 and the Bjorn3D Seal of Approval