If you're looking for a great bang-for-your-buck video card, then you're in luck. The Gigabyte GV-NX66T128D features NVIDIA's GeForce 6600 GT GPU, which performs very well for a graphics chip seen on boards in the under $200 price segment. And Gigabyte throws in two games just for good measure. Read this review to see if this Gigabyte board is what you were looking for after all.
Introduction
---
The GeForce 6 series of graphics accelerators from NVIDIA seems to have done a lot to help pull NVIDIA out of the quagmire of controversy and troublesome issues it fell into with the NV3x generation of GPUs. People who might have given up on NVIDIA are now paying attention again because the GeForce 6 family of GPUs performs well across the board. The comeback of SLI technology is another reason NVIDIA has more people leaning its way nowadays. Most of NVIDIA's current GeForce 6 series is available in AGP and PCI Express flavors. With the release of the 6600 line of cards, NVIDIA finally lauched its first native PCI Express GPUs, meaning they were designed for PCI Express. The 6600 GPUs represent the midrange of NVIDIA's line-up, and PCI Express is not widespread enough yet for any company to rely on sales of those products available in PCI Express form only. (One major reason is that AMD-compatible chipsets supporting PCI Express have been slow to come to market.) So, NVIDIA is making bridged AGP versions of the 6600 boards, too. NVIDIA wants to ship a high volume of these products to its partners, and that volume can be maximized only if AGP and PCI Express parts are available.
With the 6600 line, consumers have a great chance to get a lot of bang for their buck. Traditionally, the best price to performance ratio can be had in the midrange (or last year's high-end), and the tradition seems to be getting better with the 6600 line. The 6600 chips offer most of the features of the high-end 6800 GPUs. The main differences are the 6600 includes half the number of pixel pipelines (eight) and half the memory bus width (128-bit) of the topnotch 6800 boards. The 6600 GT is the best that this midrange line-up offers, and it earns that title. It features eight pixel pipelines, a 500 MHz core clock, a 1000 MHz (effective) memory clock, and GDDR3 memory, the top-of-the-line graphics memory available today.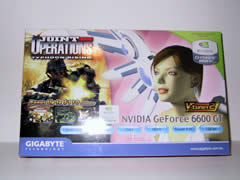 Gigabyte was kind enough to supply Bjorn3D with its PCI Express 6600 GT video card. The GV-NX66T128D is a standard 6600 GT offering with no obvious deviation from the reference design. However, Gigabyte does offer two games that were released this year in its bundle. They are Joint Operations: Typhoon Rising and Thief: Deadly Shadows. Also worth noting, Gigabyte includes an adapter to use the 6600 GT to output HD resolutions to an HDTV or a home theater receiver with component video inputs. This should really appeal to people thinking about setting up a home theater PC with a PCI Express video card.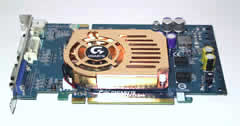 Specifications & Features

---
Specifications:
Graphics Chip
NVIDIA GeForce 6600 GT
Memory
128 MB GDDR3
Memory Bus
128 bit
Core Clock
500 MHz
Memory Clock
1000 MHz (effective)
Maximum Resolution
2048 x 1536 @ 85 Hz
Bus Interface
PCI Express x16
Pixel Pipelines
8
Output Options
VGA
DVI
TV-Out (including HDTV adapter)
Features:
GeForce 6 Series
8 parallel rendering pipelines
Dual 400MHz RAMDACs
Includes an adapter for component video output for HDTVs, monitors, etc.
Package Contents:
6600GT Video Card
GV-NX66T128D Graphics Accelerator User's Manual
DVI-to-VGA adapter
TV-Out adapter for S-Video and HDTV component video (Y,Pr,Pb) outputs
Driver installation disc, which also includes:

PowerDVD 5.0
V-Tuner2 Plus (Gigabyte's overclocking utility)

Full Version Games:

Joint Operations: Typhoon Rising
Thief: Deadly Shadows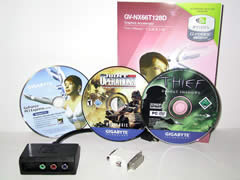 Performance

---
Unfortunately, the only other PCI Express video card I have right now is the Albatron PCX5750 that I reviewed a while ago. It is based on the midrange GPU from NVIDIA's previous generation, so it does provide an interesting look at then and now. However, the 6600 GT represents the top of the midrange; whereas, the 5750 is not based on the 5700 Ultra, which was the top of the NV3x generation's midrange. Nevertheless, the benchmark results show how much more bang for your buck you get with NVIDIA's current midrange king.
Test System Configuration
Intel Pentium 4 550 (3.4 GHz) (article)
  – Hyperthreading Enabled
Gigabyte GA-8GPNXP Duo (review)
OCZ EB DDR PC3200 1 GB kit – 2 x 512MB (review)
Seagate Barracuda 7200.7 SATA NCQ 160GB hard drive (article)
Albatron PCX5750 -or- Gigabyte 6600 GT
Microsoft Windows XP with Service Pack 2
Graphics Card Driver: Forceware 66.93
DirectX Version: 9.0c
3DMark03 (3.5.0)
FutureMark finally certified a recent NVIDIA driver (66.93) for 3DMark03 and 05, so I am including them in this review. I know people like to compare their system(s) to others in Futuremark benchmarks, and I do not like to disappoint. And neither does the Gigabyte 6600 GT.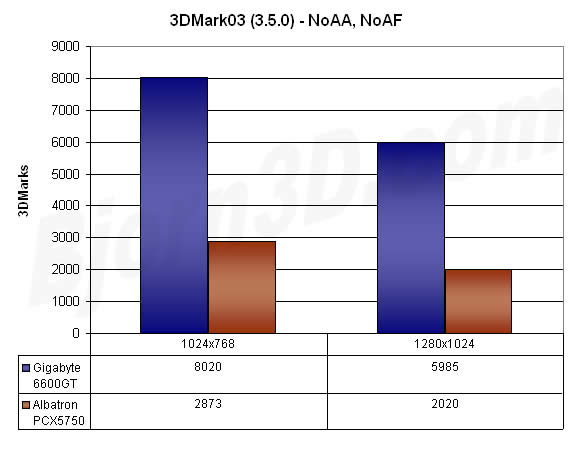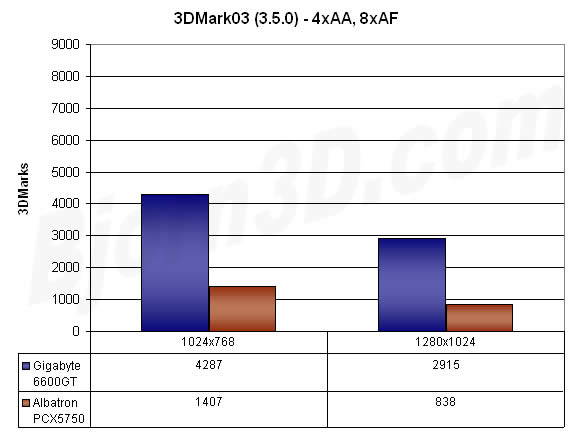 3DMark05 (1.1.0)
3DMark05 was designed for the current generation of boards and beyond, so the PCX5750 should not be expected to do very well in this benchmark. However, the 6600 GT paired with a high-end P4 should be able to put up some pretty good numbers. Note the low resolutions of these two sets 3Dmark05 runs. To see how the 6600 GT performs at 1024×768 (the "default" resolution of 3DMark05) check out the overclocking section on the next page.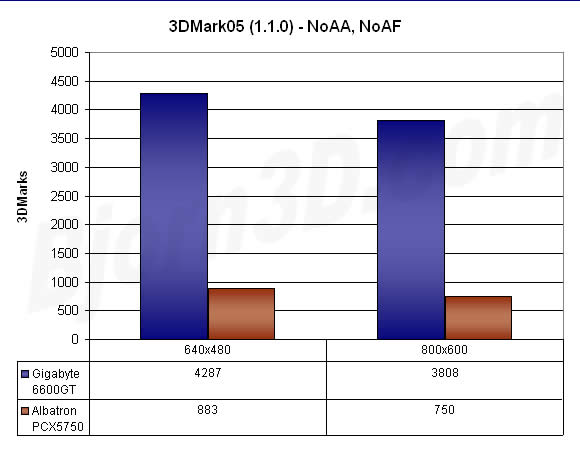 AquaMark3
The AquaMark3 benchmark utilizes a real 3D game engine (called krass) with DirectX 9.0 features, such as Pixel Shaders 2.0, to render a beautiful underwater world. This engine is used in AquaNox 2: Revelation and the RTS game Spellforce. I ran the default benchmark (1024×768, NoAA, 4xAF, maximum details) that can be run in an unlicensed version of AquaMark3 and one benchmark with custom settings – Very High level of detail, 1024×768, 4xAA, and 8xAF.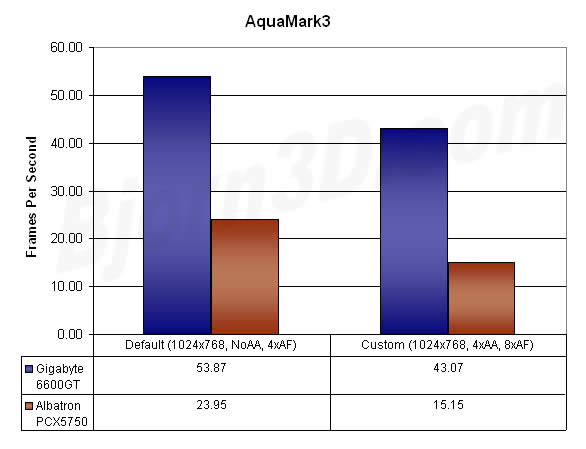 Doom 3 (1.1)
Doom 3 has a reputation for being a power-hungry PC game. Since its advanced graphics features include bump mapping, specular and diffuse lighting, shadows, and volumetric fog, Doom 3 can really test the might of any system. One important thing to keep in mind is that 8x anisotropic filtering is enabled automatically when the "High Quality" setting is selected.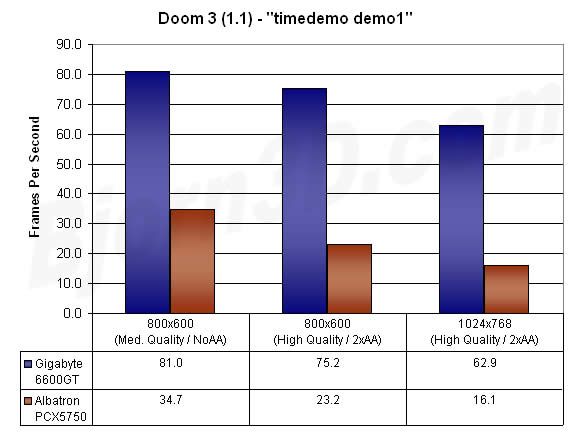 Even NVIDIA's top midrange board allows this popular game to be played at High Quality and 1024×768 with 2x anti-aliasing enabled. That's impressive.
Halo (1.06)
I ran Halo 1.06 and used the timedemo feature for these benchmarks. The timedemo feature does not really provide a realistic in-game performance number; I would compare it to a flyby type of benchmark. Nevertheless, it provides some idea of how the these boards will perform in this game.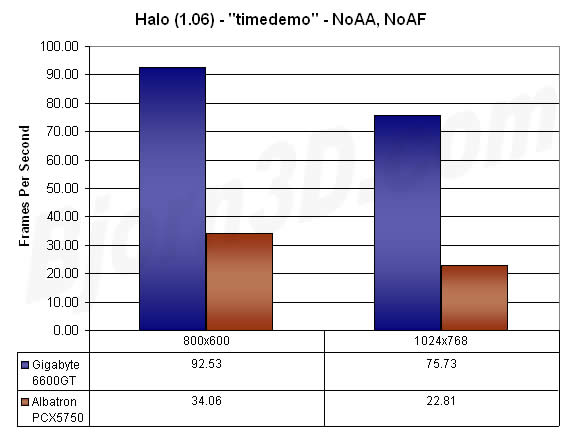 The 6600 GT continues to show just how capable it is. If you upgrade to this board from a previous generation board, Halo will run smoother than you've ever seen it.
Far Cry (1.3)
Far Cry is a very popular game from Crytek, and just like Doom 3, it can test the might of nearly any system. To benchmark using the timedemo feature of Far Cry, I used the PCGH_VGA Timedemo from 3dcenter. In the advanced graphics settings area of the game configuration screen, the lowest that anisotropic filtering can go is 1x, which means that at least 1xAF is enabled at all times. All other detail settings where set to High for all timedemo runs.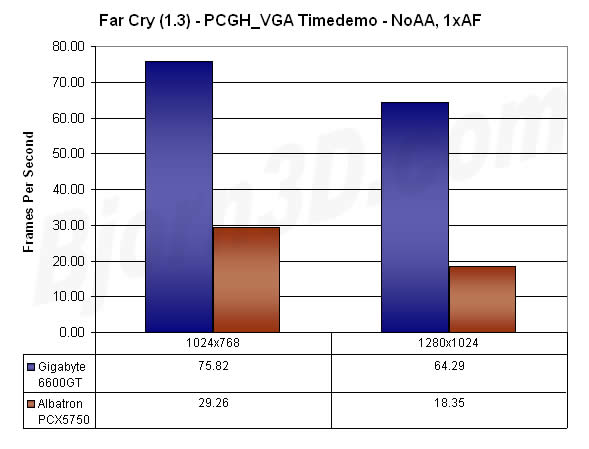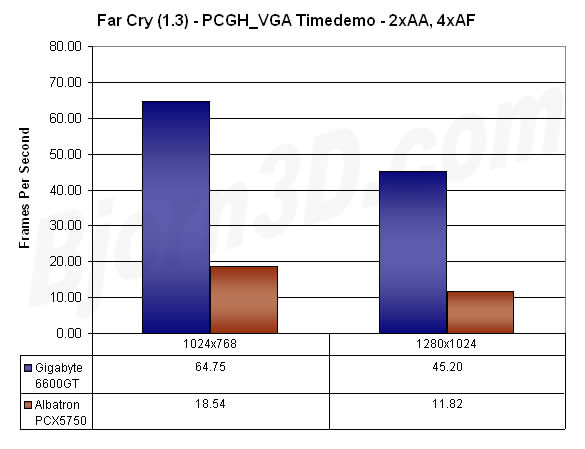 Half-Life 2 Playability
I was planning on running Valve's Source Video Stress Test for this review, too, but it did not run correctly when the 5750 was installed. Since Half-Life 2 is my favorite game and a lot of people are playing it or Counter-Strike: Source right now, I felt I had to have some information about it in this review.
With the GV-NX66T128D installed in the test system, I cranked up Half-Life 2 and set it up for 1280×960 with 2xAA and 4xAF. It ran just fine and looked great with these settings. I never noticed any framerate issues in the part of the Highway 17 level I played. I bumped the resolution up to 1280×1024, and then I started to get an occasional "hiccup" during gameplay, but it was tolerable for the most part. I'd say that is about the limit of this card's performance. If AA and AF are more important to you, you could probably get away with taking the resolution down to 1024×768 and increasing both of those settings a little bit. Either way, this 6600 GT will be able to provide a great Half-Life 2 to experience.
Overclocking

---
I jumped right into aggressive territory when I started overclocking the GV-NX66T128D, and it did not agree with what I was trying to do to it. Using Gigabyte's V-Tuner II application, I set the core clock to 650 MHz, which is a huge 150 MHz jump. The system began to act weird and then rebooted itself. So, I worked the core clock down and memory clock up a little bit. I thought I had a winning combination at 590/1120, but, when I ran 3DMark05, green flashes were showing up all over the screen. The GPU or memory obviously did not like those settings. Eventually, I found that 560/1100 was about all I was going to get out of this board. These are fairly good overclocking results, but I was just hoping to get more out of this card.
I re-ran 3DMark05 and Doom 3 to see how much of an increase in performance this overclocking yielded.
6600 GT (500/1000)

6600 GT (560/1100)

3DMark05 (1.1.0)
1024×768, NoAA, NoAF
3292
3643
Doom 3 (1.1)
High Quality (8xAF), 1024×768, 2xAA
62.9
66.8
Conclusion

---
Seeing the performance of the Gigabyte 6600 GT makes it quite obvious that the 6600 GT is a great example of getting a lot for relatively little. Equipped with eight pixel pipelines, a 128-bit memory interface, and 128 megabytes of GDDR3 memory, the 6600 GT makes a strong showing as the new king of NVIDIA's midrange product offerings.
Gigabyte's hardware solution does not break away from the norm at all, like their 6800 board does with its completely passive cooling solution, but that is not necessarily a bad thing. It allows Gigabyte to price this board vey competitively, even though two recently released (and good) games are included in the package. You can actually pick up this board for less than $200 from reputable e-tailers! If you're reading this and thinking that you are missing out on this awesome GPU because you don't have a PCI Express equipped PC, don't worry, NVIDIA also offers an AGP version of this card. It's clocked a little slower and will cost a little more, but it should still be a great bang-for-your-buck video card.
I highly recommend this board (or any other 6600 GT) to anyone looking to get a great PC upgrade for a couple C notes.
Pros:
+ Great price/performance ratio
+ Decent overclocking headroom
+ Bundle includes two recent games but doesn't seem to inflate the price
+ HDTV output via included adapter
Cons:
– Still trying to think of one…