Looking for a great aluminum case? If so, you owe it to yourself to check out the Lian Li PC-6077.
Introduction

---
There are certain brands or companies people usually turn to when they want a certain level of quality in a product or service. When it comes to aluminum PC cases, Lian Li is one such brand. Based in Taiwan, Lian Li has been a leader in the aluminum case market for quite a few years now. The company recently released its newest line of cases – the V-Series. However, its older lines of cases are still readily available and worth consideration from anyone wanting a high-quality case.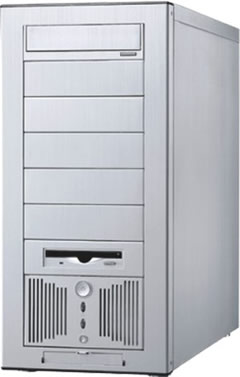 Thanks to CrazyPC.com, we were able to get our hands on a silver Lian Li PC-6077 mid-tower case, which has been available for at least a year now. The PC-6077 offers plenty of great features, including various front I/O connectors, unique bay reconfiguration options, optical drive and floppy drive bezels, and aluminum construction. After my experience with this case, I think anyone who is considering either upgrading their current case or building a new system should certainly take a serious look at this case.
Specifications & Features

---
Specifications:
Dimensions: 210 x 450 x 490 mm (WxHxD)
Drive bays:

6 x 5.25″ external (one optical drive bezel included)
1 x 3.5″ external (using included FDD bezel)
3 x 3.5″ internal in EX-23 HDD rack

Fans: 3 x 8 cm dual ball-bearing fans included (vent for one more in back for a total of 4)
Front multi-media I/O: IEEE1394 x 1; Mic x 1; EAR x 1; USB2.0 x 2
Expansion slots: 7
All aluminum construction: Anodized aluminum with silver finish (also available in black finish)
Motherboard types: ATX, Extended ATX, and Pentium 4 compatible (MAX SIZE: 12″x9.6″)
Features:
Easy-access slide out motherboad tray
User friendly adjustable bays to suit user's need
Special ventilation design with air filter installed in EX-23 HDD rack
Chrome plated ring for switch and feet
Removable PSU Mounting Plate
Removable front panel
Package Contents:
PC-6077 mid-tower case
Various types of screws for mounting various hardware components
A few cable ties
An adjustable cable holding clip
Case badge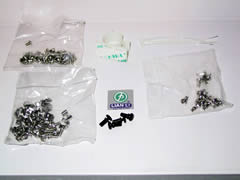 A Tour of the PC-6077

---
I think the best way to figure out if a case meets your needs is to examine it closely inside and out. I am hoping that all the pictures below can help you do just that.
This silver aluminum case looks great from all angles. Front access is provided for USB 2.0, headphones, and a microphone jack behind the small door near the bottom of the case. The first picture also shows off the top panel blow hole with fan, which is a very nice little feature of the PC-6077. And the silver floppy drive bezel allows you to install any floppy disk drive in this case and still maintain its good looks.
Looking at back of the case, you can see that there are two exaust fan mounts (only one comes with a fan installed) so you can get plenty of air flow through the PC-6077. Also, the removable mounting plate for the power supply is a great feature that should make swapping out power supplies quite a bit easier.
Removing the front panel of this case allows us to take a closer look at all the front bezels and the front I/O ports.
The side panels slide off easily to reveal the motherboard mounting area and the drive bays. The hard drive bay has rubber lining the drive mounting holes that I am guessing work to absorb shock. That's a nice touch.
Each of the bezels can be easily removed to allow any configuration of drive placement that meets your needs.
Of course, the hard drive bay can also be moved to suit your needs. However, the hard drive bay and front bezel that holds filters and the power and reset buttons seem to be meant to stay together, even though they can be separated from each other. To me, it just seems like keeping them together is a good idea, but I don't see any reason why that would be required. I would definitely recommend keeping it this way, though.
One of my favorite features of the PC-6077 is the removable motherboard tray. This is not unique to this case, but it's always nice to have and a great addition to an impressive list of features.
Lian Li provides nice "grouped" connectors for all the PC-6077's front I/O ports, but if these don't work for a particular motherboard, individual wires with connectors are also provided. This should ensure compatibility with all motherboards, but lucky people with compatible motherboards can simply use the grouped connectors.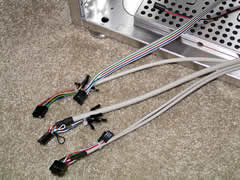 Working with the PC-6077

---
Over the past month or so I have been able to install a completely new system in the PC-6077 and swap out the motherboard in that system. These are two tasks that really let me experience what it is like to work in this case. The removable motherboard tray made both of these tasks much easier than they usually are in cases without this feature. It was easy to unscrew all the necessary thumbscrews and slide the tray out (even after it was loaded up with hardware), and it was not flimsy once out of the case. The tray was easy to work with and to slide back into the PC-6077.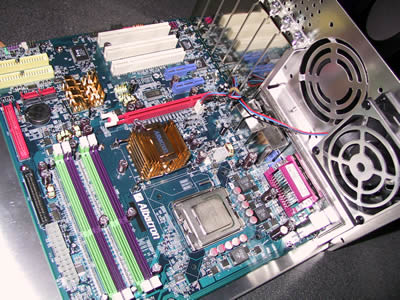 The side panels are easy to take off and put back on, and the front panel is easier to remove than most I have dealt with. However, the bay covers are a little bit more tedious to work with. They have to be aligned just right to lock into place, and aligning their little notches with the holes that are supposed to keep them in place isn't always easy. Overall, though, my experience getting into the case and installing a system in it was probably the best and easiest that I have ever had. The same can be said about my experience with swapping motherboards. It is usually a much bigger pain than it was with the PC-6077.
My main complaint about working with the PC-6077 is the pin diagrams for the front connectors are not easy to understand, which makes it hard to determine if they can be used on certain motherboards.
Conclusion

---
The Lian Li PC-6077 mid-tower case is a very accomodating case that offers a lot to help its owners maintain its good looks and easily swap hardware in and out of it without much burden. The supplied bezels for a tray-loading optical drive and a floppy drive are great for maintaining the nice silver aluminum appearance of this case. Some cases require removing a lot of components to do such things as swap out the power supply, but the PC-6077, with its removable PSU mounting plate, should make this task very simple and eliminate the need to remove components in most cases. One concern with this case, though, is that the fan on the top panel could get in the way of a large power supply and prevent it from being installed, but I think it is safe to assume most power supplies will fit in this case without a problem. The removable motherboard tray and numerous configuration options for the drive bays are two other great features of this case.
The Lian Li PC-6077 has been around for at least a year or so, but it is in no way outdated yet. It is still very much a competitive offering in the mid-tower case market. CrazyPC.com offers it for about $130 right now.
Overall, the PC-6077 is the best case that I have ever had the pleasure to work with, and I would recommend it to anyone in the market for a high-quality aluminum case.
Pros:
+ Easiest case I've ever worked with
+ Included bezels are a nice touch to maintain case's good looks
+ Removable motherboard tray and PSU mounting plate are great
+ Blow hole in the top of the case with included fan
+ Grouped or single connectors for front I/O ports
Cons:
– Second rear fan should be included (these fans must be cheap when bought in the quantities that Lian Li buys them)
– Top fan could get in the way of a large power supply