Looking for that final mod to push your case over the edge. Hey, why not make it interactive and flashy at the same time! Check out Matrix Orbital's MX222 LCD screen to see if you want to show your stuff where everyone can see it.
Introduction
---
Case mods have gone from being a simple fad to an all out competition between friends, foes, and everyone in between. Everywhere you go there is someone with a PC filled with lights, fans, custom windows, etc…etc. Now there are the true competitors that go the limit with modding their case and PC to try to achieve pure uber geeky coolness. I have the opportunity to take a look at one of the coolest mods that I have seen so far with the Matrix Orbital MX222 LCD screen. LCD screens aren't just for your monitor anymore, they can add a nifty little display that can show you everything from temperatures to what song you have playing at the moment.

Specs and Features
---
Let's get a quick look at the specs for the little LCD screen from Matrix Orbital that I retrieved from their website.
Includes
USB LCD Display with wide voltage (20 characters x 2 lines) – Product # LK202-24-USB
Bracket, USB cable, and mounting screws
Software and manual on CDROM
LCDC!!!
Interfaces
Interface with up to a 24-key keypad
Use 3 General Purpose Outputs
USB communications (Connect up to 100+ displays)
Speed
USB mode: 19.2 Kbps
Fully buffered – no delays in transmission
Functional Capabilities
Display text, horizontal and vertical bar graphs
Software controlled speed, start-up screen, line wrapping, scrolling, contrast, backlight and time-out setting (up to 180 minutes)
Memory chip saves settings
Custom start up/splash on screen
Power Requirements
Operates at 0ºC to +50ºC
Supply Voltage: 5Vdc
Supply Current: 25mA typical
Backlight Supply Current: 115mA typical
Up Close and Personal
---
As soon as the MX222 is pulled out of the box you can tell this isn't a cheap and flimsy product. The textured aluminum 5.25″ surrounding on the LCD is very sturdy and attractive. It matches my Lian-Li case almost to a tee. It looked like it was made for my case. The LCD itself is mounted very firmly to the aluminum piece and has no free play or looseness at all.
The back of the LCD is a pretty standard green PCB board with connectors for the USB cable and other accessories that can be purchased with the MX222.
Bundle
---
Along with the standard LCD unit, standard USB cable, and software Matrix Orbital sent along some of their extra peripherals that are also available for purchase on their site. These extras include: an internal USB cable, temperature probes that can be hooked directly to the back of the unit, and an LED indicator that can alert you to certain events happening on your PC. Lets say your temp gets too high on one of your temperature probes, an LED corresponding to the warning you setup will light alerting you to various problems. There are numerous options available with the Matrix Orbital kits to let you customize it to fit your every need.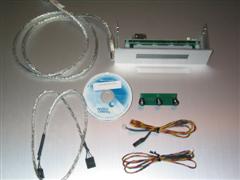 Installation
---
It was pretty simple to fit the LCD into my case. A couple of screws and it was there to stay. Simple as pie. If you have ever installed a CD-ROM you can install this display.
There are a couple of options on how you can connect the LCD to your PC. You can use a standard USB port with the cable that is included in the package, or you can purchase an internal cable that you can hook directly to the motherboard. I gave both of the options a try to see how well each one worked. I ran a standard cable from the LCD out the back of the case through an empty PCI slot and plugged it in. A quick install of the drivers included on a tiny CD included with the MX222 and it lit up like a Christmas tree.
I got basically the same results with the internal USB cable that Matrix Orbital included with my MX222. This did help the asthetic properties of the MX222. Not having to use that long cable sticking out the back of the PC was definitely the best way to go. The bad thing is that it takes away an internal connection that I had been utilizing for the front USB ports on my case. Guess you have to sacrifice a little bit to get the results you want.
LCDC
---
So you have a bitchin little blue LCD screen on your PC……but it doesn't really show anything. Oh yeah, you have to have software to display all the cool things like network properties, hard drive space, and your latest [email protected] info.
In comes LCDC, a software that has been specifically developed for the Matrix Orbital LCD screens. LCDC and its built in plugins will give you information on your LCD like internal and external IP addresses, your free drive space, and current bandwidth usage. Then you can move into the additional plugins that can be downloaded from the Internet that will let you see everything from your [email protected] statistics to information on your ZoomPlayer application.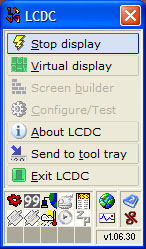 Installation of the software is pretty simple. A quick registration using the code included with the software and you have a full copy ready to use right away. The configuration for the included plugins is very simple and takes a couple of minutes to get rolling. The difficulty comes in the form of creating screens for the plugins that were not originally included in the LCDC product. For the most part the variables that you can display are easily dragged and dropped into the two lines of the LCD that are available. If you aren't comfortable using software on the fly, the learning curve could be a little bit steep.
Playing with it and trying different things has helped a lot to gain a better understanding of the software. I have figured out how to add screens, change basic settings, and am getting more used to the finer aspects of LCDC. There are many things that you can do with this software that I haven't even begun to touch like custom fonts and even creating your own plugin. The possibilities are almost endless with this thing.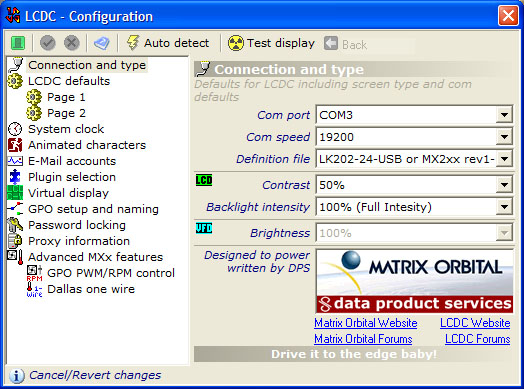 Testing
---
Since I have installed the MX222 it has been a very fun addition to my PC. It is something that you can tinker with for hours on end and still find something new every single time. I have toyed with the plugins endlessly and looked up as much information as I could find on the Net. I have not experienced any kind of "problems" with the MX222 since installation was complete. It works every time I start the PC, flashing its information just as it should.
The additional temperature probes and LED indicator are also some very cool additions to the MX222. Being able to see specific temps from locations in your case you are worried about the temperature getting a little warm can be very useful.
The LED indicator is a cool little appliance that you can add on to your LCD. You can use the LCDC software to create events in which to activate one of the three LEDs that come on the unit. I didn't complete the full installation because I didn't want to drill holes in my case to place it somewhere. If it could be a part of the original main unit it would become much more useful. It worked as planned by just plugging it in and putting it near my side window so I could see the LEDs come on. It took me a little while to figure out exactly how to set up the events that activate the unit, but after a couple of tries I figured it out. Once again, just a little learning curve involved.
Final Thoughts
---
That's how the story goes. The Matrix Orbital MX222 is a pretty little mod for any PC. It comes in a large variety of colors to fit just about any PC case you can throw it in. Great size, solid build, and consistent performance are only the start of all the good things this is made of.
I love the endless ways you can configure the screen to see just about every kind of information imaginable. Just put a little effort into learning that LCDC software and you are on your way to the full enjoyment you can get from this LCD. It can be a little intimidating to those that may not be willing to put in the effort or are not used to working with software other than Microsoft Word. Make sure you are up to it, or hire that kid next door to set it up for you 🙂
The price of the MX222 starts at $100 for the LCD, standard USB cable, and software. If you start adding in the temperature probes, internal cable, and LED indicator you are going to approach the $130-$140 mark. At first this can take you back a little bit. Hard to imagine spending more on the little screen than you spent on your entire case and more! If you like to step up the looks of your PC and really like to play around with something that has a TON of potential it will be well worth the money spent.
Pros:
+ It looks really really cool!!!
+ Dynamic system information right in front of your eyes
+ Endless possibilities (yeah yeah, I'll stop saying it now)
Cons:
– A little pricey
– LED indicator should be built in
– LCDC software can be a head scratcher
The MX222 is cool, no ifs, ands or buts about it. It looks cool and does cool stuff, but can you justify the purchase? I would definitely look into purchasing something like this after playing with it for a couple of weeks now. Until you have the opportunity to use one and experience what it can really do, you don't quite realize how tight of an add-on this can really be. It may not be for everyone, but I have a feeling that those it is for will know it right away. I give the MX222 from Matrix Orbital an 8 out of 10 and the Bjorn3D Seal of Approval.