The VisionTek XTASY X800 XT is a great card that offers all the awesome performance you'd expect plus VIVO features with HDTV support. While the bundle is boring, the rest of what this card offers is definitely not.
INTRODUCTION

---
PCI-Express continues to gain ground over AGP and will even more so once new Athlon64 chipsets (like nForce4) hit the shelves, but PCI-Express is still only really appealing to people who are getting the latest motherboards. Otherwise, there is no compelling reason to switch from AGP to PCI-Express.

So, what's the point? Well, for those wanting a top gaming rig now, an Athlon64 motherboard with AGP is probably high on the list of "must haves." That's where the VisionTek XTASY X800 XT comes in. You already know that it will offer great performance for gaming, but you might not realize that it includes VIVO capabilities with HDTV support.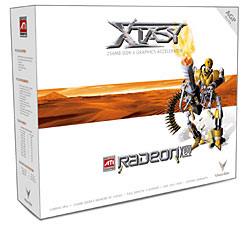 Read on to learn more about VisionTek's current flagship card and to see how it compares to a Leadtek GeForce 6800 Ultra. For a refresher on the Radeon X800 line, go here.
FEATURES, SPECIFICATIONS and BUNDLE

---
Features at a Glance
16 Super Charged Shader Pixel Pipelines
6 Geometry Engines
Improved Z-caching
Full HLSL and GLSlang support
3D Floating Point Textures
Multiple Rendering Targets
TRUFORM II High Order Surfaces
HYDRAVISION™ III
Video Capture (VIVO)
HDTV Support
A big plus on this card is the VIVO and HDTV support, which are both courtesy of the ATi Rage Theater chip that is included on this card. Adding these options makes the card more appealing and versatile; it would make a great card for a HTPC (home theater PC) if gaming were to be on the menu.
Specifications
ATI® Radeon® X800 XT
500 MHz VPU Core
AGP Bus
256MB Graphics DDR-3 Memory
256-bit Quad Channel Memory Architecture
Memory Clock: 500MHz (1000MHz GDDR-3)
Dual 400MHz DACs
API Support: FULL DirectX® 9.0, OpenGL® 2.0
Connectors: VGA, DVI-I, VIVO
Package Contents
XTASY X800 XT 3D Graphics Accelerator
Setup CD
S-video/composite VIVO Cable
HDTV Out Cable
DVI to VGA Adapter
Demos, Utilities
VisionTek has decided to stick to its usual ways with the release of its X800 line — no fluff and fancy stuff. The KISS (Keep It Stupid Simple) principle is in full effect here. The XTASY X800 XT is a reference card through and through, and the bundle is about as basic as it gets. It would definitely be nice to see a good game included, but this simple packaging and lack of fancy, custom cooling will hopefully keep the price very competitive.
I'm actually glad that VisionTek stopped using that clear plastic packaging they were using with the previous Radeon generation. It was a cool-looking, but it was a pain to shut and use those boxes. Give me regular ol' cardboard any day. If you are looking for VisionTek's latest cards in stores, just look for those nice-looking and tastefully stylish white boxes.
CLOSER LOOK – THE CARD

---
As I already mentioned, there isn't much exciting about the XTASY X800 XT to point out. It is just the ATi reference design.
Like all high-end Radeon cards, the XTASY X800 XT only requires one 4-pin power connection from your power supply. It also features external connectors for VGA, DVI-I and VIVO.
The nice thing about some custom solutions is that they include a heatsink on the back of the card, which helps cool the memory chips exposed there. Being a reference design, the XTASY X800 XT does not feature such a back heatsink unfortunately. It's not a big deal since the card will obviously still run cool enough. It would just be nice for overclocking purposes to have even better cooling. On the back of the card, you can also see the ATi Rage Theater chip (right hand side).
TEST SETUP and BENCHMARKS

---
I will be comparing the XTASY X800 XT to the Leadtek WinFast A400 Ultra (6800U) that I reviewed a couple months ago. My test setup consists of the most powerful Athlon64 processor I have on hand at the moment — a 3400+. You can see my complete test system configuration below.
Test System:
2 x 512MB Kingston PC3200LL
Leadtek GeForce 6800 Ultra or VisionTek XTASY X800 XT
Maxtor 200GB DM9+
DirectX 9.0c, Catalyst 4.11, ForceWare 66.93
Windowx XP Pro SP1
I used the latest publicly available video card drivers direct from ATi and NVIDIA, which are Catalyst 4.11 and ForceWare 66.93, respectively. In the driver control panels for both cards, I set the image quality to the highest level possible, which is Optimal Quality for Catalyst and High Quality for ForceWare.
Benchmarks:
3DMark03 v3.5.0 – default settings
3DMark05 v1.0.0 – default settings
AquaMark3 – 4xAA / 8xAF set in benchmark with drivers set to application controlled
Counter-Strike: Source – Video Stress Test – 4xAA / 8xAF and highest details set in game with drivers set to application controlled
Doom 3 (demo1) – 4xAA / High Quality and highest details set in game with drivers set to application controlled
Far Cry 1.3 – 4xAA / 4xAF and highest details set in game with drivers set to application controlled
Unreal Tournament 2004 Demo – 4xAA / 8xAF set in driver control panel and game settings maxed
As you can see, all benchmarks, except 3DMark03 and 3DMark05, will have AA (anti-aliasing) and AF (anisotropic filtering) enabled. If you are paying over $400 for a video card, it would be a sin to play without the eye candy. That's what you're paying the extra money for, so that's what I'm focusing on with these tests.
BENCHMARKS – SYNTHETIC

---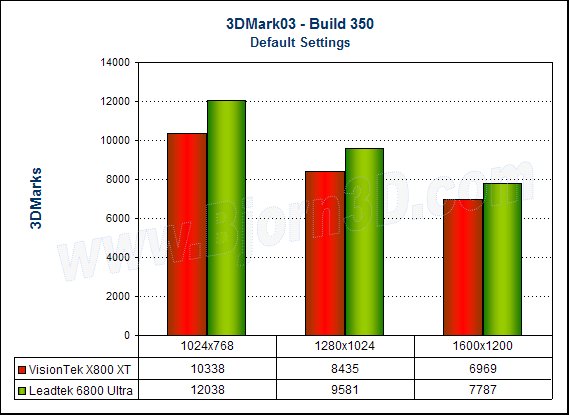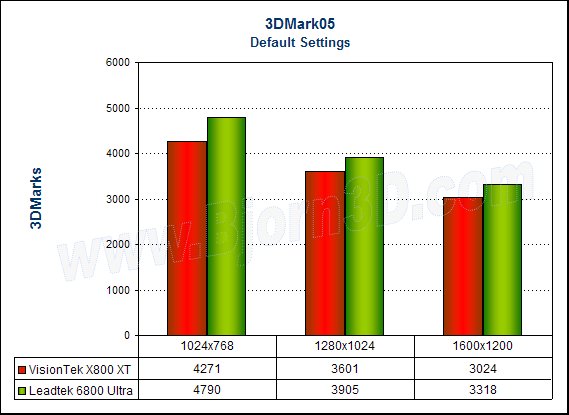 The XTASY X800 XT doesn't fare very well here against the Leadtek 6800 Ultra. The 3DMark scores didn't surprise me too much, but the AquaMark3 scores really baffled me. I'm not sure what's going on here, but let's just move on to the real game tests to see how the X800 XT performs where it matters. You'll see that these results are not indicative of how these two cards compare in actual games.
BENCHMARKS – CS: SOURCE STRESS TEST

---
The Source Video Stress Test can be accessed within the Counter-Strike: Source game menu. The benchmark is rather short but involves rendering some very complex imagery. The final result is shown in frames per second (FPS). I set 4xAA and 8xAF in the game's options, and I selected high details.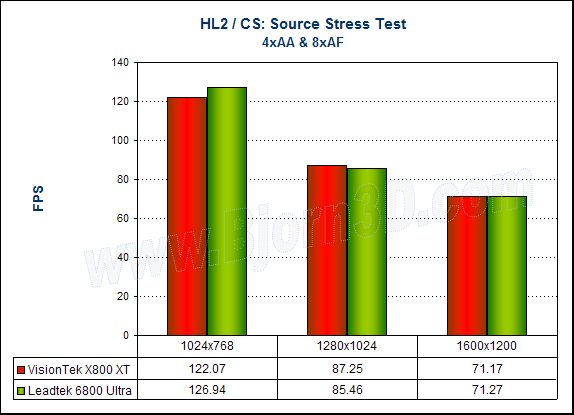 Apparently, the results on the previous page are not very indicative of gaming performance. The XTASY X800 XT performs right on par with the 6800 Ultra, even though it falls a little short at 1024×768. The X800 XT provides awesome framerates for CS: Source, so you should be able to crank up the details and resolution in Half-Life 2 and run smooth as silk.
BENCHMARKS – DOOM 3

---
While it can play fairly well on low-end systems at lower resolutions, Doom 3 can really punish a system if you crank up the details and resolution. Many sites have shown that NVIDIA's 6-series is the card of choice for Doom 3 performance. I ran the included demo1 timedemo with quality set to high and AA set to 4x in the game.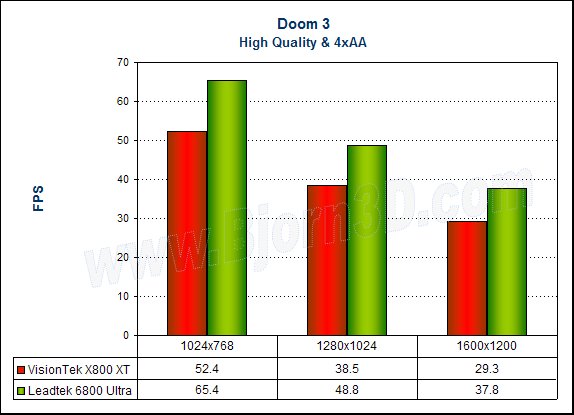 Well, the results aren't too surprising based on what we've seen so many other times now. The 6800 Ultra beats the X800 XT respectfully at each resolution. With either card though, if you want to crank up the eye candy, you better stick to 1024×768 to avoid dropping too many frames.
BENCHMARKS – FAR CRY 1.3

---
Far Cry is currently one of the most pipeline-punishing PC games available. Playing at the highest resolution with eye candy maxed out and still getting playable frame rates is not really possible for even the most powerful systems and graphics cards. The demo I have chosen to use with Far Cry is the PCGH_VGA Timedemo from 3dcenter.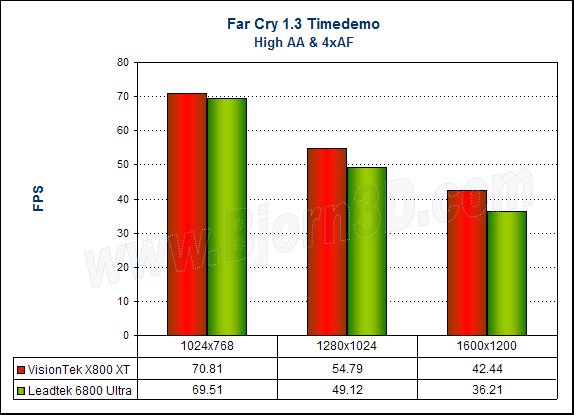 The XTASY X800 XT turns the tables here and hands the punishment back to the 6800 Ultra, and the victory gets better as resolution increases. Very nice showing for the X800 XT! Still, the best gaming experience at these quality levels would probably be at 1024×768.
BENCHMARKS – UT2004 Demo

---
In order to benchmark the UT2004 demo, I used the flyby demo from 3dcenter.de. This flyby demo simply tests how well a card handles an outdoor environment in UT2004. Keep in mind that each card seems to show its strengths on different maps when it comes to UT2004, and this flyby demo isn't necessarily a good indicator of in-game performance with bots.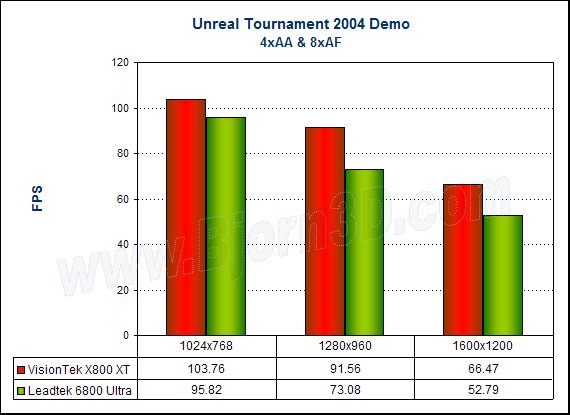 The X800 XT really flexes its muscles here, and the 6800 Ultra doesn't even come close to matching its performance.
OVERCLOCKING

---
To overclock the XTASY X800 XT, I installed the latest version of Powerstrip and started bumping up the core and memory clocks. After changing the clocks and checking for stability and graphical problems for a little while, I decided that an overclock to 550MHz for the core and 600MHz (1200MHz) for the memory was pretty good and about as good as I was going to get out of this card with the stock cooler. It's not a jaw-dropping overclock, but it is well beyond the Platinum Edition clocks and should boost performance a little at least. Let's see how much of a gain we get in Doom 3 and CS: Source.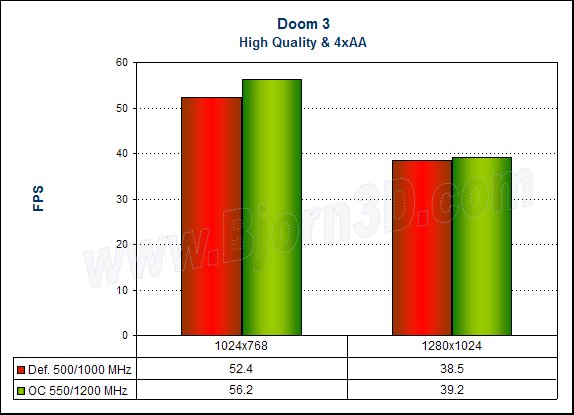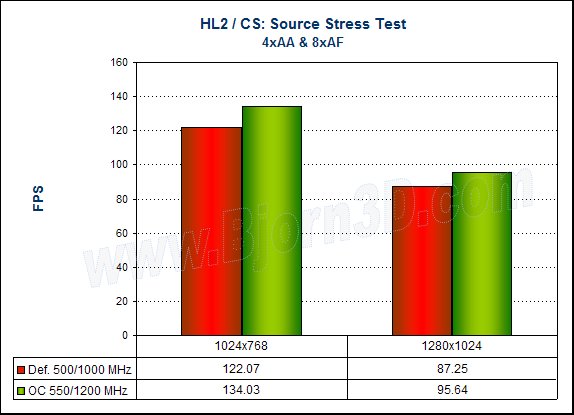 Interestingly, the Doom 3 performance didn't go up much (7% at 1024×768 and only 2% at 1280×1024), but the CS: Source performance increased closer to the amount I had expected — about 10% at both resolutions.
CONCLUSION

---
You can buy the XTASY X800 XT directly from VisionTek for $479.99, which is of course a lot of money, but for the level of performance you get compared to the competition, it's a fair price. Not only do you get awesome performance, but you also get VIVO (video-in / video-out) features with HDTV support. This has to be one of the top HTPC card contenders available if you want to do some serious gaming with your HTPC. If not, a cheaper card would suit your needs.
The only part lacking in this package is what's in the package. VisionTek sticks to the essentials, which isn't necessarily a bad thing, but many of us would prefer to see a nice video editing software or game inclusion. Otherwise, I like that the X800 XT is easier to install than a 6800 Ultra and takes up less room inside your PC.
Pros:
+ Awesome performance
+ VIVO capability with HDTV support
+ Only takes up one slot
+ Lifetime warranty
Cons:
– Bundle is lacking
– Not exactly cheap
Final Score: 9 out of 10 and the Bjorn3D Golden Bear Award!