Corsair isn't one to sit back and rest after success. It's highly awarded XL 2-2-2 memory has been very popular, but Corsair felt it needed improving a bit. With a slightly tweaked and improved PCB, a new 3200XL module is upon us, and it should result in higher overclocks. Check out this review to see if it does.
INTRODUCTION

---
In the middle of 2004, Corsair re-introduced the market to "2-2-2" memory modules with its XL line. I reviewed the Corsair TWINX1024-3200XL PRO Series Dual Channel Memory Kit back in July and was very pleased with it. Not one to rest on its laurels, Corsair decided to improve this popular and award-winning product.
How do you improve such good RAM? Well, you don't change too much. At the heart of the new revision of the 3200XL modules are the same Samsung TCCD chips that were used in the original 3200XL sticks (and now in many competing products). The main difference between the old and new XL's is the PCB (printed circuit board). Corsair made some design enhancements to the PCB in order to support higher top-end clock speeds. That adds up to the new 3200XL overclocking to high speeds with more success than the old one.

Well, let's find out if I do in fact get a better overclock with the newly revised 3200XL modules compared to the original XL PRO memory I reviewed almost half a year ago.
FEATURES, SPECIFICATIONS and CLOSER LOOK

---
The TWINX1024-3200XL kit features a matched pair of CMX512-3200XL memory modules. They are of course rated for 400MHz DDR, but the Samsung chips are actually spec'd to run at 500MHz with relaxed CAS 3 timing. These modules also feature the typical black Corsair heat spreaders. The modules were tested and packaged as a pair. The tests took place on multiple chipsets and motherboards at 2-2-2-5 and 2.75V.
What Corsair has to say about this kit:
"TWINX matched memory pairs are speci.cally designed for motherboards using chipsets with dual memory channels. This memory kit consists of two ultra-high-speed memory modules that have been tested together at DDR400 on leading PC3200 based dual-channel motherboards. These modules o.er Xtra-Low latency with the unprecedented 2-2-2-5 latency settings. TwinX memory kits are designed to provide the ultimate in performance and stability in dual channel boards."
TWINX1024-3200XL 1GB Kit Specifications:
Part Number: TWINX1024-3200XL
Speed: XMS3200 / PC3200 / DDR400
Size: 1024MB (2 matched CMX512-3200XL 512MB modules)
Package: 2 x 184 DIMM
Latency: 2-2-2-5
32M x 8 DDR SDRAMs
Test Voltage: 2.75V
TWINX1024-3200XL 1GB Kit Features:
Aluminum XMS heatsink
Benchmarked over multiple PC3200 based chip sets, processors, and motherboards
Tested as a matched pair in multiple Intel and AMD PC3200 based test setups

Packaged together immediately following system test

Tested at DDR400

Tested at X-treme Low latency settings (2-2-2-5)
Test voltage: 2.75V

Plug-n-FragTM Auto-Configuration

Boots automatically using the X-treme Low latency values of 2-2-2-5

Legendary Corsair reliability and service
Lifetime warranty
Before moving on to the performance benchmarks, I want to comment on Corsair's "Plug-n'Frag" auto-configuration feature. Basically, this is designed to set your BIOS up at the rated 2-2-2-5 rated timings automatically. For some reason though, the SPD timings on my DFI LANParty Pro875B ended up being 2.5-2-2-5, which also happened with the 3200XL PRO modules I reviewed previously. This doesn't seem to be common though as every other experience I've read about mentions the BIOS correctly being set to 2-2-2-5, but it's worth noting nonetheless. I think you should always check your BIOS settings anyway to make sure they are what you want them to be, and it's a good idea to use the latest public BIOS available.
I'm not sure how many original version XL modules are on the market currently compared to these new revision sticks, but if you want to check if you got new ones if you bought some recently, then look at the sticker on one of the modules. The new revision modules will be labelled as "XMS3208v1.2."
PERFORMANCE

---
Since my DFI LANParty Pro875B Pentium 4 setup is the best overclocking system I have currently, I used it for testing out the 3200XL kit. I did, however, make sure the modules booted at 2-2-2-5 in an Athlon 64 and nForce2 system. There were no stability problems on any platform I set at 2-2-2-5 timings. I initially was going to test the memory on one of the newer Intel chipsets (915/925), but I haven't had much luck overclocking those motherboards.
For testing, I ran SiSoftware Sandra 2004 SP2, PCMark04 and 3DMark2001SE, and I'm comparing this kit to the recently reviewed Corsair TWINX1024-3200XLPRO kit that I've mentioned several times now. I used the same test components from the XL PRO review.
Test System:
The first thing I did was make sure the new revision 3200XL performs the same as the original 3200XL PRO that I reviewed before in the typical Sandra Memory Bandwidth test. As you can see, they perform very similarly at 2-2-2-5 when set at DDR400. And just to add a little interest, you can see how slightly less aggressive timings (2-3-3-6) result in slightly lower scores. Similar results are seen in PCMark04's memory test and 3DMark2001SE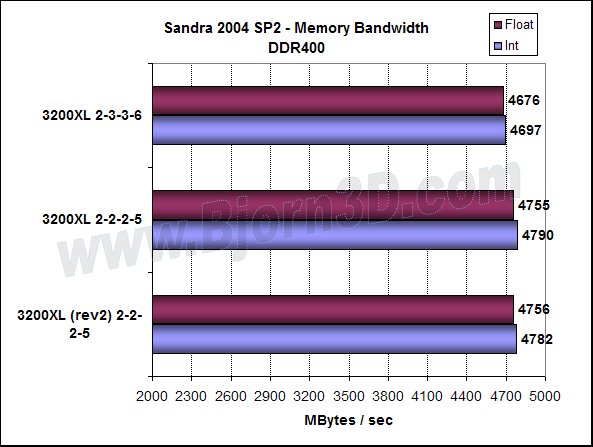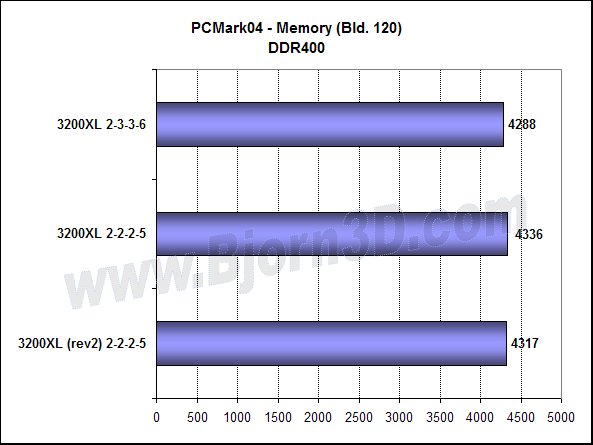 Overclocking
With these new 3200XL modules, I had a better time overclocking than with the previous generation. I worked for maximum overclock with the following timings: 2-2-2-5, 2-4-4-7 and 2.5-4-4-7. Here are my results.
3200XL Rev2 Overclocking

Timings
Max Mem Clock
Mem Voltage
CPU Clock

2-2-2-5

215MHz (DDR430)

2.8V

2.58GHz

2-4-4-7

230MHz (DDR460)

2.8V

2.76GHz

2.5-4-4-7

275MHz (DDR550)

2.9V

3.3GHz
I thought this kit was going to be the one to finally get me over 275MHz FSB with this test system, but that's where something gave out. It was probably the RAM or the processor. I lean towards processor since it is a 2.4GHz pushing 3.3GHz at that point. From the chart, you can see that my highest CAS 2 overclock was 230MHz, and my highest CAS 2.5 overclock was 275MHz. I was very impressed by these results to say the least. Here are the Sandra benchmark results at each of those settings.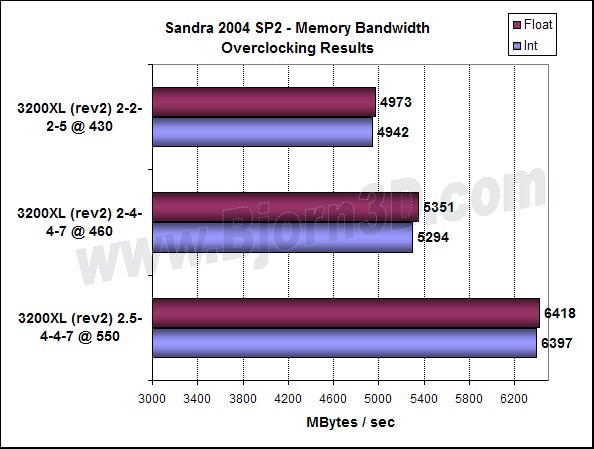 6400MB/s is just yummy, isn't it? Yeah, I think so.
CONCLUSION

---
I'm not sure if I just got unlucky with my first 3200XL experience, but damn, these new revision modules kick ass! I think enthusiasts are going to be more than happy with the PCB changes that Corsair made. I got a much higher overclock than before – 35MHz more at CAS 2.5! Rocking DDR550 at 2.5-4-4-7 is pretty sweet. If you want a sure-thing-DDR550 at CAS 2.5, there's always the PC4400 CAS 2.5 modules from Corsair, which you may have figured out by now are actually the uber 3200XL modules. Remember the Samsung chips used in these puppies are actually 500MHz CAS 3 chips, so this type of performance, while impressive, can somewhat be expected.
I was impressed by the 3200XL PRO modules when I reviewed them in July, but after testing these new 3200XL modules, I'll have to raise my standards. They were easy to overclock, and they overclock quite well once you open them up. This is the most impressed I've been with memory in a long time. Keep up the PCB improvements, Corsair!
This memory is actually quite a bit cheaper than when it first came out — around $60-70 less. It just keeps looking better and better. You can find the 3200XL 1GB kit for around $250. Monarch Computer has it for $251 with free shipping (at time of writing).
Pros:
+ Awesome performance
+ Great for overclocking at CAS 2 and CAS 2.5
+ Lifetime warranty and great support
+ Good price
Cons:
– Not free (had to think of something) 😉
Rating:










 (9.5/10)