D-Link talks of speeds as fast as 100 Mbps with their Premier Products. Do the router and cards perform that well? Read on to see what we found.
INTRODUCTION

---
With demands on bandwidth usage continuing to increase in my household, I decided it was time to look at a higher speed wireless network.  The network I was using before was a network from Edimax (reviewed here).
With that network, Internet and file sharing worked well for small files, but when streaming videos off of my server to the wireless clients, things got choppy at times.  So I started my search for a faster wireless solution.  This led me to the local Best Buy where I picked up a D-Link DI-784 Wireless Router.  I chose this router due to the ability of it being able to work with 802.11a/b/g.  This would let me set up the network independent on the cards I used for the wireless network.  This router also has full support for WPA security, which is stronger protection than WEP which also is a plus.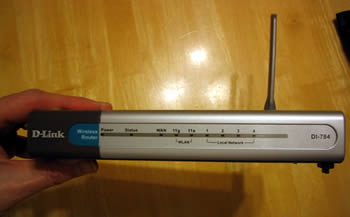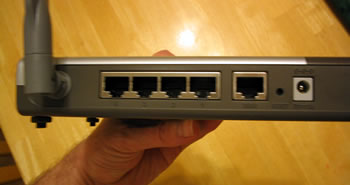 SPECIFICATIONS

---
DI-784 AirPremier AG Tri-Mode Dualband 802.11a/b/g (2.4/5GHz) 4-Port Wireless 108Mbps Router
Standards

IEEE 802.11g
IEEE 802.11b
IEEE 802.11a
IEEE 802.3
IEEE 802.3u

VPN Pass Through/
  Multi-Sessions
  Advanced Firewall Features

NAT with VPN Passthrough (Network Address Translation)
MAC Filtering
IP Filtering
URL Filtering
Domain Blocking
Scheduling

Device Management

Web-Based – Internet Explorer v6 or later; Netscape Navigator v6 or later; or other Java- enabled browsers.
DHCP Server and Client

Wireless Signal Rates*
  With Automatic Fallback

D-Link 108AG: 108Mbps
54Mbps
48Mbps
36Mbps
24Mbps
18Mbps
12Mbps
11Mbps
9Mbps
6Mbps
5.5Mbps
2Mbps
1Mbps

Security

64/128/152-bit, WEP
WPA —Wi-Fi Protected Access (WEP with TKIP, MIC, IV, 802.1X)

Wireless Frequency Range

2.400GHz to 2.500GHz
5.150GHz to 5.850GHz

Wireless Operating Range**

Indoors: Up to 328 feet (100 meters)

Modulation Technology

Orthogonal Frequency Division Multiplexing (OFDM)
Complementary Code Keying (CCK)
Direct Sequence Spread Spectrum (DSSS)

Receiver Sensitivity

108Mbps Turbo Mode
54Mbps OFDM, 10% PER,-73dBm)
48Mbps OFDM, 10% PER,-76dBm)
36Mbps OFDM, 10% PER,-82dBm)
24Mbps OFDM, 10% PER,-85dBm)
18Mbps OFDM, 10% PER,-88dBm)
12Mbps OFDM, 10% PER,-89dBm)
11Mbps CCK, 8% PER,-91dBm)
9Mbps OFDM, 10% PER,-90dBm)
6Mbps OFDM, 10% PER,-91dBm)
5.5Mbps CCK, 8% PER,-92dBm)
2Mbps QPSK, 8% PER,-93dBm)
1Mbps BPSK, 8% PER,-94dBm)

Media Access Control
LEDs

Power
WAN
LAN (10/100)
WLAN (Wireless Connection)- 802.11a, 802.11g

External Antenna Type

Single Non-Detachable Antenna

Operating Temperature

32°F to 131°F (0°C to 55°C)

Humidity

95% maximum (non-condensing)

Power Input

Ext. Power Supply DC 5V, 3.0A
100-240V ~ 50-60Hz

Safety & Emissions
Dimensions

L = 7.56 inches (192mm)
W = 4.65 inches (118mm)
H =1.22 inches (31mm)

Weight
Warranty
3 Year
* Maximum wireless signal rate derived from IEEE Standard 802.11a and 802.11g specifications. Actual data throughput will vary. Network conditions and environmental factors lower actual data throughput rate.
** Environmental conditions may adversely affect wireless signal range.
CONFIGURATION OF THE ROUTER

---
Here are some screenshots of the main configuration panel.  As you can see, everything is very simple to read and configure.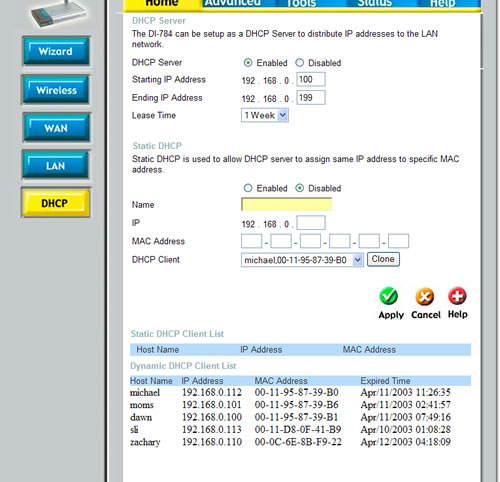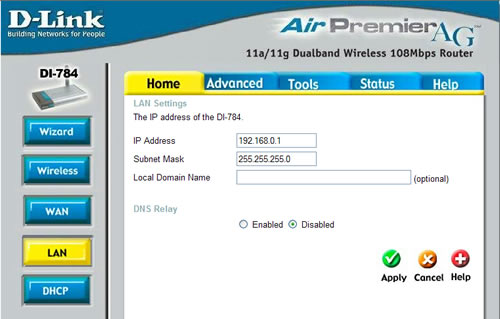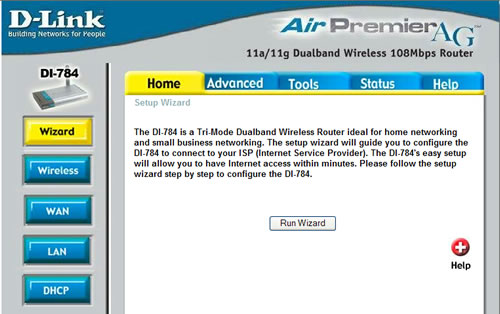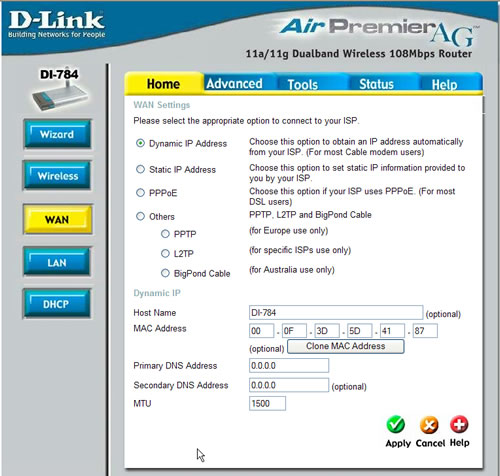 For those of you wanting to see all the screens of router, D-Link has an emulator at http://support.dlink.com/techtool/di784/Emulator/  that you can use to see all the screens.  Just click on "OK"to start the emulator.
TESTING THE ROUTER

---
The interesting thing about the DI-784 is that it can run all current wireless standards (802.11g/b/a) all at the same time.  This means in a mixed home or office environment, you can configure it to handle all devices.  Very nice!
For testing the router, I installed two D-Link DWL-AG530 802.11a/b/g PCI network cards and one Edimax EW-7128G 54Mbs wireless PCI card.  For testing, I took a 3.8GB wmv video and copied it from my 100Mbps connection going into the router from my main machine and copied to the test machine.  I did this three times to get the average transfer time. The D-Link cards and router were all running 802.11a at the 5GHz frequency so my wireless phones and microwave would not interfere. 
100Mbps wired to 100Mbps wired:  7 minutes (~9.26 MB/s)
100Mbps wired to PCI wireless Edimax Card (802.11g):  80 minutes (~0.8 MB/s)
100Mbps wired to PCI wireless D-Link Card (802.11a): 7 minutes (~9.26MB/s)
I was surprised to see that using the D-Link PCI card I was able to get the same speed as the wired network. This is probably due to the Turbo mode that can be used when you couple the router with a D-Link wireless network card. It still is very impressive.
For my final speed test, I wanted to test connecting a D-Link Wireless NIC to another machine using a D-Link Wireless NIC.  The speed with these two cards also only took 7 minutes for the video to copy. I also set up a Counter Strike server and played over the wireless LAN and did not find any issues with lag.  So if you wanted to build a home wireless network using all D-Link hardware, you should be able to host a LAN party without any issues.
Björn talked to D-Link in Sweden and asked about the DI-784 and was told that in the European market the speed will be slower since D-Link isn't allowed to use the Turbo mode in Europe due to restrictions in the 5 GHz-band.
SECURITY

---
D-Link did a good job with the DI-784 since by default the WAN side that would plug into your Internet connection has the firewall on by default.  The only security changes on the WAN side I made was to set the router to not respond to a ping and forward port 113 that did not show up as stealth to an internal IP.  You can read more about it here. Here is my security check that was run from www.Broadbandreports.com.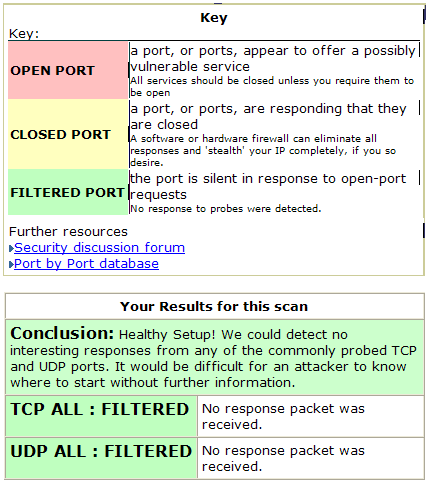 CONCLUSION

---
As you can see from the testing, an all D-Link network has made the wireless network perform as well as a 100Mbs wired network.  It of course depends on the environment you are running in so your speed may be slower. 
Pricing: 
D-Link DI784:  ~$100. (Check for best price)
D-Link DWL-AG530: ~$65 (Check for best price)
Pros: 
+ Easy Setup
+ Speed
+ Price
Cons:
+ None to be found
Rating: 9 out of 10 and Seal of Approval