Set different colors each day, show it off to your friends or don't let your inmates sleep at night. Even with tall tower cases, you shouldn't have problems with positioning your lights the way you want it.
Introduction

---

Back in July of 2003, we reviewed a very similar case tuning product, the Super Lazer LEDs from Xoxide. Today, I will show you what we received from Sunbeam Tech. The product is called Chameleon, a very meaningful and appropriate name if you ask me. The whole concept is similar to what we've seen in Super Lazer LEDs but with major differences and advantages.

Everyone knows that having PC lights in your custom case gives it a high-tech and clean look. The only problem with that is most neon lights and LEDs are single colored. Of course, you could make your own color switch, but why bother? Chameleon comes to the rescue. So you want red on Monday and purple the following day? No problem, I will illustrate how easy it is to do just that!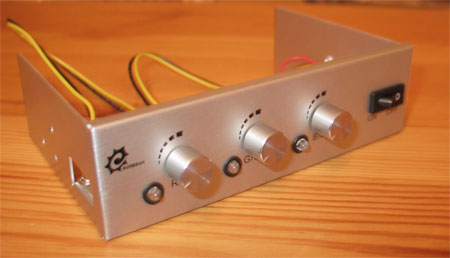 Features

---
Chameleon is equipped with four laser LEDs (beams). Those aren't exactly lasers, but the casing does seem to contain a bit of magnifying material. More on that later in the review. Here are some of the features listed on Sunbeam's website:
Contains 4 LED laser beams and one 5.25" control panel to adjust their colors.
Simply mix Red, Green, Blue colors as you like with the knobs on the control panel.
Super bright LED and low heat output.
Adjustable translucent housing of the laser beams.
Focal beam magnifier with removable lens.
Easy to fix these laser beams at any desired place with velcro tapes.
Easy to install in front panel of your PC case and easy to operate
The front panel is the cool thing in the package, maybe not the coolest since it serves additional functions, but I found it to be very well finished. Under each dial, you'll find a very bright LED (From the left: RED, GREEN, BLUE) — and I do mean BRIGHT!
Let's take a closer look at the Chameleon
Closer look

---
Neons are nice, but what about positioning a light in four different places inside your case? You could probably achieve that with smaller neons, but it would be a pain to mount them. With Chameleon, you won't have to worry about mounting the lights or positioning them. The end-effect is grade A, but you'll see that on the next page.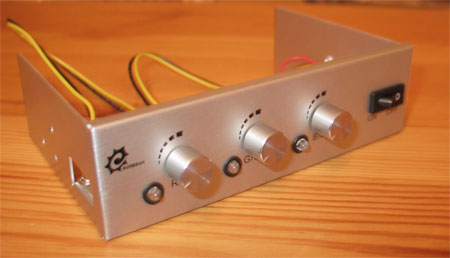 Above is the control panel used to mix the RED, GREEN and BLUE in order to achieve the desired color effect. The aluminum finish on the 5.25″ device is pretty good. The dials are well labeled and turn smoothly. ON-OFF button is placed on the right hand side which turns off the device completely.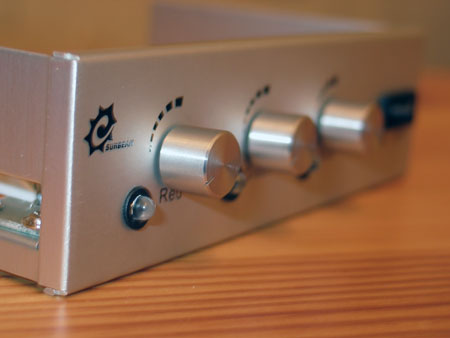 On the previous page, I mentioned the LEDs on the panel. Each LED corresponds with the color under the knob so you know what colors to mix — and it gives a cooler look too. The LEDs illuminate very bright and intensive colors which may disturb some users, especially if the panel is directly in front of you.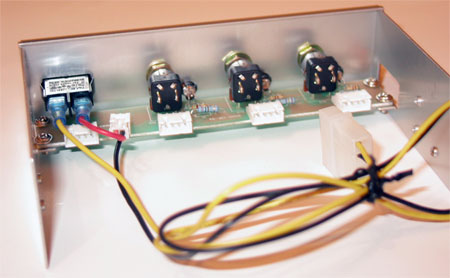 The back of the panel has a pretty simple design. From the left: a 12 volt feed with 4-pin molex connector. On the bottom you have sockets for your light units.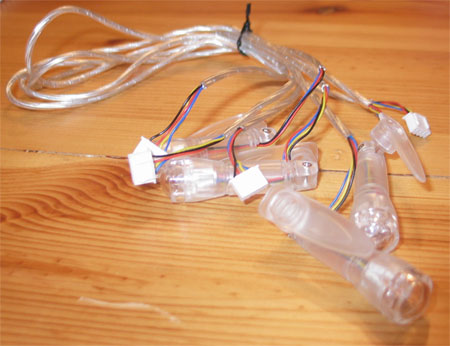 There are four light units with long enough cables for standard tower cases. It maybe a problem if you have a tall server case, but I found those cables to be a perfect lengh.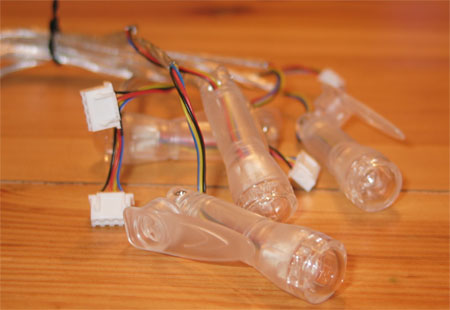 Each LED unit is housed inside a transparent casing in order to achieve a better illumination effect. In order to mount the lights inside your case, Sunbeam added a swiveled stand to each unit so users can mount it anywhere in the case. You will see soon how this works.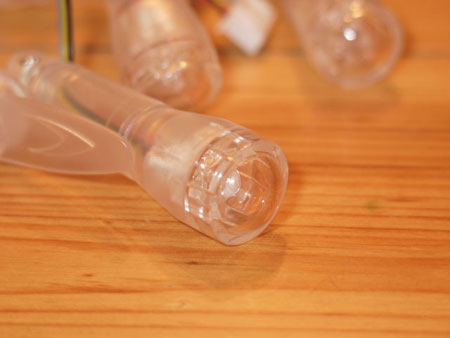 Installation

---
Test setup:
Test system specifications
Sunbeam Samurai Case
ABIT NF7-S motherboard
Athlon Barton XP 2800+ at 2100MHz
768 MBs of Corsair XMMS 3200 LLP RAM
Windows XP SP2
DirectX 9.0c
PowerColor X800 PRO Limited Assassin Edition
After having problems with fitting the control panel into my Chieftec case, I decided to move everything into the Sunbeam Samurai. This was one of the issues I've encountered, but I feel there was something wrong with the tool-free kit design in Chieftec.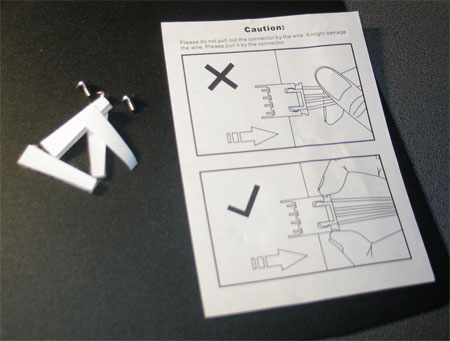 Here is another problem worth mentioning. If you like pulling out cables by wires, you might want to think again. Sunbeam includes a WARNING notice and a proper way to unplug your cables, but unfortunately in practice it's very different. It's actually very hard to unplug the light cables out of their sockets — regardless whether you use the clips on the connectors or not (as shown on the picture above). I've tried every possible way to take them out by fingers, but without any success. Pliers came in to the rescue where it was easy enough to squeeze the connector and take it out. I'm not really sure if this is an issue with all connectors on all panels, but you might want to be very careful when doing this procedure.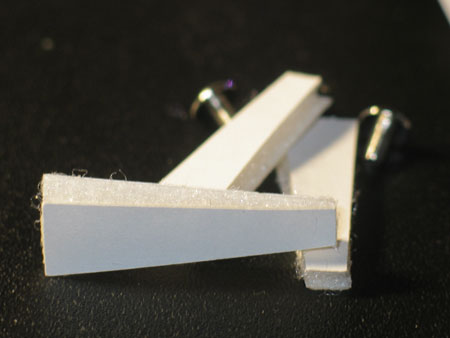 Sunbeam includes four pieces of velcro (plus screws) for you to mount your lights. Above you see three, but one is already inside the case. So how do you use them? Very easy, strip off the protective paper from both sides and stick it in your case. The other side of the piece you attach to your light unit. You can place those in four different places wherever you desire — it's up to you to position your lights. I haven't tried repositioning the velcro, but I wouldn't recommend it since those stick very well to aluminum and metal.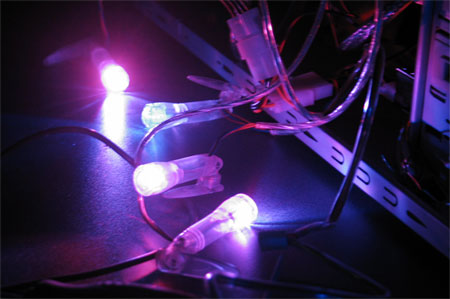 Even if you run out of velcro, just use a dual side masking tape or some sort of sticker to mount them differently. The light units give plenty of illumination so you don't have to worry about not having enough light inside your case.
Next up, I'll show you how the Chameleon presents inside and outside the case.
Usage

---
This is the last part of our journey with the Chameleon (well except some afterthoughts) and probably the most interesting one. Having bright lights in your case looks great, especially in a dark room. Add front LEDs on the panel and you'll feel like you're in a club — okay maybe not.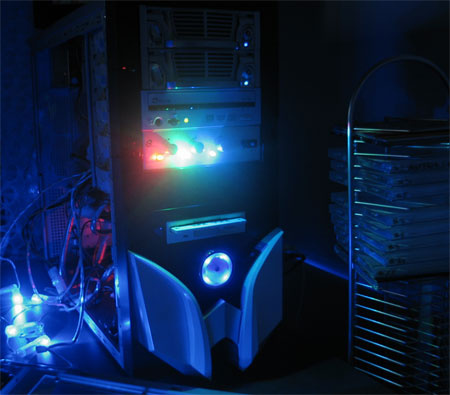 The lights are on! For now I've kept them out to show you how well they illuminate in the dark. Same can be said about the front panel LEDs although those are much brighter. Blue is probably the most popular color among modders, but we are not limited to only that. Samurai's front LED also spices up the setting with its ultra bright power button (as seen on the above picture).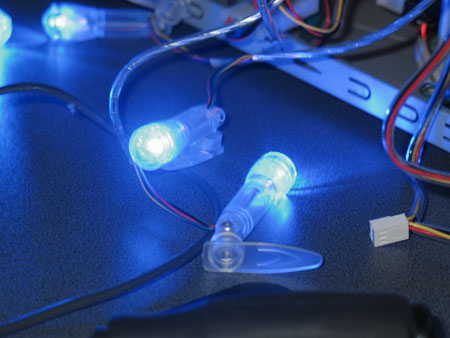 The beam spread angle is very good in the unit LEDs. Due to crystal clear casings they illuminate efficiently, giving you plenty of light.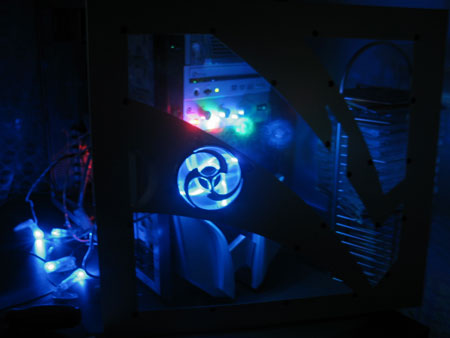 And here is Samurai's window with 80mm LED fan. It presents nicely, but because the case has a front panel to cover up the bays you will most likely choose a different one or simply take off the panel like I did.
Here I provided a few screenshots and a short movie (requires XVID decoder) demonstrating the power of the Chameleon. This is just a taste of what colors can be achieved with this device:
There are a lot of more combinations, and it all depends on the user's preference. It's just great we have that choice.
Conclusion

---
Overall, I am very satisfied with Sunbeam's Chameleon. There are some design quirks here and there, but for the most part this product does its job, and it does it well. The coolest and most useful thing in this whole package has to be playing with potentiometers (dials) on the front panel and mixing the colors. Set different colors each day, show it off to your friends or don't let your inmates sleep at night. Even with tall tower cases, you shouldn't have problems with positioning your lights the way you want them.
Pros:
+ Ability to mix different colors
+ Solid design
+ Power button for switching the device ON and OFF
+ Bright LEDs
+ Aluminum front panel
Cons:
– Unplugging light cables can be a pain
– May not fit in all tool-free 5.25″ bays
With a function to mix colors and overall good design, Sunbeam's Chameleon gets the rating of 9.0 (Extremely Good) out of 10 and Bjorn3D's Seal of Approval.