The Thermaltake PurePower 680W is a really quiet, powerful and flexible power supply. The flexibility comes from the plethora of connectors that are found on this unit, including two PCI Express, four SATA and ten Molex. Check out our review of this high quality offering from Thermaltake.
INTRODUCTION

---
After you stop drooling at the thought of having dual video cards in an SLI setup, you come to realize some practical concerns. Cost is the most obvious one. Most of us struggle to pay $450 for one video card, but spending $900 to $1,000 on two is just ludicrous to many people. Beyond the cost though are other important concerns, like power requirements. More and more power supplies are including the new 6-pin PCI Express power connector, but I have only seen a couple that offer two such connectors. I happen to have one of them for review today — the Thermaltake 680W Silent PurePower power supply (W0049).

Not only does this supply feature two PCI Express connectors, but it also includes four SATA connectors and three +12V rails. Additionally, it has a cool, shiny mirror finish, and all power cables are colorfully sleeved.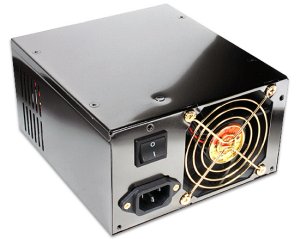 FEATURES and SPECIFICATIONS

---
Features
Compliant with SSI EPS 12V and ATX 12V 2.01 Version
Higher output: 680W output power provides sufficient power
Dual PCI Express, 4 SATA connectors and ten 4-pin power connectors
Active PFC, improved energy efficiency and reduced current load on AC delivery systems
Mirror Finish Lapping
High efficient with dual fans for lowest noise
Intelligent Cable, provide optimum air flow
Protections against Over voltage, Short-Circuit, Over-current, Overload, and Over-temperature
Safety / EMI Approvals: CB,CE, FCC, UL, CUL, TUV certification
Specifications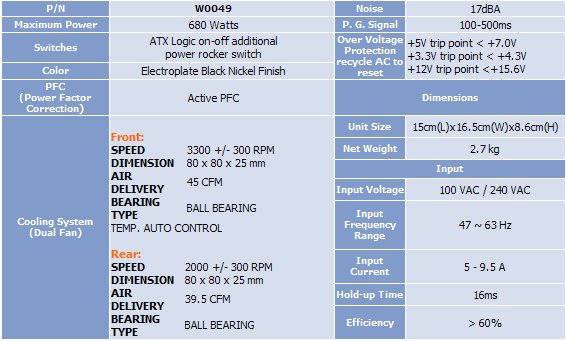 CLOSER LOOK

---
Thermaltake didn't just focus on making a cool PSU, but they also put it in a cool box with a handle. Inside the box, you will find the PSU, a small manual, a 24-to-20-pin adapter and the power cord.
You can see in the images below that the PSU's electroplated black nickel finish looks pretty cool. You can also see that big bundle of cables that is included – four SATA connectors, two PCI Express connectors, two floppy drive connectors and ten 4-pin peripheral power connectors! All those connectors add a lot of flexibility to this unit, but it also means you will have a lot of cables to manage, which is definitely made easier by the awesome color-coded cable sleeving. You might not be able to tell in the pictures, but both fan grills are gold-plated.
When I saw that the PurePower 680W includes four SATA connectors and two PCI Express connectors, I figured that Thermaltake might skimp on the 4-pin connectors, but as you can see, that is not the case. There are more than enough connectors for most people's needs. The sleeving really helps make them considerably more manageable than they would be without the sleeving.
In the second picture above, you can see all the cables laid out. From upper-left to right, they are: 3-pin fan monitor connector (only cable that's not sleeved), 4-pin power cable (red), floppy and 4-pin power cables (blue), PCI Express power cables (orange), SATA power cables (green) and main 24-pin power cable (black). While that is the biggest array of cables I've ever seen on a power supply, it remains quite neat looking.
PERFORMANCE

---
In the specs listed a few pages back, you can see that Thermaltake claims that the +5, +12 and +3.3 voltage rails will remain within +/-5% of their rated values, which is a typical claim for companies (although some companies' units feature tighter regulation). Obviously, the less the voltages vary and fluctuate equates to more stable power, which your PC's components like.
Keep in mind that the PurePower 680W also features three +12V rails, which should help improve overall performance. Many companies are going to the dual +12V rail setup, but this is the first PSU I've seen with three. I have heard of at least one company considering a quad +12V rail PSU.
To test the PurePower 680W, I simply gave my test system a nice little workout, including running games, benchmarks and multimedia applications simultaneously, and left Motherboard Monitor open the entire time to see how much the rails fluctuated under stressful conditions. Before getting to the results, let's take a look at my test system. It should be noted that this PSU is longer than your average PSU by about an inch, so keep that in mind if you have a top blowhole in your case.
Test System Configuration
Here are the results I saw with the PurePower 680W.
RESULTS (V)

+12V
+5V
+3.3V

Idle

12.10

5.08

3.29

Low

12.04

5.06

3.28

High

12.15

5.13

3.33
As you can see, the PurePower 680W stayed well within its rated tolerance for all three rails and remained quite stable. As far as noise is concerned, this power supply is very quiet. My case fans were definitely louder.
CONCLUSION

---
From my experience, the Thermaltake PurePower 680W seems like a very solid power supply. It offers more than enough connectors, a great finish, colorfully sleeved cables, and plenty of stable power. In addition, it features three +12V rails that provide 38A of power. An SLI system would require a lot of power, and the PurePower 680W might just fit the bill nicely in the right case.
The only real issues I had with the PurePower 680W revolved around installation. I've been wanting to find the perfect PSU for my Lian-Li PC-V1000 case, and I thought this might be it. Unfortunately, it was not very easy to install in the V1000, and it is nearly impossible to install because of its length. Dealing with all the cables can be a challenge in the V1000 as well. I did have a much more positive experience though in my Kingwin KT-424-S-WM case, but the amount and length of cables still posed an organization challenge to some degree.
If you like the PurePower 680W, it will set you back $155-170 according to the Bjorn3D PriceGrabber search. It's not the cheapest power supply on the market, but it is a high quality unit that justifies such a price. If you have a case that it would work well in, then I recommend it if you need a lot of power.
Edit, Update from Thermaltake on 01-14-05:
After a thorough investigation, we have found that the connector used on our W0049 680W is the typed used in earlier stage of PCI-E development.

All the pin out and voltage assignment are still correct! So even if user accidentally forced the connector into their PCI-E video card, it will not damage the card in any way and would still work properly. We are working diligently to rework all of our current inventories to the specification used on ATi and Nvidia's card.

A PCI-E adaptor will be provided for all customers who have purchased the Purepower 680W PSU by contacting Thermaltake.
Pros:
+ Provides lots of stable power
+ Long power leads that are sleeved and color coded
+ Nice finish and looks
+ Very quiet
+ Tons of connectors
Cons:
– May not be easy to use in some cases (like the Lian-Li PC-V1000)
– Dealing with a lot of long leads can be a challenge
Final Score: 9 out of 10 and the Bjorn3D Seal of Approval