The Foxconn WinFast NF4UK8AA-8EKRS nForce4 Ultra motherboard is an affordable solution that offers a lot of great features and good performance. If you're looking into upgrading to socket 939 and don't want to break the bank, then check out this review.
INTRODUCTION

---
If the buzz and excitement over the new nForce4 boards coming out is any indication of how successful NVIDIA's new chipset will be, then we just might have another nForce2 on our hands. If you wanted the best in Athlon XP performance and overclocking, you looked towards NVIDIA and one of its partner's nForce2 solutions. It's a safe bet that NVIDIA and its partners hope the same happens with the Athlon 64 and its nForce4. No doubt, many enthusiasts are pumped up about SLI, but there's a lot more than SLI to be excited about, including NVIDIA Firewall and RAID.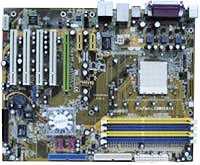 First up on the nForce4 chopping block is Foxconn's NF4UK8AA-8EKRS motherboard, which uses the nForce4 Ultra chip. It is of course a socket 939 board that supports Athlon 64 and 64 FX processors. Additionally, the NF4UK8AA-8EKRS supports a single PCI Express graphics card, gigabit LAN, eight USB 2.0 ports, 7.1 channel audio and up to 4GB of DDR400 memory. Read on to see just how well this Foxconn nForce4 board performs.
FEATURES, SPECIFICATIONS and BUNDLE

---
Features
Supports Socket 939 for AMD Athlon™ 64 and 64 FX processors
Up to 2000 MT/s HyperTransport™
Max 4GB Dual channel DDR400 / DDR333 / DDR 266 DRAM
2 PCIe x 1
4 Serial ATA II w/ RAID 0, 1, 0+1
7.1 channel, AC97 interface
Gigabit LAN (CIS8201)
IEEE 1394 (Fire Wire) Support
Supports up to 8 USB 2.0 ports
NVIDIA Firewall
NVIDIA RAID – can mix PATA drives with SATA drives in single array
Specifications
CPU
* Supports Socket-939 for AMD K8 Athlon 64FX/Athlon 64 processors

HyperTransport Technology
* 16 x 16 link running at 1GHz for extremely high throughput (8.0GB/s)
* Differential lines with low voltage swings

Chipset
* NVIDIA nForce4 Ultra

Memory
* Four 184-pin DDR DIMM slots
* Supports DDR 266/333/400 memory
* Supports 128/256/512/1024MB technology up to 4GB

IDE
* 2 IDE connectors (PATA)
* Supports up to four PATA hard drives

Onboard Serial ATA
* Supports up to four SATA devices
* Dual controller architecture providing full 3Gb/s bandwidth to each disk

NVIDIA RAID Technology
* Supports RAID 0, 1, 0+1 and JBOD
* Cross-controller RAID uniquely supports both SATA and PATA disks within a single array

BIOS
* Licensed advanced AWARD (Phoenix) BIOS
    – Supports flash ROM
    – Supports Plug-and-Play
    – Supports IDE, CD-ROM, SCSI HDD or USB device boot up

Green Function
* Supports ACPI (Advanced Configuration and Power Interface)
* Supports ACPI states:
    – S0 (normal)
    – S1 (power on suspend)
    – S3 (suspend to RAM)
    – S4 (suspend to disk)
    – S5 (soft-off)

Advanced Features
* PCI 2.3 Specification Compliant
* Supports PC Health function (capable of monitoring system voltage, CPU/system temp and fan speed)

LAN
* Supports 10/100/1000 Mbps Ethernet
* LAN interface built-in on board

Audio
* Supports 8-channel audio
* Supports S/PDIF output
* Supports Universal Audio Jack (UAJ)
* Supports high quality differential CD input

Onboard IEEE 1394
* Supports hot-plug
* Supports two 100/200/400 Mb/sec ports
* Self-configured addressing

USB 2.0 Port
* Supports hot-plug
* 8 USB 2.0 ports (4 rear panel ports, 2 onboard connectors providing 4 extra ports)
* Up to 480 Mbps

PCI Express x16 Support
* Supports 4 GB/sec (8GB/sec concurrent) bandwidth
* Lower power consumption and power management features

Rear Panel I/O Ports
– 1 PS/2 mouse port
– 1 PS/2 keyboard port
– 1 parallel port
– 1 serial port
– 1 S/PDIF coaxial out port
– 1 IEEE 1394 port
– 1 RJ45 LAN ports
– 4 USB 2.0/1.1 ports
– 5 audio ports (rear, line in/side, line out, mic, CEN/LFE)

I/O Connectors
– 2 connector for 4 total additional external USB 2.0/1.1 ports
– 1 connector for 1 external IEEE 1394 port
– 1 front audio connector
– 1 CD-in internal audio connector
– 1 S/PDIF out connector
– 1 IrDA connector
– 1 Auxiliary PEX power connector
– 4 Serial ATA connectors
– 2 IDE connector
– 1 floppy connector
– 2 ATX power supply connectors
– 3 fan connectors

Expansion Slots
* 1 PCI Express x16 slot
* 2 PCI Express x1 slots
* 4 PCI slots

Size
* ATX form factor
* 12″ x 9.6″
Package Contents
NF48UK8AA Series Motherboard
WinFast Utility CD
NVRAID Driver Disk
User Manual
IDE Cable x 2
FDD Cable
I/O Shield
USB 2.0 Bracket/Cable
SATA Cable x 4
Retention Mechanism
BOARD LAYOUT

---
The layout of the NF4UK8AA-8EKRS is decent. One of the things I most dislike is the fact that a longer video card's PCB will hover right above the heatsink/fan on the nForce4 chip. This won't be unique to this board though, which you can figure out if you take a quick look at three or four other manufacturer's nForce4 boards. It probably won't adversely affect the board in any way, but it made me frown enough to mention it when I first noticed it with the reference 6800 GT that I installed.
One thing I really did like about the layout of this board is the ample clearance around the CPU socket. I doubt users will have much trouble installing even the largest coolers on this board. I installed the hefty Thermalright XP-90 without any issues. In the corner opposite of the socket, you can see the two yellow PCI Express x1 slots, one green PCI Express x16 slot and four white PCI slots.
If we turn the board around, we find the nForce4 chip covered by a nice heatsink/fan combo that should adequately cool that busy chip. Additionally, you can see the four SATA connectors, two PATA IDE connectors, floppy drive connector, blue USB 2.0 headers, and one of the three fan headers. I would have liked to see one or two more fan headers on this board. Three just doesn't seem like enough, especially when you factor in the nForce4 HSF using one and the CPU HSF using another, leaving just one fan header for other common uses. Many users will want to plug in at least one system fan and maybe their power supply fan monitoring cable, but they won't be able plug them in to this board. One last thing worth noting in this corner is another consequence of installing a long video card. The card will be hovering right above the SATA connectors, which could pose an issue for some end-users.
The final corner of the Foxconn NF4UK8AA-8EKRS is home to the four DIMM slots and main 24-pin ATX power connector. The DIMM slots are color-coded for easy installation. For dual-channel operation, you will want to install modules of the same size in both of the yellow slots. Alternatively, you can fill all four DIMMs with RAM for dual-channel mode.
For peripheral hookup, Foxconn includes the following rear I/O ports: 1 PS/2 mouse port, 1 PS/2 keyboard port, 1 parallel port, 1 serial port, 1 S/PDIF coaxial out port, 1 IEEE 1394 port, 1 RJ45 LAN ports, 4 USB 2.0/1.1 ports, and 5 audio ports (rear, line in/side, line out, mic, CEN/LFE).

BIOS

---
The BIOS for this board is the Phoenix AwardBIOS, and since no new BIOS updates are available from Foxconn yet, I used the one that was already loaded on this test board. Let's take a look at some of the BIOS options.
| | |
| --- | --- |
| Mostly common stuff on the main menu plus Foxconn's SuperBIOS and X-BIOS II | Under SuperBIOS, you can up the CPU frequency to 300MHz |
| Here are the advanced chipset features | HT frequency can be set from 1x to 5x (multiple of the CPU frequency) |
| Under DRAM configuration in the advanced chipset features, you can tweak memory timings and memory clock — AUTO = 1:1 (SYNC), others are ASYNC | Typical PC Health screen with temps and voltages and a shutdown temp setting |
| Voltages for chipset, memory, HT and CPU can be set in the X-BIOS II screen (chipset goes up to 1.8V) | Memory voltage options: 2.5V, Default, 2.7V and 2.8V |
| HyperTransport voltage options: Default, 1.3V, 1.4V and 1.5V | CPU voltage goes all the way up to 1.800V – better have excellent cooling if you even think about creeping past the 1.6V range |
As you can see in the shots, Foxconn includes some good options for overclocking and tweaking, but the biggest missing option is the multiplier. Hopefully, Foxconn can address that in a future BIOS release.
TEST SYSTEM, OVERCLOCKING and BENCHMARKS

---
I only have one nForce4 motherboard in my hands right now, so that leaves me comparing it to an nForce3-150 system. The nForce3 system is a socket 754 system based on the Chaintech ZNF3-150 Zenith motherboard and uses an Athlon 64 3400+, which is a 2.2GHz processor with 1MB L2 cache. In the Foxconn NF4UK8AA-8EKRS, I used a socket 939 Athlon 64 3200+, which is a 2.0GHz processor with 512kB L2 cache. This puts the Foxconn system at an apparent disadvantage, but it has the upper hand when it comes to memory since the 939 3200+ features a dual channel memory controller while the socket 754 processor only features a single 72-bit memory controller. Here are the details of the test systems.
Foxconn nForce4 Socket 939 System Configuration

Chaintech nForce3-150 Socket 754 System Configuration

AMD Athlon 64 3400+ (review)
Chaintech ZNF3-150 Zenith nForce3 Motherboard (review)
Corsair XMS 1 GB PC4000 (running as PC3200)
BFG Tech GeForce 6800 GT OC (review) – DirectX 9.0c, ForceWare 66.93 (downclocked to regular 6800 GT speed)
Maxtor 200GB DiamondMax9+ Hard Drive w/ 8MB Buffer
Windows XP with Service Pack 2
Overclocking
Considering that Foxconn isn't really known for catering to enthusiasts, I was pleasantly surprised by the options available in the NF4UK8AA-8EKRS's BIOS. After a couple hours of tinkering and tweaking, I was left wanting more. The lack of a CPU multiplier option left me increasing the CPU frequency as much as possible. The highest I could reach was 223MHz with the 3200+ I used. With the default 10x multiplier, that puts the CPU clock at just over 2.2GHz, which offers a nice boost in performance. Still, I was hoping for more, but no matter what I did, the board didn't want to even POST past 223MHz.
CPU Voltage = 1.550V
CPU Freq Max = 223MHz
CPU Clock Max = 2.23GHz
Memory Voltage = 2.8V
Memory Clock = 446MHz (1:1)
Memory Timings = 2-4-4-7 1T
I have included some of the benchmarks I did with an overclock at 220MHz on the following performance pages. The processor is running at 2.2GHz and RAM at 440MHz, which is indicated in the charts by "Foxconn nF4 3200+ @ 220."
Benchmarks
SiSoftware's Sandra 2004 SP2b (CPU Arithmetic, CPU Multi-Media, Memory Bandwidth and File System)
Futuremark's PCMark04 v1.3.0
AquaMark3
Futuremark's 3DMark03 v3.6.0
Futuremark's 3DMark05 v1.2.0
Doom 3 (1.1)
Counter-Strike: Source Video Stress Test
PERFORMANCE – SYSTEM

---
Since the Chaintech nForce3 system's 3400+ is running slightly faster (2.2GHz) than the Foxconn nForce4 system with its 3200+ at 2.0GHz, we can logically expect the nForce3 system to outperform the nForce4 system in CPU benchmarks. On the other hand, the nForce4 system will soundly trounce the nForce3 system in memory benchmarks thanks to its superior dual-channel memory controller. Take a look at Sandra 2004 and PCMark04 results to see what I mean.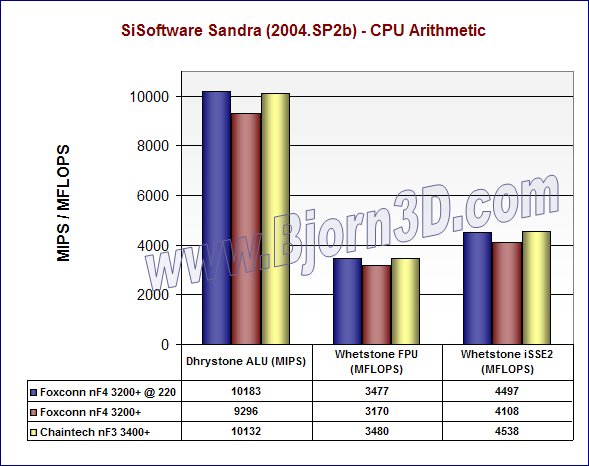 You can see how overclocking the nForce4 system from 2.0GHz to 2.2GHz by raising the front side bus to 220MHz evens the playing field on this CPU test.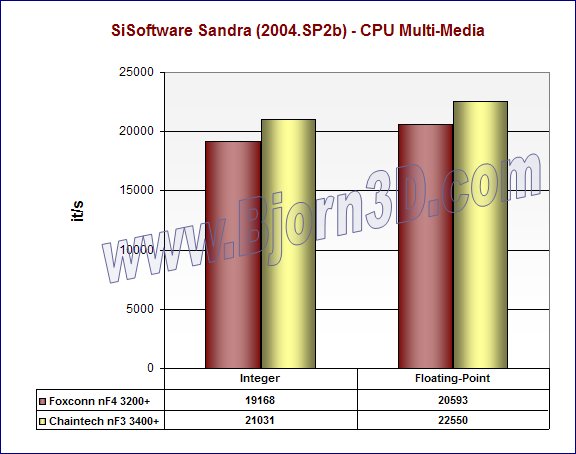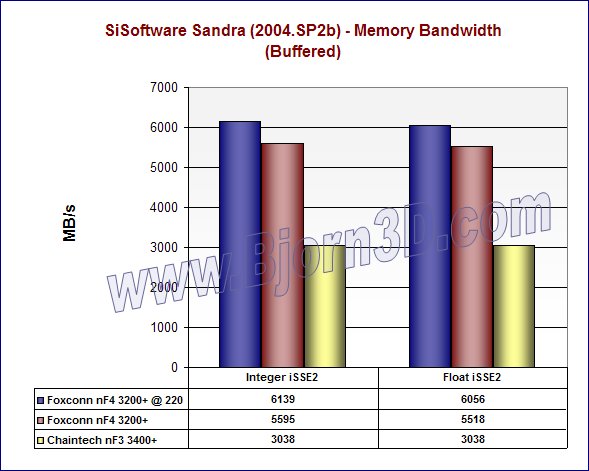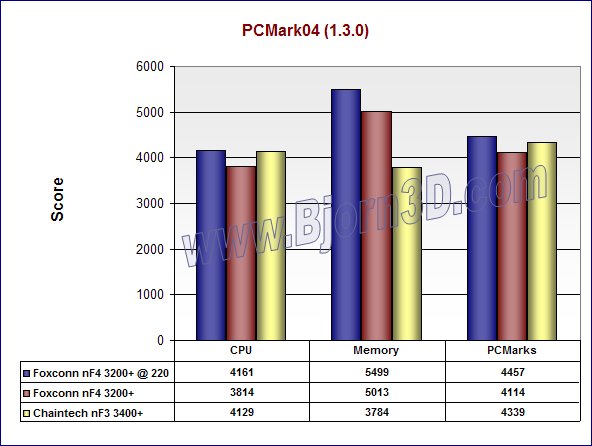 PERFORMANCE – GAMING

---
I'm leaning towards including more gaming (synthetic and actual) benchmarks in my motherboard reviews from now on since any modern computer will handle office tasks just fine. Plus, I think most of our readers are interested in gaming performance as their first priority. Let me know what you think one way or another, or let us know in our forums. I'd be happy to listen to your thoughts.
Back to the topic at hand. Here are a couple pages of gaming benchmarks. The two test systems perform very similarly throughout all the benchmarks. I think this means that what the nForce3 system lacks in memory power compared to the nForce4 is made up for by CPU power and vice versa. Whatever the case may be, the numbers are really close, with the nForce3 system pulling out only by a fraction in some cases.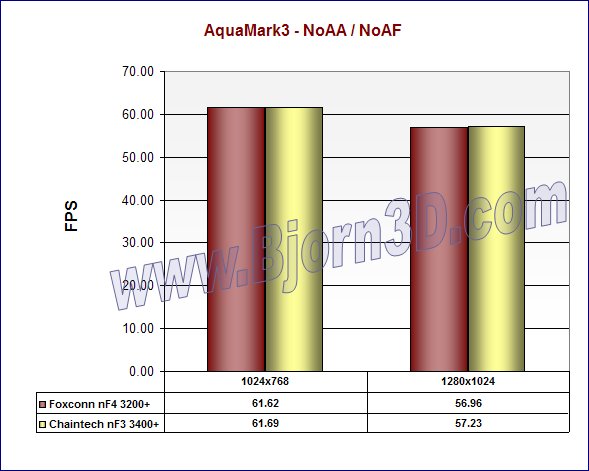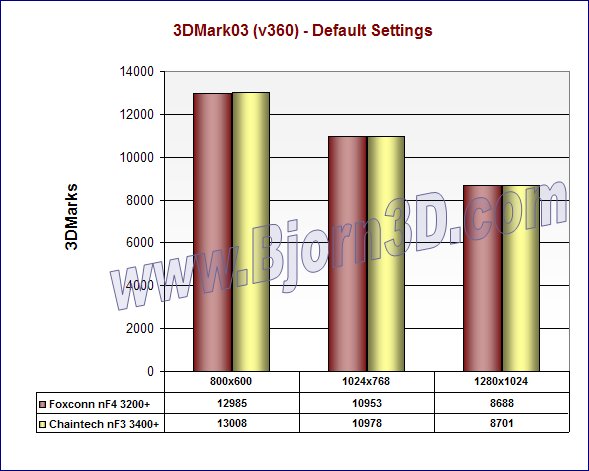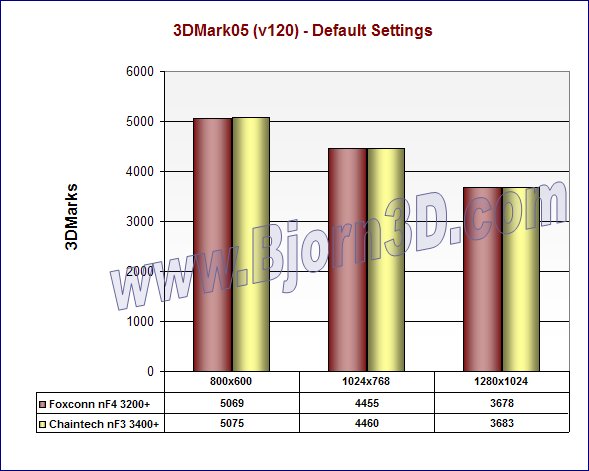 PERFORMANCE – GAMING (cont'd)

---
Now that you've seen how they compare in the synthetic benchmarks, let's take a look at performance in two of the most popular games out right now – Doom 3 and CS: Source.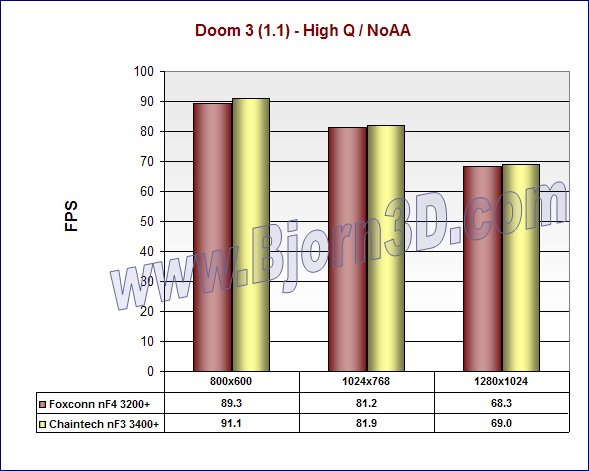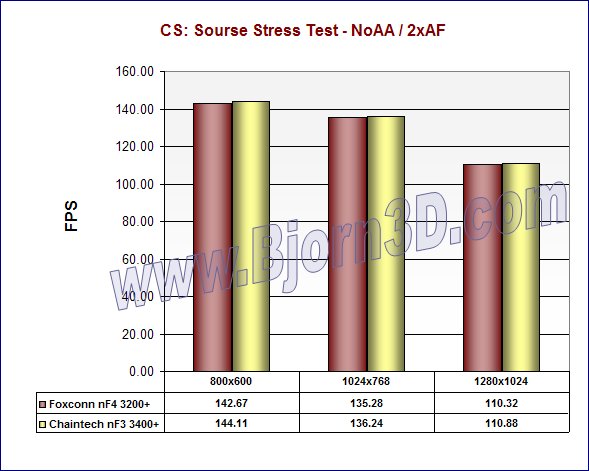 Once again, the performance is very close. I would love to see just how well this Foxconn board and nForce4 Ultra platform could perform with a high end Athlon 64.
PERFORMANCE – AUDIO AND FILE SYSTEM

---
Audio
The audio chip on the Foxconn NF4UK8AA-8EKRS is the Realtek ALC850, which provides 7.1 sound. I tested out some music (MP3s) and gaming while paying particular attention to the sound quality with both the analog and digital outputs. My speaker system is the popular and powerful Logitech Z-680 5.1 system.
The music, from hip hop to jazz to classical, sounded really good. I really like the interface that the NVIDIA drivers include. I played some Far Cry and Half-Life 2, and the onboard sound did well via the analog and digital outputs.
Although the ALC850 provides adequate sound quality for most people, I would probably go ahead and install a dedicated 5.1, 6.1 or 7.1 PCI sound card if I were going to use this motherboard for a lot of serious gaming so that sound quality would be at least a little better and to keep the processor and MCP from having to do more work than it's already doing.
File System
With all motherboard reviews, I at least do a couple simple file system tests just to be sure that the board performs up to expectations. This Foxconn board doesn't disappoint. It meets the average Sandra File System result that I would expect from a SATA hard drive — 50MB/s. I did a couple other file system tests, and all results were exactly like you'd expect from a single 7200RPM SATA hard drive configuration.
CONCLUSION

---
Thanks to NVIDIA's excellent new nForce4 Ultra chip, companies like Foxconn can offer feature-rich yet affordable mainboards that offer excellent performance. That is the case with the NF4UK8AA-8EKRS, which can be had for around $130. Couple it with a socket 939 processor for $200 or more depending on how fast you want to go, and you have yourself a very solid foundation for a system. Foxconn really surprised and impressed me with the NF4UK8AA-8EKRS. You can tell the company is trying to appeal to enthusiasts with tweaking and overclocking options in the BIOS. I honestly didn't expect that from Foxconn, but I hope they keep it up. Hopefully, we'll see a multiplier option in a BIOS update.
Although the board layout isn't perfect, there is a lot of room around the CPU socket for large coolers. As I mentioned a few pages back, I fit the chunky Thermalright XP-90 on there without any problems whatsoever. RAID fans will really appreciate the NVRAID application and the ability to mix PATA and SATA drives in single RAID array. Additionally, support for four SATA II ports, two FireWire ports, eight USB 2.0 ports, gigabit LAN and 7.1 sound helps make this board worth $130. We can't forget about the NVIDIA Firewall either. ZoneAlarm users should feel comfortable replacing ZA with this highly capable firewall. Just like ZA, the NVIDIA Firewall asks you if you want to grant access to programs that are trying to get out to the Internet or come in from the Internet. The Network Access Manager is a cool, local web site that gives you the power to administer and manage your firewall. The on-chip firewall definitely adds value to the nForce4 Ultra package.
Pros:
+ Good performance
+ Plenty of clearance around CPU socket
+ Affordable
+ Nice features (NVRAID, Firewall, etc)
+ Decent onboard sound
+ Nice HSF on nForce4 chip
Cons:
– No multiplier option in BIOS
– Long video cards may cause hassles
– Only three fan headers
Final Score: 8 out of 10 and the Bjorn3D Seal of Approval