If you're looking for a new ATI-based PCI Express video card and you're into overclocking, HIS has something that you might want to take a look at – the X700 Pro IceQ Turbo VIVO. This board a great cooler that is also very quiet. And this board can approach X700 XT clock speeds with the push of a button in HIS's iTurbo application.
Introduction

---
Want extreme cooling on your ATI-based video card without adding extra noise? Don't want to do it yourself? HIS and a few other companies want to help you out. These companies provide better-than-stock cooling solutions on ATI's latest and greatest graphics chips. You might be thinking that you'll just buy a board with a stock cooler and upgrade it yourself. That's cool (pun intended), but what about that warranty that says any modifications of the board voids it? I realize that hardcore modders probably couldn't care less about voiding a warranty, but I'm concerned about the newbie who reads some article about how some guy put his refrigerator on his brand new video card so he could overclock it to perform at levels that only boards twice as expensive can normally perform. The newbie probably wouldn't realize that if he makes changes to his board that an RMA department could recognize as modding, he's out of luck and has to buy a new board.
The point of HIS's IceQ line of boards is providing this high-performance cooling so that the board does not have to be modified to get every last bit of performance out of it. Bjorn3D has already taken a look at a couple (X800 Pro and X800 XT) of these solutions from HIS, and today I am pleased to present another one – the X700 Pro IceQ Turbo VIVO.
The X700 Pro IceQ Turbo VIVO features a PCI Express interface, 256 megabytes of GDDR3 memory, video in and out functionality provided by an ATI Rage Theater chip, and HDTV-out via a component video adapter. For adding raw power to this board's performance, HIS includes its iTurbo feature, which is basically a guarantee that the board will overclock from its stock core/memory clock frequencies of 425/860 MHz to 460/960 MHz. The included iTurbo software makes this transition with a single click. Not that overclocking via software is difficult, but HIS has made it easier than ever. The iTurbo application also allows you to control the fan speed of the IceQ cooler. However, iTurbo will not allow clock speeds as high as most other overclocking tools. HIS obviously wants to maintain some control in how far consumers overclock their products, since providing unlimited overclocking via their tool would most likely result in many more warranty issues from overzealous overclocking. Of course, there is nothing stopping anyone from using a different tool, but HIS certainly wants to have some control over their "sanctioned" overclocking.
For this review, I ran all benchmarks at stock clock speeds and at the highest speeds iTurbo allowed, which were 472 MHz and 998 MHz for core and memory clocks, respectively. To make things interesting, I compared these numbers to the Gigabyte 6600 GT I reviewed a few weeks ago. Read on to take a closer look at the HIS X700 Pro IceQ Turbo VIVO.

Specifications & Features

---
Specifications:
Graphics Chip
ATI Radeon X700 Pro (RV410)
Memory
256 MB GDDR3
Memory Interface
128 bit
Core Clock
Stock: 425 MHz
iTurbo Enabled: 460 MHz
Memory Clock (effective)
Stock: 860 MHz
iTurbo Enabled: 960 MHz
Maximum Resolution
2048 x 1536
Bus Interface
PCI Express x16
Pixel Pipelines
8
Vertex Engines
6
Output Options
VGA
DVI
TV-Out (including HDTV adapter)
Input Options
Composite, S-Video
Features:
ATI Radeon X700 Pro
IceQ Turbo Cooling Technology – exhausts warm air out of the PC
Ice Blue LED and UV sensitive cooler
ATI Rage Theater provides VIVO functionality
Includes an adapter for component video output for HDTVs, monitors, etc.
Package Contents:
X700 Pro IceQ Turbo VIVO board
HIS X700 Series User's Guide
DVI-to-VGA adapter
VIVO cable
HDTV output cable – component video (YPrPb)
S-Video cable
RCA (composite) video output cable
Software:

Driver installation disc
HIS iTurbo Overclocking Tools
PowerDVD 5.0
VideoStudio 7 SE
3D-Album PicturePro
ATI Demos and ThemeManager
Keyhole
OfficeFX
Dungeon Siege version 1.1
Dungeon Siege 2 Demo
Counter-Strike: Condition Zero
The Board

---
The IceQ cooler is a two-slot solution, which we don't see too often with ATI-based video cards. But to get a quiet, effective cooler, HIS decided this was the way to go. And it definitely does its job well without being very loud! In most cases, it probably wouldn't be audible over the case and power supply fans. If the cooler's fan is too loud, iTurbo can be used to decrease the fan speed to the desired level.
As seen on most other video cards, HIS also adds heatsinks to the RAM chips to improve the cooling even more. You can see one of them under the cooler and more easily on the back of the board.
In the nextpicture below, you can see the exhaust on the cooler and the board's connectors.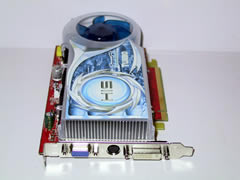 And here is a picture of it installed. Unfortunately, I didn't have any cold cathodes hooked up to show off how UV reactive it is.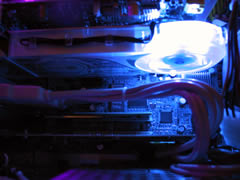 Performance

---
ATI's X700 line was introduced to compete with the GeForce 6600 line from NVIDIA. The 6600 GT has already received accolades for its great price-to-performance ratio, so ATI had to deliver a winner. Fortunately, I now have both the HIS X700 Pro and a Gigabyte 6600 GT for a competitive comparison. I've also thrown in overclocked results from the HIS X700 Pro IceQ Turbo, since this board should be a great overclocker. The comparison of the 6600 GT and X700 Pro is even more interesting when the X700 is overclocked since it makes the clock speeds of both boards very close, with the core clock of the X700 only lagging by 28 MHz. I did not try to push it any higher than that because I wanted to rate what you get out of the box, and the iTurbo application limited my overclocking.
Keep in mind the Gigabyte 6600 GT has only 128 MB of GDDR3 memory, so that might be a handicap for it in memory-intensive benchmarks. However, both boards have a 128-bit memory bus width.
The iTurbo application made overclocking the HIS X700 Pro IceQ a breeze. To take the core and memory clocks up to 460 and 960 MHz, respectively, you simply click the iTurbo button. If you want to tweak further, you simply adjust the sliders for each clock and the fan as desired. As you can see below, iTurbo also shows you the core temperature.
A few iTurbo settings, like polling interval and start-up options, can be changed to fit the user's preferences. HIS deserves props for providing great out-of-the-box overclocking with this tool.
If you haven't already skipped ahead to the benchmark results, let's take a look at my test system setup and then finally take a closer look at how the HIS X700 Pro IceQ Turbo stacks up to the competition.
Test System Configuration
Intel Pentium 4 550 (3.4 GHz) (article)
  – Hyperthreading Enabled
Gigabyte GA-8GPNXP Duo (review)
OCZ EB DDR PC3200 1 GB kit – 2 x 512MB (review)
Seagate Barracuda 7200.7 SATA NCQ 160GB hard drive (article)
HIS X700 Pro IceQ Turbo (Catalyst 5.1) -or- Gigabyte 6600 GT (Forceware 66.93)
Microsoft Windows XP with Service Pack 2
DirectX Version: 9.0c
3DMark03 (3.5.0)
The drivers used for this review were approved by FutureMark for both 3DMark03 and 3DMark05.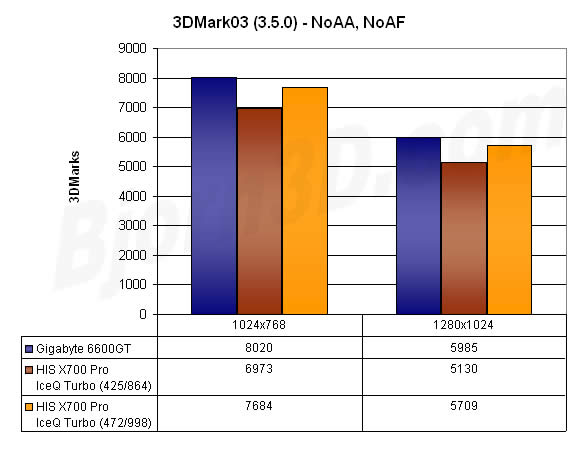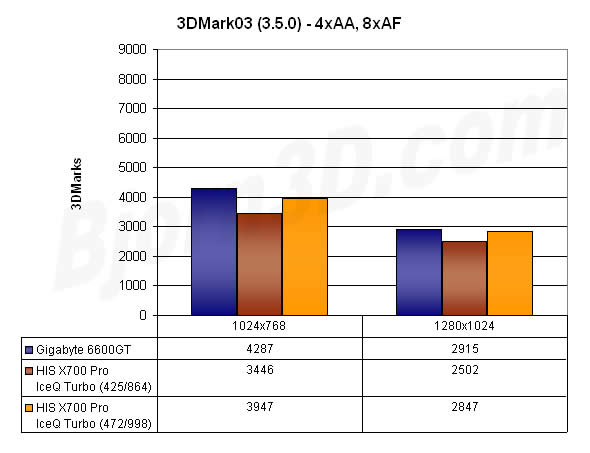 3DMark05 (1.1.0)
3DMark05 was designed for the current generation of boards and beyond. If you've tried to run this benchmark on an older generation video card, you definitely know what I mean. 3DMark05 requires DirectX 9.0 compliant hardware to render its high-quality scenes. It features various complex lighting scenarios and large- and small-scale environments that really push current hardware to its limits.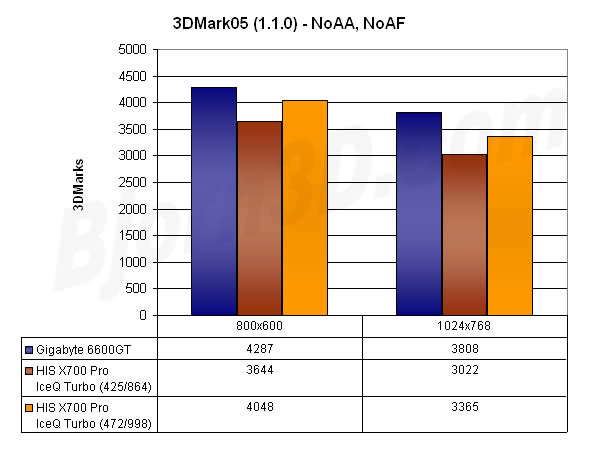 Performance

---
AquaMark3
The AquaMark3 benchmark utilizes a real 3D game engine (called krass) with DirectX 9.0 features, such as Pixel Shaders 2.0, to render a beautiful underwater world. This engine is used in AquaNox 2: Revelation and the RTS game Spellforce. I ran the default benchmark (1024×768, No AA, 4x AF, maximum details) that can be run in an unlicensed version of AquaMark3 and two benchmarks with custom settings – Very High level of detail, 4xAA, and 8xAF at both 1024×768 and 1280×1024.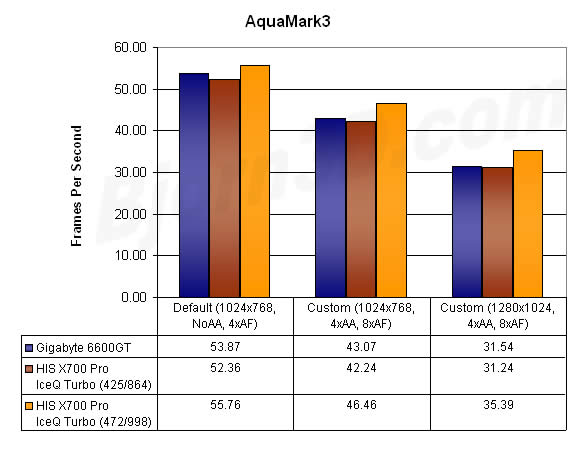 Doom 3 (1.1)
Doom 3 has a reputation for being a power hungry PC game. Since its advanced graphics features include bump mapping, specular and diffuse lighting, shadows, and volumetric fog, Doom 3 can really test the might of any system. One important thing to keep in mind is that 8x anisotropic filtering is enabled automatically when the "High Quality" setting is selected.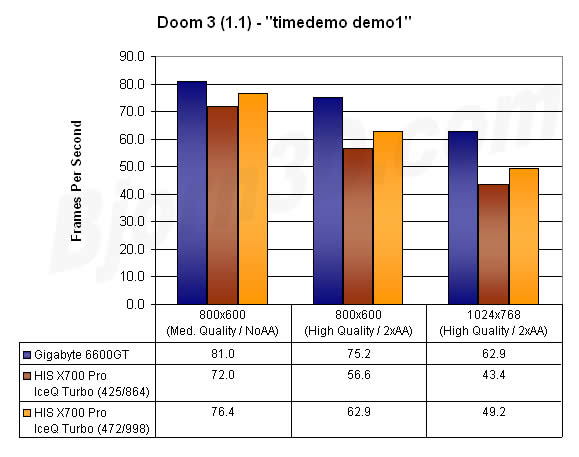 Halo (1.06)
I ran Halo 1.06 and used the timedemo feature for these benchmarks. The timedemo feature does not really provide a realistic in-game performance number; I would compare it to a flyby type of benchmark. Nevertheless, it provides some idea of how the these boards will perform in this game.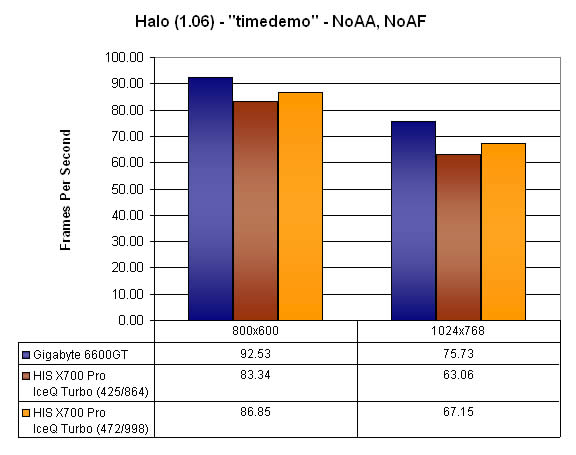 Far Cry (1.3)
Far Cry is a very popular game from Crytek, and just like Doom 3, it can test the might of nearly any system. To benchmark using the time demo feature of Far Cry, I used the PCGH_VGA Timedemo from 3dcenter. In the advanced graphics settings area of the game configuration screen, the lowest that anisotropic filtering can go is 1x, which means that at least 1xAF is enabled at all times. All other detail settings where set to High for all timedemo runs.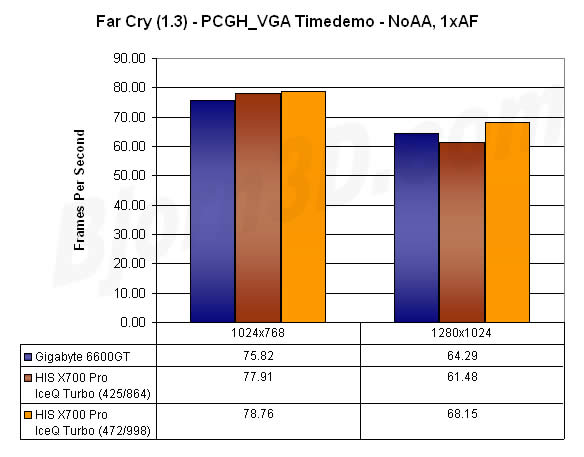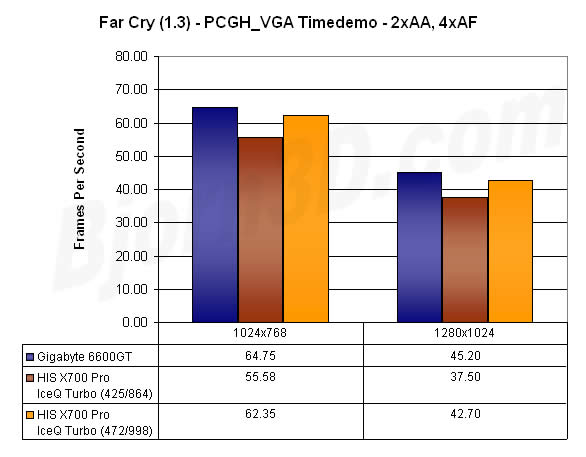 Conclusion

---
At stock speeds, the HIS X700 Pro IceQ Turbo cannot quite match the performance level of a GeForce 6600 GT in almost all of the benchmarks I ran. However, once I used iTurbo to overclock the X700 Pro to nearly the same core and memory clock frequencies as the 6600 GT, the X700 Pro puts up a much better fight, even coming out ahead in a few tests. Although I excluded Half-Life 2 from the benchmarks, I am very confident that this board would allow playing that game at a fairly high resolution with anti-aliasing and anisotropic filtering enabled.
I usually like to compare competitors based on price and performance, but, unfortunately, I could not find this board at any online retailers. Most 256 MB X700 Pro boards are selling in the range of $195-250, depending on the brand and whether they offer VIVO functionality. I would expect this HIS board, with its nice bundle, great cooler, and VIVO features, would be one of the more expensive X700 Pro boards around. Even if it is $20 more expensive than most other X700 Pros, I think it would be more than worth it, since you basically get close to an X700 XT's performance right out of the box without much effort. And you get VIVO features and an HDTV component video dongle as well. As for how it stacks up to the 6600 GT, it does hold its own, but the 6600 GT probably has a little headroom for overclocking as well, which would allow it take back any performance ground the overclocked X700 Pro gained over it. Still, the HIS X700 Pro IceQ Turbo VIVO is a great video card that should please any newbie or enthusiast.
Pros:
+ iTurbo provides great overclocking out of the box
+ Good bundle
+ Great, quiet cooler that even looks really good
+ HDTV output via included adapter
Cons:
– A cooler of this size makes this a two-slot solution
– The bundle is good but it could use a newer game