We all need that little extra help in cooling down our VGA cards and hopefully, gain the extra headroom for some more speed. We've taken a look at Jetart's JACSH1 VGA Cooler to see what it can do for NVIDIA and ATI cards.
INTRODUCTION
---
Most video cards today need additional cooling. The higher priced cards usually come with good cooling but many of the cheaper cards usually use a stock cooling device that neither is effective or silent. Today I am looking at an alternative VGA cooling device from Jetart, the JACSH1, which fits both NVIDIA and ATI video cards.
FEATURES AND SPECIFICATIONS

---
• Delicate Welding Technique Applied
• All-In-One VGA Cooling Kit
• Super Bright LED Fan
• Silent & High Performance Ball Bearing Fan
• Compatible to all nVIDIA & ATi VGA cards (click for Compatibility Chart )
• Extra 8 pcs Memory Heatsinks Included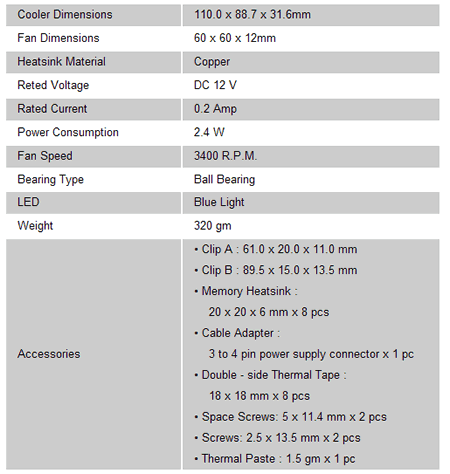 THE PACKAGE

---
The JACSH1 comes in a cheap looking heat-sealed clear plastic package. To open this you really need some good scissors and a lot of time. Why cannot companies realize that packaging their products in a almost unbreakable package isn't a good idea?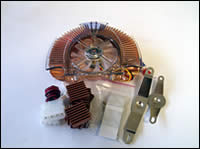 Together with the heavy heat sink/fan you get 8 small memory chip heat sinks, locking mechanism for 2 types of cards, some 3M thermal tape and some thermal paste.
The manual consists of some printing on the back of the package.
The fan itself sits on top of a heat sink made out of copper. As you can see from these photos the fan is actually is some distance above the contact-surface between the chip and the heat sink. I guess this is probably to make it fit as many various designs as possible.
INSTALLING THE VGA COOLER

---
The video card I choose for this review was an ASUS NVIDIA GeForce 5700LE card that I had lying around. This is a pretty cheap card which has no heat sinks on the memory chip as well as only a small fan on the GPU.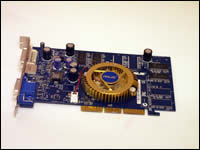 The first step was to stick the memory heat sinks onto the memory chips. This is done with the included thermal tape.
Next step is to first remove the old fan, clean the GPU with some alcohol or similar fluid, put on some thermal paste and add the new heat sink and fan.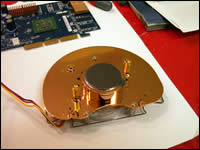 Before you can attach the heat sink you need to add 2 brass standoffs to it. Depending on which card you have you will have to screw them on in 2 different positions. Jetart includes a list of compatible cards in the package as well as a list of compatible cards on their website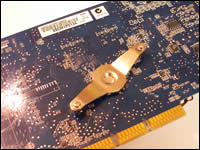 On the back of the card you put a tension bracket (2 are included, 1 for each type of cards) and then the screws are screwed in. As you probably understand you should fasten the screws in turn so you don't crack the GPU.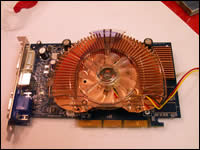 The assembled card looks pretty cool. One thing I noticed however was that even with the screws tightened it felt a bit loose and not as tight as I would have expected.
TESTING
---
Unfortunately the GeForce 5700 doesn't allow you to measure the temperature in the drivers as some other GeForce cards. Thus I could not compare the temperature between this cooler and the stock cooler. I also encountered a kind of odd situation when doing the overclocking test. Both the stock cooler and the JACSH1 kept the GPU cool enough to overclock it like nothing I've seen before. The Asus GeForce 5700LE starts at 250 MHz for the GPU but I got it up above 325 MHz without any problems. Clearly this card was simply a bit too good for testing the cooler properly.
I then wanted to see if I could overclock the memory some. Since this card does not have any heat sinks when you buy it, it accordingly overclocked very poorly. In fact, I couldn't even overclock it 1 MHz without the computer crashing. Putting the heat sinks on I expected at least some extra MHz but even with the added heat sinks I couldn't get any additional speed out of the chips.
Jetart talks about silent and high performance ball bearing fans but I must admit I thought the fan was actually quite lout, definitely louder than the stock fan it replaced. The system I tested the card in has a very silent Zalman CPU fan though which means the VGA fan was the noisiest part so your mileage might wary but I would not expect miracles from this fan.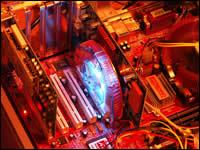 Last but not least the fan has a nice blue light when it is running. It is fairly common these days but looks cool none-the-less.
Conclusion

---
I'm neither impressed nor disappointed with this product. The fan and heat sink is well made and the inclusion of 8 memory heat sinks is good. It really depends on the card you are using if you can squeeze more out of it.
Pros
+ Fits both NVIDIA and ATI cards
+ Thermal tape and Thermal paste included
+ 8 memory heat sinks included
+ Made out of copper
Cons
– Not as tight fit that I expected
– Not as silent as I expected
I award the Jetart JACSH1 6.5 out of 10.