The Sapphire X800 XL steps in to be a real strong competitor against the GeForce 6800 GT, and these two cards cost about the same in stores. As long as you don't have your heart set on SLI and have $400, I can definitely recommend the Sapphire X800 XL. Read the review to find out more!
INTRODUCTION

---
MSRP of $299, huh? Yeah, right. That's a joke! Big time! I like to think of MSRP (manufacturer's suggested retail price) as the high point when it comes to actual retail pricing. Video cards prove that wishful thinking wrong all the time, but ATi's new kid on the block – the X800 XL – is selling for much higher than its announced MSRP. We all knew this card would rock (or rather violently shake) the successful NVIDIA 6800 GT boat if it really hit streets at $300. That's not happening though…try adding $100 to the MSRP. What was looking like a dead-on, hands-down lock for best-bang-for-the-buck glory is now on a more even playing field.
At a street price of $400 though, the X800 XL makes for a great competitor for the similarly priced 6800 GT, which is exactly what it's meant to do. Does it make a great competitor as far as performance is concerned though? We have a Sapphire Radeon X800 XL here to find out.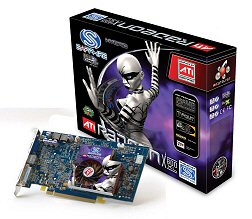 I will be comparing the Sapphire X800 XL to a reference NVIDIA GeForce 6800 GT. Both cards are of course PCI Express and will run in the Foxconn nForce4 Ultra motherboard that I recently reviewed. Read on to check out the Sapphire X800 XL's features, specs, performance and overclocking potential.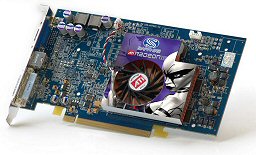 FEATURES and SPECIFICATIONS

---
Features
256MB of GDDR3 memory
256-bit memory interface
16 parallel pixel pipelines
PCI Express x16 lane native support
Dual display support
Dual integrated 400MHz DAC's
2048×1536 @ 85Hz Maximum Resolution
S-Video TV-out port
Full support for DirectX® 9.0 and the latest OpenGL® 2.0 functionality
SMARTSHADER™ HD technology
SMOOTHVISION™ HD technology
3Dc™ High quality 4:1 Normal Map Compression delivers beautiful scenes without the performance hit.
Unique VIDEOSHADER™ HD engine uses programmable pixel shaders to accelerate video processing and provide better-looking visuals
HYPER Z™ HD is optimized for performance at high display resolutions, including widescreen HDTV resolutions
Specifications
You might wonder where the X800 XL fits in the X800/X850 family. The following table sheds a little light on this matter. You can read our brief look at the ATi reference X850 XT PE and X800 XL right here.
| | | | |
| --- | --- | --- | --- |
|   | RADEON X800 XT | RADEON X800 XL | RADEON X850 XT |
| Bus Type | PCI Express x16 | PCI Express x16 | PCI Express x16 |
| Memory Amount (MB) | 256 | 256 | 256 |
| Memory Type | GDDR3 | GDDR3 | GDDR3 |
| Memory Interface | 256-bit | 256-bit | 256-bit |
| Memory Clock Speed (MHz) | 500 | 490 | 560 |
| Engine Clock Speed (MHz) | 500  | 400 | 520 |
| Pipelines | 16 | 16 | 16 |
| Pixel Fillrate | 8 Gpixels/sec | 6.4 Gpixels/sec | 8.6 Gpixels |
| Geometry Rate | 500 MTriangles | 400 MTriangles | 540 MTriangles |
CLOSER LOOK and BUNDLE

---
The Sapphire X800 XL comes in a typical video card retail box featuring a not-so-typical freaky-deaky chick on the front. She kind of scares me, in a cool sort of way that is. The card comes with the usual assortment of cables and two somewhat old but still cool games: Prince of Persia: Sands of Time and Splinter Cell: Pandora Tomorrow. Here's the package content list for the retail package.
Sapphire X800 XL Video Card
Installation/Getting Started Guide
DVI-to-VGA Adapter
S-video Cable
Composite Video Cable
Component Video Connector
Sapphire Sticker
Installation Driver CD
Redline Tweak Utility
Prince of Persia: Sands of Time (full version)
Splinter Cell: Pandora Tomorrow (full version)
The card itself pretty much sticks to ATi's reference design except for a PCB color change (from red to blue) and of course a HSF sticker change to match Sapphire's current branding (that's where the interesting lady comes in again). The copper-based heatsink is rather small and features a small fan. Oh, and there's no power connector!
The Sapphire X800 XL features 256MB of GDDR3 memory, courtesy of eight Samsung 1.0GHz memory chips. The main heatsink/fan is above the four memory chips on that side of the card although it's not quite touching them. Sapphire adds some heatsinks to the four chips on the back of the card to help with overall cooling. A closer look at the back also reveals the lack of the ATi Rage Theater chip on this card, which no doubt helps make this the cheapest X800 XL currently available.
While many top cards feature two DVI connectors, Sapphire opted to stick with the more common VGA + DVI configuration. The card also has an S-video connector for TV-out functionality.
TEST SYSTEM, BENCHMARKS, HEAT and NOISE

---
The test system this time around is based on the new nForce4 Ultra platform. The motherboard I used is the Foxconn WinFast NF4UK8AA-8EKRS, and the processor is an Athlon 64 3200+, which runs at 2.0GHz. I compared the X800 XL to a reference NVIDIA GeForce 6800 GT using the latest publicly available and supported drivers at the time I started benchmarking (Catalyst 5.1 and ForceWare 66.93). Here is a complete look at my test system, followed by a list of the benchmarks I used to compare these two cards.
Test System
AMD Athlon 64 3200+
Foxconn WinFast NF4UK8AA-8EKRS nForce4 Ultra Motherboard (review)
Corsair XMS 1 GB PC4000 DDR RAM (running as PC3200)
Sapphire Radeon X800 XL – DirectX 9.0c, Catalyst 5.1
NVIDIA Reference GeForce 6800 GT – DirectX 9.0c, ForceWare 66.93
Maxtor 120GB Serial ATA 7200RPM Hard Drive
Windows XP with Service Pack 2
Benchmarks
3DMark03 v3.6.0 – default settings and 4xAA / 8xAF
3DMark05 v1.2.0 – default settings
Counter-Strike: Source – Video Stress Test – NoAA / 2xAF and 4xAA / 8xAF, both with highest details set in game with drivers set to application controlled
Doom 3 1.1 (demo1) – NoAA / High Quality and 4xAA / High Quality, both with highest details set in game with drivers set to application controlled
Far Cry 1.3 – NoAA / 1xAF and 4xAA / 4xAF, both with highest details set in game with drivers set to application controlled
Heat and Noise
While the cooling unit may be small in size, it is not small in the noise department unfortunately. The fan is very loud for a couple seconds upon system boot. The fan is running at 100% speed for this brief amount of time, after which it slows down to around 50% and is much quieter (although still not silent). The card's noise level picks up considerably and is noticeable during intense benchmarking and gaming. I can even hear it above my three 80mm case fans and 90mm CPU fan.
Using ATi Tray Tools, I checked out the reported temperature and clock speeds. The idle GPU temperature was reported to be 44C while the environment came in at 38C. The maximum temperatures I saw during gaming and bencmarking for the GPU and environment were 75C and 44C, respectively. It would be nice to see the cooler do a better job during heavy loads, especially considering how loud it can get. As for the clock speeds reported, they were 398MHz for the GPU and 492MHz (or 984MHz DDR) for the memory.
PERFORMANCE – 3DMARK

---
The 3DMark03 results kind of surprised me. The 6800 GT outperforms the X800 XL at all resolutions at the default settings, but when anti-aliasing (AA) and anisotropic filtering (AF) are cranked up, the opposite happens. The X800 XL outperforms the 6800 GT by a considerable margin with 4xAA / 8xAF at all three resolutions.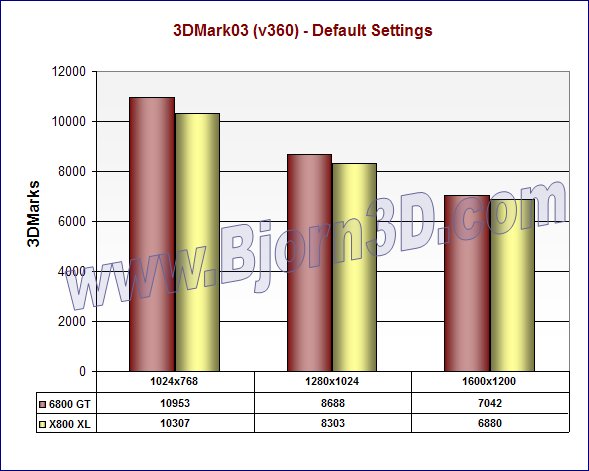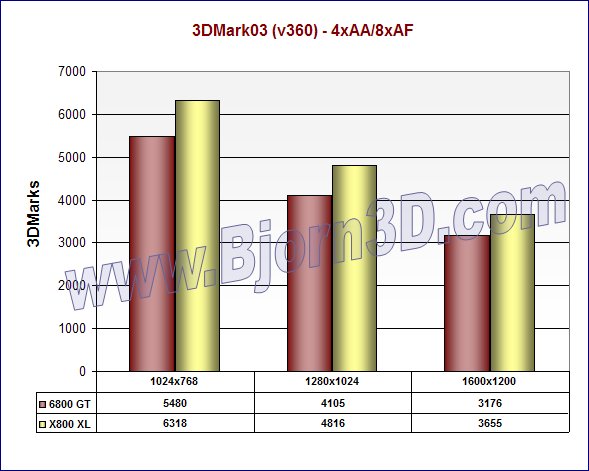 At the default settings in 3DMark05, the X800 XL also takes the victory at all resolutions.
PERFORMANCE – CS: SOURCE STRESS TEST

---
The Source Video Stress Test can be accessed within the Counter-Strike: Source game menu. The benchmark is rather short but involves rendering some very complex imagery. The final result is show in frames per second (FPS). I ran the test with two different AA / AF settings in the game's options — NoAA / 2xAF and 4xAA / 8xAF. Also, I selected high details for all quality options.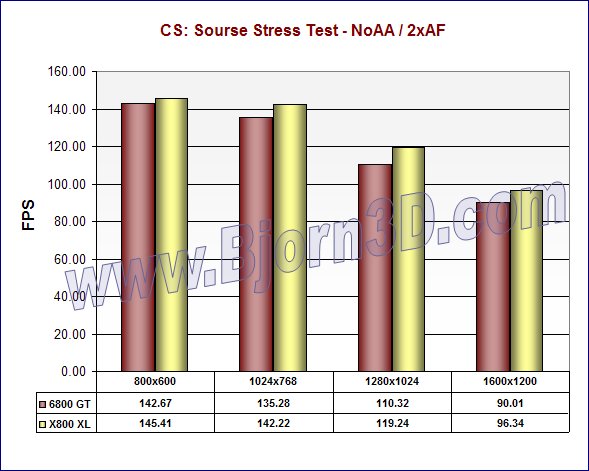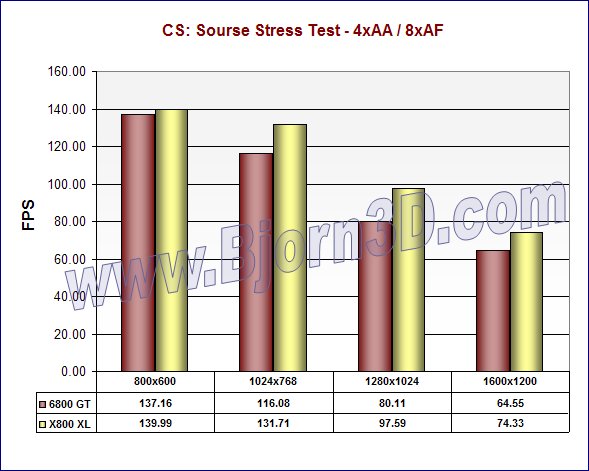 In this simple test, the X800 XL renders more frames per second than the 6800 GT at all resolutions and at both AA / AF settings. When it comes to benchmarking actual maps, I've seen these cards trade victories back and forth, depending on the map.
PERFORMANCE – DOOM 3

---
While it can play fairly well on low-end systems at lower resolutions, Doom 3 can really punish a system if you crank up the details and resolution. Many sites have shown that NVIDIA's 6-series is the card of choice for Doom 3 performance, but the X800 XL definitely holds its own here. I ran the included demo1 timedemo with quality set to high and AA turned off and also with quality set to high and AA set to 4x in the game.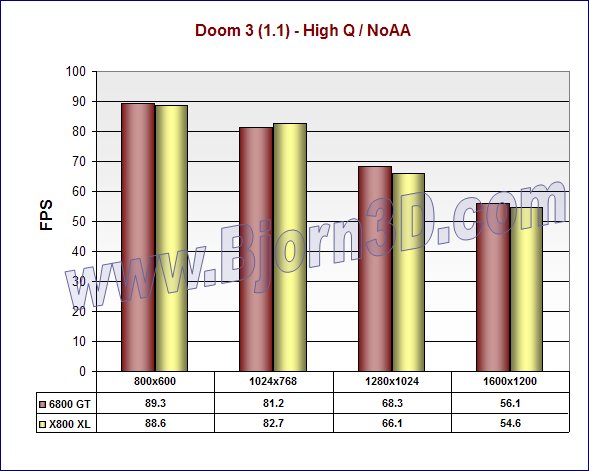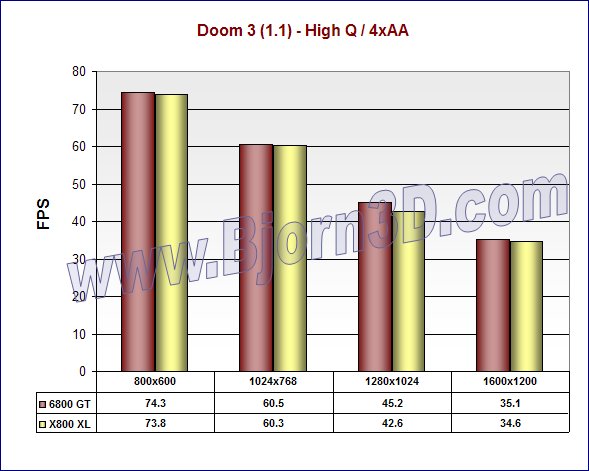 The X800 XL and 6800 GT perform virtually the same in this benchmark. I wouldn't play any higher than 1024×768 at 4xAA with High Quality set to ensure a smooth gameplay experience.
PERFORMANCE – FAR CRY

---
Far Cry is currently one of the most pipeline-punishing PC games available. Playing at the highest resolution with eye candy maxed out and still getting playable frame rates is not really possible for even the most powerful systems and graphics cards. The demo I have chosen to use with Far Cry is the PCGH_VGA Timedemo from 3dcenter.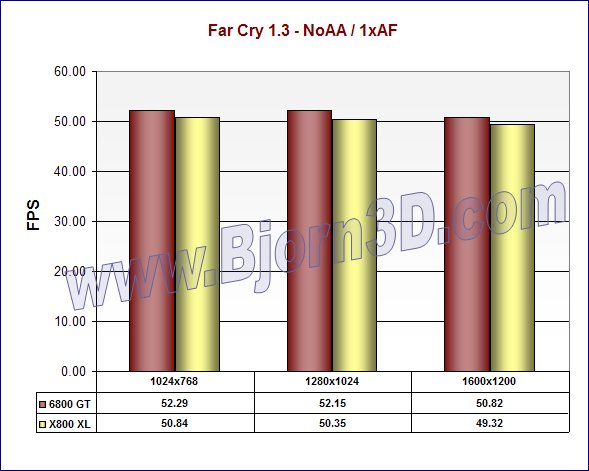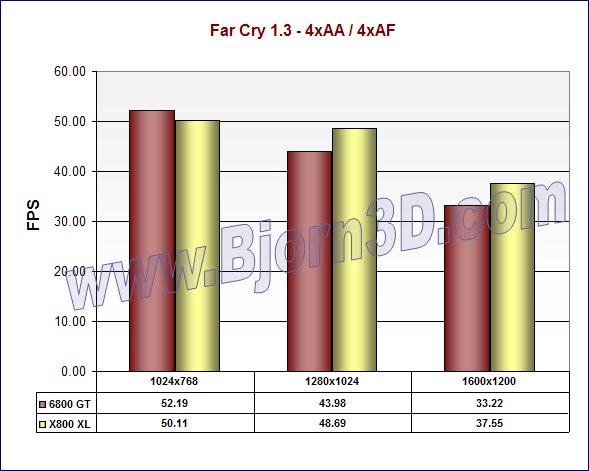 At the lower settings of NoAA / 1xAF, the X800 XL falls slightly behind the 6800 GT. It's a different story at 4xAA / 4xAF though. The X800 XL scales down more slowly than the 6800 GT, which means its performance doesn't decrease as quickly as the 6800 GT's once the 1280×1024 and 1600×1200 resolutions are reached. The X800 XL is four or five frames per second faster at these resolutions. Just like with CS: Source though, the map can make a difference in which card wins this battle.
OVERCLOCKING

---
To overclock the Sapphire X800 XL, I employed the use of ATi Tray Tools, a very handy utility that offers tweaking and monitoring capabilities. Recall that the default GPU clock for this card is 398MHz, and the default memory speed is 492MHz (984MHz DDR). I set out to reach at least a 450 GPU / 550 memory overclock.
In the ATi Tray Tools clock settings, I overclocked the GPU to 450MHz and the memory to 550MHz (1.1GHz). I ran some benchmarks and saw no graphical anomalies, so it was time to crank the clocks up more. I finally settled at a stable overclock of 462MHz on the GPU and 554MHz (1.108GHz) for the memory. These are 16% and 12.5% overclocks, respectively, which isn't jaw-dropping by any means, but it does offer some gain in performance.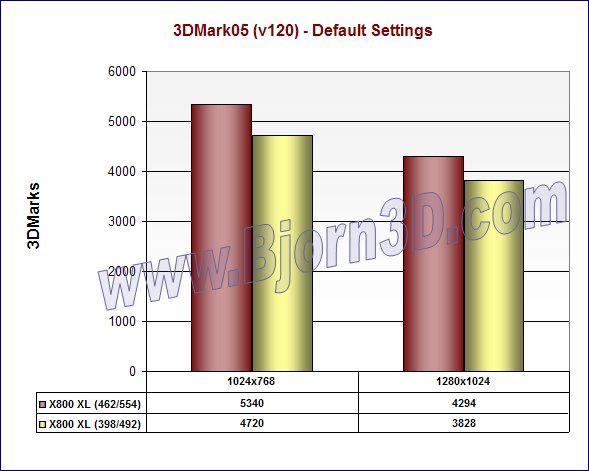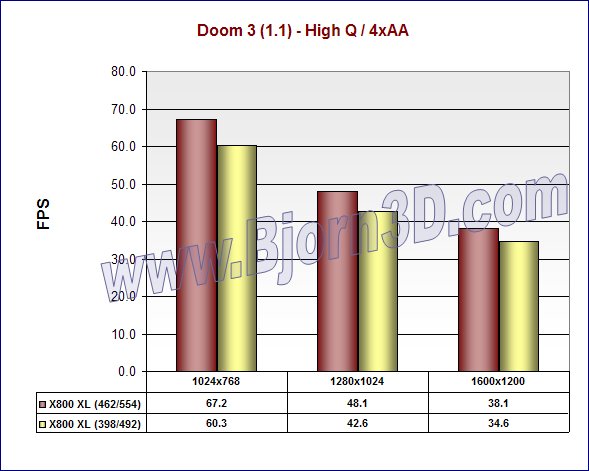 CONCLUSION

---
The Sapphire Radeon X800 XL is a great card. It offers very similar (and sometimes slightly better) performance than a 6800 GT at a price that is very similar. The Sapphire X800 XL (OEM version) can be found for as low as $380 according to our price search engine. A simply packaged 6800 GT PCIe card can be found for about the same. This is going to be a very interesting $350-420 battle over the coming months as PCIe gets more and more popular.
There are a couple features that the X800 XL is missing when compared to the 6800 GT. Those two things are SLI support and full DirectX 9.0C compliance. Each user has to decide how important those aspects are to him or her. If you are looking for solid performance from a single card solution, then the Sapphire X800 XL is a good place to look. I really like the fact that it has a small (although somewhat noisy) cooler and doesn't require a power connector. The retail bundle is decent but not spectacular, so you won't be missing out on much if you go with the OEM version that seems to be available currently.
It's really too bad that the $299 MSRP was so far off the street pricing. The X800 XL could cause a much bigger storm at that price. Until supply and demand cause it to reach that level, you'll just have to shell out the extra bucks if you want this great little ATi chip. For more info on retail X800 XL cards (Sapphire's and Asus's to be exact), I recommend checking out GamePC's recent article here.
Pros:
+ Great performance
+ Decent bundle
+ No power connection
+ Small, single slot cooler
+ Heatsinks on back memory
Cons:
– Not very quiet
– Not cheap (but priced similarly to a 6800 GT)
Final Score: 9.0 out of 10 and the Bjorn3D Seal of Approval