Cases have come a long way from being beige and boring. In this review, we are looking at a case that brings back the memories of the Transformer robots as well as provides some nice features in the case.
Introduction

---
It is hard to imagine that once computer cases were all beige and dull. Today you actually have to look hard for a beige case, and most cases now have one or more cool feature that makes it stand out. The case I'm reviewing today makes you think of the old Transformer comic, and it is no surprise that the name reflects this – the SunBeam Transformer.
Features and Specifications

---
These are the specifications for the case:
Body:
Chassis: 1.0mm SECC Steel Body
Dimensions: 450mm x 205mm x 522mm (D x W x H)
Weight: 12.2kg
Front Ports: 2 x USB 2.0 & 2 x Audio Ports (Mounted On Top)

Drive Bays:
5 x 5.25″ External
2 x 3.5″ External
6 x 3.5″ Internal

Side Window:
Unique Large Side Window Design

Air Vents:
1 x 120mm Front
1 x 120mm Rear
2 x 80mm Side
1 x 80mm Top

Included Fans:
2 x 80mm LED Case Fan In Side Window
1 x 80mm LED Case Fan In Top
1 x 120mm Case Fan In Rear
3 x 80mm Shiny Fan Grill

Included Lights:
1 x 10cm Green Cold Cathode Light

Colors:
Blue / Black / Other
Not only does the case have some nice specifications, it also promises to offer even more cooling that other cases.
The Package
---
The case arrived in two separate packages. One had the front panel, very neatly wrapped in bubble plastic, and the rest of the case was shipped in the second package. I'm not sure why they do this since I don't see how shipping a complete case would be riskier if it were as well packaged as this case was, but as long as everything arrives in one piece, who am I to complain?
The case was properly packed with polystyrene, helping to make sure the case does not get dented in shipping.
Construction and Design

---
As you can see below, the front panel really makes the whole case look like something from the Transformers comic. You expect the case to stand up and transform into a Transformer any second.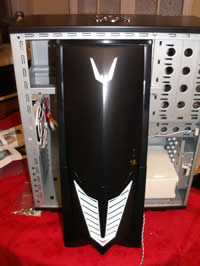 When I lifted the case, I was pretty impressed. The case is made out of 0.8 mm steel and has a very cool black finish. The case is pretty big with a height of 522 mm, a length of 480 mm and a width of 205 mm. It also is pretty heavy (~14 Kg).
Inside the case, you find a couple of cool things.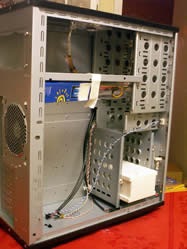 First of all, Sunbeam includes a 10 cm cold cathode light. This is supposed to be placed in the front, but you can of course put it wherever you want.
A toolbox is also included inside. At first, I was a bit confused since I didn't understand why they let it take up several slots, but of course it can be removed pretty easily so when you are done with the install, you can store it outside the case if you want.
The toolbox includes mounting screws, a separate small loudspeaker since the case itself doesn't have one, and two types of plastic drive rails as well as screws. I think it is an excellent idea to supply the toolbox since it helps you to keep everything together after the installation. I can't tell you how many times I hunted for a drive rail for my other case since I managed to lose them in various boxes and drawers.
The included 10 cm cold cathode light is meant to be placed in the front. You can attach it with two strips of Velcro tape that are included.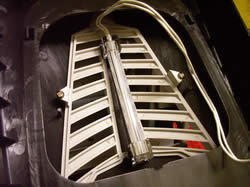 After you've attached it and hooked it up to the PSU, removing the front panel becomes a bit harder since you have a wire hanging, stopping you from removing the front pagel more than a couple of centimeters from the case.
The case comes with one 120 mm fan in the back, one 80 mm fan on the top and two 80 mm fans in the door. There's also room for one more 120 mm fan in the front behind the front panel.
On the front, the Transformer case has a swing away front bezel that hides the five 5.25" and the two 3.5" drive bays.
The door of course can be locked.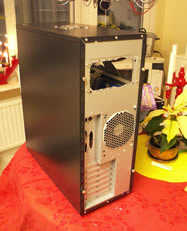 The rear of the cases has no surprises. All the holes you expect to be there are present.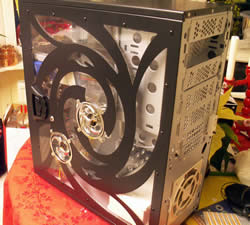 The side door has both a window and two fans.
Installation

---
Since this is a pretty big case, installing a motherboard should not be that hard. I chose to install two different motherboards. The first motherboard was a regular Leadtek nForce2 ATX motherboard. The second motherboard was a Foxconn nForce4 micro-ATX motherboard.
To aid the installation of different types of motherboards, Sunbeam has added numbers at each standoff screw hole.  Holes with number A1 to A9 can be used for ATX motherboards, holes numbered U1 to U8 can be used for micro-ATX motherboards and so on. This is a good idea, but I noticed that with the micro-ATX motherboard from Foxconn I actually had to use some of the ATX-specific holes for the standoffs. Unfortunately, this case does not have a removable motherboard tray.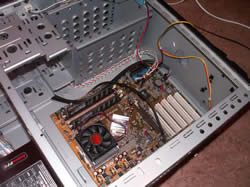 Both the bigger ATX motherboard and the smaller micro-ATX motherboard fit easily into the case. 
There's plenty of room for the PSU at the top of the case. After installing the PSU, you still have a few centimeters room above of it to the top of the case. 
To install drives and other stuff in the 5.25" and 3.5" drive bays, you first have to remove the whole front panel and then remove some metal shielding that blocks each drive bay. While the front panel is removed, you also can access the holder for another 120 mm fan.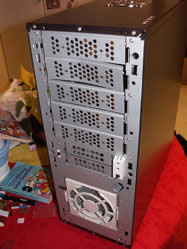 In the back of the case, the Transformer case uses a securing mechanism for the expansion slots which doesn't need screws for each individual item.
Something I didn't like is the fact that the cover for each expansion slot was a piece of metal that you have to break off. After it is off, there is no way to put it back. Basically it means that if you use a lot of expansion slots at first and then don't need to use them all, you will have no easy way to cover them up again.
Another issue with this setup is something you only will see when using a dual-slot video card.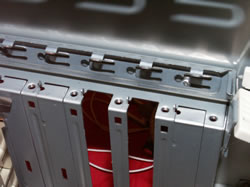 There's a little knob on the side of each opening that interferes with some dual-slot video cards. I tried a few HIS ATI cards, and I had to remove the little knob before they would fit.
The Looks
---
After you install everything and hook up all the fans, you will have a pretty cool case with glowing fans and a glowing front. The cold cathode light in the front is actually very bright, and if you want, you can turn it off with a switch in the back.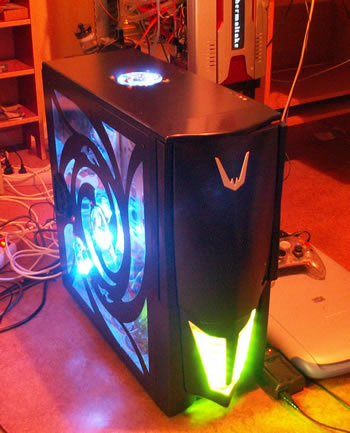 Noise Levels and Temperatures
---
With three 80 mm fans and one 120 mm fan, you know that the case will not be exactly silent, but I didn't expect it to be as noisy as it is. The whole system sounds like a hairdryer or a leaf blower. While I might be a bit spoiled by the low sound level from my watercooled system, this case simply is too noisy for me to keep running while I am sitting in the same room. You can of course disconnect a few of the fans, but that naturally will affect the cooling in the case.
This case is a prime candidate for the T-Balancer fan controller that I reviewed a while ago (Read our review). After installation, I was able to get the sound level down to a much lower level.
Before I installed the mCubed T-Balancer, I did some temperature measurements to see if Sunbeam's claim that the side-mounted fans would lower overall temperatures were true. The test was done first with all fans connected and running and then with the two door-mounted fans disconnected. I ran 3DMark05 four times and measured the highest temperature during the run on the CPU, the GPU and the system. 
The system used was:
Socket 939 AMD64 3200+
Foxconn nForce4 motherboard
512 MB DDR (333 Mhz)
One 36 GB 10k rpm WD SATA drive
1 DVD drive
HIS Radeon X850 XT PE PCI-E video card
The temperatures on the CPU and the system were measured with a utility from Foxconn and the VGA temperature was measured with the ATI control panel.
| | | | | |
| --- | --- | --- | --- | --- |
|   |   | All fans |   | No door fans |
| Idle | CPU | 27 C |   | 28 C |
|   | SYS | 26 C |   | 30 C |
|   | GPU | 41 C |   | 44 C |
|   |   |   |   |   |
| 3DMark05 | CPU | 38 C |   | 43 C |
|   | SYS | 27 C |   | 32 C |
|   | GPU | 78 C |   | 92 C |
 It is quite obvious that the two fans in the door have a big impact of the temperatures in the case.
Conclusion

---
Pros
+ Nice design
+ Tool-less design
+ Included neon-light
+ Room for a lot of fans
+ Top mounted USB and audio ports
+ Toolbox for all the included drive rails
Cons
– The included fans are very loud
– No motherboard tray
There's a lot to like about the Sunbeam Transformer case. Sunbeam has packed it with goodies like the tool case and the cold cathode light.  While the fans are loud, they provide a lot of cooling and there's no reason why you cannot just replace them with more silent fans.
The Sunbeam Transformer case is well worth the rating of 8 out of 10 and the Bjorn3D Seal of Approval.