Gigabyte has added another video card to its Silent-Pipe family. It features a Radeon X800 chip, 256 MB of GDDR3 memory, and a PCI Express interface. Read this review to see how it stacks up against both a GeForce 6600 GT and 6800 GT.
Introduction

---
Gigabyte seems to be making a push to be a favorite video card vendor among people who want a silent PC, like those with a home theater PC or those who have spent a lot of extra money on other quiet components. Both are very good reasons to get a video card that is as silent as possible. Noise from a cooler always comes from the fan, so the best way to make a cooler quiet is by making it fanless. Gigabyte has done this with their Silent-Pipe technology. Essentially, it is a heat pipe design that pulls heat away from the graphics chip and transfers it to the back of the board. This makes it a completely silent video card.
Many people might think that only low-end chips can be cooled without a fan, since high-end chips usually run at higher frequencies, making them run hotter. However, Gigabyte's design has allowed them to use the Silent-Pipe on the lower tier high-end chips from both ATI and NVIDIA. A while ago, I reviewed the company's AGP GeForce 6800 featuring the Silent-Pipe, and it has worked well ever since then, not ever getting overheated. Today, we are going to switch interfaces to PCI Express and chips to the ATI Radeon X800 to take a look at Gigabyte's GV-RX80256D. Beyond sporting the X800 chip and a PCI Express interface, this video card features 256 megabytes of GDDR3 memory on a 256-bit bus, a core clocked at 400 MHz, and memory clocked at 490 MHz (980 MHz DDR). This puts the core clock at stock speed, but the memory clock is considerably bump up from ATI's stock 350 MHz. This means the memory clock is in the territory of X800 Pro, XL, and XT boards, but the standard X800 (and Pro) has only 12 parallel pipelines, whereas the X800 XL and XT have 16. Regardless, Gigabyte has delivered another solid-performing, silent video card to the highly-competitive graphics card market. Read on to find out how this card stacks up against a GeForce 6600 GT and 6800 GT.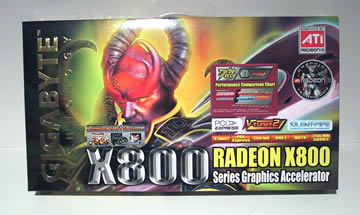 Specifications & Features

---
Specifications:
| | |
| --- | --- |
| Graphics Chip | ATI Radeon X800 |
| Memory | 256 MB GDDR3 |
| Memory Bus | 256-bit |
| Core Clock | 400 MHz |
| Memory Clock | 980 MHz (effective) |
| Maximum Resolution | 2048 x 1536 @ 66 Hz |
| Bus Interface | PCI Express x16 |
| Pixel Pipelines | 12 |
| Output Options | VGA, DVI, TV-Out (including HDTV) |
Features:
Package Contents:
Radeon X800 Video Card
GV-RX80256D Graphics Accelerator User's Manual
1 DVI-to-VGA adapter
Video out adapter for S-Video and component video HD output???
Driver installation disc, which includes Power DVD 5.0
Full Version Games:

Joint Operations: Typhoon Rising
Thief: Deadly Shadows
The Board

---
A quick look at the front and back of the Gigabyte X800 reveals that the bulk of the Silent-Pipe cooler is actually attached to the back of the board. Heat is transferred from the VPU on the front of the board to the back via the pipes that stradle the top of the board.
The next set of pictures help show the size of the Silent-Pipe cooler. The heatsink on the VPU-side of the board is definitely small enough that it will not get in the way of the adjacent PCI Express slot; however, the half of the cooler on the other side of the board could get in the way of northbridge coolers or possibly even DIMM slots on cramped motherboards. I think this isn't very likely to happen, though.
It's nice to see that this board does not require more power than what's provided by the x16 PCI Express slot. Gigabyte has equipped the GV-RX80256D with one each of today's standard video card outputs: VGA, DVI, and TV-out. TV-out requires the included adapter, though.
Performance

---
Anyone who is familiar with ATI's graphics chip line-up might be wondering how this X800 compares to the X700 Pro and might scoff at my omission of the comparsion. Well, the X700 Pro is about on par with the GeForce 6600 GT, as you can see from this review of an X700 Pro from HIS. And I have included the 6600 GT results in my comparison. I think this is more relevant because the 6600 GT is undeniably one of the best bargains around.
Test System Configuration
Intel Pentium 4 550 (3.4 GHz) (article)
– Hyperthreading Enabled
Gigabyte GA-8GPNXP Duo (review)
OCZ EB DDR PC3200 1 GB kit – 2 x 512MB (review)
Seagate Barracuda 7200.7 SATA NCQ 160GB hard drive (article)
Microsoft Windows XP with Service Pack 2
Forceware 66.93 for 6600 GT and 6800 GT
Catalyst 5.4 for X800
DirectX 9.0c
3DMark03 (3.5.0)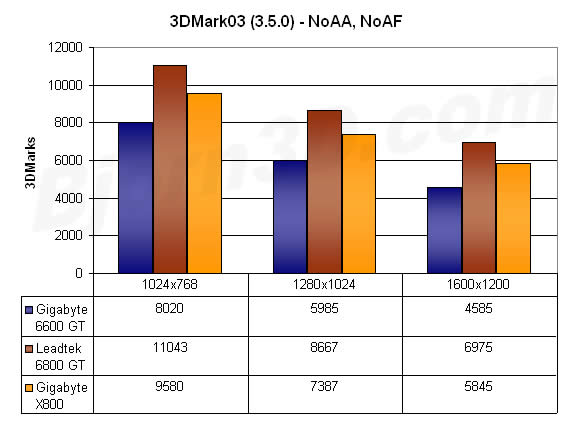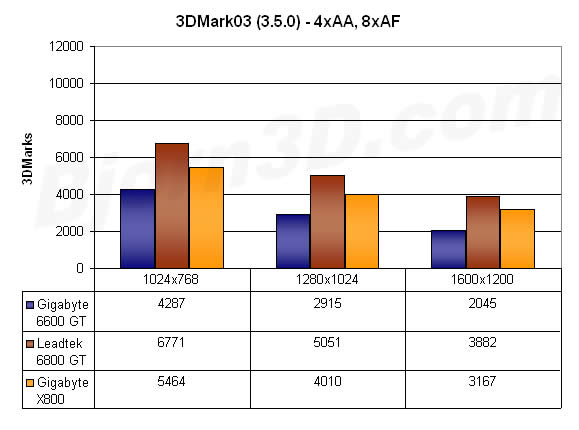 3DMark05 (1.1.0)
3DMark05 was designed for the current generation of boards and beyond. If you've tried to run this benchmark on an older generation video card, you definitely know what I mean. 3DMark05 requires DirectX 9.0 compliant hardware to render its high-quality scenes. It features various complex lighting scenarios and large- and small-scale environments that really push current hardware to its limits.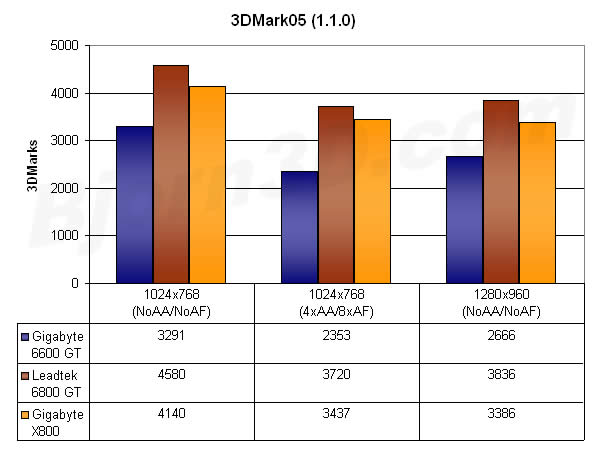 AquaMark3
The AquaMark3 benchmark utilizes a real 3D game engine (called krass) with DirectX 9.0 features, such as Pixel Shaders 2.0, to render a beautiful underwater world. This engine is used in AquaNox 2: Revelation and the RTS game Spellforce. I ran the default benchmark (1024×768, No AA, 4x AF, maximum details) that can be run in an unlicensed version of AquaMark3 and two benchmarks with custom settings – Very High level of detail, 4xAA, and 8xAF at both 1024×768 and 1280×1024.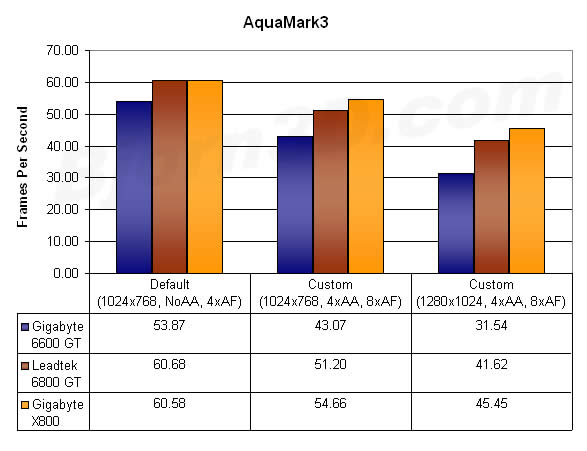 Doom 3 (1.1)
Doom 3 has a reputation for being a power hungry PC game. Since its advanced graphics features include bump mapping, specular and diffuse lighting, shadows, and volumetric fog, Doom 3 can really test the might of any system. One important thing to keep in mind is that 8x anisotropic filtering is enabled automatically when the "High Quality" setting is selected.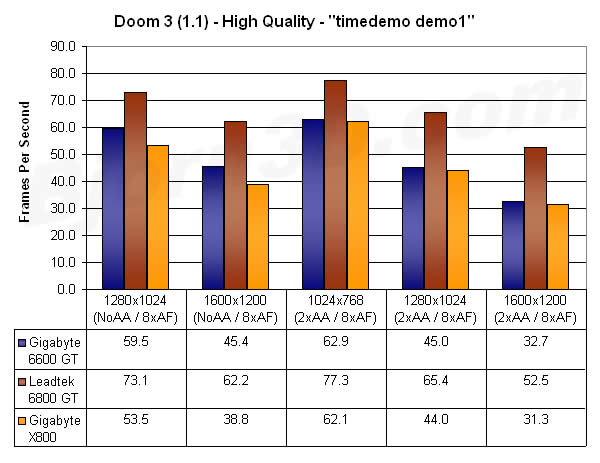 Halo (1.06)
I ran Halo 1.06 and used the timedemo feature for these benchmarks. The timedemo feature does not really provide a realistic in-game performance number; I would compare it to a flyby type of benchmark. Nevertheless, it provides some idea of how the these boards will perform in this game.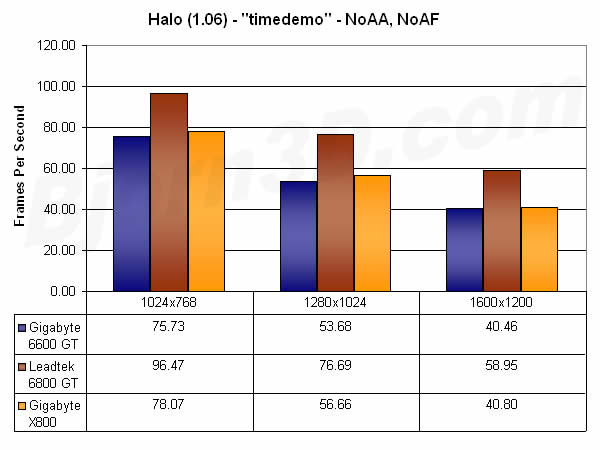 Far Cry (1.3)
Far Cry is a very popular game from Crytek, and just like Doom 3, it can test the might of nearly any system. To benchmark using the time demo feature of Far Cry, I used the PCGH_VGA Timedemo from 3dcenter. In the advanced graphics settings area of the game configuration screen, the lowest that anisotropic filtering can go is 1x, which means that at least 1xAF is enabled at all times. All other detail settings were set to High for all timedemo runs.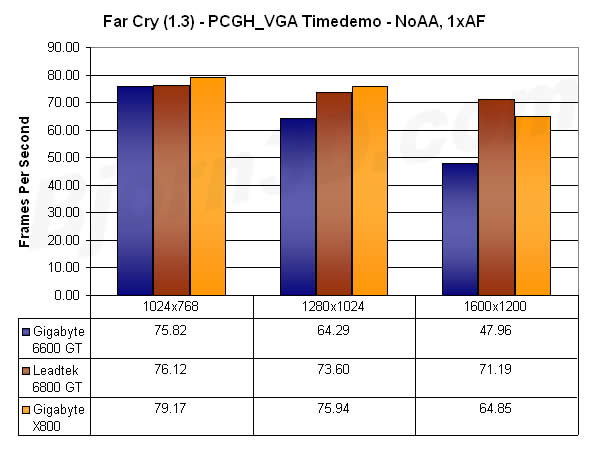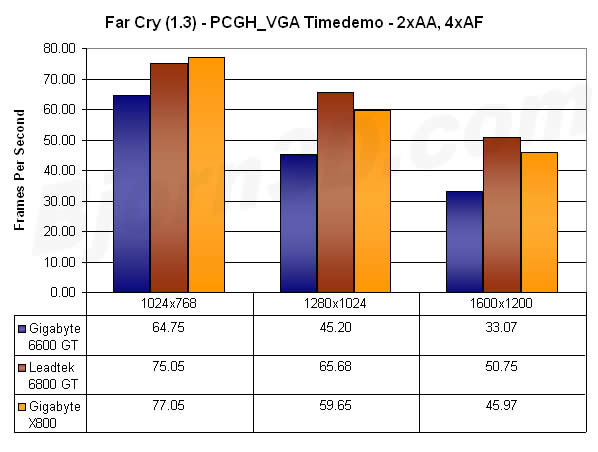 A Note About Overclocking
I did not have any luck when I tried overclocking the GV-RX80256D. I started out at about 10% overclock of the core, since that seems to be a typical result I've been getting lately. This caused 3DMark03 to lock up immediately. Then, I took it down to 5%. Benchmarks ran fine, but it became obvious that the heat was too much for the board when the number of artifacts increased with each benchmark run. I stopped at this point since overclocking less than that is not very exciting. Keep in mind that Gigabyte equipped this board with high-performance memory that is clocked at a much higher frequency than most standard X800s out there. I think that should at least somewhat allow us to forgive poor overclocking. Of course, overclocking mileage will vary. I read at least one other review of this board where the reviewer experienced surprisingly good overclocking.

 
Conclusion

---
Gigabyte's silent Radeon X800 offers an interesting mix when it comes to performance. If you're playing Doom 3 or Halo every day and are looking to upgrade, you might want to go with a cheaper 6600 GT. However, if Far Cry is your game, the X800 is a sure bet to make you happy if you want to maximize your frames per second. Overall, its performance is respectable and about what I expected.
The Gigabyte GV-RX80256D is definitely worth considering for almost anyone looking at spending $200-300 on a video card, especially if minimizing a system's noise is a concern. You can pick it up for around $250 or so. Parting with that much cash gets you a silent graphics board that comes with two fairly recent, good games and a TV-out adapter that includes HDTV support. The only thing Gigabyte left out was a cable to hook it up to your TV – usually you at least get an S-Video cable with a mid-range or high-end board.
Pros:
+ Silent-Pipe technology
+ Bumped up memory clock
+ Bundle includes two recent, great games
+ Solid performance, beating out the more expensive 6800 GT in some benchmarks
Cons:
– No cables included (just the TV-out adapter but no cables for it)
– Outclassed by lower tier (and much cheaper) 6600 GT in some benchmarks