There are a lot of power supplies on the market these days. Some are good; others a pure junk. PC Power and Cooling's offerings are in the good group, kind of like junk being a 1972 Ford Pinto and the 510-SLI being a Porsche Carrea GT. And just like the car comparison, junk power supplies usally run $10.00 to $30.00 while the 510-SLI is a $229.00 good power supply.
INTRODUCTION

---
With the ever increasing power requirements of today's performance PC's, we need a power supply that will not falter while we are killing some enemy in a game, doing CAD work or just browsing the web. Over the years, the power requirements of the standard PC has climbed from a recommendation of 350 watts to 550 watts for today's high performance SLI gaming systems. Actually, NVIDIA shook up the gaming world when they said the GeForce 6800 Ultra would need at least 450 watt power supply at launch. Then we saw some journalist running the Ultra just fine with 350 watt power supplies, but then others having nothing but problems with even 500 watt power supplies. The problem is the power supply has to be able to supply more than just watts. The real muscle in power is AMPS, if your power supply is 500 watts but only provides 12 AMPS on the 12-Volt rail of the power supply, you cannot run a graphics card like a 6800 Ultra.
That is exactly what plagued many when the new graphics cards came out. They had what they thought was a great power supply until push came to shove. So with all that said, what do you do when you want to build an SLI machine? You have to take a shot and try to find a good power supply, or you can go to SLIZone.com and look at the certified power supplies that NVIDIA has tested and approved. There are now four tested and approved power supplies — two from PC Power and Cooling and two from other companies. Today, we are going to look at the one that by name is the smallest (lowest rated) of the power supplies — the PC Power and Cooling Turbo-Cool 510 SLI.
Below, you can read a brief history about PC Power and Cooling:
On April 19, 1985, PC Power & Cooling began operations in a small warehouse just outside of San Diego, CA. Founded by Doug Dodson, a commodity trader and electronic hobbyist, the company's first products were custom fans to cool and quiet computers.

In 1986, the company introduced its Silencer 150 and Turbo-Cool 200, the industry's first ultra-quiet and high-performance power supplies. Other high-end products followed, the reviews were great, and the company continued to grow. In 1991, the company moved to a modern facility in Carlsbad, CA.

Over the last 14 years, PC Power & Cooling has produced many innovative products including: the first CPU cooler, the first PC heat alarm, the first independently-regulated PC power supply, the first redundant power system, the first nVidia-certified SLI supply, and the first 950W (peak) power plant. PC Power & Cooling takes pride in its loyal and knowledgeable customer base, its ultra-reliable product line, its professional and friendly staff, and its financial strength.
FEATURES & SPECIFICATIONS

---
If you read any of the PC gaming magazines, you have probably seen ads from PC Power and Cooling about their power supply versus the others. If not, here is the ad: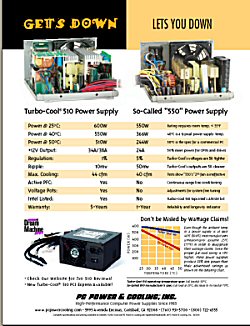 What we see from there ad is that they are saying is the Turbo-Cool 510 SLI could really be called a 600 if they used what other companies make their claims buy. And they also show as the heat inside the power supply climbs it power output drops drastically. And guess what, a SLI system gets very hot with 2 graphics cards putting off heat.
So let's look at the specifications of the power supply.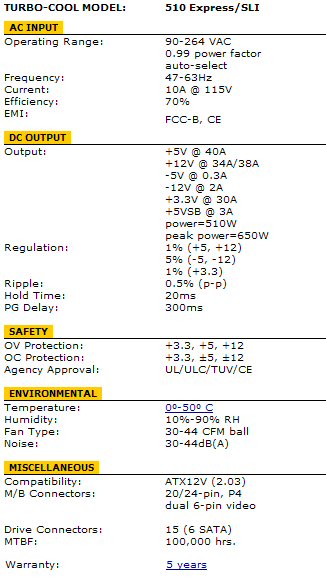 As you can see, we have plenty of AMPS on the +12V rail. We even have two rails that work together to make sure amperage is delivered to demanding products. Also, you will notice we have 40 AMPS on the +5V rail. This is what allows this power supply to run so many hard drives, DVD/CD drives and fans. And, as you will see in the diagram below, the power supply is ready to handle many such devices.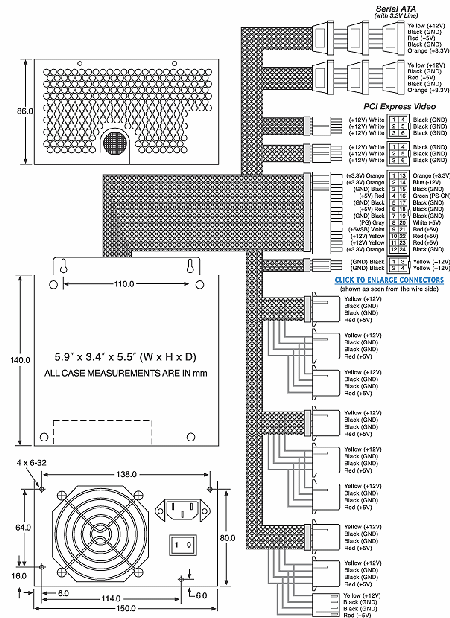 By looking at the above diagram, you can see the power supply wiring harness is ready for two PCI Express video cards, which give the power supply the SLI name, 6 SATA drive connectors, 1 floppy connector and 8 standard 4-pin Molex connectors. We also have the new 24-pin ATX main power connector to the motherboard (do not worry they do include a 24 to 20-pin converter for 20-pin motherboards) and the standard 4-pin 12V that most of today's motherboards use.
TEST SYSTEM & TEST

---
AMD 64 FX 55
Asus A8N SLI-Deluxe
2 x 1GB Crucial Ballistix PC4000
2x NVIDIA 6800GT's
2x Maxtor Diamond 10 250GB in RAID 0
Lite-On Dual Layer DVD/RW
Lite-On DVD Drive
PC Power and Cooling 510 SLI
Antec P-160 Case
Any of you familiar with the Antec P-160 case would realize that this system is pretty crowded and gets warm with the two SLI GT's, 2GB of RAM and the FX-55 in it. (After the testing was finished, this was all moved into a Lian-Li V1200 case that I will be reviewing in the future.)
Since I did not have enough hard drives on hand to fully load the machine, I had to come up with a good way to put a high load on the machine. So, I ran [email protected] to put a full load on the CPU, 3DMark 2005 in a loop at 1600×1200 with 4xAA and 8xAF to put a full load on the graphics cards and zipped and unzipped a 650MB file all at the same time to have the hard drives help put a load on the power supply. I used my Radio Shack voltmeter to check the voltages.
The below voltage range is what the voltages were during the ½ hour of testing.
| | |
| --- | --- |
| +3.3 Volt: | 3.29V to 3.31V |
| +5 Volt: | 4.97V to 4.99V |
| +12 Volt: | 11.90V to 11.90V |
As we can see from the testing, the power supply held pretty tight voltage range. I could have adjusted the pots to made the power supply right at 12 volts, 5 volts and 3.3 volts, but I wanted to run the power supply the way it came from PC Power and Cooling.
CONCLUSION

---
The 510-SLI performed flawlessly in our testing. The impressive thing is that Bob Roark, the President of PC Power and Cooling, said I did not have a drive hooked to every power connector so I was not stressing the supply at all. Well, I do not plan on buying four more SATA drives just to test the power supply, but I will be adding two more for some fault tolerance on my RAID system. If I have any problems with them added to the system, I will be sure to update this review.
Also as a note, I was able to overclock my CPU by another 5% with the ASUS AI Booster with the PC Power and Cooling 510-SLI. I was not able to go that high and not lock up the machine with my Antec True Power 550. Bob Roark claimed that this is due to their tighter voltage regulation, and the CPU does not get as hot do to fluctuations in power.
Pros:
+ Voltages held in a tight range
+ Plenty of power leads
+ Braided wiring harness for cable protection and neatness
+ NVIDIA SLI Tested and Approved
+ 5 Year Warranty
Cons:
– Fan can get a little loud (I did not notice this though until I turned the heat up in my house to 85F for testing)
–Price: $229.00
Final Score: 9.5 out of 10 and the Bjorn3D Golden Bear Award