Did I hear the words correctly? A value-priced 19 inch LCD display with a super-fast response time? Check out our scoop to see if Samsung stuns or stumps us with their latest flat-panel display!
Introduction


I have looked at many Samsung monitors over the last year and a half and they all have performed well for what they where designed for. The one thing they all lacked was a <25ms response time that a more than casual gamer wants. Don't get me wrong the monitors did play games well but you still had that ghosting effect that looked like motion blur when playing a fast first person shooter. 16ms or less is what you are looking for in a LCD monitor to play games.
Samsung steps up to the gaming plate with 915N for the gamer that wants to have a larger screen. This monitor is rated at 8ms response time! They also now make smaller monitors that also have 12ms response time. The only problem I have seen with this product line is so far they are VGA interface only and do not support DVI. On the other hand leaving DVI out does let Samsung sell this monitor at a less expensive price. This monitor can be found under 400.00 dollars from many online retailers.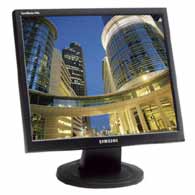 Specifications


Let's look at what Samsung can tell us about the monitor.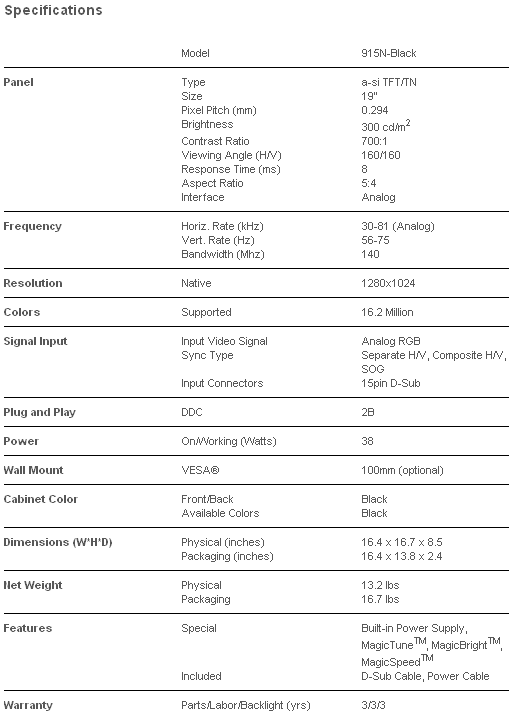 As we can see the specifications does make this look like a very nice monitor. The only thing I still wish is that monitor makers would start making the 19" LCDs that can do 1600×1200 rather than the 1280×1024 they do now. Of course that would up the price but since my personal LCD monitor is a 20" and I work and play games at 1600×1200 I do now what the 19" LCD user is missing. Here are some images of the monitor: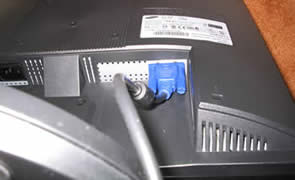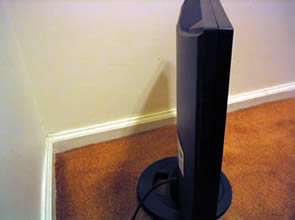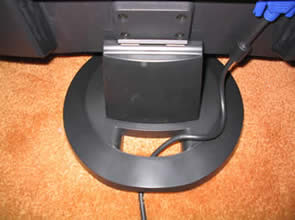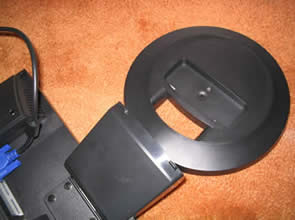 Testing


The monitor was tested on the following machine:
Asus A8N SLI Deluxe
AMD Athlon 64 FX-55
2 x 1GB Crucial Ballistix DDR 4000
2 x 6800GT in SLI
2 x 250GB Maxtor Diamond 10 in RAID 0
DirectX 9.0c, ForceWare 66.93
Windows XP SP2
Antec True Power 550Watt
SB Audigy 2 ZS
Something a buyer should be aware of is that the monitor is default setup with a  20 ms responsetime. You can change that to 8 ms in the menus. Samsung has said they are considering shipping the monitors with 8ms set as default out-of-the box. (EDITORS NOTE:  THE MONITOR DOES SHIP WITH 8ms RESPONCE TIME!!  A miscommunication between Samsung and me on this.)
I used to use a tool from Monitors Direct to test monitors, but their site seems to be either down or they have gone out of business. So I used Monitor Test from Passmark.com to test this monitor. This runs the monitor through 28 tests; I will be summarizing the key things about the monitor that the end user would notice.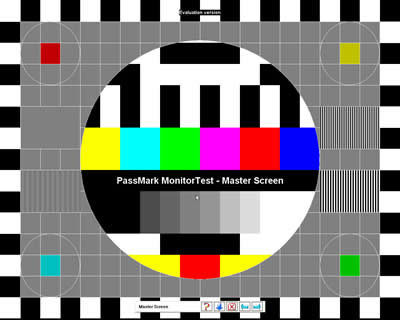 The Master Screen from PassMark MonitorTest
In this test, we look to make sure that the circles do look like circles and not eggs or stretched ovals. We also want to make sure the lines are straight. The 915N passed this test fine.
The solid color test runs a solid Black, Red, Green, Blue and White screen. What we are looking for is the colors not staying the same color though out the screen. The color patterns on the 915N displayed even purity in each color. I am also happy to report not a single dead pixel was found in any of the test.

The image used for the Black to White test
In this test, we are looking at the monitor moving from Black to White. We also ran this test on Red, Green and Black. The 915N passed these tests with out any issues.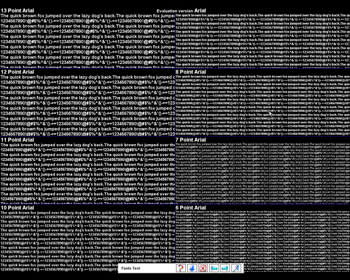 The image used for the font test
This test displays from 13 point Arial font to 6 point Arial font on the screen. We look to make sure we can read all the text clearly. The   915N performed flawless on this test also.
In gaming I had to see how well the monitor performed to make sure there was no ghosting. Since I use a Dell 2100FP for my every day monitor the 915N was going not going to get off easy in this round.
I played my many games on this monitor and I am just going to list them and put a note next to them on how well they worked.
Half-Life2 No ghosting noticed
Counter Strike Source No ghosting noticed
Doom III No ghosting noticed
Pacific Fighters No ghosting noticed, slight color banding in some parts of the sky
Silent Hunter III No ghosting noticed
Swat 4 No ghosting noticed
Battle of Middle Earth No ghosting noticed
So the monitor performed very well to almost excellent in the games I tested except for some slight color banding in Pacific Fighters. The only thing you will notice when using VGA is that the first few times of playing some games the monitor will do an Auto Sync to line up the screen for the resolution and refresh rate. That is one of the main reasons I like DVI. What some people consider a problem with using DVI is that you must use the control panel in your display drivers to set colors and other adjustments. Never fear since this is VGA Samsung includes their standard options for making all kinds of adjustments to the screen. And thank god they do include a reset option after you have really messed things up.
Conclusion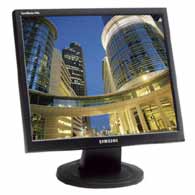 Well Samsung has finally hit a home run in my book. This monitor is priced in the range that most mom and pops could afford to buy with their new computer. Plus it would give them a great monitor for when the grandkids come over and want to play some games on the computer.
HEY, give me a break that is a good point! This is a good monitor for anyone, even us gamers! Samsung has just done it right with the 915N. And for close to the price I paid for my 20" LCD you could even get 2 915N's and have great system for gaming and work if your video card supports dual displays.
PROS:
+ Very Fast Response Time
+ Good Price
+ On of the best picture quality I have seen on an LCD
+ Did I mention Price?
CONS:

+ Not DVI capable
+ Just one video connector.
9.5 out of 10 Golden Bear