So how does a heatsink designed for an FX-55 run on lower speed AMD 64 chips? It works very well, should let you do some good overclocking on lower speed CPUs.
INTRODUCTION

---
The first time I heard about the Thermaltake K450 heatsink was when I started my search for a CPU cooler for my Athlon 64 FX 55 in my SLI system. The problem I had was that the heatsink that was sent to me for my FX 55 was not meant for that CPU. I found this out by seeing my FX 55 temperatures soar to 70C when running [email protected] I knew this was way too high and headed to AMD's sight to find approved heatsinks. At that time, the only approved heatsink was the K450.
So after contacting Thermaltake, they sent me a K450, and my CPU temperatures went down to 55C when Folding! As you can see, this is a huge improvement and very good results considering I have 2 6800GT's in the machine running SLI. I liked the performance so much that I hooked up with CrazyPC to see if I could get another one for my FX 51 machine, which does server duty and Folding. So, today we are looking at the K450 replacing the heatsink that was on my FX 51 CPU.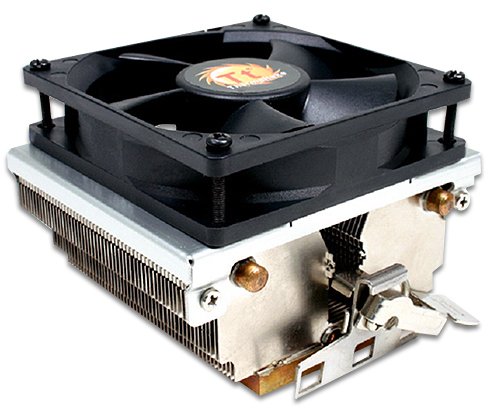 FEATURES and SPECIFICATIONS

---
Features
Copper base with heat-pipe design
Large aluminum thin-fin heat sink
Quiet Operation
80mm fan with built-in thermal sensor adjust speed according to heat
Tool-free mounting clips for easy installation
Supports AMD Opteron and Athlon 64 FX55 (AMD Socket 754/939/940)
Thermal pad included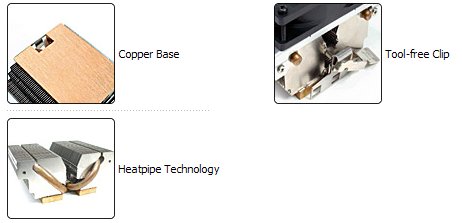 Specifications

TEST SYSTEM and TEST RESULTS

---
Here are the specifications of the test machine.
AMD 64 FX 51
Asus SK8N
2 x 1GB Legacy PC 3200 ECC
BFG 6800U OC
2x WD 36GB Raptors RAID 0
2x Maxtor Diamond 9 200GB RAID 1
Toshiba DVD Drive
Antec True Power 550
Antec P-160 Case
For testing, I used [email protected] for 1 hour and 5 loops of 3DMark05.
 
Idle
Load
Stock Heatsink
44C
57C
K450 Heatsink
42C
51C
3DMark05

 
Idle
Load
Stock Heatsink
44C
60C
K450 Heatsink
42C
53C
As we can see, the K450 does show very good performance versus the stock heatsink that came from AMD with the FX 51. During all the testing, the internal case temperature near the CPU was 40C at idle. At idle, we get an instant 2C better cooling, but when we start putting 100% load on the CPU with Folding, the K450 is a full 6C cooler than the stock AMD heatsink for the FX 51. The same trend follows using 3DMark05; the temperatures of the CPU on both heatsinks is higher than when Folding. I am attributing this to the heat being generated by the 6800U when running 3DMark05. This heat would not be created when doing a CPU-dependent application only.
FX 51 COOLING VERSUS FX 55 COOLING

---
Since these are two different systems, this is not a totally fair comparison. But with that said, both are using the Antec P-160 case and the K450 heatsink.
 
Idle
Load
K450 on FX 51
42C
51C
K450 on FX 55
45C
55C
3DMark05

 
Idle
Load
K450 on FX 51
42C
53C
K450 on FX 55
45C
56C
Here we can see the same thing is happening in 3DMark05 since the 2 6800GT's are heating up the case temperature so the CPU is running a little hotter. The thermally controlled fan did increase to 3400RPM during the 3DMark05 testing compared to the Folding fan speed of 2900RPM. This is the reason the temperature did not increase much even though the case was getting a lot hotter.
CONCLUSION

---
Well, the K450 from Thermaltake is a very impressive heatsink. Without going totally exotic with looks and design, Thermaltake has mixed traditional heatsink technology with the addition of heatpipes to make a great heatsink. Even with me cranking up the house heat to take it from its normal 70F temperature to 80F, the K450 keeps both machines running within 2C of idle temperatures without making the fan increase speed to a loud noise level. Actually, I never saw the fan speed on either machine ever go over 3400RPM. That still leaves us with 1100RPM fan speed for more cooling.
I want to thank CrazyPC.com for providing the K450 for review. In a couple of weeks after the TIM has broken in from Thermaltake, I will be removing the heatsink and testing some Artic Silver 5 also provided to me by CrazyPC. I want to give each TIM about 200 hours of on time for an equal test when it comes to testing the Artic Silver.
Pros:
+ Very good performance on FX 55 and keeps lower speed CPU's even cooler
+ Very traditional design (exotic looks of other coolers are neat but sometimes cause a lot of their own headaches)
+ Very quiet fan, thermal control performed very well
+ Price: $31.99 at CrazyPC
Cons:
– Bottom of heatsink could have been polished better
Final Score: 9 out of 10 and Bjorn3D Golden Bear Award