Read this article to learn a little about Sapphire's X300SE HyperMemory card and Leadtek's 6200 TurboCache card. Both use system memory to increase the amount of memory used by the video card. Take a look at some benchmark charts to see which technology edges out the other or if they provide equivalent gaming experiences.
INTRODUCTION

---
To make a respectable profit in the video card industry, a company cannot rely on its flagship cards to bring in high margins. Instead, a graphics card company must produce mid-level and low-end cards that will sell in big lots to OEMs. That's where the big money is. Several months ago, ATI and NVIDIA decided to spice up the low-end segment with their HyperMemory and TurboCache technologies, respectively.
To put it simply, these two technologies use system memory for graphics processing. Rather than just using the RAM embedded on a HyperMemory or TurboCache card, these cards also use up to a pre-determined amount of your system's RAM. Both technologies store and access graphics data in the system memory to provide a less expensive way to get more overall video RAM. Companies would have liked to do this earlier, but the AGP interface wasn't quite up to the task. The PCI Express interface, on the other hand, is fast enough to make it a reality.
With both HyperMemory and TurboCache, the card comes with a certain (typically small) amount of on-board memory, say 32MB. The card can then scale up to a defined level of total memory by using system RAM. ATI's HyperMemory cards come in two variations: the 128MB HyperMemory version features 32MB VRAM on board, and the 256MB HyperMemory version has 128MB VRAM on board. NVIDIA has so far chosen three different configurations of TurboCache cards: the 128MB TurboCache version has either 16MB or 32MB of local memory, and the 256MB version sports 64MB.
The two cards I'll be comparing in this review are the Sapphire Radeon X300SE 128MB HyperMemory and the Leadtek WinFast PX6200 TC TDH, a TurboCache card supporting 256MB of total memory.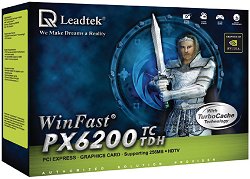 Read on to see how well Leadtek's knight performs compared to Sapphire's little alien guy.
SAPPHIRE X300SE 128MB HM – FEATURES & BUNDLE

---
Features
128 of HyperMemory
*128MB version is equipped with 32MB of Onboard VRAM
PCI Express x16 lane native support
S-Video TV-out port
Full support for DirectX® OpenGL® functionality
SMARTSHADER HD technology
SMOOTHVISION HD technology
Unique VIDEOSHADER HD engine uses programmable pixel shaders to accelerate video processing and provide better-looking visuals
HYPER Z HD is optimized for performance at high display resolutions, including widescreen HDTV resolutions.
Bundle
X300SE HyperMemory Card
CD-ROM with Drivers and Online Documentation
Composite-to-S-video Adapter
Case Sticker
The Sapphire X300SE 128MB HyperMemory card comes in the smallest video card box I've ever seen. I'm against excessive packaging so I actually appreciate the minimalist approach that Sapphire took for packaging this card. As you can see, the card doesn't come with many "extras." It's a rather spartan affair, but that's what you should expect from the low-end offerings.
The card itself is passively cooled and features a regular VGA out port, a DVI out port and a TV-out S-video connector. Obviously, without a fan, this card will be absolutely silent. Additionally, the card is quite small. These two facts make it a great HTPC card but only if high-end gaming isn't desired.
LEADTEK PX6200 TC TDH – FEATURES & BUNDLE

---
Features
Best-in-class features at value prices!
New price/performance for first graphics upgrade
TurboCache™
64MB onboard VRAM
Features to the entry segement

Direct 9.0c Shader Model 3.0
UltraShadow II
Consumer Electronics Video
NVIDIA® PureVideo technology

PCI – SIG certified
Video-editing software bundle (WinDVD 5.0, WinFox II, Muvee)
Bundle
WinFast PX6200 TC TDH Video Card
General Guide
Quick Installation Guide
DVI-to-VGA Adapter
HDTV Cable
Driver and Utilities CD-ROM

DVD Player (WinDVD 5.0)
WinFox II
Cult 3D
Coloreal Embedded
Coloreal Visual
Coloreal Bright
Muvee AutoProducer 3
Leadtek's WinFast PX6200 TC TDH is also in a small box, but not quite as diminutive as Sapphire's. Not only is the PX6200's box bigger, but its bundle is bigger too. Although its a low-end card, Leadtek still throws in its typical bundled utilities, including WinFox II.
Just like the X300SE HyperMemory, the Leadtek card is passively cooled and therefore silent. Continuing with the "bigger theme," the PX6200 is bigger and heavier than the X300SE. The PX6200 features a VGA port, DVI port and HDTV-out connector. This is also a good candidate for a HTPC video card.
TEST SYSTEM & BENCHMARKS

---
The test system is based on the nForce4 SLI platform. The motherboard I used is the DFI LANParty NF4 SLI-DR, and the processor is an Athlon 64 3200+, which runs at 2.0GHz. Here is a complete look at my test system, followed by a list of the benchmarks I used to compare the two cards.
Test System
AMD Athlon 64 3200+
DFI LANParty NF4 SLI-DR Motherboard (review)
Video Card 1: Sapphire Radeon X300SE 128MB HyperMemory – DirectX 9.0c, Catalyst 5.3
Video Card 2: Leadtek WinFast PX6200 TC TDH – DirectX 9.0c, ForceWare 71.89
Maxtor 120GB Serial ATA 7200RPM Hard Drive
Windows XP with Service Pack 2
17″ Solarism LCD Monitor – max resolution 1280 x 1024
Benchmarks
3DMark03 v3.6.0 – default settings
AquaMark3 – NoAA / NoAF, high quality
Half-Life 2 – NoAA / 2xAF
Doom 3 1.1 – various settings
X2: The Threat, Rolling Demo – automatic quality set in benchmark with bumpmaps and shadows enabled in benchmark; anti-aliasing on or off as indicated
PERFORMANCE – 3DMARK03 & AQUAMARK3

---
There is no need for introduction to Futuremark's 3DMark03 benchmarking application. A quick look at these results shows the Leadtek TurboCache outperform the Sapphire HyperMemory card.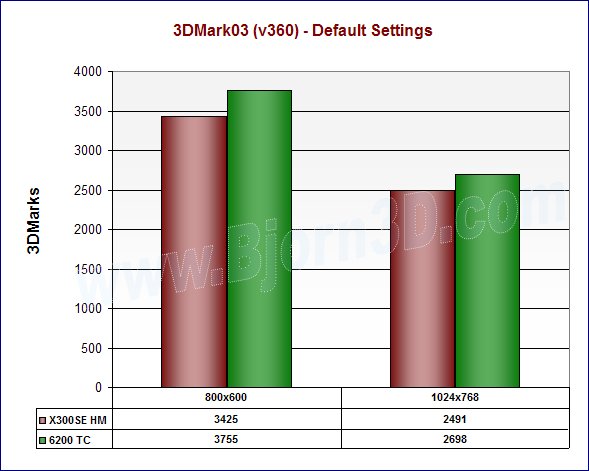 The AquaMark3 benchmark is based on an actual game engine, and it can really stress even the most modern cards. Higher end cards don't score very high in this benchmark with 4xAA and 8xAF on so I disabled both AA (anti-aliasing) and AF (anisotropic filtering) for these less capable cards, but I left the quality setting at High. Once again, the TurboCache card proves superior to the HyperMemory solution.
PERFORMANCE – HALF-LIFE 2

---
To benchmark Half-Life 2, I used the HL2 benchmark utility created by HardwareOC. I used the included HOC d3c17 map demo and Guru3d demo5 for testing. The X300SE HyperMemory card fires back this round and beats up on the 6200 TurboCache card.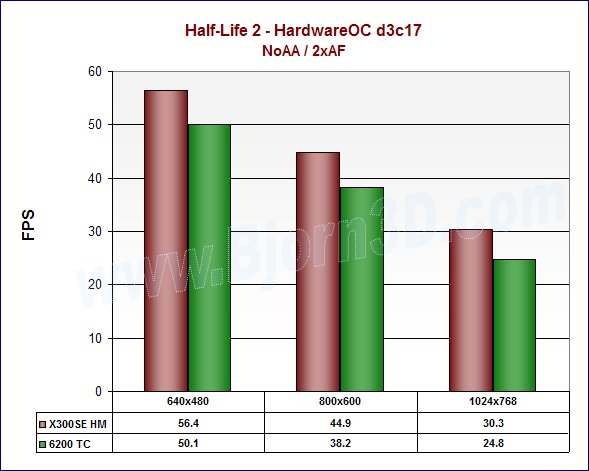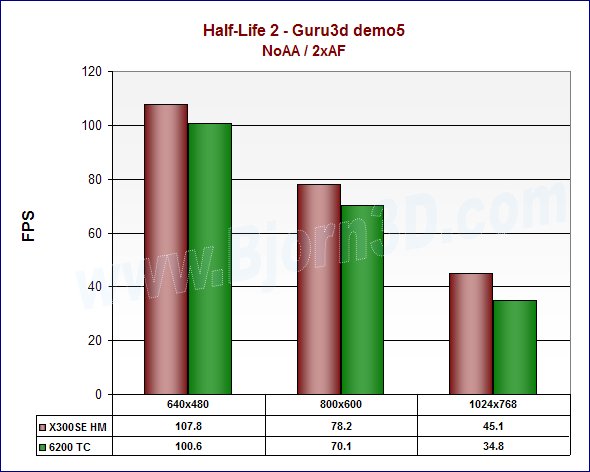 PERFORMANCE – DOOM 3

---
Doom 3's impressive graphics can really test cards, which means that low-end cards really struggle at typical playing resolutions and detail levels. That is why I turned the quality level down to medium and turned off AA. I also disabled the high quality effects for the first setting and then disabled all effects in the last two. It is worth noting that your game experience would be far from optimal if you really chose to lower your settings this much. It was quite easy to see the negative impact on visuals. Here the Leadtek TurboCache card goes back to beating up on the Sapphire HyperMemory offering.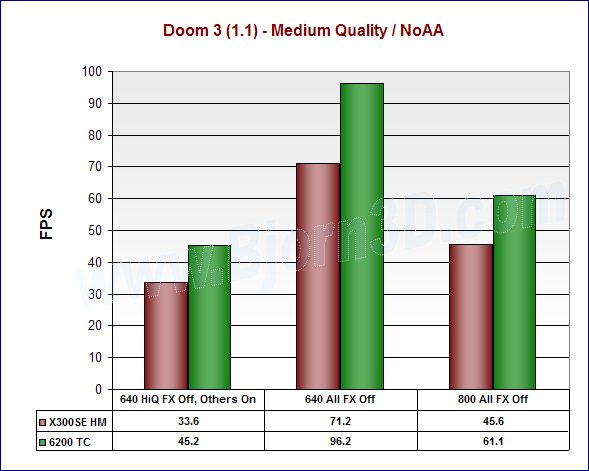 PERFORMANCE – X2: THE THREAT

---
This demo is based on a game, and that is X2: The Threat of course. The Rolling Demo renders a bunch of different game scenes and reports scores for each scene and an average score in frames per second (FPS). The chart below just shows the average. This benchmark was run with bumpmaps, shadows and anti-aliasing set to "On" or "Off" as indicated in the application and with "Application Preference" set in the driver control panel.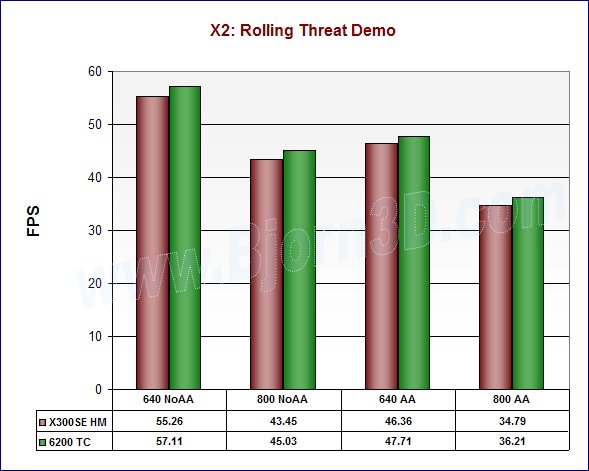 CONCLUSION

---
Based on the performance seen here, I can't help but feel that same nagging lack of real performance that you get from onboard graphics on motherboards. I would urge anyone really wanting to do any gaming to strongly consider saving up a little more money and finding a good deal on something like a Sapphire X700 or Leadtek 6600 level card (or whatever brand suits your fancy). Currently, the cards tested in this review can be found for about $70 for the Leadtek PX6200 TC TDH supporting 256MB and about $55 for the Saphire X300SE 128MB HyperMemory.
If you are just wanting a basic video card and don't really plan to play any modern or graphics-intensive games, then either card would work fine for you. Go with the Sapphire if you want the cheapest you can find; go with the Leadtek if you want generally better performance and a better bundle and don't mind paying more. If you are interested in HyperMemory and/or TurboCache, keep an eye on the headlines to see what ATI and NVIDIA come up with next and be sure to check out other reviews around the WWW to see comparisons of the different configurations of these two competing technologies.