Sapphire improves on its already impressive X800 XL offering by making it nearly silent by employing a Zalman VPU cooler. This new card carries the "Ultimate" moniker and offers all of the performance of the standard X800 XL but at a much lower noise level.
INTRODUCTION

---
Now that X800 XL cards are starting to finally fall to (or at least closer to) the $299 MSRP set by ATI, they really are undeniably one of the best bang-for-your-buck gaming video card solutions available. I took a look at Sapphire's X800 XL PCI Express card several weeks ago and was very impressed by its performance. The recent price drops make this card even more appealing.
While reviewing the Sapphire X800 XL, I found the cooler to be surprisingly noisy, which was one of my biggest and only gripes about the card. Sapphire remedies this problem with its new Ultimate Edition of the X800 XL.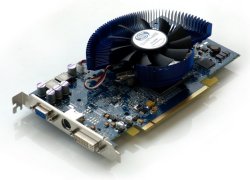 Like previous "Ultimate" versions of Sapphire products, the X800 XL Ultimate features a quiet cooling solution. While some Ultimate cards in the past were silent, the X800 XL is classified as nearly silent thanks to the Zalman VF700 VPU cooler that Sapphire chose to employ. Everything else about the X800 XL Ultimate is that same as its non-Ultimate brother that I previously reviewed. Read on to see if noise is no longer an issue and to see just how well Sapphire's X800 XL Ultimate performs.
FEATURES and SPECIFICATIONS

---
Features
Near Silent ULTIMATE cooler
256MB of GDDR3 memory
256-bit memory interface
16 parallel pixel pipelines
PCI Express x16 lane native support
Dual display support
Dual integrated 400MHz DAC's
2048×1536 @ 85Hz Maximum Resolution
S-Video TV-out port
Full support for DirectX® 9.0 and the latest OpenGL® 2.0 functionality
SMARTSHADER™ HD technology
SMOOTHVISION™ HD technology
3Dc™ High quality 4:1 Normal Map Compression delivers beautiful scenes without the performance hit.
Unique VIDEOSHADER™ HD engine uses programmable pixel shaders to accelerate video processing and provide better-looking visuals
HYPER Z™ HD is optimized for performance at high display resolutions, including widescreen HDTV resolutions
Specifications
| | | | |
| --- | --- | --- | --- |
|   | RADEON X800 XT | RADEON X800 XL | RADEON X850 XT |
| Bus Type | PCI Express x16 | PCI Express x16 | PCI Express x16 |
| Memory Amount (MB) | 256 | 256 | 256 |
| Memory Type | GDDR3 | GDDR3 | GDDR3 |
| Memory Interface | 256-bit | 256-bit | 256-bit |
| Memory Clock Speed (MHz) | 500 | 490 | 540 |
| Engine Clock Speed (MHz) | 500  | 400 | 520 |
| Pipelines | 16 | 16 | 16 |
| Pixel Fillrate | 8 Gpixels/sec | 6.4 Gpixels/sec | 8.6 Gpixels |
| Geometry Rate | 500 MTriangles | 400 MTriangles | 540 MTriangles |
CLOSER LOOK & BUNDLE

---
Closer Look at the Card
As I mentioned, the only change from Sapphire's regular X800 XL to this Ultimate Edition is that the Ultimate card features the Zalman VF700 cooler instead of the ATI reference cooler. Additionally, the memory chips are covered by heatsinks (which is also part of the Zalman VF700 cooler package that you can buy separately to use on most current video cards). This solution is not only nearly silent, but it also cools better than the reference cooler from what I've seen.
If you are familiar with Zalman coolers, then the design will not surprise you at all. Lots of thin fins and a big fan make up this cooler. It's the typical "flower" design we've come to expect from Zalman.
The cooler is secured by a couple screws and a small backplate/bar, as you can see in the pictures below. You can also see the heatsinks on the back chips to help keep the memory cooler.
I would like to see a dual DVI configuration instead of the VGA and DVI connector combo, but we can't always get what we want, right? In addition to the VGA and DVI connectors, the card also features a TV-out/S-video out connector. The X800 XL Ultimate also features HDTV display support.
Bundle
Sapphire X800 XL Ultimate Video Card
Installation/Getting Started Guide
DVI-to-VGA Adapter
S-video Cable
Composite Video Cable
Component Video Connector
6-pin PCI Express Power Cable
Sapphire Sticker
Installation Driver CD
Redline Tweak Utility
Prince of Persia: Sands of Time (full version)
Splinter Cell: Pandora Tomorrow (full version)
Sapphire bundles in a nice array of cables and software with most of its higher end cards, and this package is no exception. As I mentioned in my past couple of Sapphire reviews, the game titles are excellent but a little dated and could use an update. Thankfully, Sapphire recently announced its new software bundle program – Sapphire Select – in which new Sapphire bundles will allow users to choose the software they want and then be offered others at a discount. Check out the press release here. It sounds like a great idea; I can't wait to see how this develops and influences the competition. This doesn't affect this package but future offerings just might be better. Until then, you can definitely enjoy these two great games if you don't happen to already own them.
TEST SYSTEM & BENCHMARKS

---
The test system is based on the nForce4 SLI platform. The motherboard I used is the DFI LANParty NF4 SLI-DR, and the processor is an Athlon 64 3200+, which runs at 2.0GHz. I compared the X800 XL Ultimate to Sapphire's own X800 XL and X850 XT using the same drivers I used when I originally benchmarked the X850 XT (Catalyst 5.3). Here is a complete look at my test system, followed by a list of the benchmarks I used to compare these three cards.
Test System
AMD Athlon 64 3200+
DFI LANParty NF4 SLI-DR Motherboard (review)
Video Card 3: Sapphire Radeon X800 XL Ultimate – DirectX 9.0c, Catalyst 5.3
Maxtor 120GB Serial ATA 7200RPM Hard Drive
Windows XP with Service Pack 2
17″ Solarism LCD Monitor – max resolution 1280 x 1024
Benchmarks
3DMark03 v3.6.0 – default settings and 4xAA / 8xAF
3DMark05 v1.2.0 – default settings
AquaMark3 – 4xAA / 8xAF, high quality
Half-Life 2 – NoAA / 2xAF and 4xAA / 8xAF
Doom 3 1.1 – NoAA / High Quality and 4xAA / High Quality, both with highest details set in game
Far Cry 1.3 – NoAA / 1xAF and 4xAA / 8xAF
X2: The Threat, Rolling Demo – automatic quality set in benchmark with antialiasing, bumpmaps and shadows enabled in benchmark
PERFORMANCE – 3DMARK03 and 05

---
There is no need for introduction to Futuremark's 3DMark benchmarking applications. Although many people question their benchmarking relevance, their popularity and ease of use is undeniable. As long as people seem to love comparing their 3DMark results, I'll probably include them in my reviews since they provide a good reference point. This time, I'm also including the details from the game and feature tests.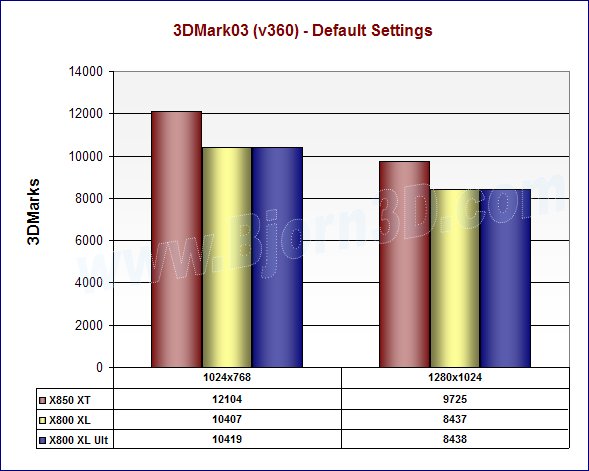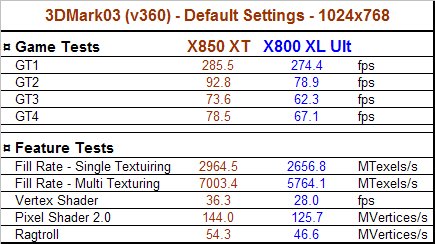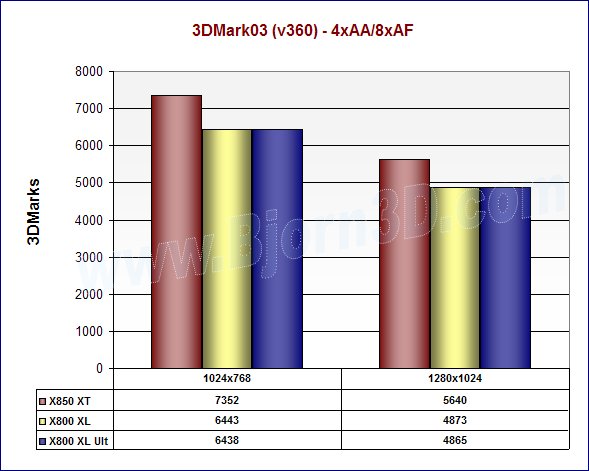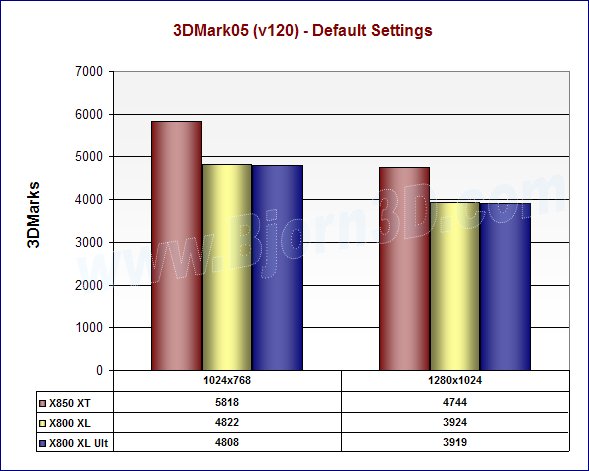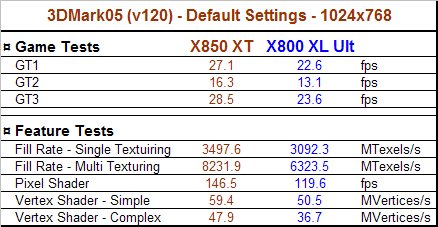 PERFORMANCE – AQUAMARK3 & X2: THE THREAT

---
The AquaMark3 benchmark is based on an actual game engine, and it can really stress even the most modern cards. I ran the benchmark with 4xAA and 8xAF in the application and "Application Preference" set in the driver control panel.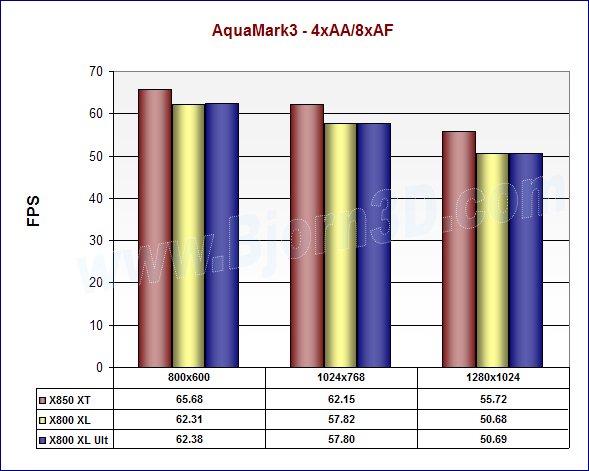 The X2 Rolling Demo is also based on a game, and that is X2: The Threat of course. The Rolling Demo renders a plethora of different game scenes and reports scores for each scene and an average score in frames per second (FPS). The chart below just shows the average. This benchmark was run with bumpmaps, shadows and anti-aliasing set to "On" in the application and with "Application Preference" set in the driver control panel.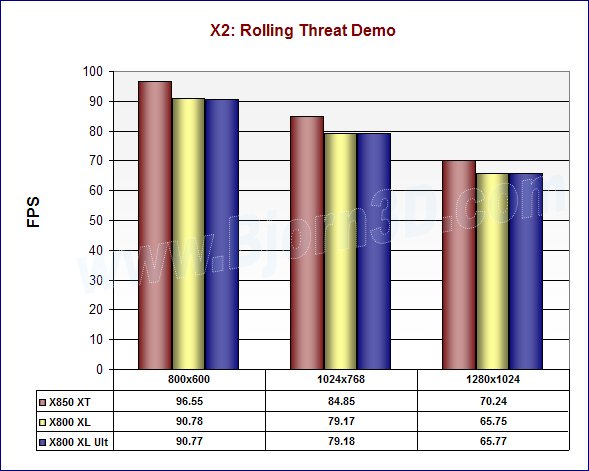 PERFORMANCE – DOOM 3

---
While it can play fairly well on low-end systems at lower resolutions, Doom 3 can really punish a system if you crank up the details and resolution. I ran the included demo1 timedemo with quality set to high and AA turned off and also with quality set to high and AA set to 4x in the game.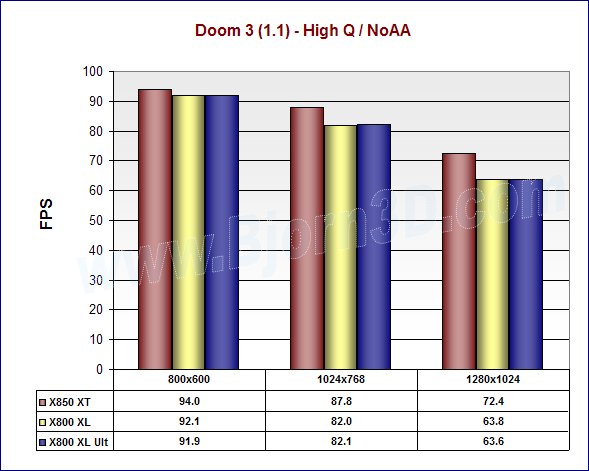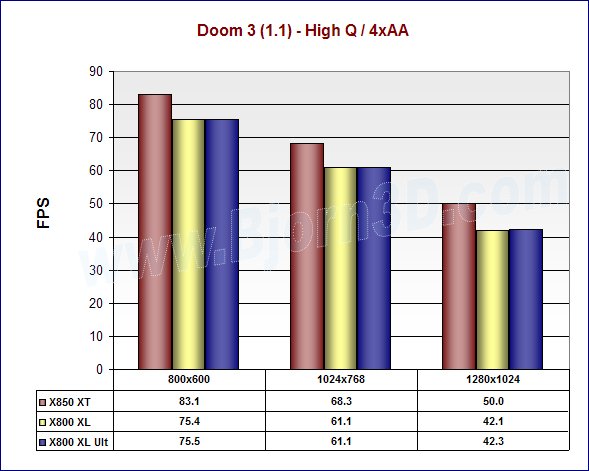 PERFORMANCE – HALF-LIFE 2

---
To benchmark Half-Life 2, I used the HL2 benchmark utility created by HardwareOC. I used the included HOC d3c17 map demo and Guru3d demo5 for testing. The performance appears to be quite system-limited, for my system at least. It just might be time to put more horsepower into this test system.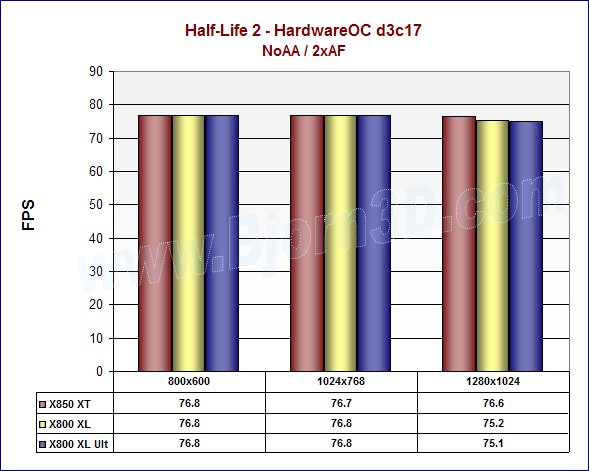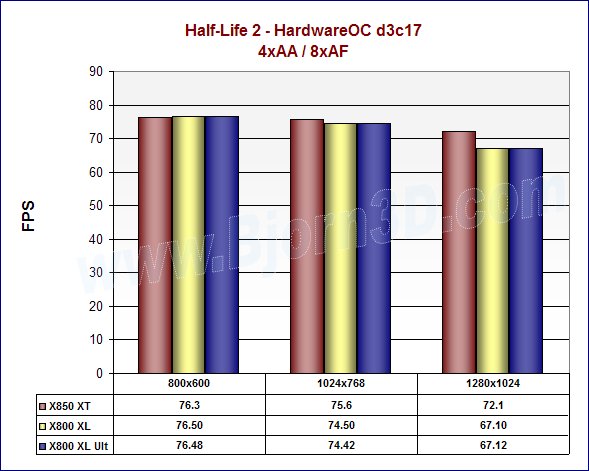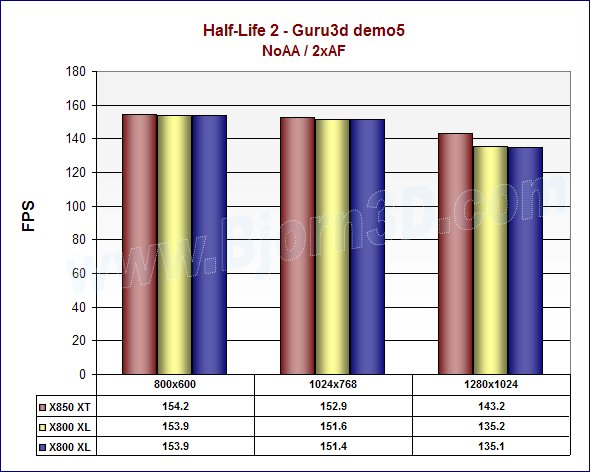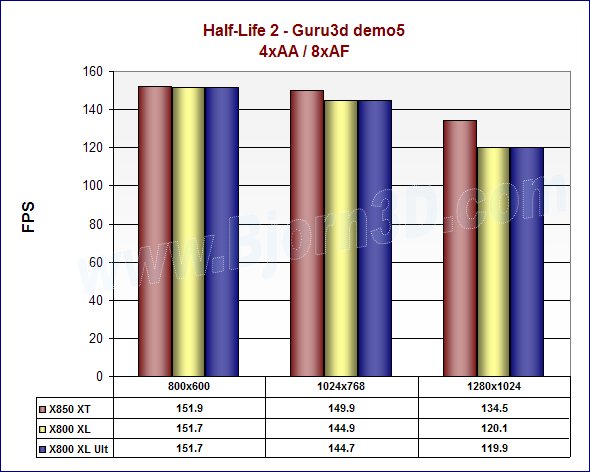 PERFORMANCE – FAR CRY

---
Far Cry is currently one of the most pipeline-punishing PC games available. Playing at the highest resolution with eye candy maxed out and still getting playable frame rates is not really possible for even the most powerful systems and graphics cards. Once again, I used a benchmarking utility from HardwareOC to benchmark this game. This time I used the HOC volcano and river demos for testing. Like the HL2 results, these tests also appear to be CPU-limited.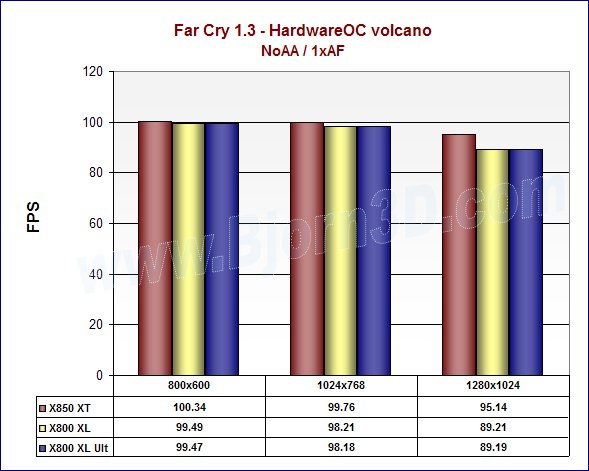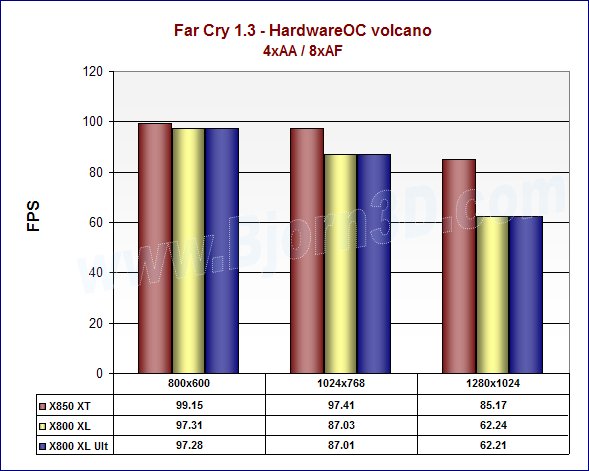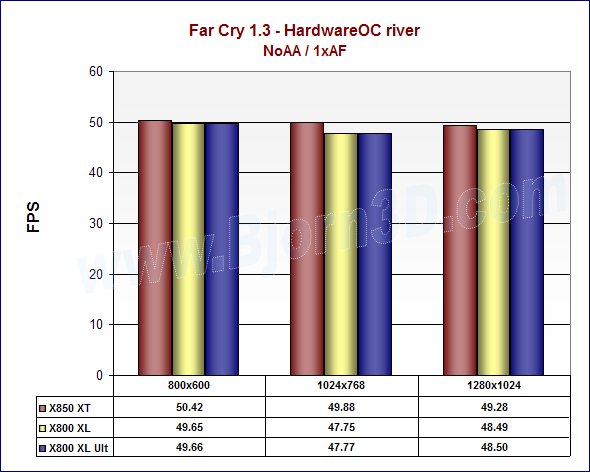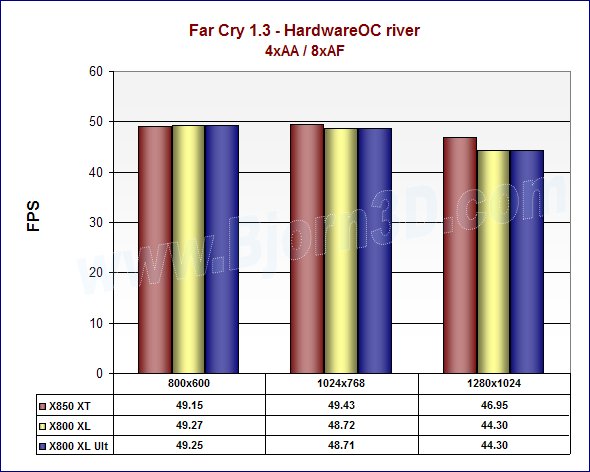 OVERCLOCKING

---
Frequently, quiet cooling solutions can't quite compete with louder solutions in the cooling department. This isn't the case with Sapphire's X800 XL offerings. The Ultimate version is quieter and actually keeps the VPU a little cooler. Unfortunately though, this didn't translate to a better overclock. I was able to overclock the non-Ultimate X800 XL to 462MHz on the core and 554MHz for the memory while I could only get to 455 and 545, respectively, with the X800 XL Ultimate. Overclocking results always vary and can be a little surprising or disappointing. In this case, I was a little disappointed, but the overclock still added a decent performance boost.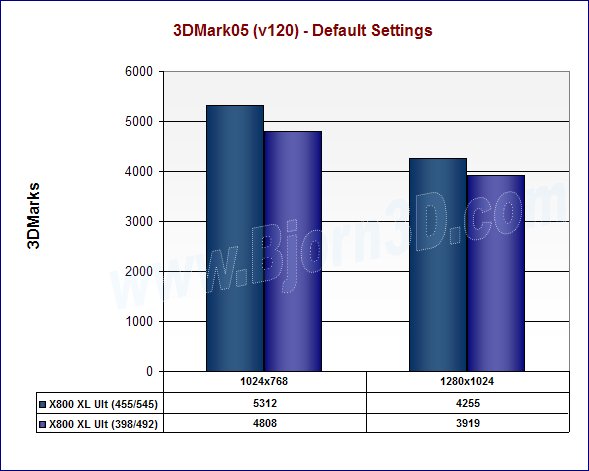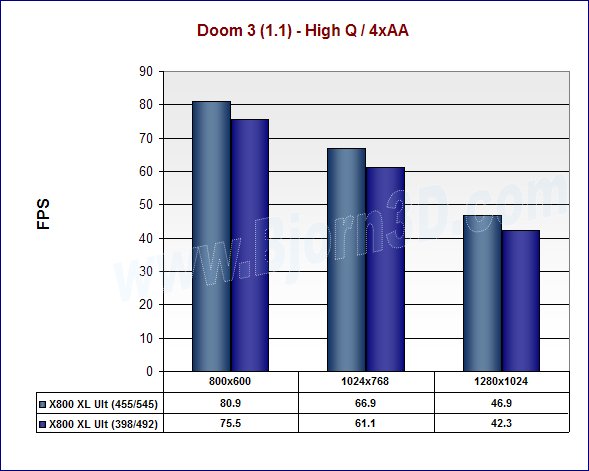 CONCLUSION

---
Sapphire's Ultimate versions of its popular video cards consistently deliver silent or near-silent gaming solutions, and the X800 XL Ultimate is the next card in line to do just that. As expected, it delivers the same default clock performance as the regular X800 XL but at a considerably lower noise level. Unlike the standard X800 XL, the Ultimate version does not start up really loud upon system boot and then get quieter; it starts quiet and remains quiet. I never once noticed the Ultimate's fan over my other system fans, which is a big improvement over the non-Ultimate X800 XL. The Zalman VF700 was a good choice for this Ultimate Edition card.
While the overclocking wasn't as good as the standard X800 XL, I am still very impressed with the X800 XL Ultimate's performance (and with X800 XL's in general), as it offers a lot of performance for the money. Currently, the availability of the X800 XL Ultimate seems pretty limited. After a quick check at several popular stores, I only found it at Newegg for $339 although it was out of stock when I checked. This price is about $30-40 more than the non-Ultimate and is actually around $10 more than if you were to buy a non-Ultimate card and a Zalman VF700 to install yourself. That route could void your warranty though, so if you want a quiet X800 XL, then the Sapphire X800 XL Ultimate comes highly recommended.
Pros:
+ Great performance
+ Decent bundle
+ Cooler does an excellent job
+ Cooler is nearly silent and much quieter than stock cooler
+ A lot of bang for your buck
Cons:
– Not dual DVI
– Bundle could use an update
– Availability currently low (as of 5/10/05)
Final Score: 9 out of 10 and Bjorn3D Golden Bear Award