In this article, we take a look at Seagate's latest consumer-level SATA hard drive – the 7200.8 SATA NCQ. Read the review to see how well two 400GB 7200.8's perform in RAID 0 and RAID 1 and how well a single 7200.8 performs by itself.
INTRODUCTION

---
When it's time to shop for hard drives, one of the several names that comes to mind right away is Seagate. And when it comes time to recommending a disc drive, warranty is always one of the top concerns. Seagate has the longest warranty around right now at five years. Five years is much better than the one year warranty that the industry started moving to a couple years ago. Seagate's move to five years has resulted in other companies thinking twice about their 1-year warranties.

Seagate is no stranger to innovation. It was the first company to build 5.25-inch hard disc drives for the PC. That was a quarter century ago though, but Seagate hasn't stopped innovating since its establishment in 1979. More recently, Seagate led the development of Serial ATA (SATA) to replace Parallel ATA (PATA) disc drives, and it was the first company to demonstrate NCQ drives. Many of you are already familiar with NCQ, but for those who aren't, here is a quick description from Seagate:
Native Command Queuing (NCQ) is a command protocol for SATA that makes it possible to have several outstanding commands within a drive at the same time.

In simple terms, NCQ functioning is somewhat similar to an elevator. The elevator travels sequentially from floor to floor and lets people on and off. It does not follow the sequence in which users push the floor request buttons, because that would mean an excessive mechanical load and much longer times for waiting or riding. Source: Seagate.com
At the end of last year, Chad took a look at Seagate's first SATA NCQ drive – the Barracuda 7200.7 SATA NCQ. Today, I'm taking a look at its successor – the Barracuda 7200.8 SATA NCQ (model number ST3400832AS).
FEATURES & SPECIFICATIONS

---
Features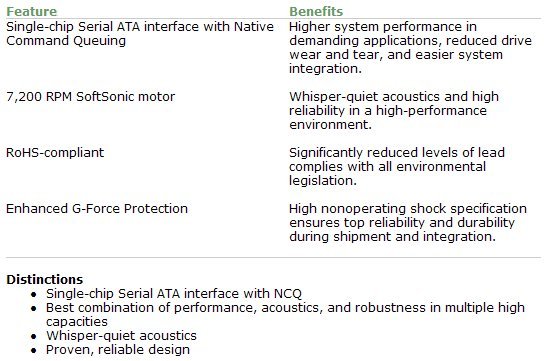 Specifications
| | |
| --- | --- |
| Available Capacities | 200, 250, 300, 400GB |
| Platter Size | 133GB |
| Cache Size | 8MB |
| Spindle Speed | 7200 RPM |
| Max. External Transfer Rate | 150MB/s |
| Internal Transfer Rate | 95MB/s |
| Average Sustained Transfer Rate | 65MB/s |
| Average Seek Time | 8ms |
| Average Latency | 4.16ms |
| Idle Acoustics | 2.8 bels |
| Quiet Seek Acoustics | 3.2 bels |
| Performance Seek Acoustics | 3.7 bels |
| Idle Power Consumption | 7.2W |
| Seek Power Consumption | 12.4W |
| Read/Write Power Consumption | 12.8W |
| Standby Power Consumption | 1.4W |
| S.M.A.R.T. Capable | Yes |
| Service Life | 5 years |
| Limited Warranty Length | 5 years |
You might be wondering how the 7200.8 differs from the 7200.7 NCQ. The 7200.8 is superior to the 7200.7 NCQ in several ways: its internal transfer rate is about 10MB/s faster; its average sustained transfer rate is 7MB/s faster; its average seek time is 0.5ms faster; its platter size is 53GB larger; and it consumes less power than the 7200.7 NCQ.
Unfortunately, the one area where the 7200.8 doesn't outclass the 7200.7 NCQ is noise. On paper at least, the 7200.8 produces around 12-28% more noise than the 7200.7 NCQ. That sounds worse than it really is since it's only 0.7 bels maximum. While testing the drives, they seemed very quiet to me, so I was quite pleased with the acoustic levels.
CLOSER LOOK

---
There is nothing surprising about the physical appearance of the 7200.8. It features a SATA power and data connector. Seagate has always used only a native SATA solution so it's no surprise that we don't see a 4-pin power connector on this drive.
TEST SYSTEM & PERFORMANCE

---
Test System
AMD Athlon 64 3200+
DFI LANParty NF4 SLI-DR Motherboard (review)
Sapphire Radeon X800 XL – DirectX 9.0c, Catalyst 5.3 (review)
Maxtor 120GB Serial ATA 7200RPM Hard Drive
Seagate 400GB 7200.8 SATA HDD x 2
Windows XP with Service Pack 2
My test system is based on an nForce4 motherboard, so I used the SATA controller in the nForce4 SLI chip and NVRAID for this testing. I tested the 400GB 7200.8 drives in RAID 0, RAID 1 and by itself. I also ran some tests on a 120GB Maxtor DiamondMax9 Plus SATA HDD for comparison.
Performance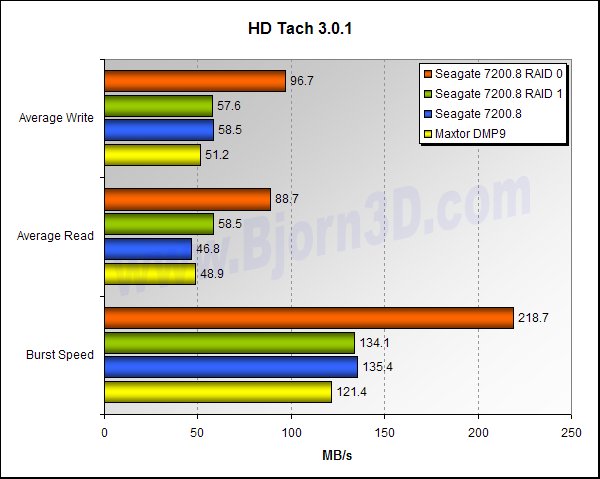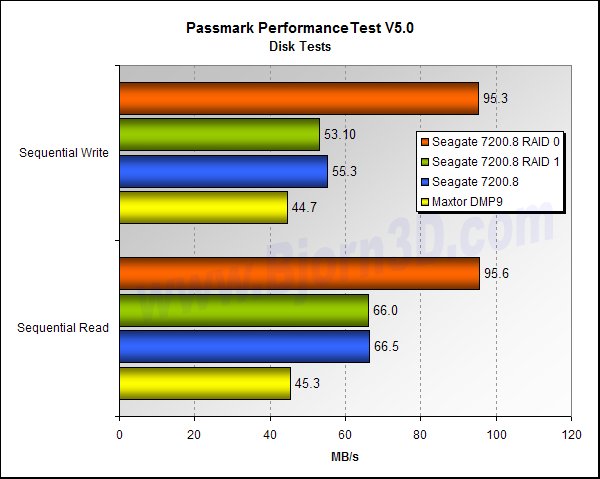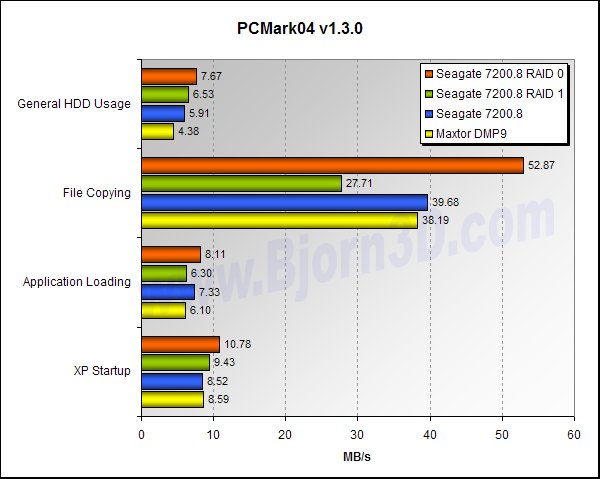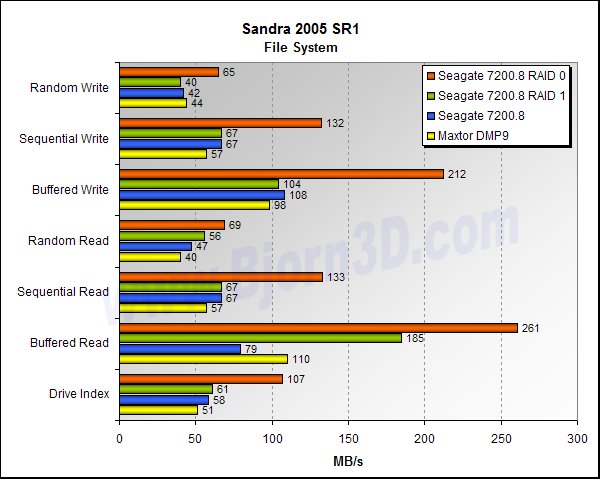 CONCLUSION

---
Overall, I was quite pleased by the 7200.8's performance. The RAID performance came in right around where I expected it to. Since I didn't have competing drives to test in RAID, I paid particular attention to the single drive performance. For the most part, the 7200.8 outclasses the Maxtor DiamondMax9 Plus like we would expect it to considering how much better it is on paper.
Because of their capacity, low noise level and performance, I look forward to using these drives when I rebuild my main rig. Having 400GB (it's really 372GB) of storage is a great luxury, and as you know, luxury doesn't come cheap. The 400GB 7200.8 costs around $290-300 if you shop at the right places. The unit cost of 73-75 cents per gigabyte is very reasonable though, so the only reason this drive seems "expensive" is that it packs a huge capacity. It might not be the cheapest 400GB drive available, but I think getting the industry-leading 5-year warranty is worth the extra cost. That 5-year warranty covers the entire service life of the drive, which is a nice security blanket.
If performance is your first priority, you might want to check out a review that compares these 7200.8 drives to Maxtor's DiamondMax 10 drives. From what I've seen, the Maxtor drives outperform the 7200.8's, due at least in part to Maxtor's utilization of a 16MB cache. It would be nice to see Seagate go with 16MB of cache like the DiamondMax 10. Let's hope Seagate decides to improve the 7200.8 line by doubling its current cache some time soon. Or at least unleash a bigger cache when releasing SATA II drives. A SATA II drive with 16MB of cache sounds quite tasty, doesn't it?!
Pros:
+ Good performance
+ Big time storage!
+ Affordable at $0.75/GB
+ 5-year warranty
+ Relatively quiet
Cons:
– Would be nice to see 16MB cache versions
Final Score: 9 out of 10 and the Bjorn3D Seal of Approval