Using its Silent-Pipe technology and cooler, Gigabyte brings us a great performing and absolutely silent X800 XL. If you are a HTPC owner who doesn't want to give up good gaming performance for silence, then you owe it to yourself to take a look at this card.
INTRODUCTION

---
Completely silent and fragtastic gaming? Oh yeah, baby, and it comes in the form of Gigabyte's Silent-Pipe Radeon X800 XL. By now, we all know that the X800 XL offers a lot of bang for the buck, and if you read my last couple of X800 XL reviews, you would know that ATI's stock cooler on the X800 XL is quite noisy. While some companies are releasing "quiet" or "nearly silent" X800 XL solutions, Gigabyte completely eliminated the noise problem by extending its Silent-Pipe technology to this excellent VPU.
My first thought when asked to review a completely silent X800 XL was, "Hey, that would be a perfect HTPC card. Good gaming and silent! Sign me up!" Unfortunately, the height of the Silent-Pipe X800 XL (GV-RX80L256V) due to its heatpipes will prohibit it from fitting in my current HTPC case (an Antec Overture) and many others. Nevertheless, it still seems like a top media PC option to me. Keep reading to find out if the performance is on par with other X800 XL PCI Express cards and to learn more about this cool and silent offering from Gigabyte.
FEATURES & SPECIFICATIONS

---
Features
The differentiating feature of this Gigabyte X800 XL is of course the Silent-Pipe, described on the box as "soundless heat pipe technology." That is exactly what it is — a fanless, noiseless, passive cooling solution. You can read about Silent-Pipe technology right here. If you take a look at that page, you can see that Zalman is Gigabyte's partner on the Silent-Pipe technology, which is definitely a good thing considering Zalman's leadership in the cooling industry.
VPU by ATi RADEON™ X800 XL
Supports the PCI-e X 16 standard
Integrated 256MB DDR III Memory
Fully support DirectX®9.0 and the latest OpenGL®functionality..
16 parallel rendering pipelines
All new 256-bit memory interface
Supports video capture for video editing (VIVO)
DVI-I and TV-Out connector supported
Supports "V-Tuner II" for overclocking.
Bundles PowerDVD 5.0 and PowerDirector 3 ME
Bundles 2 full version games
Specifications
You can see the general specifications of an X800 XL card below.
| | | | |
| --- | --- | --- | --- |
|   | RADEON X800 XL | RADEON X850 XT | RADEON X850 XT PE |
| Memory Amount (MB) | 256 | 256 | 256 |
| Memory Type | GDDR3 | GDDR3 | GDDR3 |
| Memory Interface | 256-bit | 256-bit | 256-bit |
| Memory Clock Speed (MHz) | 490 | 540 | 590 |
| Engine Clock Speed (MHz) | 400 | 520 | 540 |
| Pipelines | 16 | 16 | 16 |
| Pixel Fillrate | 6.4 Gpixels/sec | 8.32 Gpixels/sec | 8.6 Gpixels |
| Geometry Rate | 600 MTriangles | 780 MTriangles | 810 MTriangles |
Here are the specifications from Gigabyte's web site.
| | |
| --- | --- |
| Model No. | GV-RX80L256V |
| Chipset | ATI RADEON X800 XL |
| Memory | 256 MB |
| Memory Bus | 256 bit |
| BUS | PCI-e x 16 |
| D-SUB | Y |
| TV-OUT | Y |
| DVI Port | Y |
| MultiView | Y |
| H/W Monitor | N |
CLOSER LOOK & BUNDLE

---
Closer Look at the Card
The Silent-Pipe X800 XL has metal covering all the vital parts (VPU and memory chips) on the front and the back as well as heat pipes to move the heat away. It's a pretty nice and compact design overall. The only negative is that the heat pipes add some height to the card (around an inch perhaps), which means that it won't fit in some desktop or HTPC cases without some modification to the case.
The pictures below give you a couple good views of the cooler. I like the looks of the blue PCB and gold-ish heatsinks together. In the first image, you can see some copper where the pipes enter under the heatsink.
Like the other X800 XLs we've looked at here, this one features a single VGA and DVI connector rather than dual DVI ports. Additionally, this card includes a TV-Out/VIVO connector. The lack of a power connector should make you smile. It's nice when a card this powerful doesn't require extra power.
Bundle
Gigabyte Silent-Pipe X800 XL
Driver CD:

CyberLink PowerDVD 5.0
Gigabyte Utility: V-Tuner 2

CyberLink PowerDirector 3 ME
Game: Theif: Deadly Shadows (full)
Game: Joint Operations: Typhoon Rising (full)
VGA-to-DVI adapter
VIVO cable
Gigabyte throws in a nice software bundle with the GV-RX80L256V. While the games are not new to the market by an means, they are somewhat recent and are both decent games. The PowerDirector software will help you get good use out of the VIVO (video-in/video-out) capabilities of the card if you are interested in those. I was actually kind of surprised to only find one adapter and one cable. I think Gigabyte could have perhaps thrown in an S-video cable to round the bundle out a little more. As it stands though, the bundle is decent.
The size of the box, on the other hand, is a little gratuitous to say the least. The box is about 8 inches longer than typical video card boxes, and there's no reason for it. Why does that matter? It's just the box, right? Well, I disagree. I keep and store all my PC component boxes, and all this extra empty space rubs me the wrong way. Also, I just wish companies would use less packaging.
In the pictures above, you can see the VIVO cable and its included connections. The left picture shows the S-video out and component out connections, and the right picture shows the two input connections: composite and S-video inputs.
TEST SYSTEM & BENCHMARKS

---
The test system is based on the nForce4 SLI platform. The motherboard I used is the DFI LANParty NF4 SLI-DR, and the processor is an Athlon 64 3200+, which runs at 2.0GHz. I compared the Silent-Pipe X800 XL to Sapphire's nearly-silent X800 XL Ultimate and Sapphire's X850 XT using the same drivers I used when I originally benchmarked the X850 XT (Catalyst 5.3). Here is a complete look at my test system, followed by a list of the benchmarks I used to compare these three cards.
Test System
AMD Athlon 64 3200+
DFI LANParty NF4 SLI-DR Motherboard (review)
Video Card 3: Gigabyte Radeon X800 XL Silent-Pipe – DirectX 9.0c, Catalyst 5.3
Maxtor 120GB Serial ATA 7200RPM Hard Drive
Windows XP with Service Pack 2
20″ Dell LCD Monitor – max resolution 1600×1200
Benchmarks
3DMark03 v3.6.0 – default settings and 4xAA / 8xAF
3DMark05 v1.2.0 – default settings
AquaMark3 – 4xAA / 8xAF, high quality
Half-Life 2 – NoAA / 2xAF and 4xAA / 8xAF
Doom 3 1.1 – NoAA / High Quality and 4xAA / High Quality, both with highest details set in game
Far Cry 1.3 – NoAA / 1xAF and 4xAA / 8xAF
X2: The Threat, Rolling Demo – automatic quality set in benchmark with antialiasing, bumpmaps and shadows enabled in benchmark
PERFORMANCE – 3DMARK03 and 05

---
There is no need for introduction to Futuremark's 3DMark benchmarking applications. Although many people question their benchmarking relevance, their popularity and ease of use is undeniable. As long as people seem to love comparing their 3DMark results, I'll probably include them in my reviews since they provide a good reference point.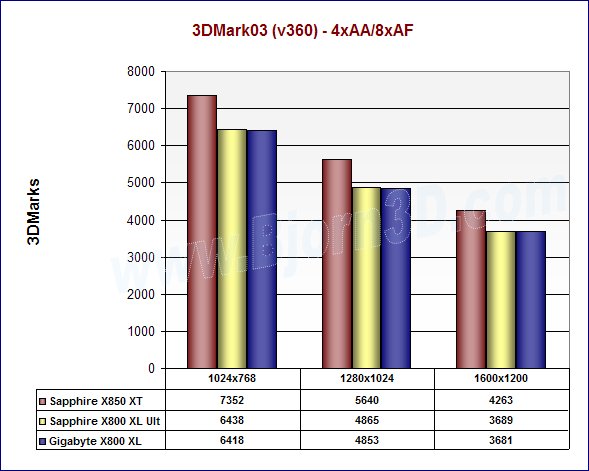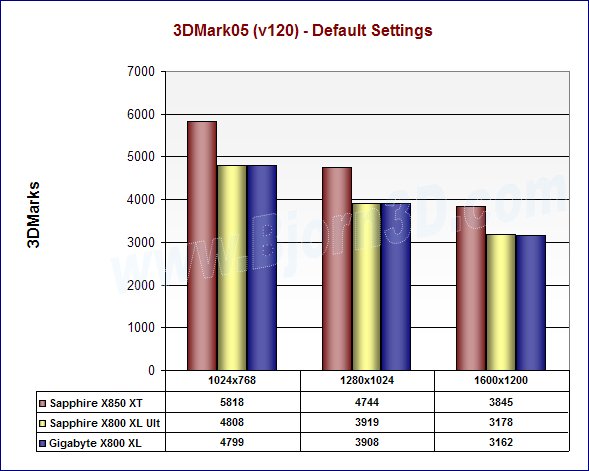 PERFORMANCE – AQUAMARK3 and X2: THE THREAT

---
The AquaMark3 benchmark is based on an actual game engine, and it can really stress even the most modern cards. I ran the benchmark with 4xAA and 8xAF in the application and "Application Preference" set in the driver control panel.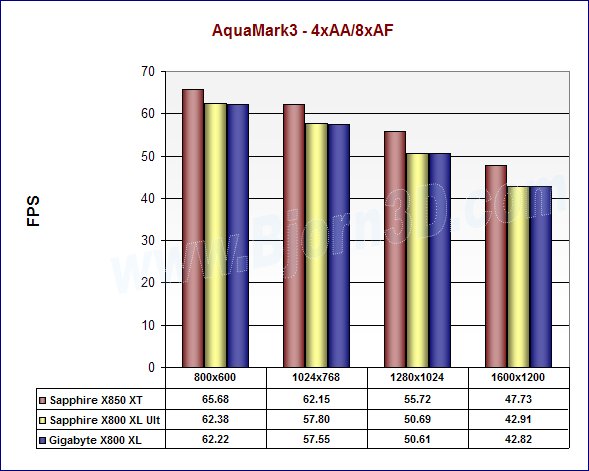 This demo is also based on a game, and that is X2: The Threat of course. The Rolling Demo renders a bunch of different game scenes and reports scores for each scene and an average score in frames per second (FPS). The chart below just shows the average. This benchmark was run with bumpmaps, shadows and anti-aliasing set to "On" in the application and with "Application Preference" set in the driver control panel.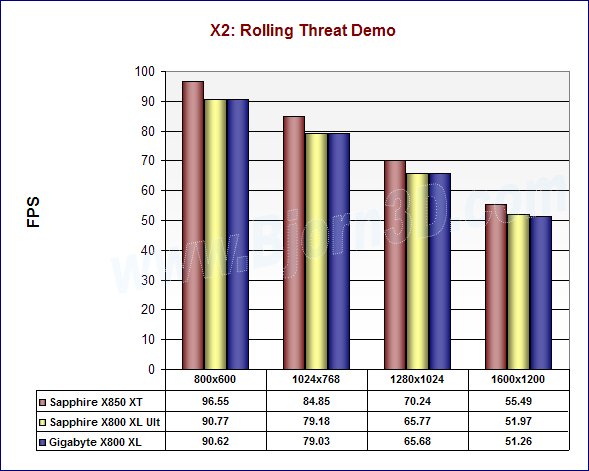 PERFORMANCE – DOOM 3

---
While it can play fairly well on low-end systems at lower resolutions, Doom 3 can really punish a system if you crank up the details and resolution. I ran the included demo1 timedemo with quality set to high and AA turned off and also with quality set to high and AA set to 4x in the game.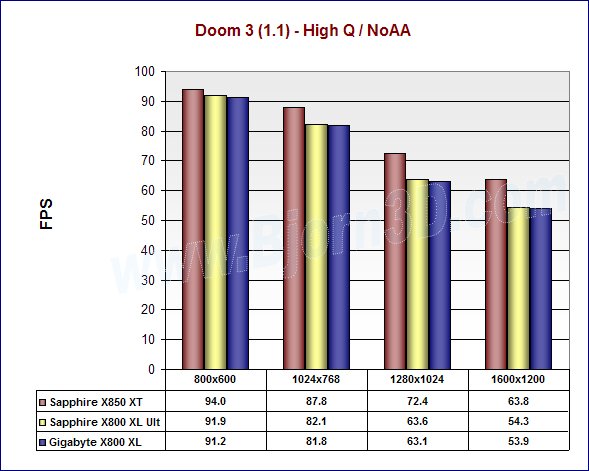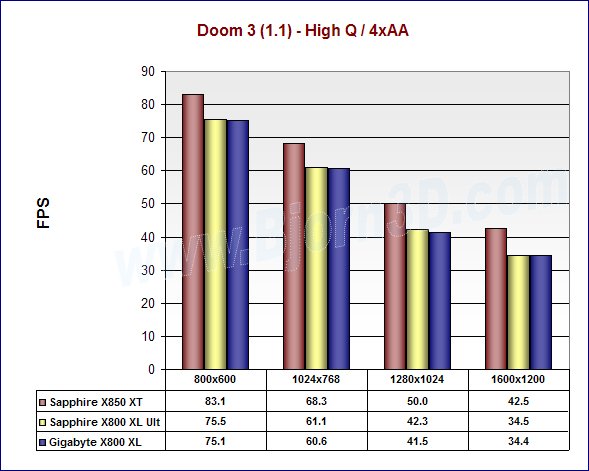 PERFORMANCE – HALF-LIFE 2

---
To benchmark Half-Life 2, I used the HL2 benchmark utility created by HardwareOC. I used the included HOC d3c17 map demo and Guru3d demo5 for testing.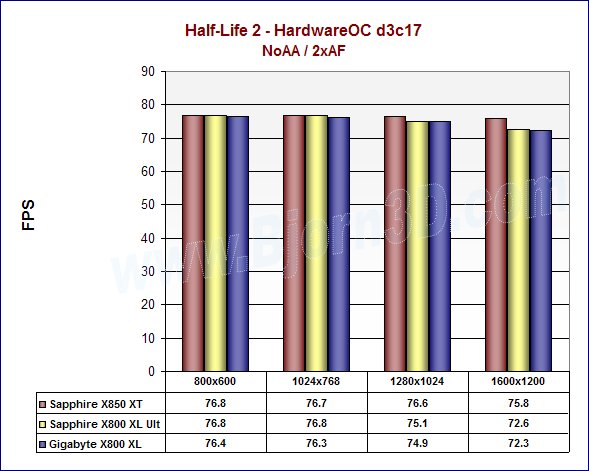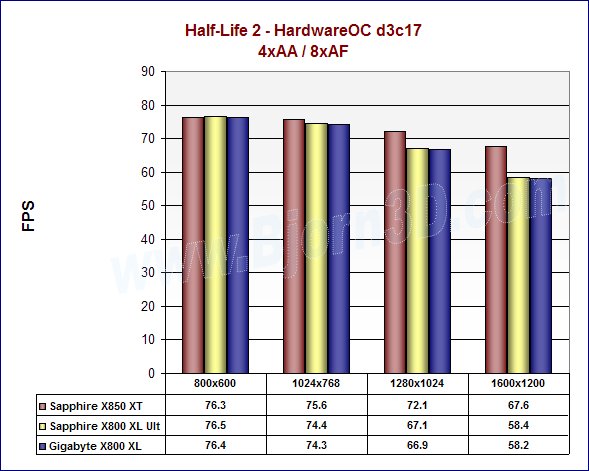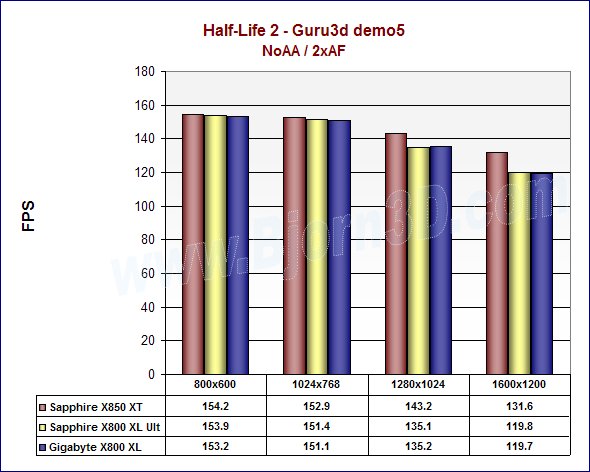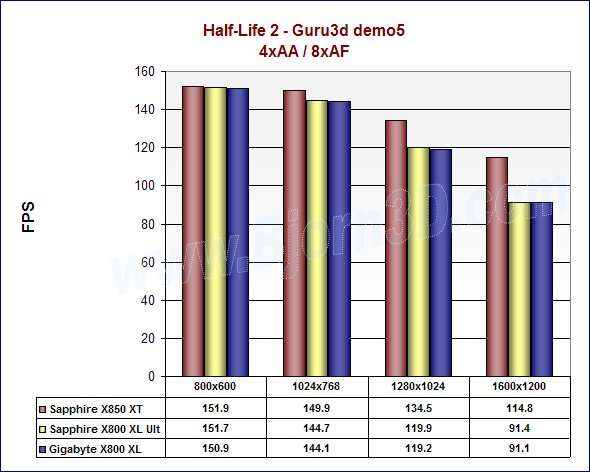 PERFORMANCE – FAR CRY

---
Far Cry is currently one of the most pipeline-punishing PC games available. Playing at the highest resolution with eye candy maxed out and still getting playable frame rates is not really possible for even the most powerful systems and graphics cards. Once again, I used a benchmarking utility from HardwareOC to benchmark this game. This time I used the HOC volcano and river demos for testing.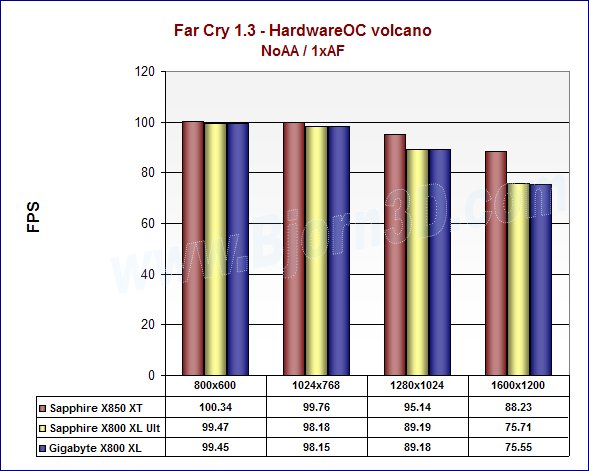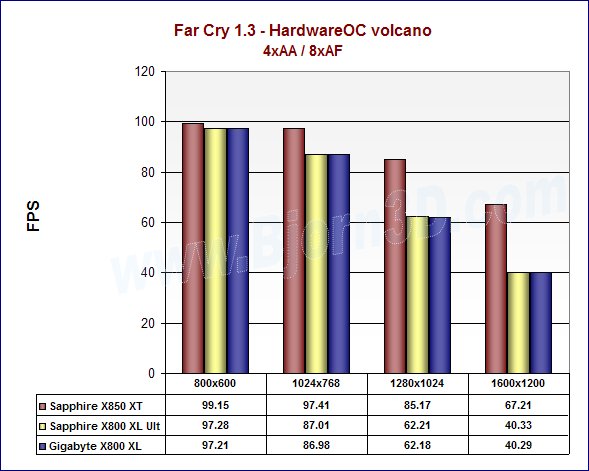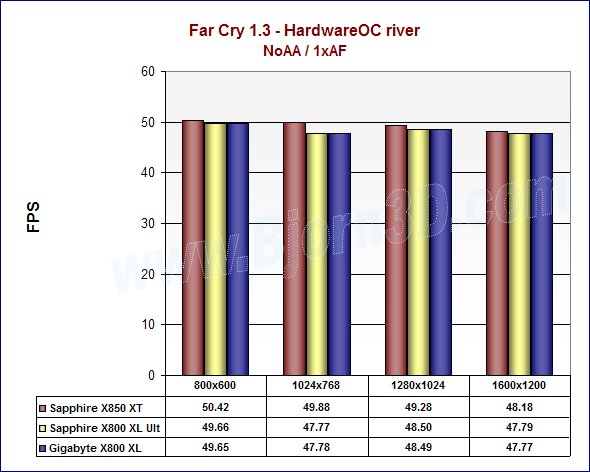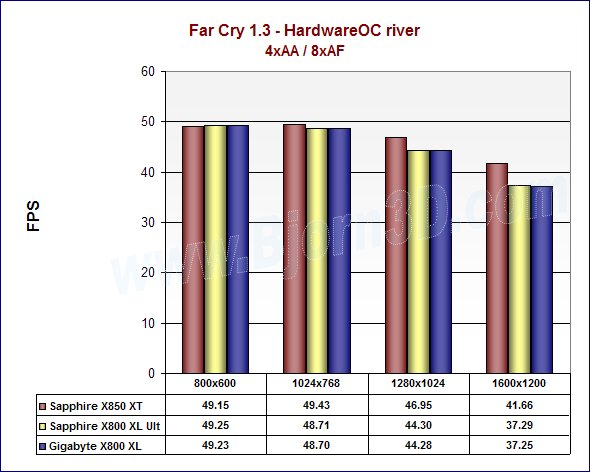 SILENT BUT DEADLY? THE HEAT/SILENCE COMPROMISE & OVERCLOCKING

---
I'm Quiet But I'm Hot
My first couple of thoughts about the Silent-Pipe cooler revolved around overclocking and temperature. I wondered, "How hot does this thing really get? Will the heat affect overclocking greatly?" My assumption was that it would get coniderably hotter than the X800 XLs with heatsink/fan combinations that I have reviewed. No, it's not a brilliant assumption I know. Most of you already realize that whenever you go completely passive, or fanless, that heat will become a bigger enemy than usual since it is not being dissipated as quickly.
I guess a simple way to think about it is that the cost of silence is higher temperatures. In the case of the Silent-Pipe X800 XL, the temperature gets pretty darn high under load — like around 100°C! This is probably at least 20-35°C higher than an actively cooled X800 XL. Here is a rough look at the temperatures I recorded while testing the Silent-Pipe X800 XL (the values I recorded were reported by ATI Tray Tools).
Observed Temperatures (°C)

State
VPU
Env

Right after boot

40

38

Idle

55

51

Load

92+

63+
Overclocking
By now, you've probably realized that choosing silence can ultimately be a compromise resulting in very little overclocking since even default clock speeds really heat up the VPU. I would just consider cards like the various Silent-Pipe cards from Gigabyte as "not meant to be overclocked." That's not to say that they can't or shouldn't be overclocked. It's just that they are generally purchased for their great mix of performance and silence. It's just not realistic to expect good overclocking from any silicon that's passively cooled.
With that said, I have to admit that I didn't expect much overclockability from this card, and that's what I observed. The default core and memory clocks are 400MHz and 490MHz, respectively. The highest stable overclock I achieved was 425MHz and 505MHz, respectively. The resulting performance gain really was not worth noting.
CONCLUSION

---
After Chad reviewed a couple Silent-Pipe cards from Gigabyte (an X800 and a 6800), I really wanted to get my hands on one. I was lucky enough to have the X800 XL version (GV-RX80L256V), which is the highest performing Silent-Pipe card yet, hit my test bench. If you want an absolutely silent card (not "quiet" or "nearly silent" but noiseless as in 0 decibels) that offers awesome performance and big bang for your buck, then this is your dream card. I'm really tempted to convert my current AGP-based HTPC to a PCI Express box just so I can use this card.
This card is meant for a certain niche, and Gigabyte nails it perfectly. The default performance is spot on with regular, actively cooled X800 XLs (consistently yet minutely less in my testing), and the card includes VIVO functionality. What's that knocking on your HTPC door? Oh, it's the Gigabyte GV-RX80L256V, saying, "Let me in, fool!"
On top of all that silent goodness, Gigabyte throws in a decent bundle. While the bundle won't wow most people, it is quite practical and successfully adds value to the complete package. I'd still like to see Gigabyte toss in a couple more cables, especially an S-video cable.
From what I've seen, I'd say avoid this card only if you want to heavily overclock it. Afterall, that's not what this card is really for. Your mileage will of course vary when overclocking, but still, you should look at regular or maybe even nearly silent solutions if you are hoping to get a significant bump up in performance by increasing the clock speeds.
By now, you can easily tell that I am still as excited about this card as I was when it first entered my review queue. To be able to get damn good performance and silence in one quality package for around $300-325 is just really cool. A quick look shows ZipZoomFly selling it for $299.99, and Newegg selling it for $318.00.
Pros:
+ SILENT!
+ Great performance
+ Good bang for your buck
+ VIVO capabilities
+ Decent bundle
Cons:
– Gets hot!
– Overclocking potential low
Final Score: 9 out of 10 and the Bjorn3D Golden Bear Award