The NEX 3 is a small, SD-based MP3 player / FM radio. If you have basic needs and a spare SD card, then this simple player might just be what you've been looking for.
Introduction

---
Today, I am looking at Frontier Labs NEX 3 MP3/FM Media Player. This is the first M3P player I have looked at so the review will be based off of what I think of the product and not comparing it to other products. Also, I have not had much use for such devices but having a music junky daughter, I figured I could use her input on what see thinks of the player after using it several days. She is also only 10 and tends to be a little rough on things, so we should see how well the player takes some real life use.
Many of you may have not heard of Frontier Labs, which is understandable since they have only been around since 2003. The NEX 3 one of the four products the company currently sells; actually two of its products are based off of the NEX 3 with the NEX 3+ adding a FM transmitter to the NEX 3 so you could listen to your MP3s in the car or in your home over your radio.
Features, Specifications & Bundle

---
Let's look at the features, specifications and what you get with the NEX 3.
Features
Stylish, Light and portable
Single Jog-Lever for easy and precise control
Solid state construction with no moving parts
Uses Secure Digital memory cards for storage
Infinite memory expansion configuration (limited by the capacity of memory card)
Supports multiple formats, such as MP3 & WMA™ and WMA with DRM9
Backlight (with choice of backlight settings)
Displays ID3 Tags, duration of songs, memory level, battery level & etc.
Equalizer – 5 bands
Pre-set sound mode – Jazz, Rock, Classic, Dance & Latin
Smart play functions (repeat once, repeat all, single folder, repeat folder and random)
Draws power from USB connection
Built in FM Radio
FM Record in MP3 format (bit rate selectable)
Direct line in encoding in MP3 format (bit rate selectable)
Voice recording in MP3 format (bit rate selectable)
Multi-language support
ID3 Tags V1, V2, with lyric support
USB2.0 Plug & Play Mass Storage Device
Mac, Win 98/ME/20/XP compatible
Firmware upgradeable
Sleep timer, multiple folder support, Menu scroll during song play, Resume and Auto shut down
Specifications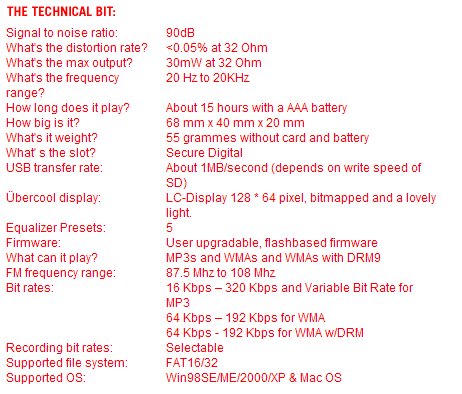 Bundle
NEX 3 MP3/WMA™ player with radio and recorder
Stylish earphone with neck strap
Windows Media Player™ 10.0
Instruction Manual
USB cable
Line in cable
As you can see, you get some good features for a device that is smaller than the palm of my hand.
Using the NEX 3

---
The first thing you must do when buying the NEX 3 is to also buy a SecureDigital (SD) card. It would have been nice if they had included a small card with the player, but they did not. To look at the plus side of this is to say you can buy as big of a card as you want, depending on how many songs you want to have on the player at your disposal. Also the NEX 3 will work as an FM radio without having a memory card in it.
I am using Windows XP Pro so no software needed to be installed to use the NEX 3. You can get songs onto the NEX 3 in several ways. You can have Media Player 10 synchronize your play list to it, copy your files to it by using it like another drive letter (in my case I: on my main machine), or take the SD card and copy files to it from a reader if you have one. I tested all three ways of doing it, and they worked just fine. I found the easiest was just to use the USB cable and drag and drop my music onto the NEX 3. This also worked the best for my 10-year old daughter.
Using the controls of the NEX 3 took a little getting used to; almost everything is controlled by the Jog Dial. I found the easiest way to control the dial is with my index finger. By using this finger, I got used to not pushing down too hard to go to the wrong settings and just giving a simple easy tap to make the selections. The – and + buttons on the player only control volume, and the M on the player lets you modify setup selections when you have made them.
Performance-wise, the NEX 3 works flawlessly for MP3 and WMV playback. Since it is a total solid state device, there is no worry of crashing the hard drive with hard jolts. I made a couple of recordings of me talking, and they came out not bad at all. I do not know if it would work well in a classroom environment since the instructor would be at a distance, but it worked well for dictation. The FM section works, but getting a good stereo signal depends on how strong the signal is. I had a few times when just moving around the room, it would drop to mono or lose the station all together. Of coarse, part of this could be because we have very few strong radio stations on the South Jersey Shore.
Conclusion

---
Well, after my daughter using it for a weekend and myself using it for several hours, I can say the NEX 3 works well. Of course, this is my first MP3 Player testing, so I am sure there are a lot better players out there, but you have to look at their cost. This player is very new, and I could not find any prices online for it at the time of writing the review. I was told to expect it to sell for between $59.00 and $75.00 US. This puts it in a tough segment with devices that come with memory. On the other hand, if you want to buy a 512MB to 1GB SD card to hold a lot of your music, this could be right up your alley.
Pros:
+ Nice small unit, easy fit in a shirt pocket. Also works well for a child's hands.
+ Rubber coating protects from drops and scratches.
+ Good quality ear buds.
+ Amount of songs depends on size of SD card you buy
Cons:
– Comes with out any memory card (a small card would have been nice).
– Jog Dial takes some getting used to.
Final Score: 7.5 out of 10