If you want a big, stylish and roomy case, then you should definitely take a look at our review of Lian-Li's PC-V1200 Extended ATX case. Like other Lian-Li cases, this one is made of aluminum and not only has awesome features but also great looks.
Introduction

---
For a long time, some Bjorn3D staff members have been big fans of Lian-Li cases. I myself had never had one before and just heard the guys rave about them and read our review of the Lian-Li PC-V1000 case.
The problem I have always found in looking for a case is NVIDIA graphics cards seem to be long, and, with cards coming out with dual NVIDIA GPU's on one card, I knew they were going to be longer yet. I am sure many of you faced the graphics card power leads smashing up against the hard drive in your efforts at one time or another.
So my hunt started for a case that was deep but not tall like a full-sized tower. Shane suggested that I look and see if Lian-Li had anything (yeah, he is a big Lian-Li fan) that would fit my needs. So I called over to CrazyPC and told them what I was looking for, and they pointed me to the V1200. I read the specs and told Nick (the owner of CrazyPC) to get me a V1200 in silver.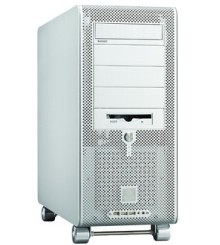 Features & Specifications

---
Features
All Aluminum Construction.
Aluminum power button
Aluminum CD/DVD ROM bezel x 1; FDD bezel x1
5.25″ to 3.5″ bay insert with aluminum FDD bezel
12 Drive Bays Total (1 shared 5.25 and 3.5 bay)
Aluminum CD-ROM bezel
Multi-ventilators for heat dissipating
Multi-media I/O: IEEE 1394 port x 1, USB 2.0 x 2 MIC x 1; EAR x 1
Super bright HDD and PWR LED; adjustable multi-color LED light effect
Horizontal converter kit for hidden HDD
Sound damping aluminum fan cover
High efficiency silent 2 x 12CM ball bearing fans installed
Side panels can be assembled with the smart design screws
Sliding track for hidden H.D.D
Wheels stand with brake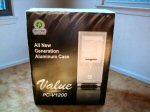 Specifications
Drive Bays: 5 x 5.25″ external, 1 x 3.5″ external, 6 x 3.5″ internal
Case Entry: Easy access side panels are removed with thumbscrews.
External Switches/ights: HDD LED, power LED, power switch
Motherboard Type: Extended ATX & Pentium 4 (Max Size: 12″x13″)
Front I/O: IEEE 1394 port x 1, USB 2.0 x 2, MIC x 1, EAR x 1
Fan: 2 x 12CM ball bearing fans
Slot: PCI Slot x 7
Dimensions: 210X450X525mm(W,H,D)
As you can see the case can handle up to Extended ATX motherboards; these are the type of motherboards used in workstations and servers. This should tell you right away with having this kind of depth, we should not have any video cards bumping into things.
As you can see, the case has plenty of room for SLI-based systems. We can see this from the pictures above with 7800 GTX's in the case. The layout of the case keeps the hard drives in the lower section of the case. It has room for six drives; this should be plenty for even the hardest core enthusiast. I myself am using three in this case. The one thing you will need to make sure is to get longer SATA cables for your hard drives when using this case. I went with 24-inch cables for this duty. They gave me some extra length to route the cables the way I wanted.
Performance

---
The case design is very interesting in that it inverts everything and divides the case into separate areas. We have the lower section that brings in air for the hard drives and is exhausted out of the back of the power supply. The next area has an exhaust fan that sits right behind the CPU. This is to bring hot air out of the case from the CPU and RAM. Hot air from graphics cards, other expansion slot cards and the 5.25″ drive bays exhaust by using the holes in the front and back of the case that wrap over the top of the case. There are even holes in the bottom of the case to let cooler air from the bottom of the case to be pulled up into the case. The design seems to work very well as long as you do not block the air flow design. I did mess up the air flow when using the Gigabyte G-Power Cooler Pro (http://www.bjorn3d.com/read.php?cID=799&5798).
The height of the Gigabyte cooler disrupted the cool air being pulled in from the rear exhaust fan and created a hot spot. The CPU and the motherboard probe report much higher temperatures than the case did with my Thermaltake K450 cooler, which has a much lower height profile. In all my cases, I have been able to take my hand and put it anywhere on the top of the case and feel the build up of heat at the top of the case. With the V1200 by using a thermometer on different parts of the case, the temperature only varied by 3 degrees on the top of the case compared to the other parts of the case. This is much better than standard ATX case where I have measured the difference being as much as 20 degrees warmer at the top of the case
Conclusion

---
If you want to have a very stylish case with a lot of room to work in, then look no farther than the PC-V1200 from Lian-Li. This is the best constructed case I have ever used. The cooling design works very well; it almost looks like a BTX type of idea that Intel is pushing for better cooling. Basically, the case is a V1000 but longer with more room for hard drives and a bigger power supply.
I want to thank CrazyPC for supplying the case! You can find it for sale at their online store right here.
Pros:
+ Lots of room to work in
+ Very good looks
+Cooling performs very well
+Very solid construction
Cons:
– It is expensive
– No reset button
Final Score: 9.5 out of 10 and the Bjorn3D Golden Bear Award