USB flash drives are more popular than ever. Many students and nine-to-fivers have realized and embraced their value and importance. If you don't want to risk losing a cap, then Transcend has a solution for you — its new JetFlash 110 line, which features a sliding USB connector. Check it out in this review!
Introduction

---
If USB drives weren't so popular, companies wouldn't keep releasing bigger and bigger ones. I am glad they keep getting bigger and more popular. In addition to growing in capacity, USB flash drives are becoming more and more affordable. You can easily get a 1GB drive for less than $70. I remember just a while back when they were triple that.
Today, drives larger than 1GB are quite common. Some companies even have 4GB drives! For most people though, 1GB is more than enough for carrying around school or work documents. A couple of current trends in the USB drive market are making the drives physically smaller and making them easier to use (mostly by coming up with alternatives to the caps you see on most flash drives). Many people must have lost their drive caps in order for several companies to have developed solutions to this problem. One such company is Transcend, which released its JetFlash 110 series recently.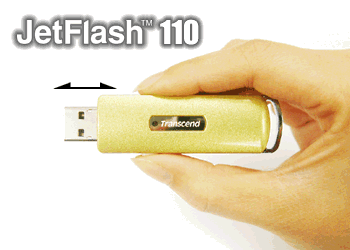 As you can see in the animation above, the USB connector actually slides into the drive's casing when not in use. This way you never have to worry about a cap. In this review, I'll be taking a look at the 1GB version of this drive. If you're interested in a portable storage solution like this, be sure to keep reading to see how much I like the Transcend JetFlash 110 1GB USB 2.0 Drive and to see how well it performs.
Features, Specifications & Accessories

---
Features
Elegant design with sliding USB
Fully compatible with USB 2.0
Easy Plug and Play installation
PC-Lock Function: Makes JetFlash110 a key to your computer
Boot-Up Function: Makes JetFlash110 a bootable device
Partition & Security Function: Create a private partition with password protection
Recovery Function: Restore JetFlash110 to its default settings
Driverless (Only Windows 98SE needs the enclosed driver)
Powered via the USB port. No external power or battery needed
LED indicates the usage status of the JetFlash110
Specification
Size : 64mm x 21mm x 10mm
Performance : Read 10 MByte/s, Write 8 MByte/s (128M~1GB), Read 18 MByte/s, Write 14 MByte/s (2G)
Data Retention : Up to 10 years
Erase Times : > 100,000 times
Weight : 11g
Certificate : CE, FCC, BSMI
Warranty : 2 years
Accessories
Labels
Neck Strap
Driver/Utility CD
USB Extension Cable

Closer Look & Software

---
The JetFlash 110
As you can see below, the JetFlash 110 comes in a standard blister pack. Who doesn't hate those things, right? The drive itself is a cool red color that actually sparkles a little but under light. It reminds me of my car paint. Each capacity of JetFlash 110 gets its own color. One size is blue; one size is yellow; and so on.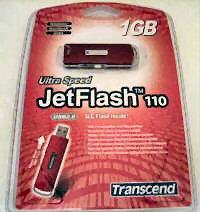 Like many USB drives, this one is about the size of a pack of gum. I prefer something a little smaller if it's going in my front pocket, but this one wasn't bothersome when toting around in my pockets. When being used and actually reading or writing data, a blue LED blinks to indicate that the drive is working.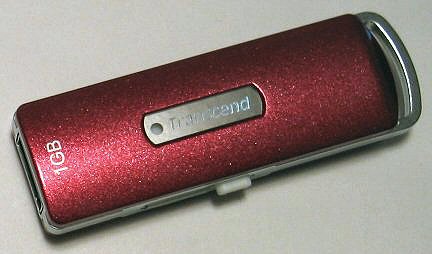 As mentioned in the introduction, the USB connector is actually retractable. I guess that makes this…the switch blade of flash drives! As you slide a "button" on the side of the drive up and down, the connector slides out and back in, respectively. The design works quite well. If you "close" it completely, the connector locks into place and doesn't have a tendency to slide out on its own.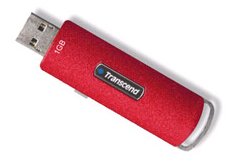 Software
The included JetFlash utility software definitely adds some value to this package, but software like this is pretty commonplace now with USB drives. Transcend has done a nice job with its JF software. It's easy to use and has a straightforward interface.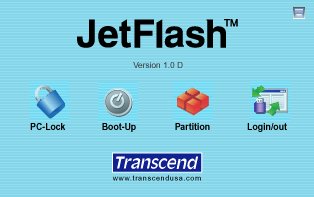 With this software, you can: lock your PC and make the JetFlash 110 a key to your computer; make the JetFlash 110 a bootable device; create a private, password-protected partition on the JetFlash 110; and restore the JetFlash 110 to its default settings.
Performance

---
I love using Sandra 2005 to quickly assess the potential performance of a storage device. It's quick, easy and offers some good comparisons. The JetFlash 110 1GB drive performed quite well, as you can see below. A Drive Index of 13MB/s for a USB 2.0 drive is pretty good. This drive performs better than the Imation 1GB Swivel Drive that I reviewed a while ago.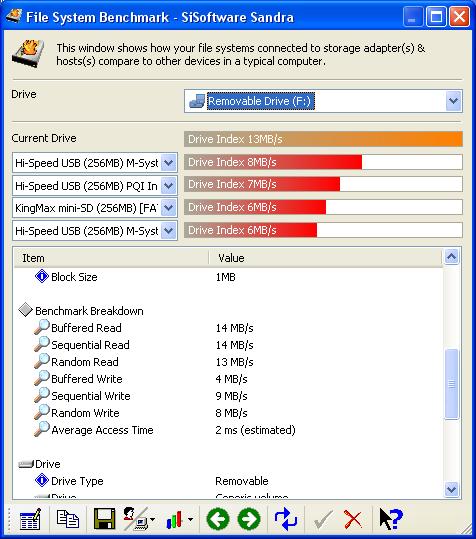 After running Sandra, I performed a bunch of manual file transfers to see if the results were realistic or not. Typically, the drive doesn't perform quite as well as Sandra suggests, but it gets close. That is the case here. The JetFlash 110 1GB performs better when doing large file copies to the device, hitting almost 8MB/s when I transferred 622MB of files.
File Transfers – Time / Rate

7.43 MB (24 files, 5 folders)

6.24 secs / 1.19 MB/s

68 MB (5 files, 4 folders)

10.61 secs / 6.41 MB/s

622 MB (20 files, 7 folders)

78.56 secs / 7.92 MB/s
I was pleased by the zippy performance of the 1GB JetFlash 110 while using it the past month.
Conclusion

---
The Transcend JetFlash 110 1GB USB Drive is a great little gadget. The drive offers good performance and a unique sliding connector. If you don't want to have to worry about a cap and want solid performance and reliability, then you can't go wrong with the JetFlash 110.
The included accessories add value to the package. While many USB drive makers are no longer including the once important USB extension cable, Transcend still includes it. This will be handy for those who don't have front USB ports. The software is very useful and intuitive.
This 1GB drive is also quite affordable, at less than $70 at Newegg and $69.40 if you buy directly from Transcend at the company's online store. $70 is a fair price for this capable drive. Grab one today and pass some files around at your next LAN party!
Pros:
+ Good performance
+ Blue LED
+ Cool red color
+ Good accessories and software included
+ Retractable connector
Cons:
– Lint can get in the connector if you carry the drive in your pocket
Final Score: 9 out of 10 and the Bjorn3D Seal of Approval