ECS has always been a "go to" brand for budget motherboards when top performance wasn't a concern. Now, with its Extreme line, though, ECS offers great performance and maintains a great price, which results in excellent bang for the buck. Check out ECS's solid nForce4 Ultra offering – the KN1 Extreme.
Introduction

---
For many years now, ECS has been known as a budget motherboard manufacturer. I can think of many times where I saw $50-60 ECS motherboards being recommended for budget systems. I even bought one for some basic need I had several years ago. I think it was a VIA-based board, and it ran quite well. I never had a problem with it and never regretted spending around $65 for it.

Apparently, ECS was tired of getting overlooked by enthusiasts and decided to start an "Extreme" line of motherboards. While the term "extreme" has become a silly 2000's cliche, it still manages to catch our attention. What is catching more people's attention, though, is the early success of these Extreme mainboards. ECS is now not only delivering great buys but also great performance, competing quite well in a previously untapped segment with compelling bang-for-the-buck offerings.
Today, I'm going to be looking at ECS's nForce4 Ultra motherboard that is turning heads. The board is the KN1 Extreme and offers all the goodies we've come to expect from nForce4 Ultra at a very affordable price level. Read on to learn more about this "extreme" motherboard.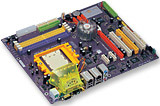 Features & Specifications

---
Features
HT 2000: More bandwidth, low latency, and better efficiency
Dual Channel DDR: Expands memory bandwidth to 6.4GB/s and supporting up to 4GB of memory
Q-Boot: F11 Hot key to boot from different devices
192KHz 6-CH Sound: On board 6-CH Audio Chip brings a more vivid sound experience
AC Resume: Auto restart after power loss
Data Processing Utility: A "time machine" to protect and restore files!
Top-Hat Flash: With this ECS patented kit, you can cure all BIOS ills
Anti-Burn Guardian: Alert before inserting or removing memory module
Dr. LED: Fuzzy logic design for diagnosing PCI slots health
Dual Faced Cable: An easy, user-friendly way to plug-in or remove digital devices
Giga LAN: Supports a high transfer rate up to 1 Gigabit
Easy Match: Color-coded pin headers and slots make it easy to match plug
EZ Flash: Flash BIOS from Windows!
Round Corner PCB: Rounded corners for strength and safety!
SPDIF Shutter: An dust-proof auto shutter for optical connector!
PCI Extreme: This slot can provide ultra signal quality for outstanding audio and video card performance.
Cooling Accelerator: A cooling channel with a fansink placed on top of the PWM controller
NVRAID: Uniquely allows users to assign an extra disk to any RAID volume so that should a disk failure occur NVIDIA RAID will automatically remote the failed disk and replace it with the spare.
Serial-ATA 2: Double bus bandwidth which provides blazingly high disk performance, ensuring your computing experience will be faster, more reliable, and completely with current and future hardware and software.
nTune: Easy, safe and high performance over-clocking available for NVIDIA NFORCE. Performance wizards allow automatic tuning for optimal performance or the quietest operation.
ActiveArmor: Enhances network security while delivers the highest system performance, providing users with a PC. Networking environment that is both fast and secure.
NVIDIA Firewall: NVIDIA firewall protects your PC from intruders by filtering unauthorized traffic.
Specifications
CPU

Socket 939 for AMD Athlon™ 64/ Athlon™ 64 FX processor
High-performance Hyper Transport CPU interface
Support transfer rate of 2000/1600/1200/800/400 mega-transfers per second

CHIPSET

NVIDIA NFORCE4 Ultra single chip

MEMORY

Dual-channel DDR memory architecture
4 x184-pin DDR SDRAM DIMM socket support up to 4 GB
Support DDR400/333/266/200 DDR SDRAM

EXPANSION SLOTS

1 x PCI Express x16 slot
2 x PCI Express x1 slots
3 x PCI slots

STORAGE

Supported by NFORCE4 Ultra
    – 4 x Ultra DMA133/100/66 devices
    – 4 x Serial ATA2 devices
Supported by SiS® 180
    – 2 x Ultra DMA133/100/66 devices
    – 2 x Serial ATA devices
RAID0, RAID1& RAID 0+1 configuration

AUDIO

Realtek ALC655 6-Channel audio CODEC
Compliant with AC'97 2.3 specification

DUAL LAN

Realtek 8100C 10/100 Mbps Fast Ethernet controller
Marvell 88E1111 Giga LAN PHY

IEEE 1394a

TI TSB43AB22A support 2 x IEEE1394a

REAR PANEL I/O

1 x PS/2 keyboard & PS/2 mouse connectors
4 x USB ports
2 x RJ45 LAN connectors
2 x Digital SPDIF (Optical & Coaxial) out
1 x Serial port (COM1)
1 x Audio port (Line-in, Line-out, Mic-in)

INTERNAL I/O CONNECTORS & HEADERS

1 x 24-pin ATX Power Supply connector
1 x 4-pin ATX 12V connector
1 x FDD connector supports two 360K~2.88MB FDDs
3 x IDE connectors
6 x Serial ATA connectors
1 x SMBus header
1 x LPT1 header
1 x IrDA for SIR header
2 x 1394a headers
3 x USB 2.0 headers support additional 6 USB ports
1 x Front panel switch/LED header
1 x Front panel audio header
CD in header
CPUFAN/NB_FAN1/CASFAN1~2 connectors

SYSTEM BIOS

Award BIOS with 4Mb Flash ROM
Supports Plug and Play 1.0A, APM 1.2, Multi Boot, DMI
Supports ACPI revision 1.0B specification

FORM FACTOR

ATX Size 305mm*244mm
Bundle – What's in the Box?

---
The KN1 Extreme comes in a large and relatively simple box. Like most other companies, ECS throws in useful cables and software.
So, what is all included in the KN1 Extreme box? Here's a quick list.
2 x CDs with a software bundle, drivers and utilities

InterVideo WinRip 2
InterVideo WinDVD Creator Plus
InterVideo WinDVD
Data Process Utility
I'm InTouch
Pro Magic Plus
Showshifter

6 x Serial ATA cables
Power cable for 2 Serial ATA hard disk drives
Two 80-pin Parallel ATA cable and a black FDD cable
Bracket for the back panel of the system case with one parallel (LPT) port
Bracket for the back panel of the system case with two High-Speed USB ports and two FireWire ports (6-pin and 4-pin)
Bracket for the 3.5" bay of the system case to move two High-Speed USB and two FireWire ports from the back-panel bracket to the front panel
I/O shield for the back of the system case
Two-meter-long Ethernet cable
Top-Hat Flash
User manual
ECS Extreme case badge
ECS did a nice job with the bundle and generously includes six SATA cables (one for each port on the board) and an ethernet cable, which I've never seen included with a motherboard before. A geek can appreciate having an extra ethernet cable or two laying around; you never know when you or a friend might need one. Since there is no room on the back I/O ports for a parallel port, ECS includes a parallel port bracket that connects to a header on the board. The included USB/FireWire bracket can be converted to work in a 3.5″ bay. I was quite impressed by the KN1 Extreme manual. It is above average on thoroughness and includes color pictures, which together make for very nice reference material.
The Top-Hat flash module is one of the most interesting bundled goodies I've seen in a long time. ECS designed this little gadget so that you could reset your BIOS by installing this on the BIOS chip on the motherboard. If you suffer a bad flash, then just follow the simple instructions to use the Top-Hat, and you should be good as new. Nifty idea and works well!
Board Layout

---
The KN1 Extreme is undoubtedly one of the least crowded boards I've ever seen. Usually this means less features, but that's not the case here (nForce4 Ultra has great features). You can see the interestingly colored connectors and purple PCB in the pictures below. The colors actually work pretty well for distinguishing types of ports and slots, and some glow nicely under UV light.
Let's take a closer look at each section of the board. In the first picture below, you can see the CPU socket and the top of the rear I/O ports. Unless your eyes are closed, you have noticed the interesting cooling solution ECS incorporated into the rear ports. More on that in a minute. For now, just notice how beautifully uncrowded that CPU socket is in the first and second shots. ECS did a wonderful job keeping the socket free from obstacles, so you shouldn't have much trouble installing the cooler of your choice on the KN1 Extreme.
In the third picture, you can see the two PCI Express x1 slots, one PCI Express x16 slot, and three PCI slots (one of which ECS dubs the PCI Extreme slot). Once again, the layout here is good, but the floppy connector and FireWire headers are very close to that PCI slot on the end, which I could see posing a problem if you happen to have all slots and headers in use. It could get crowded there, but I bet that affects very few users.
When we flip the board around, we find the storage connectors and a bunch of headers. The nForce4 Ultra chip provides four SATA II connectors and two PATA IDE connectors that support four total Ultra DMA133/100/66 devices. The SiS 180 controller provides two SATA I ports and one Ultra DMA133/100/66 connector. In addition to the storage connectors, you can see three yellow USB 2.0 headers and two orange IEEE 1394a (FireWire) headers.
In the second image, you can see the cooler that ECS designed to keep the nForce4 Ultra chip cool. I was surprised by how tall it is, but it didn't get in the way when I installed components on the board (although I could easily see it causing some people issues). Your video card may get close to it, but this shouldn't be a problem. In the last picture, you can see the four color-coordinated DIMM slots that support up to 4GB of DDR400.
To wrap up the board tour, let's take a look at the rear I/O ports. ECS includes a PS/2 mouse port, PS/2 keyboard port, optical and coaxial S/PDIF outs, one serial port, one 10/100 LAN connector, one gigabit LAN connector, four USB 2.0 ports, and one set of audio ports (Line-in, Line-out, Mic-in). The odd duck here is that big neon green plastic shroud. This is ECS's attempt at keep your components cooler for improved overclocking performance. The sad thing is that the I/O shield isn't cut out for the square exhaust hole. The shield just has a parallel port cut-out where the fan will exhaust. Why not just cut it out properly for the rear fan?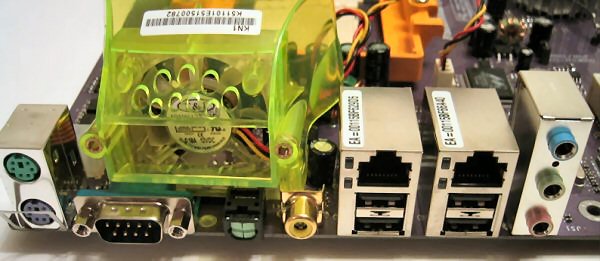 One thing I would like to see more on this board is fan connectors. The board has four connectors, but two of those are already taken by the nForce4 cooler and the rear I/O fan. That leaves two, but one of those is for the CPU cooler. With only one case fan connector left for users, I think some people will be left wanting another connector.
Test System & Benchmarks

---
In this review, I'll be comparing the ECS KN1 Extreme to two other nForce4 boards: the DFI LANParty NF4 SLI-DR and the Foxconn NF4UK8AA-8EKRS nForce4 Ultra motherboard. I matched these boards with an Athlon 64 3200+, 1GB of Corsair's 3200XL DDR, a reference NVIDIA GeForce 6800 GT, and a Maxtor SATA drive. You can see a list of the test system's components below.
Test System
AMD Athlon 64 3200+
Mobo 1: ECS KN1 Extreme
Mobo 2: DFI LANPARTY NF4 SLI-DR (review)
Mobo 3: Foxconn NF4UK8AA-8EKRS (review)
NVIDIA Reference PCI-Express GeForce 6800 GT – DirectX 9.0c, ForceWare 66.93
Maxtor 120GB Serial ATA 7200RPM Hard Drive w/ 8MB Buffer
Windows XP with Service Pack 2
Benchmarks
SiSoftware's Sandra 2004 SP2b (CPU Arithmetic, CPU Multi-Media, Memory Bandwidth and File System)
Futuremark's PCMark04 v1.3.0
AquaMark3
Futuremark's 3DMark03 v3.6.0
Futuremark's 3DMark05 v1.2.0
Doom 3 (1.1)
Far Cry (1.3)
Half-Life 2
Performance – System Tests

---
As you can see in the graphs below, the KN1 Extreme performs very similarly to both the DFI and Foxconn boards.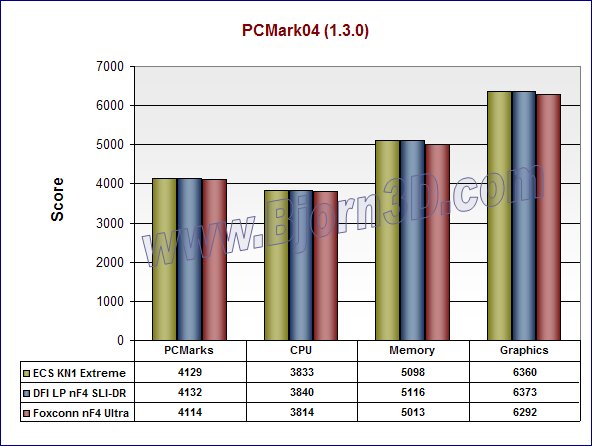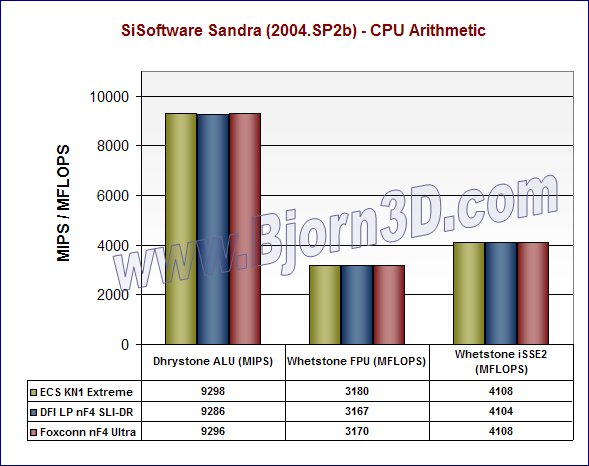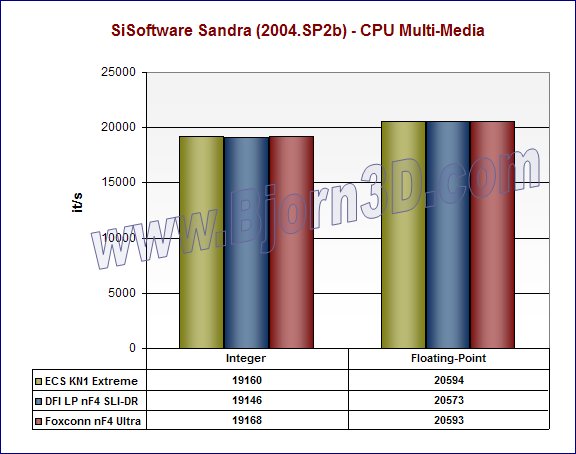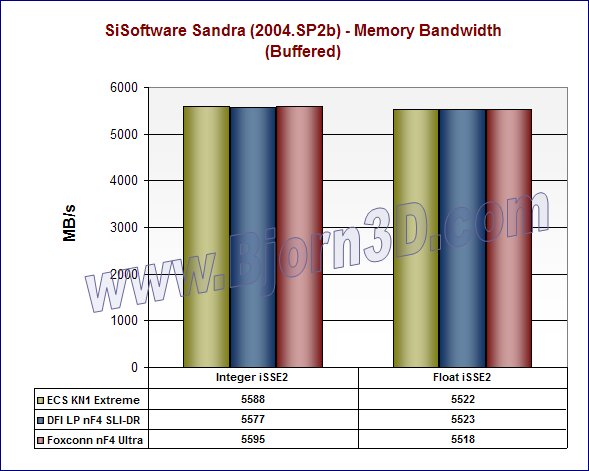 Performance – Game Tests

---
Just like the system benchmarks, the game tests I did revealed very similar performance between all three boards.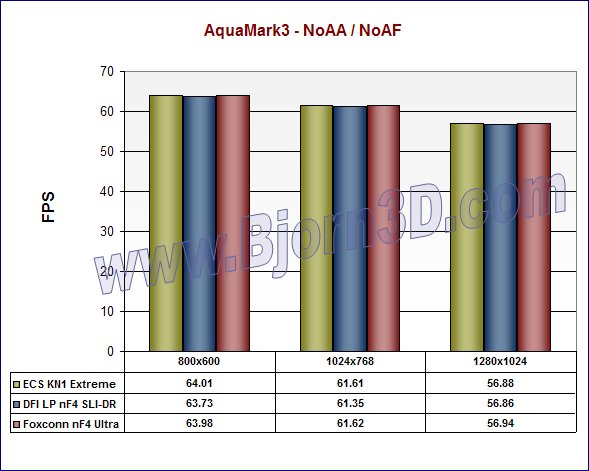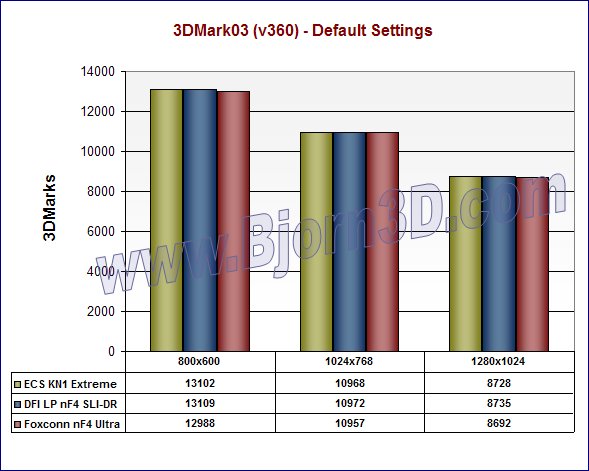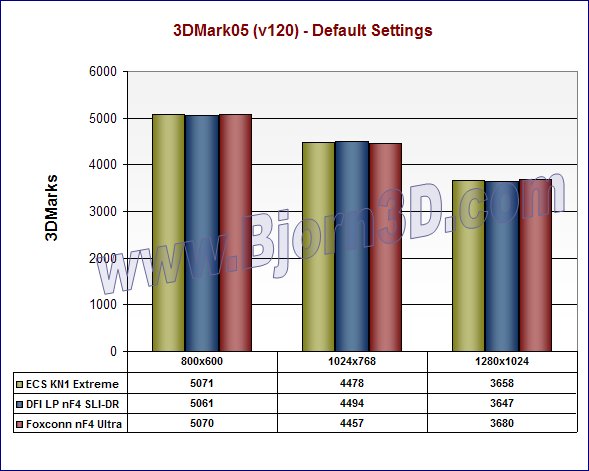 Performance – Game Tests (cont'd)

---
I ran several real-world gaming benchmarks, and the results followed the same pattern.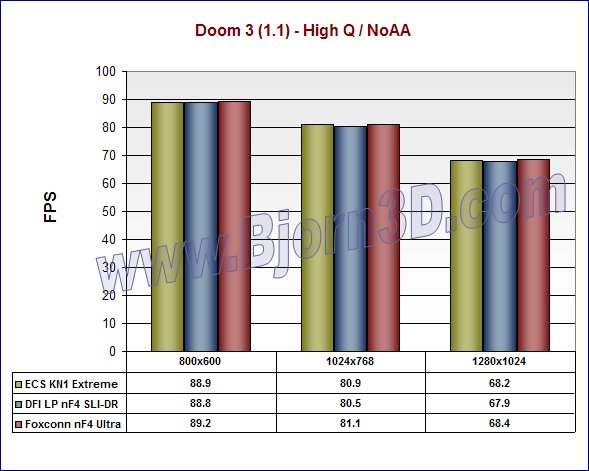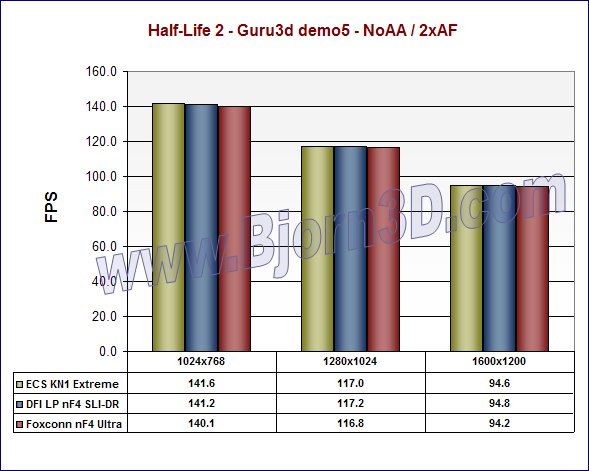 Overclocking & Conclusion

---
Overclocking
I'm happy to say that I actually had a fairly good overclocking experience with the KN1 Extreme. At a 1:1 CPU clock to memory clock ratio, I was able to hit 223MHz on the CPU frequency. That's all the higher I could go, though, even after boosting voltages. That overclock resulted in a Sandra memory score of over 6,000MB/s. Not too shabby.
I didn't stop with that. With the default 10x multiplier, I clocked the memory down to 166MHz in the BIOS and began raising the CPU clock again. Instability didn't set in until I went past 250MHz, which is respectable and meant that my 3200+ was running at 2.5GHz. The system was hitting over 6200MB/s in Sandra memory bandwidth with that overclock, and the 3DMark05 default score was 4900.
Final Thoughts
ECS set out to provide users with one of the best bang for the buck nForce4 Ultra solutions on the market, and I think it has succeeded. You get performance on par with other good boards, a nice bundle, great features and good overclocking for only around $100 according to our price search engine. You can get the KN1 Extreme from ZipZoomFly for $99 or from Newegg for a little more (as of 8/17/05). This board is worth that and more. Spend the money you save on a better video card!
The KN1 Extreme is of course not perfect. I think ECS should consider just making both onboard LAN connections gigabit instead of letting one be 10/100. Also, to refine the package more, ECS should create a custom I/O shield that includes the correct cut-out for the rear fan and not make users settle for the parallel port cut-out. Oh, and the nForce4 Ultra chip heatsink, while cool looking, might cause some issues because of how big it is.
Pros:
+ High bang for the buck
+ Very affordable
+ Nice manual
+ Good bundle
+ Good layout
+ Good overclocking potential (your results will vary)
Cons:
– I/O shield not designed for fan exhaust
– Why include one gigabit and one 10/100 ethernet port?
– Big nForce4 Ultra heatsink could cause headaches
Final Score: 9 out of 10 and the Bjorn3D Seal of Approval
Resources