Antec's Phantom 500 is a 500W silent power supply, but it's not fanless like most silent PSU's. The Phantom 500 is a "hybrid" design that includes a fan that only comes on at a certain, user-configurable temperature and then shuts off after lowering to that temperature. Check out our review of this high efficiency and quality PSU.
Introduction

---
More than ever, people seem to be paying attention to noise levels in their PCs. Apparently, people realized they didn't have to put up with loud fans any longer than they wanted to. Silent and nearly-silent parts, like fans, have really gained a lot of ground in the last couple years.
Obviously, the best way to quiet down a system is to minimize the number of fans in it. Fanless video cards and power supplies have become increasingly popular for that very reason. Adam reviewed the original Phantom 350 back in November last year and was pretty impressed by it. Today, it's time to look at its 500W big brother – the Phantom 500.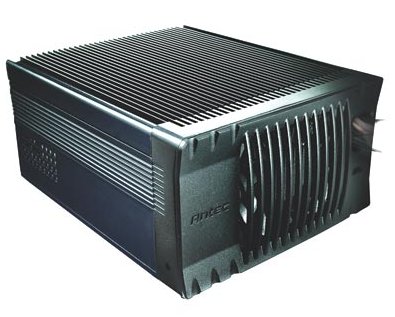 Features & Specifications

---
Providing silence most of the time is the Phantom 500's big attraction point, but the high efficiency levels should also be emphasized. The efficiency of this unit is over 80% at full load. Many PSU's don't even come close to that.
ATX12V version 2.01 compliant with 24-and-20-pin adapter connector with detachable 4-pin section for 20-pin for backward compatibility with older motherboards
Dual +12V outputs, with dedicated circuits to isolate the CPU power line from peripherals.
Hybrid fan design
Exceptional power efficiency up to 86% (US version) at full load
4 Serial ATA power connectors
PCI-E graphic card power connector
Fanless operation for absolutely silent computing. Three user selectable fan kick-in points for quiet computing under higher loads: 40, 47.5, or 55 degrees C.
Specially designed internal heatsinks and chassis heatsink for maximum heat dissipation
ATX12V v2.0 compliance and ultra-high-efficiency design (up to 85%) allows Phantom to generate up to 70% less heat and consume 25% less power than standard PSU's saving you money on your electric bill
Power Factor value greater than 90% (EU only)
Gold plated connector for superior conductivity
FEATURES
Switches
ATX Logic on-off
Additional power rocker switch
Maximum Power
500W

Transient Response

+5V,+12V and 3.3V outputs return to within 5% in less than 1ms for 20% load change.

P. G. Signal

100-500ms

Over Voltage Protection
recycle AC to reset

+5V trip point < +6.2V
+3.3V trip point < +4.1V
+12V trip point < +14.3V

Special Connectors

ATX12V
SATA
PCI Express

Leakage Current

<3.5mA @ 115VAC
DIMENSIONS

Unit Size

5.9″(W) x 7.2″(D) x 3.4″(H)
15cm(L) x 18.3 cm(W) x 8.6 cm(H)

Net Weight

6.65Lbs/3.1 KG
OUTPUT

 

+5V
+12V1
+12V2
+3.3V
-12V
+5Vsb

Max. Load

30A

17A

18A

30A

0.5A

2.0A

Min. Load

0.3A

0.3A

0.3A

0.3A

0A

0A

Load Reg.

±5%
±5%
±5%
±5%
±5%
±5%

Rippe
V(p-p)

50

120

120

50

120

50
INPUT

Input Voltage

100Vac to 240Vac +/- 10%

Input Frequency Range

47Hz to 63Hz

Inrush Current

60A @ 115V , 80A @ 230V

Input Current

9A @ 115V, 5A @ 230V

Hold-up Time

20ms at full load

Efficiency

82%(with PFC) at full loads, 115V/230Vac 60/50Hz

EMI/RFI

FCC Class B
ENVIRONMENTAL

Operating Temp.

10 ºC to 50 ºC

Operating Alt.

Sea Level-10,000 ft

MTBF

80,000 hours at 25'C

Safety Approval

TUV, UL, CUL, CE, CB, FCC
Closer Look

---
The packaging for the Phantom 500 is unquestionably one of the nicest I've seen for any power supply. It's simple but very classy. The PSU is packed in a large box, and inside the box, the unit is fully surrounded by about an inch of dense foam. The cables are neatly tucked to the side.
As you might expect from a high quality and silent PSU, the Phantom 500 is quite hefty at around seven pounds and over seven inches in length. This is actually over an inch longer than the Phantom 350 and definitely one of the longest consumer-level PSUs on the market. Keep that in mind before you purchase it. Check the clearance in your case. And, in case you're curious, here's a rundown of the connectors included with this power supply.
1 x 24-pin power cable (convertable to 20-pin)
1 x 8-pin EPS12V cable
1 x 4-pin 12V power cable
1 x PCI Express connector
2 x Floppy drive connector
5 x Molex (4-pin) connector
4 x SATA
The Phantom line features a cool, jet black look. The design makes it look like a giant heatsink. I actually dig the simple, clean looks. At the back of the unit, you can see the usual power switch and plug. On the opposite side, Antec has located the fan, which only comes on at a user-selectable temperature. As long as the PSU doesn't hit that selected temperature or higher, then the fan will stay off, and the unit remains silent.
The Phantom 500 comes with all the necessary goodies to get set up – power cable, screws, manual, and even a cable to convert a single PCI Express connector to two PCI Express connectors. In the manual, Antec notes that "your chassis must be well-ventilated" before installing the Phantom 500. Most PSUs are designed to help cool the system by exhausting air out the back of the case, but the Phantom 500's fan will remain off as long as its internal temperature doesn't reach the user-determined level. This is why you must have other means of adequate heat exhaust in your system before using the Phantom or any other fanless PSU.
The 3-position fan switch for changing the fan operating mode is located directly under the cables coming out of the PSU, which unfortunately means it will be inside your PC and not convenient to change once you set it and install the PSU. Additionally, you will probably have to use a pen or some small stick-like object to move the switch. The three fan positions and corresponding temperatures at which the fan turns on are as follows: 1) "High Performance" mode: 40°C; 2) "Quiet Computing" mode: 47.5°C; 3) "Virtually Silent" mode: 55°C. If you are using this PC in a system used for gaming or overclocking, then you should set the switch to position 1, "High Performance" mode.
Test System & Results

---
In the specs listed a few pages back, you can see that Antec claims that the +5, +12 and +3.3 voltage rails will remain within +/-5% of their rated values, which is a typical claim for companies (although some companies' units feature tighter regulation). Obviously, the less the voltages vary and fluctuate equates to more stable power, which your PC's components like.
To test the Phantom 500, I simply gave my test system a nice little workout, including running games, benchmarks and multimedia applications simultaneously, and then I recorded voltages. Before getting to the results, let's take a look at my test system.
NVIDIA Reference PCI Express GeForce 6800 GT
Maxtor 2 x 120GB Serial ATA HDD
Fans: 2 x 120mm
Windows XP with Service Pack 2
Hyperthreading = Enabled
You can see in the results table below that the Phantom 500 is a very stable PSU. The values I recorded were well within the 5% spec.
RESULTS (V)

 

+12V
+5V
+3.3V

Idle

11.95

4.98

3.29

Low

11.85

4.95

3.28

High

12.07

5.03

3.31
Conclusion

---
I have really come to like the "hybrid" design of the Phantom 500. The concept is simple really: keep the PSU silent as long as it is safe for the unit to do so; cool it down with a fan if needed. This allows you to keep one more component in your system absolutely silent most of the time. There may be times that the fan kicks in, and you will probably notice it, depending on how quiet the rest of your system is.
The high efficiency and high quality of the Phantom 500 are very appealing. The unit delivers stable power, plenty of cables for most systems, and a user-adjustable fan mode. Antec should definitely have positioned that switch on the outside of the case though. Admittedly, most users will set it and forget it.
It is worth stressing once again that this PSU is not made for a completely fanless case. Most modern PCs create a great amount of heat, and that heat must be expelled, at least to some degree. The Phantom 500 would make a great HTPC PSU, and that's exactly how I intend to use it. I can't wait to install it in the new SilverStone LC16M that I received recently (that is, if it fits of course).
Pros:
+ 3-position fan mode switch
+ Silent most of the time
+ High efficiency
+ Cool looks
+ Solid, stable power
+ SATA and PCIe connectors
Cons:
– System temps increased a bit
– Not cheap
– Long and heavy
– Fan switch should be on other side of PSU
Final Score: 9 out of 10 and the Bjorn3D Seal of Approval