Looking for a cheap way to build an Intel-based PC? Biostar's I945P-A7 is definitely worth a look. Read our review to see if it offers up enough features for you.
Introduction

---
A few months ago, Bjorn3D brought you an overview of some of the newest products from Intel, including the 945 mainboard chipsets. Shane provided a nice table summarizing Intel's newest chipsets in that overview.
Today, we bring you our first review of a retail 945P motherboard courtesy of Biostar. The I945P-A7 is currently Biostar's sole Intel 945P-based motherboard. It only offers a little more than a standard 945P board, though. Biostar added an additional PCI Express slot that it calls PCI Extreme (PCI-EX). Unfortunately, it's not exactly the SLI goodness you get from other motherboards equipped with dual PCI Express x16 slots – it's not meant for  gaming. However, using the two slots in tandem does require installing identical SLI-supporting NVIDIA-based video cards and drivers that support SLI and running it all under Windows XP. The PCI-EX slot operates as an x4 PCI Express slot, and the bridge connecting the two cards is required as it is with standard SLI. Basically, it seems to be a non-gamers SLI but on a mainboard featuring an Intel chipset.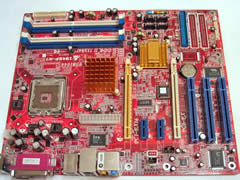 Specifications & Features

---
For full details on this motherboard, including a link to the included manual, check out Biostar's website. Here is a summary of the board's specs and features:
Specifications:
Chipset
Intel 945P/ICH7R
CPU Socket
Socket T (LGA775)
Front Side Bus
1066/800/533 MHz
Memory Support
4 DDR2 DIMM slots – up to 4 GB
Dual channel DDR2 667/533/400
PCI Express Slots
1 – x16 slot
2 – x1 slots
1 – PCI-Extreme slot
PCI Slots
3
USB / IEEE 1394
8 USB 2.0 ports / 1 IEEE 1394 port
Onboard IDE
1 – IDE channel supporting Ultra ATA 66/100
Serial ATA
4 ports
Onboard SATA RAID
Supports all 4 SATA connections
Configurations supported: RAID 0, RAID 1, 0+1
Audio
Realteck ALC882 8+2 Channel Audio Codec
Networking
Realtek RTL8110S – 10/100/1000 Mbps
Other I/O
1 – Parallel port
1 – Serial port
2 – PS/2 ports
1 – Floppy drive connector
1 – Front audio connector
Size
24.4cm x 29.7cm (W x L)
Features:
Supports the following LGA775 processors: Pentium 4, Celeron, Pentium D
Compatible with Biostar's WarpSpeeder overclocking utility
PCI Extreme slot for dual video card support (not traditional SLI)
Package Contents:
1 x SATA data cable
1 x IDE cable
1 x Floppy cable
Rear I/O panel shield
User's Manual
Installation CD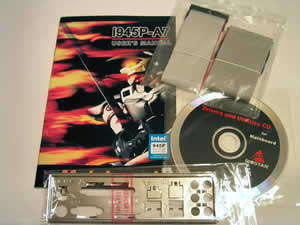 Installation & Board Layout

---
Installing Biostar's I945P-A7 in my Lian Li PC-6077 mid-tower case was simple enough. I had no problems setting up the test system for this review. I flashed the BIOS to the latest I could find on Biostar's website, and that process was simple and finished without a hitch, too.
Setting up a RAID 0 configuration with my two Seagate SATA drives using the RAID configuration utility was straightforward as well. Installing Windows XP and all other needed software was just as painless as the rest of this process. In case you haven't figured it out, this was a very easy installation.
Here's a closer look at the motherboard:

This layout posed no unusual challenges for me when working inside the case and hooking everything up to the board.

Performance

---
My test system doesn't meet all the requirements for using the PCI-EX slot, so I was unable to test the I945P-A7's dual video card feature.
Also, I did not have a competitor's board to compare to the I945P-A7. But I achieved a good overclock with this system and ran all benchmarks against the standard and overclocked configurations. These results are provided below.
With an Intel Pentium D 820 running in the test system, the default front side bus and memory clocks are 800 MHz and 667 MHz, respectively. This processor runs at 2.8 GHz at these clock frequencies. For the overclocking results provided below, I ran the system at 880 MHz and 736 MHz, which puts the processor at about 3.1 GHz.
Test System Configuration
Intel Pentium D 820 (2.8 GHz)
Biostar I945P-A7
Kingston KHX6000D2K2/1G (2x512MB 750 MHz DDR2) (review)
2 x Seagate Barracuda 7200.7 SATA NCQ 160GB hard drives in RAID 0 (article)
Leadtek WinFast PX6800 GT TDH (review)
Microsoft Windows XP with Service Pack 2
Forceware 77.77, DirectX 9.0c
PCMark04 (1.3.0)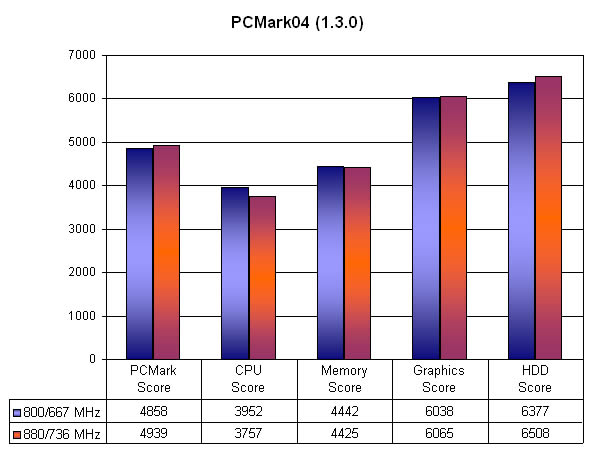 Interestingly, the increased CPU clock didn't significantly improve the results of this synthetic benchmark. In some cases, the score actually decreased. Surprisingly, the largest increase came in the hard drive benchmark.
SiSoftware Sandra 2005 SR2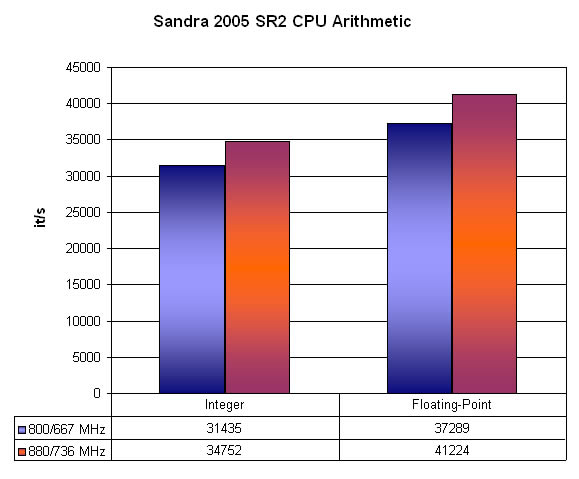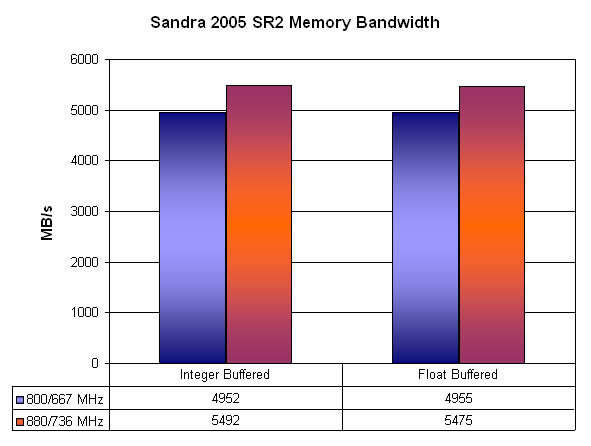 For nearly all Sandra benchmarks, increasing the clocks speeds by 10% increased the performance by about 10.5%. The lone standout was the Whetstone CPU benchmark, but at 9.5% improvement, the overclocking performance was still close to what should be expected.
Sandra 2005 SR2 File System
| | |
| --- | --- |
| FSB/Memory Clock | MB/s |
| 800/667 MHz | 95 |
| 880/736 MHz | 104 |
Just as we saw with PCMark04, the overclocked system provided a nice boost in hard disk performance. Unfortunately, it's only a synthetic benchmark, and it's very unlikely that it would translate to enough real performance gain when using every-day applications or gaming.
3DMark03 (3.5.0)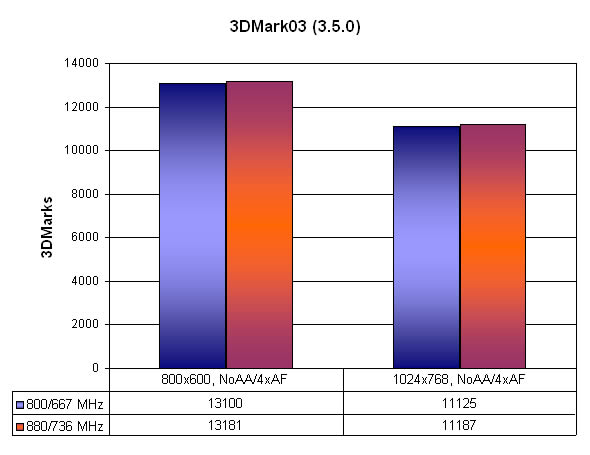 AquaMark3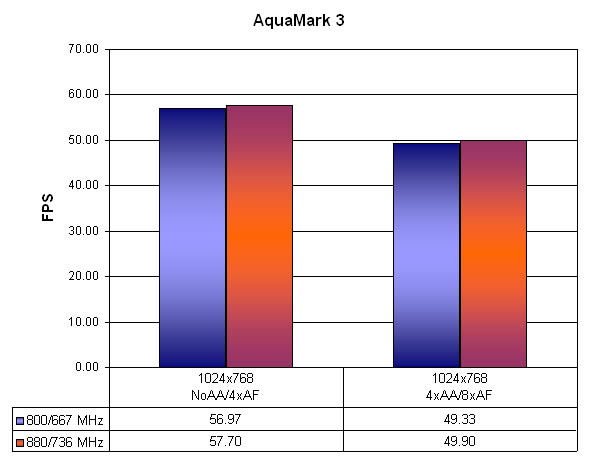 Doom 3 (1.1)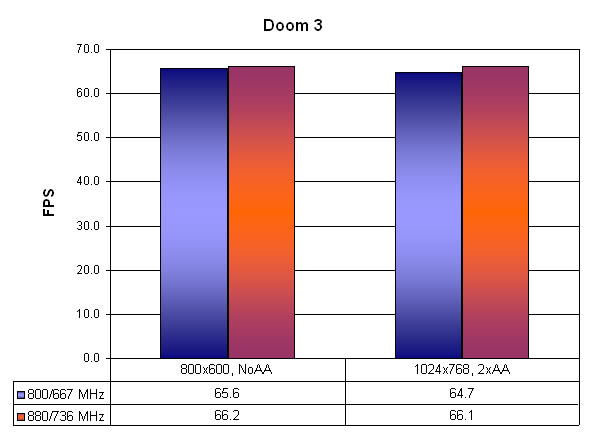 None of the gaming benchmarks provide any exciting data. They do, however, show that some times overclocking may not be worth the extra strain put on the CPU and extra heat generated by it. Diminutive performance gains usually are not worth the potential shortening of the life of your CPU.

Conclusion

---
Biostar's I945P-A7 is a no-frills motherboard for someone looking to get into the Pentium 4 or Pentium D world, and do it on the cheap. At $92-101 according to PriceGrabber, this motherboard is about $20 or so cheaper than all but a couple 945P-based boards. For someone looking to view multiple monitors on an Intel-based machine, the I945P-A7 is definitely worth a look.
Of course, gamers could be just as happy using this motherboard, with its main PCI Express x16 slot ready for any of today's latest and greatest video cards. Enthusiasts who like bundles that include extra goodies should look elsewhere, though. The package that I received did not even include the SLI bridge necessary to use the dual video card feature, and it is not listed as an included item on Biostar's website. I'm not sure if this is a mistake or if Biostar is selling these with and without the bridge to keep costs down a little bit for the package without the bridge.
Pros:
+ One of the cheapest Intel 945P-based motherboards around
+ Decent overclocking features and performance
+ Rock-solid stability
Cons:
– To keep the cost low, it comes with a few cables and that's basically it
– One IDE connector limits use of drives without a SATA interface