Check out our first retail SLI Intel Edition motherboard review. In this article, we tackle the Biostar NF4SIE-A7, a no-frills and affordable SLI offering.
Introduction

---
For years, NVIDIA fans and general enthusiasts wondered if NVIDIA would ever release an Intel chipset. The nForce chipsets made quite an impact over the years on the AMD side of things, so it only made sense that NVIDIA would eventually try its luck on the bigger side of the fence. Back in April of this year, NVIDIA finally answered that looming question with a resounding "yes!" as it launched the nForce4 SLI Intel Edition.
My first experience with nForce4 SLI IE was a positive one, but that was with a reference board from NVIDIA. Now, it's time to look at a retail offering to see if it provides a similar satisfactory experience. The board on the lab bench today is the Biostar N4SIE-A7.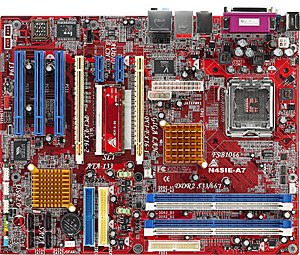 Features & Specifications

---
Features
SLI technology
Support for up to 4 SATA II drives
NVIDIA RAID
NVIDIA Firewall – built into chipset
Support for up to 10 USB 2.0 devices
Support for up to 2 FireWire (IEEE 1394a) devices
7.1 audio
Gigabit LAN
DDR2 667MHz support
Specifications
PROCESSOR

Intel Pentium 4 and Celeron D processors
Socket 775
1066MHz Front Side Bus
Supports Dual Core cpu (only in version 1.1)

CHIPSET

NVIDIA nForce4 SLI Intel Edition +
NVIDIA MCP04

MEMORY

4 x DDR2 533/667MHz memory modules
Maximum 4GB system memory
Dual-channel memory architecture

EXPANSION SLOTS

2 x PCI Express 16x
2 x PCI Express 1x
3 x PCI slots
Normal Mode and SLI Mode are set by manipulating the SLI Selector card

IDE

Up to 4 EIDE devices
Ultra DMA 33/66/100//133

SATA

Up to 4 SATA2 drives
NVIDIA RAID Technology
SATA RAID 0, 1, 0+1, 5

AUDIO

NVIDIA APU (Audio Processing Unit) Dolby Digital Encoder with Realtek ALC850 AC97 Rev 2.3 8-channel audio

LAN

NVIDIA Gigabit MAC
NVIDIA Secure Networking Engine

FIREWIRE

VT6307

SECURITY

NVIDIA Firewall technology
Remote access, configuration, monitoring
Command line interface
WMI scripts

I/O

1 x Parallel, 1 x Serial
1 x PS/2 mouse, 1x PS/2 keyboard
10 x USB 2.0 (4 rear, 6 front)
2 x 1394A (1 rear, 1 front)
6 x 7.1 channel audio jack
1 x RJ-45 LAN jack
1 x Floppy connector
2 x IDE connector
1 x Front audio header
4 x SATA connector
1 x IrDA
1 x CD-in connector
1 x System fan connector
1 x CPU fan connector

HARDWARE MONITOR

CPU / System Fan Speed
CPU Voltage
AGP Voltage
CPU Temperature
System Temperature
Vcore,+3.3V,+5V,+12V

FORM FACTOR

ATX form factor
30.4cm x 24.4cm ( W x L ) / 12in x 9.6in ( W x L )
Closer Look & Bundle

---
Closer Look – Layout
The N4SIE-A7 layout is fairly logical and doesn't appear to be overly crowded. The one area that may get a little crowded if you have two longer video cards and multiple drives is the area around the MCP chip (southbridge). Flexible cables and a little planning will resolve or prevent most issues that you could encounter with crowding in that area. For switching between normal and SLI graphics mode, Biostar implemented the familiar SLI selector card.
The nForce4 SLI chip is actively cooled by a small heatsink and fan, which you can see in the first picture below. On the other hand, the MCP chip is cooled by a lone heatsink. Nothing too surprising there.
In the first picture below, you can see the most crowded part of the board (which I referred to in the first paragraph above). You can see the SATA and PATA drive connectors, USB headers, the MCP chip, CMOS battery and a bunch of capacitors. Although my cables got a little crowded together with two 6800 GT's installed in SLI, I didn't have any problems working in this corner of the board. To the right, you can see the four DIMM slots for DDR2, the floppy connector, the nForce4 chip and its HSF. For dual channel DDR mode, be sure to install modules in matching colored DIMM slots (I installed a 512MB stick in both blue slots).
There seems to be a good amount of space around the CPU socket. I didn't experience any install issues with a couple coolers, but you might want to note the position of the nForce4 HSF and power connector. All of the power connectors are in awkward positions; I think a more ideal arrangement could have been determined. In the final corner of the N4SIE-A7, you can see all of the expansion slots, including two PCI Express x16, two PCI Express x1 and three PCI slots.
Bundle – Package Contents
You can see from the pictures above that Biostar manages to provide one of the most sparse bundles around. I guess that's the cost of providing one of the most affordable nForce4 SLI IE boards on the market. Still, you'd think Biostar could manage to throw in a couple more goodies.
1 x User's Manual
1 x HDD Cable
1 x FDD Cable
1 x SATA Cable
1 x Driver CD
1 x SATA driver floppy disk
1 x USB cable
Test Systems & Benchmarks

---
Test Systems
Biostar N4SIE-A7 Configuration

Intel Pentium 4 560 (3.6GHz)
Biostar N4SIE-A7
1GB 675MHz Corsair DDR2 (2 x CM2X512A-5400UL)
2 x NVIDIA Reference PCI Express GeForce 6800 GT
74GB Western Digital 10k Raptor SATA Hard Drive
Windows XP with Service Pack 2
FSB = 800MHz (QDR)
Memory = 667MHz (DDR)

nForce4 SLI IE Reference Configuration

Intel Pentium 4 560 (3.6GHz)
Reference nForce4 SLI Intel Edition
1GB 675MHz Corsair DDR2 (2 x CM2X512A-5400UL)
2 x NVIDIA Reference PCI Express GeForce 6800 GT
74GB Western Digital 10k Raptor SATA Hard Drive
Windows XP with Service Pack 2
FSB = 800MHz (QDR)
Memory = 667MHz (DDR)

ABIT AA8 DuraMAX 925X Configuration

Intel Pentium 4 560 (3.6GHz )
ABIT AA8 DuraMAX
1GB Corsair Twin2X1024-5400 PRO DDR2
NVIDIA Reference PCI Express GeForce 6800 GT
2 x 120GB DiamondMax9+ SATA Hard Drive w/ 8MB Buffer
Windows XP with Service Pack 2
FSB = 800MHz (QDR)
Memory = 533MHz (DDR)

 
Benchmarks
FutureMark PCMark2004 v130
SiSoftware Sandra 2005 SR1

CPU Arithmetic
CPU Multi-Media
Memory Bandwidth
File System

SYSMark2004 SP2
Super PI
POV-Ray 3.6
HD Tach 3
FutureMark 3DMark03 v360
FutureMark 3DMark05 v120
AquaMark3
Benchmark Results – PCMark04, Sandra 2005

---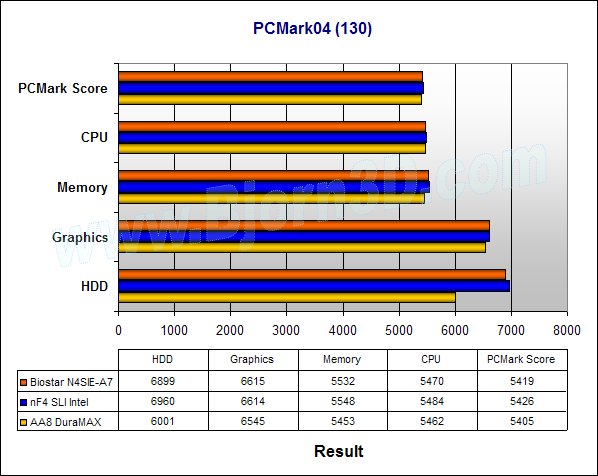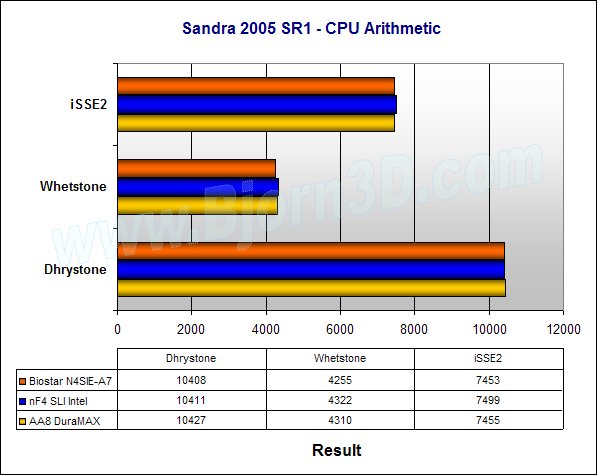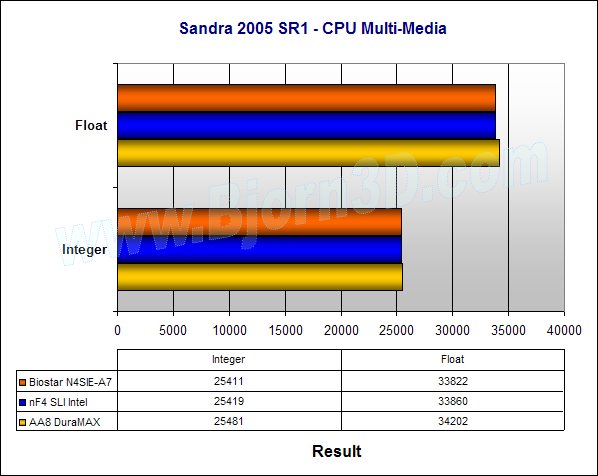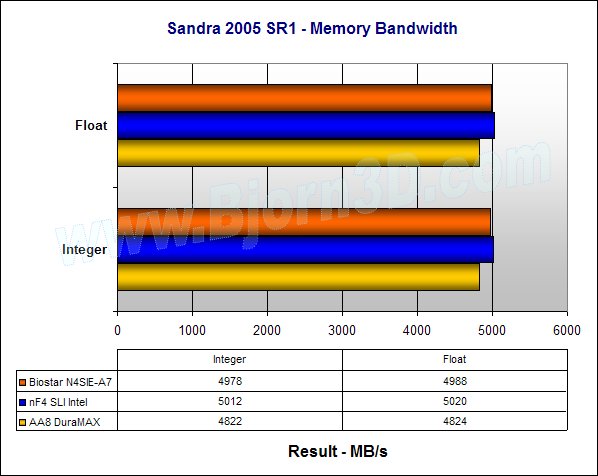 Benchmark Results – SYSmark2004, Super PI, POV-Ray, File System

---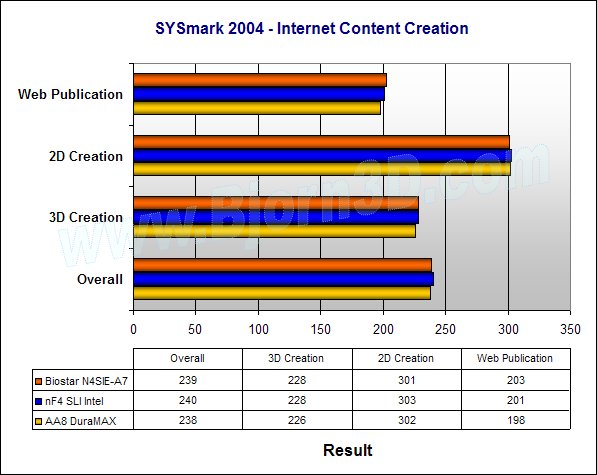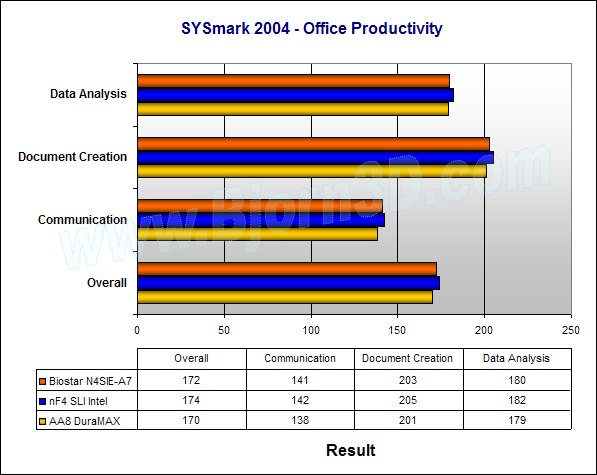 Super PI and POV-Ray
The Super PI benchmark calculates the number pi out to a specified number of digits. I selected the highest option, 32 million. This benchmark really tests the CPU more than anything, so close results should be expected, and that's exactly what we see. All three boards put up almost identical numbers. Lower time is better.
Super PI – 32M

Mobo
Result

Biostar N4SIE-A7

30 min 14 sec

nF4 SLI Intel

30 min 13 sec

AA8 DuraMAX

30 min 14 sec
Another CPU-intensive benchmark that I ran is POV-Ray 3.6 (Persistence of Vision Ray-Tracer). POV-Ray is a freely available tool that can be used for ray-tracing, and it has a built-in benchmark capability, which is what I used for this comparison. Higher score is better.
POV-Ray 3.6

Mobo
Result

Biostar N4SIE-A7

101.39 PPS

nF4 SLI Intel

102.79 PPS

AA8 DuraMAX

94.80 PPS
File System – Sandra 2005 and HD Tach
Because the 925X systems features a different hard drive from the nForce4 SLI IE systems, I'm only including the nForce4 SLI IE results here.
Sandra 2005 File System

Mobo
Result

Biostar N4SIE-A7

55 MB/s

nF4 SLI Intel

57 MB/s
HD Tach 3

 

Biostar N4SIE-A7

nF4 SLI Intel

Average Read

64.7 MB/s

65.1 MB/s

Burst Speed

126.3 MB/s

127.3 MB/s

Access Time

7.8 ms

7.7 ms
Benchmark Results – AquaMark3, 3DMark03, 3DMark05

---
Let's take a quick look at gaming performance to see if the Biostar offering can meet the reference SLI IE standards. All tests below were performed with two reference GeForce 6800 GTs in SLI.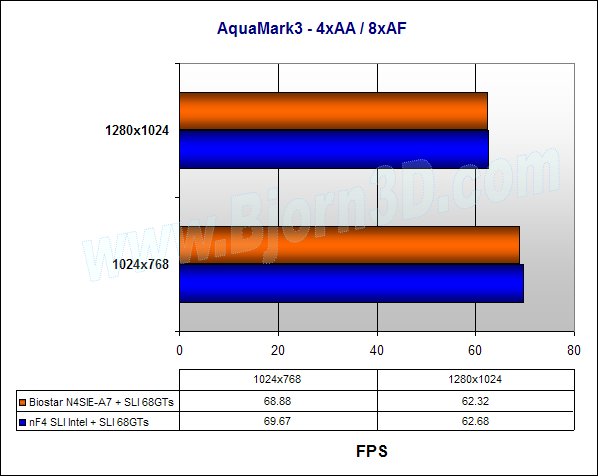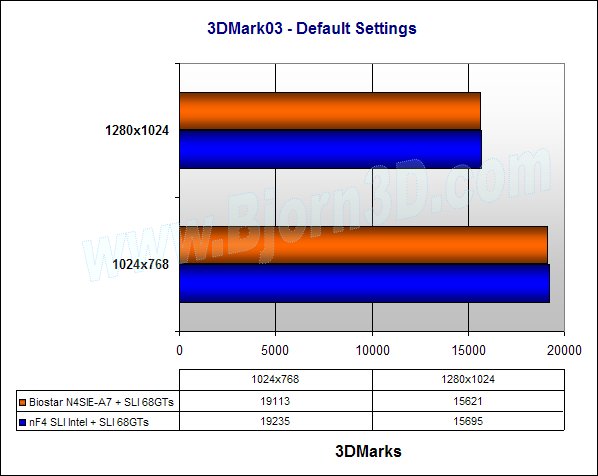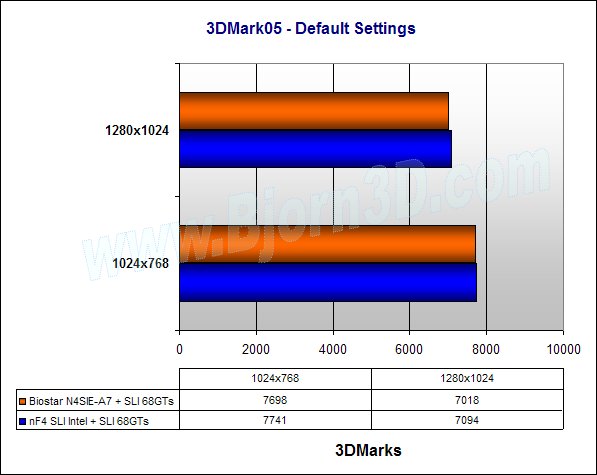 Overclocking / Tweaking Options

---
Biostar didn't include many adjustable voltage options. The only voltages that you can change are CPU and DDR, and they don't offer much of a range. Enthusiasts are left longing for a chipset voltage option. Here's what you'll find in the Voltage Control BIOS menu:
CPU Vcore: Deafault, +0.05V, +0.10V, +0.15V
DDR Voltage: 1.85V, 1.95V, 2.05V, 2.15V
In addition to these voltage options, overclockers will be interested in front-side bus and memory tweaking options. The N4SIE-A7 BIOS does allow the user to control the FSB and memory speeds independently, and they have respectable ranges. Additionally, you have access to multipliers below your CPU's default. Memory timings are also of course adjustable.
I spent some time overclocking the board, and the highest FSB I could reach was 243MHz. This was with the memory at 667MHz and multiplier set to 14x (18x is this CPU's default). I couldn't figure out what was keeping me from going higher. As always, it's worth mentioning that your own overclocking experience will vary (and hopefully be more fruitful).
Conclusion

---
The N4SIE-A7 is another typical Biostar offering. I find it hard to get too excited about it (that's not necessarily a bad thing if you like simple and to-the-point hardware). The bundle is quite skinny, and Biostar didn't add much excitement to the already good nForce4 SLI Intel Edition feature set.
The BIOS does include some options that overclockers look for, but Biostar seems to be making a half-hearted attempt to appeal to overclockers, or maybe the company is just reaching out to casual overclockers. Hardcore tweakers and overclockers will definitely want to look elsewhere. One cool feature that Biostar built into the BIOS and deserves kudos for is the ability to start a BIOS flash from within the BIOS menu. I prefer WinFlash whenever possible, but this is a close second.
While the N4SIE-A7 might not be the most exciting SLI board on the market, it does offer performance on par with the reference SLI IE board. Unfortunately, we don't know how it compares to other SLI IE boards yet, since we don't have any on hand.
If you are a very practical person looking for a no-frills Intel SLI solution, then I think this board is worth a look during your research process. For some reason, there is a wide gap between prices found in our PriceGrabber search engine. Mwave has the N4SIE-A7 listed for $126 while ZipZoomFly and Newegg are both listing it priced at above $160 (at the time of writing). Please note that Biostar's site is claiming that only version 1.1 of the board supports dual-core processors. So, if you plan to use a dual-core CPU, then you should take steps to insure that you get a 1.1 board. It's silly that Biostar didn't have this right on the 1.0 version.
Pros:
+ Good performance
+ SLI technology
+ NVIDIA RAID and FireWall
+ 7.1 audio
+ Gigabit LAN
+ 10 USB 2.0 and 2 IEEE1394a
Cons:
– Sparse bundle
– Dual core CPU only supported on version 1.1 and not 1.0
– Not many overclocking options
Final Score: 7.5 out of 10