If you're looking for some DDR2 memory that will take your PC's memory clock up to 750 MHz, Kingston has a new 1 GB memory kit that is worth consideration. From Kingston's high-end HyperX line, the KHX6000D2K2/1G features the fastest DDR2 modules the company offers.
Introduction

---
With over 2,000 memory products in their portfolio, Kingston Technology can provide memory solutions for just about anyone's needs. The company's depth makes it easy to see why it is a leader in the memory market. The products in its extensive line-up cover everything from the basic, entry-level memory modules for system builders to the high-end, high-performance modules the PC enthusiast crowd has grown to love. Kingston's high-end system memory products are given the HyperX brand. Of course, Kingston offers HyperX products featuring the latest memory technology, DDR2. DDR2 is supported on most of the recently released chipsets and will eventually supplant first generation DDR as the dominant memory type in the PC industry. It is an evolution of the DDR specification that features lower power consumption, higher speeds and better thermal performance. The main disadvantage of DDR2 right now is its CAS latencies are higher than those of comparable DDR modules, but it's only a matter of time before DDR2's CAS latencies reach parity with DDR's.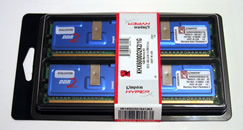 Kingston's highest rated DDR2 memory is the KHX6000D2 family, which consists of 256, 512 and 1024 megabyte single modules and kits that include pairs of these modules. The KHX6000D2 modules are non-ECC DIMMS featuring a speed of PC2-6000 or 750 MHz with CAS latency of four clock cycles. Bjorn3D received the KHX6000D2K2/1G, which is the one gigabyte kit with two 512 megabyte modules, for this review.
Specifications & Features

---
Specifications:
| | |
| --- | --- |
| Part Number | KHX6000D2K2/1G |
| Total Capacity | 1 GB (2 x 512 MB) |
| Configuration | 64M x 64 bit |
| DIMM Type | Unbuffered, Non-ECC |
| Speed | PC2-6000 (DDR2 750 MHz) |
| Voltage | 1.9 V |
| SPD Timings | 4-4-4-12 |
Features:
High-performance heatspreader
Toll-free technical support
Limited lifetime warranty
Performance
---
To gauge the performance of this memory, I decided to compare the test system's default settings, which put the front side bus at 800 MHz and memory clock at 667 MHz, to the maximum overclock I could reach. With my maximum successful overclock putting the memory clock at 736 MHz, I was almost able to reach the memory's rated frequency of 750 MHz. Bumping the front side bus up to 220 MHz provided this overclock, and it was all the system could handle unfortunately. I think it's safe to assume it was a component other than the memory that was the limiting factor. I was not able to compare this kit to any other because this is the only DDR2 memory that I have, but if I get any more in the future, these Kingston modules will definitely be compared to it.
For all tests, the memory timings were set to the SPD values, which are 4-4-4-12.
Test System Configuration
Intel Pentium D 820 (2.8 GHz)
Biostar I945P-A7
2 x Seagate Barracuda 7200.7 SATA NCQ 160GB hard drives in RAID 0 (article)
Leadtek WinFast PX6800 GT TDH (review)
Microsoft Windows XP with Service Pack 2
Forceware 77.77, DirectX 9.0c
SiSoftware Sandra 2005 SR2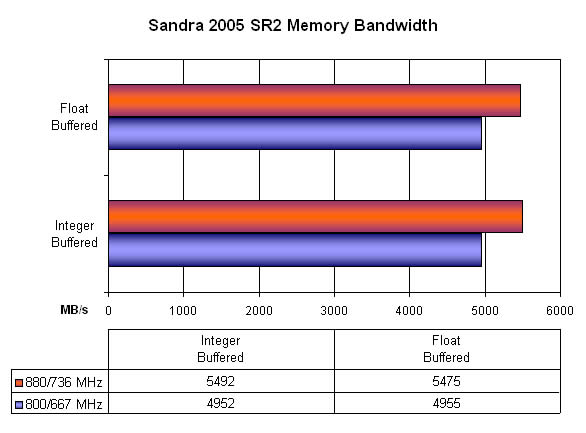 PCMark04 1.3.0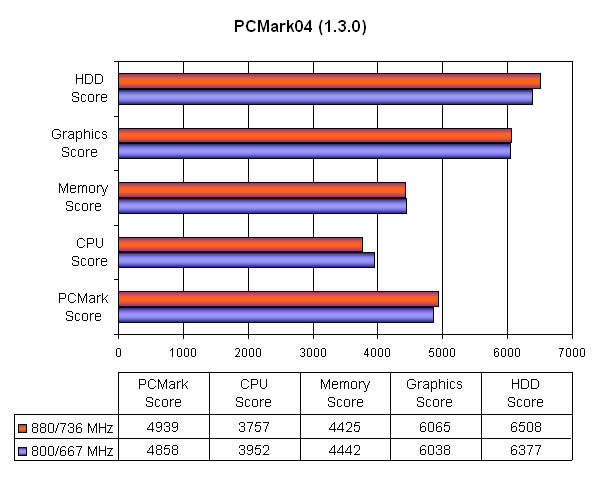 3DMark03 (build 350)
I also ran 3DMark03 at 640×480 and everything else set to the default values for both combinations of front side bus and memory clocks. With the system set to 800/667 MHz, it achieved a score of 14868. The score took a slight step up to 14997 at 880/736 MHz.
Conclusion

---
The future of the PC is definitely going to have more DDR2 in it. Its benefits over DDR certainly make it a worthy successor. And Kingston provides the market with a good high-end DDR2 offering with the KHX6000D2K2/1G. It's not the fastest memory available, but it should be able get the job done on many different systems. Kingston is the kind of company that will continue to do what it takes to be among the leaders in the PC enthusiast market, and it backs up its products with a lifetime warranty.
Pros:
+ Solid performance
+ Lifetime warranty
+ High speed with respectable timings for DDR2
Cons:
– Not cheap since it's high-speed DDR2
– Some competitors offer faster DDR2 (but most, if not all, faster modules have higher memory timings)