The Albatron K8-SLI is a cheap yet competent nForce4 SLI motherboard. If you are on a budget yet want to treat yourself with SLI support, the K8SLI is a good choice.
Introduction


Sometimes us reviewer tend to forget that not everyone have the money to buy one of the latest and fastest cards available. Instead of a GeForce 7800GT or GeForce 7800GTX many instead have opted for cheaper, but yet capable, GeForce 6600GT.
But what if you have one of those and want to in a cheap way increase the graphics performance? NVIDIA has the solution with SLI. Pop in a second card and in theory get double the performance.
Today I am looking at one of the cheaper SLI-capable motherboards on the market, the K8SLI from Albatron.
The specifikations


Even though the motherboard is one of the cheaper SLI-capable motherboards on the market it still has a lot of cool stuff on it:
AMD Athlon™64 / Athlon™64 FX /Athlon™64 X2 Dual Core Processors
Socket 939 with Hyper Transport™ 1000+ MHz
4 DDR333/400 Memory Sockets (Dual Channel).
Build-in Realtek AC97 6 channel
NVIDIA nForce4 SLI GbE LAN
2*PCI Express x 16 ( nVIDIA SLi technology support X8+X8 ,No support ATi Radeon X300)
2*PCI Express x 1, 2*PCI Slots
4 Serial ATAII Channels, Serial ATA RAID 0,1& 0+1
2 ATA133 Channels, up to 4 ATA 133 IDE Devices
Dual BIOS (Second BIOS by Optional ABS Card)
8 USB 2.0/1.1 Ports (4 ports by optional cable)

Processor
Socket 939 AMD Athlon™64 / Athlon™64 FX /Athlon™64 X2 Dual Core Processors

FSB / Transport
1000+ MHz

Chipset
Chip : nForec4 SLI ( Single chip)
LAN Chip : VITESSE VSC8201RX (PHY)
Audio Chip : Realtek ALC655
I/O Chip: Winbond Smart I/O W83627THF

Memory
4 * DDR Sockets:
DDR 333/400 NON-ECC DDR SDRAM up to 4GB ( Dual Channel )

Expansion Slots
2 x PCI Express x 16 2*PCI Express x 16 ( nVIDIA SLi technology support X8+X8 ,No support ATi Randeon X300)
2 x PCI Express x 1
2 x PCI slots (PCI 2.3 compliant)

IDE / SATA Connectors
2 ATA133 Channels, up to 4 ATA 133 IDE devices
4 Serial ATAII Channels, up to 4 Serial ATAII Hard Drives,and supports Serial ATA RAID 0,1& 0+1

Onboard I/O Connectors
1 x Floppy Connector
4 x USB 2.0/1.1 header (4 ports by optional cable)
1 x S/PDIF in/out header (S/PDIF in/out cable optional)
1 x CPU fan header ( 1 fan rotation detection function )
2 x System fan headers
2 x 5 pin system panel header (Intel spec)
1 x Front audio header (Intel spec)
1 x ABS header(Second BIOS by Optional ABS Card)

I/O via Back Panel
PS/2 keyboard/mouse, 2 x USB(2.0/1.1), RJ45,1 x Com(serial), 1 x Parallel, 1 x RCA,1x Line-in/Line-out(Speaker Out)

Power
24-pin ATX power connector, 4-pin ATX 12V power connector

BIOS Feature
4Mb Flash EEPROM
Award BIOS with ACPI, DMI2.0, PnP, WfM2.0, Green Suspend to RAM (S3), Suspend to Disk (S4) Wake on keyboard/mouse, Wake on LAN/RTC Timer

Hardware Monitoring
3 FAN sensors, CPU/System voltages and temperature monitoring

Special Feature
Zero Jumper Design
Dual BIOS (Second BIOS by ABS Card) (Optional)
Zero Jumper Design
Adjustable CPU frequency by 1 MHz increment, Adjustable Vcore,,VMemory for overclocking.
Watch Dog Timer (auto-reset system when it can not handle overclock configurations)
Special design for CPU Over Temperature Protection.( OTP )

Form Factor
ATX ( 293×198 mm )
As you can see there's a lot of stuff included in this motherboard. The only main complaint I have is the complete lack for Firewire-support. It's not just that there isn't any Firewire-ports in the back or any Firewire-backplate included, the motherboard completely lacks any Firewire-headers on the motherboard meaning you cannot even hook up the Firewire-port of a case. In my case I needed a Firewire-port and had to buy a separate PCI-card for that.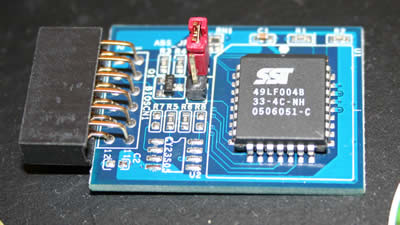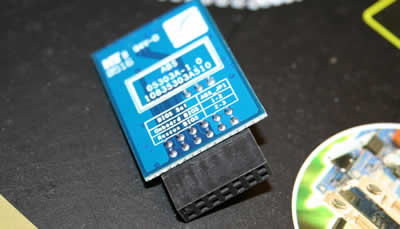 This tiny risercard contains a rescue-BIOS.
A cool feature is the dual-bios support. Basically you get a second bios-chip that is placed on a tiny riser card that you hook up to the motherboard. This ensures that even when you botch up a bios-update you will be able to switch to a working bios and repair the damage. While I so far haven't managed to screw up a bios-update we all know that it is just as likely to happen anytime you do the update.
Other than this the motherboard has the expected features. 4 DRAM-slots I nice while just 2 PCI-slots might be on the short side, especially if you like me want to both put in Firewire-ports and a X-FI soundcard.
If you are worried that your PSU just have a 20-pin ATX power connector I can calm you by saying that this motherboard currently is powered by a 240W DignN HTPC PSU with just a 20-pin ATX connector and a 4-pin 12V connector and that it works fine. If you plan on running SLI or a high-end videocard you of course should use a much better PSU and then make sure it has a 24-pin power connector.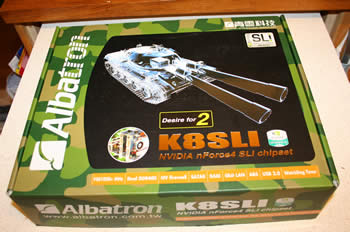 The box the motherboard is pretty cool and shows off the SLI-support comparing it to a tank with dual-guns. When you open the box you quickly will realize where Albatron have saved their money. You get the bare necessities: ATA133 cable, SATA-cable, SATA to molex power connector, backplate, SLI bridging adapter, Albatron BIOS Security card and a manual and CD with drivers.
Layout and installation


The layout of the motherboard is good. Something I like is the fact that they've put the nForce 4 SLI chip/fan to the right of the rightmost PCI-E slot. This means that even if I add a fanless Zalman cooler to the nForce 4 SLI chip I still will be able to fit a HIS-card into the motherboard. In my ASUS nForce 4 SLI motherboard this is impossible since the nForce 4 SLI chip is situated between the PCI-E slots.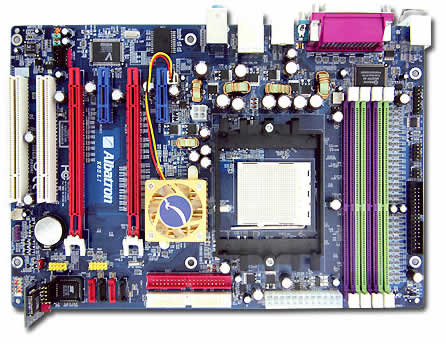 The downside of the nForce 4 SLI chip position is that if you have a big CPU-fan, like the Zalman ZM-7000B-ALCU then it will extend over the chip and prevent you from using a tall cooler. Still I prefer the Albatron layout compared to the ASUS layout in this situation.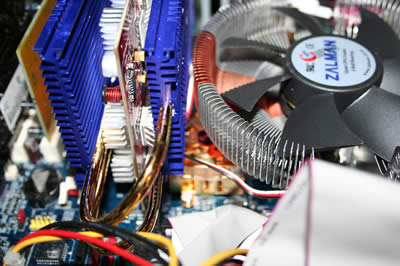 Hidden below the CPU-fan you find the small nForce4-chip and fan.
A fanless chipset cooler won't fit if it is to tall.
This is really intended as a SLI-board, something that is evident with their solution to how you select if you are running with one or two cards. While other more expensive motherboards use a SLI selector card to choose between non-SLI (PCI-E slot running at x16) or SLI (PCI-E slot running at x8), Albatron has chosen to implement the switching in the motherboard which means it will sense if you only have one card in and switch hardwire the PCI-E slots to x8.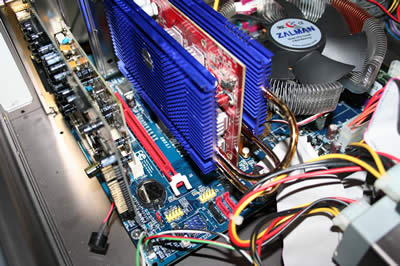 As you can see a longer video card would risk interfering
with both SATA and IDE-ports.
This motherboard is quite small compared to some other ATX-motherboards. It thus will fit in nicely in most cases even where space is at a premium. The size however means that if you use full-lengh cards they might block the SATA ports. I had to use a 90 Degree SATA connector to fit it under the graphiccard.
Bios and overclocking


The bios used are based on the Award bios you usually find these days in most motherboards. There are a lot of settings available for you to overclock the CPU.
The CPU frequency can be changed from 200 MHz up to 300 MHz in 1 MHz increments. DRAM can be set to 200,266,333 and 400 MHz speeds. If you want you can lock the PCI-E frequency to 100 MHz making sure you don't overclock the PCI-E slot. While you cannot increase the multiplier on the supported CPU's you can lower it to allow for higher FSB speeds.
Frequencies of course are not everything and it is just as important to be able to vary the voltage. There are three different voltages that can be adjusted. CPU voltage can be changed in 5% increments up to 15% above default. DDR voltage can be set between 2.6v and 3.0v in o.1v increment. Last but not least you can set the chipset voltage between 1.5 and 1.8v in 0.1v increments
Testing the motherboard


Something you quickly will realise is that most nForce 4 motherboards perform very close to each other in the standard benchmarks. With its slightly faster memory my ASUS nForce4 SLI motherboard either performed as well or a tiny bit better in benchmarks like SiSoft Sandra or PC Mark05.
Instead of boring you with all those figures I decided to test the motherboard in the way I think gamers would be interested in; with one or two NVIDIA cards. This is primarily a SLI-motherboard and thus it would be very interesting to find out how it performs when we test it with one or two Albatron GeForce 6600GT cards.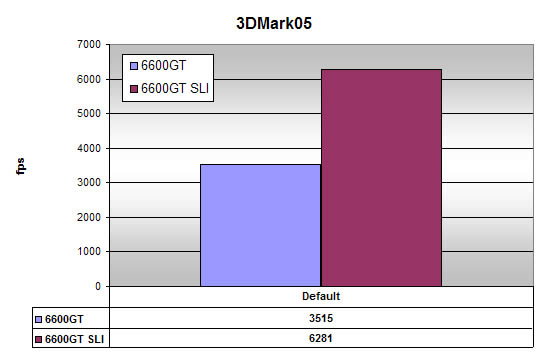 Right away in 3Dmark05 we see a 78% increase in performance going from one GF6600GT to two on this motherboard.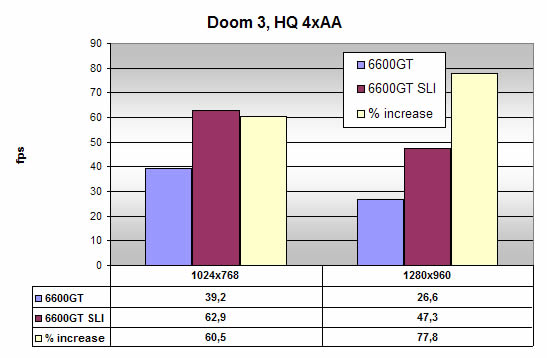 The first 'real' game show an 60-78% increase in performance when adding another card in SLI-mode.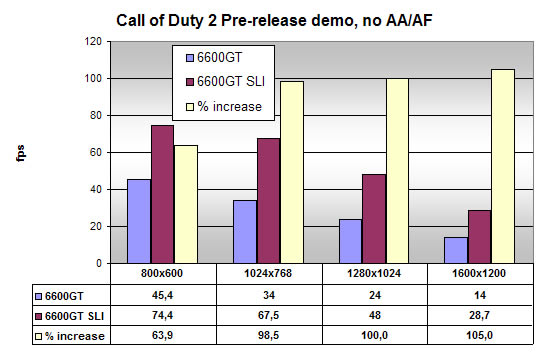 Call of Duty 2 is one of the new games with lots of cool features. The performance increase we see here is stunning. I'm using the latest beta-drivers from NVIDIA which already has support for Call of Duty 2.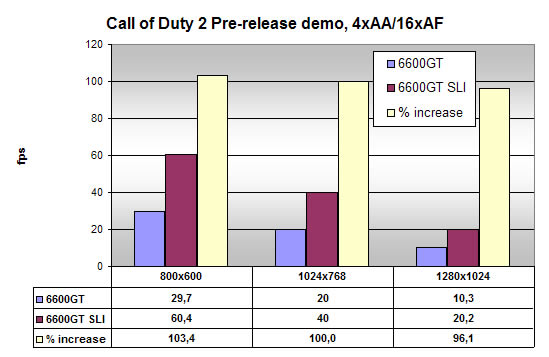 Turning on AA doesn't change anything. This is certainly a game where NVIDIA's SLI-functionality is prooving its worth. This shows that even with a cheaper SLI-motherboard and two mid/low-end cards you still can achieve great performance.
Stability of the system


During the whole review the system was set up this way:
• CPU: AMD64 3200+
• Albatron K8-SLI
• 1 GB PC3200
• 1 WD 36 GB 10rpm SATA
• Antec 500W PSU
• Built-In sound
• V1.12 Bios
I had no issues installing Windows XP. I did encounter some stability issues when running the system in SLI-mode. Occasionally, meaning 3 or 4 times during the whole testing, the system rebooted when running either 3Dmark05 or Doom3. Since it worked fine the other times I'm still not completely sure if I should blame the Albatron 6600GT cards, NVIDIA's beta drivers or the motherboard.
Right now the system is powering my HTPC and after several days use it still runs solid.
Conclusion


If you are looking for a SLI-capable motherboard there are a lot of choices out there, most pretty expensive. The Albatron K8-SLI is a no-frills nForce 4 SLI motherboard that might not offer any huge surprises but does what it is supposed to do, and cheap to.
Pro

Cheap
No need for a selector-card
Small formfactor
Extra bios on riser card
Con

No Firewire support
Slightly older audio chipset
Can interfere with larger video cards.
Occasional stability issues 
The Albatron K8-SLI get a rating of 7 out of 10
Summary: The Albatron K8-SLI is a cheap yet competent nForce 4 SLI motherboard. If you are on a budget and yet want to treat yourself with SLI-support the K8SLI is a good choice.