With the All-In-Wonder X1800XL ATI has created a card that sits just as confortable in a MediaPC as a gaming-PC. Support for both analogue and DVB-T channels as well as true RGBScart, DVI, VGA and Component output makes it an ideal card for anyone who wants to get the best possible image to their TV.
Introduction

If you thought MediaPC's were hot a year ago it is nothing compared to what is happening today. As more and more countries are moving towards Digital TV and HDTV the demands of the devices accepting those signals is increasing and more and more people are looking towards building a MediaPC, not only for TV-viewing, but also for TIVO-functionality and the odd game.
ATI has always had a good reputation in this area thanks to its All-In-Wonder products and as expected they now unveil their latest card, the AIW X1800XL. Just as with their last AIW-cards (AIW X800XL and X800GT) we get both a analogue tuner as well as DVB-T support making sure the AIW X1800XL can be used regardless if you already have access to DVB-T or not.
What do you get?

As expected the AIW X1800XL moves to the PCI-E interface. If you have an old MediaPC with a AGP-motherboard (as I did a while ago) this will force you to upgrade but seriously it's about time anyway. The PCI-E interface offers a lot over the AGP interface. You get full bi-directional support to a maximum bandwidth of 4 GB/s each way. This of course is extra valuable when you are working with HD video content.
• PAL/SECAM (Europe/Asia)
• DVB-T (Europe/Asia)
In US you of course get NTCS-support. The inclusion of DVB-T support is necessary since more and more countries are starting to broadcast through it. It should be noted that the support so far is only for the free channels (FTA, Free To Air).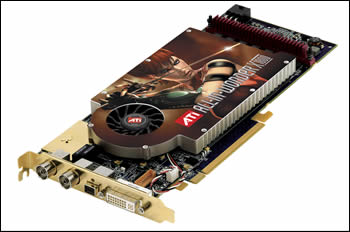 RADEON X1800 XL graphics
Considering the name it comes as no surprise that the AIW X1800XL has X1800 graphics. With 16 pipelines, 500 MHz engine and memory speed and full SM3.0 support the AIW X1800Xl will be ready to play all those cool games in high-definition on the TV. For more info about the X1800 head over and read our article about it (LINK)
Here are some of the highlights:
• 90nm technology
• Up to 16 Full Precision DX9 Pipelines
• 6 Parallel Geometry Pipelines
• Shader Model 3.0
• Efficient Ultra-Threaded pixel shader cores
• GDDR3 Memory 256 bit memory with over 1.1 GHz clock rates
• H.264 decode
• Advanced High Dynamic Range rendering with 128-bit floating point precision
• Extreme anti-aliasing and texture filtering quality
• Seamless integration of pixel shaders with video
• FULLSTREAM for DivX, Windows Media 9, and Real Media
• MPEG 1/2/4 decode and encode acceleration
• New Video algorithms that use pixel shaders for: 3:2 Pulldown, Interlacing, and Deblocking
• Added support for high-end HD resolutions
• Improved AA and AF performance for HD resolutions
• 12x effective Temporal MSAA
Microtune 2121 Tuner
Old AIW-cards used to have a pretty bulky big metallic tuner. The AIW 1800XL however uses a new tuner, the Microtune 2121. This tuner is much smaller is a small silicon chip under a flat gold plated metallic housing. 
This is how ATI describes the tuner:
The Microtune 2121 Tuner includes all active circuitry required to implement total RF functionality, making it the world's first complete RF/amplifier siliconfront end. It works seamlessly with all analog and digital demodulators, requires minimal external components, and contains no manually tunable parts. The Microtune 2121 Tuner contains all active functions required to receive RF onchip. It not only receives and tunes the RF signal, but also enhances it for distribution through the rest of the video decoding process. The tuner features low phase noise, low noise figure, high linearity and approximately 1½ watts of power consumption.

 

The Microtune 2121 Tuner offers many benefits over other tuner implementations. Most importantly the chip offers quality advantages, power savings, and space savings. Another benefit of using fewer components is lower power usage. Today's graphics cards demand an ever increasing amount of power, therefore saving power wherever possible is essential to the future of the power hungry, high performance cards. The Microtune 2121 Tuner is able to generate a power savings of 11% over older tuners. Today's graphics cards are demanding more and more space on the PCB since faster processors require more parts, therefore space savings is very important to future generations of multimedia video cards. By reducing the required surface area by 20% the Microtune 2121 Tuner will easily fit into more graphics cards solutions.
Without the Microtune 2121 ATI claims they probably never would be able to create the X1800XL without sacrificing both 3D-performance and the DVB-T support.
Terrestrial Digital TV information travels through the air in waves in what is called DVB-T modulation. When your computer receives those waves it has to be able to convert the signal back to MPEG2. This is done by the ATI NXT6000 chip. The NXT6000 supports all modes of the DVB-T standards as defined by ETS 300 744, as well as meets the mandatory requirements of the NorDig Receiver Specification that defines a set of requirements for high-performance terrestrial receiver solutions.
It might be hard to believe but the Theater 200 video decoder chip has been around since the AIW 9700 Pro. ATI certainly has managed to create a very good piece of silicon if it can be useful for so long. The Theater 200 is responsible for receiving analog video signals and transforming them into digital ITU-656 compliant video. The chip also captures sound IF or composite audio, performs audio demodulation and stereo decoding and outputs the audio via the I2S or VIP interface.
Once the signal is received from either the TV tuner or other device connected through the composite or s-video inputs, it is passed through an analog to digital converter. The signal is then sent through the video decoder which houses the comb filter. The Theater 200 utilizes a 2D 3-line comb filter which is used to separate the color information and brightness information of the signal (except for when an s-video input is used). These two signals make up what is known as a Y/C signal or luminance and chrominance, also known as s-video. From this point, the Y/C signal is passed into the video scaler which adjusts the size or zoom rate of the video to be displayed on the screen. The video scaler is an important feature of the chip because if not properly implemented, many artifacts and "blockiness" will be introduced into the video. After the video is scaled it is changed into a digital format recognized by the video card and then it is displayed on your monitor, or other viewing device.
Avivo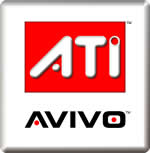 An important part in the AIW X1800XL is Avivo which was introduced in the X1000-series of cards.
In short Avivo is ATI's technology for bringing the best possible video quality to the user. It is full with various techniques to clean up and improve video. One of the key benefits of Avivo is that the technology allows for work to be offloaded from the CPU plus system memory bus, and onto the ATI graphics processor unit (GPU). This means that products with Avivo actually lower your CPU requirements, allowing for video and photo related tasks, such as playing back Blu-ray H.264 video.
If you want to know more about Avivo read this Whitepaper on it from ATI. (http://www.ati.com/technology/Avivo/pdf/Avivo_Whitepaper.pdf)
On of the nicer features of Avivo is the support for hardware H.264 acceleration. H.264 is the next step in video compression and offers much better image quality at a smaller space. ATI plans on releasing a driver update beginning next year to 'turn on' the hardware support.
The bundle

The card I got came in a brown little package and thus is not a retail card. Still I can give you some ideas what you can expect in the box when you buy one of these puppies.
The card itself is very long and thin. It is a 1-slot solution that might be hard to fit in some of the smaller MediaPC cases. I tried it both in a Dign5 case and an Accent 200 case and both cases had no problems accepting this card although this also is dependant on the motherboard. In the
Accent 200
case I would had run into problems if the PCI-E slot was placed more to the right than it is on the
Albatron K8N SLI
motherboard I am using. The card would then have interfered with the construction for the harddrives.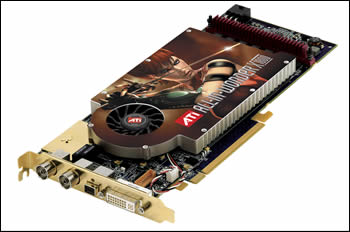 While I was a bit worried about the fan, since earlier X1800/X1600X1300 reference cards I used had quite loud fans, it turned out to work real well.
In the end of the card you'll find a DVI-connectors, an antenna-connector for both analogue and DVB-T, a connector for the special cable that is supplied and which gives you RGBScart, VGA and SVIDEO support as well as a connector for the 'domino'-hub which gives you SVIDEO/Composite In support.
As I mentioned above you get a special cable that includes RGBScart (Europe goes YEY!), SVIDEO and VGA as well as a domino hub that gives you SVIDEO in support. You also get an adapter that you hook up to the DVI-connector and which gives you Component-output.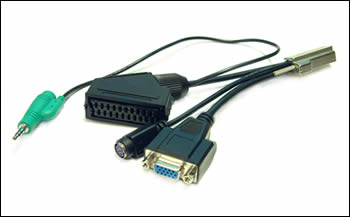 As with earlier AIW-cards the AIW X1800XL comes with a remote, the RF Remote Wonder Plus. It looks a lot like earlier models although I like its less clunkier look and feel.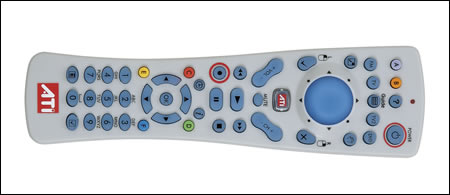 Usually on the software side you get trial-versions or lite-versions of programs from either Intervideo or Uleed. ATI has gone another route and managed to include a kick-ass package from none other than Adobe. With the AIW X1800XL you get
Adobe Photoshop 4.0 Elements
as well as
Adobe Premiere Elements 2.0
. I use Photoshop Elements 3.0 and think it is a very nice program, both for making quick adjustments to photos but even more so for keeping all my 10000 photos organized.
Adobe Premiere 2.0 Elements
is an entry-level version of their professional software Adobe Premiere and it is very good.
In addition to these two programs ATI of course include their own Multimedia software Multimedia Center. MMC lets you watch TV, watch DVD's, listen to Radio, listen to Music, watch recorded videos and watch images, all with the help of a remote. The program also allows you to stream video over a network to another ATI-card.
The AIW X1800XL in the real world


So far there's been a lot of talk about the theory but now it is time to see what the card can do in the real world.
I installed it in my MediaPC which consists of these components:
Albatron K8N-SLI motherboard
AMD64 3200+
1 GB DRAM
80 GB Matrox HD
Sony DVD-RW
Arisetek Accent H200B case
This machine is connected to a Viewpia 32" Widescreen LCD-TV that has a DVI-connector (with HDCP-support), a CGA-connector, two RGB-Scart connectors and Component-connectors (480i, 480o, 720o, 1080i support).
Since the time I had for this preview was limited I choose to concentrate on the things I think people interested in an AIW-card would be interested in: how it works as a multimedia card. We all know that the X1800XL is a great gaming card and I recommend
heading over to our X1000-article
where I have a lot of benchmarks for the X1800XL. 
ATI includes the Multimedia Center software with the All In Wonders cards. The idea with the software is to give the user a complete multimedia center where he/she can do anything from watching TV, watching a move to listening to the radio or to MP3-music.
Setting up the software is pretty easy. I hooked up my antenna and let it scan for all the channels it could find. While it took a while it managed to pick up all the available channels, including the scrambled ones. Next I added the multimedia content already present on the machine into the media library.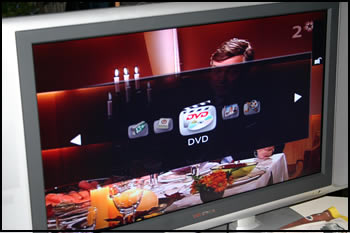 The meny lets you choose from the various functions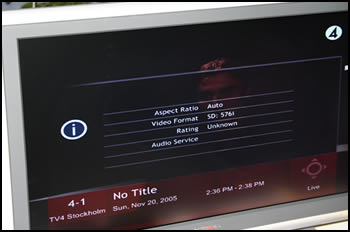 You can check the info about the current broadcast
With all this done the machine was ready to start showing me TV/DVD and so on. There's two ways you can use the Multimedia center software. You can start each module separately and use it as any other media player on your PC. You can however also use the setting that makes it look like an ATI-version of Mediaportal or Windows Mediacenter Edition.
Using this mode actually works great when you are using a TV and sit in the sofa. It might not be as sophisticated as Mediaportal, MCE 2005 or Meedio but as long as all you want is a way to watch TV, DVD, listen to music/radio and being able to record all that, it is quite enough.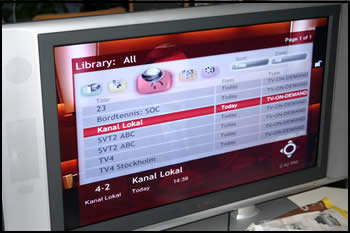 Getting the best signal

The AIW X1800XL includes several ways to get the signal to a TV. I tried almost all of them and this is what I found.
This provided me with the best result. On my TV only VGA can be pixelmapped and I set both the AIW and the TV to 1360×768 and it looked perfect. WMV-HD clips from Microsoft were beautiful with rich colors and lots of details.
Component
At first I wasn't especially impressed, the image lacked color and I could see a slight disturbance in the image. However, after I realized I had forgotten to set the output from the AIW XL1800XL to 720p (1280×720, it was set at 1360×768 first) and made the changes the images became much better. It even has an optimized 720p mode which lowers the resolution slightly which also looked great. I ran a few of the WMV-HD clips from Microsoft and once again it looked stunning.
RGBScart
After being used to the high quality image from DVI/VGA/Component it almost hurts my eyes to switch to SCART. For those in Europe with just SDTV-sets this however gives the best possible quality and even though I think the image lacked some punch it still was good enough to watch TV, movies and so on.
MCE 2005
The AIW X1800XL also works directly under MCE 2005 which means that if you feel that ATI's Multimedia Center isn't good enough you can pop it into a PC with MCE 2005 and use its nice interface.
Conclusion


With the AIW X1800XL ATI has brought us the ultimate Multimedia video card. I'm pretty amazed on how silent it is; even when I throw a lot of work at it, something with is very important in a MediaPC. The support for both analogue and DVB-T is excellent although I would like to see ATI consider supporting Common Interface (CI) some day since at least here in Sweden we only have 6 FTA channels and about 30 coded channels.
While Multimedia Center is ok I still would like to see ATI some day try to improve it since it feels a bit old these days. Still, you can just as well use MCE 2005, something I probably would do if I owned this card.
The image quality is very good, at least on my TV. The inclusion of VGA/DVI, Component and RGBScart means that regardless which type of TV you have you will be able to hook it up in the best possible way.
The card will be made by ATI and you should be able to pick it up from sites like
http://www.vgastore.com
 for around £300. ATI will also have a free 5 language (German, English, Portuguese, Spanish and French) support hotline as well as 24/7 email support in the same 5 languages.
Quite simply this is the card I would like to put in my MediaPC.
Pro
+ Silent
+ Fast
+ Excellent image quality
+ Connections for all sorts of displays
+ One-slot design
+ Works flawless in MCE2005
Cons
– MMC could need a upgrade
 
This card deserves a top score of 9 out of 10 (make MMC a bit more sexy and add support for CI and I will bump it up to 10 😉 ) and a Golden Bear Award.