With its factory overclock, generous bundle and unique Double Lifetime Warranty, the XFX GeForce 7800 GT offers a lot of performance and value. Check out our review of this card by itself and paired up in SLI mode. We compare it to a Gigabyte 7800 GT and GTX and a reference 6800 GT.
Introduction

---
When video card shopping, many people look at a card's core and memory clock speeds, the included bundle of software and accessories, and the warranty among other things. More than ever before, NVIDIA's board partners are offering out-of-the-box, warrantied overclocks, so checking out clock speeds is worthwhile. More important to many consumers, though, is the warranty. XFX not only offers factory overclocked cards, but it also offers an exclusive Double Lifetime Warranty on 6 and 7 Series cards. The company also packs in some nice bundles with its cards.

All of these factors add up to a great offering, but they don't mean much if the cards don't perform as expected. In this review, I'll be taking a look at the XFX GeForce 7800 GT. On the surface, this looks like a very promising package — factory overclock to 450MHz / 1050MHz, Double Lifetime Warranty and a nice bundle with three full games. Let's dive in and see if XFX's 7800 GT is as good at the core as it seems at first glance.
Features & Specifications

---
Features
Powered by NVIDIA GeForce 7800 GT VPU
Supports PCI Express and 20 pipelines
Integrated with 256MB GDDR3 memory and 256-bit memory interface
Supports HDTV function and HDTV cable enclosed
Supports VIVO function for video editing
NVIDIA SLI Ready
NVIDIA CineFX 4.0 engine
Microsoft DirectX 9.0 Shader Model 3.0 support
64-bit texture filtering and blending
NVIDIA Intellisample 4.0 technology
NVIDIA PureVideo technology
NVIDIA ForceWare Unified Driver Architecture (UDA)
NVIDIA nView multi-display technology
OpenGL 2.0 support
Dual DVI-I, TV-Out and D-Sub (by adapter)
Specifications
Model Number: PV-T70G-UDF7
Engine Clock: 450MHz (Factory Overclock)
Memory Clock: 1.05GHz (Factory Overclock)
Chipset: GeForce 7800 GT
Memory: 256MB
Memory Type: DDR3
Memory Bus: 256-bit
| | | | |
| --- | --- | --- | --- |
| Comparison | 7800 GTX | 7800 GT | XFX 7800 GT |
| Graphics Bus Technology | PCI Express | PCI Express | PCI Express |
| Memory Interface | 256-bit | 256-bit | 256-bit |
| Memory | 256MB GDDR3 | 256MB GDDR3 | 256MB GDDR3 |
| Core Clock | 430MHz | 400MHz | 450MHz |
| Memory Clock | 1.2GHz | 1.0GHz | 1.05GHz |
| Pixels per Clock (peak) | 24 | 20 | 20 |
| RAMDACs | 400 MHz | 400 MHz | 400 MHz |
While the 7800 GTX boasts 24 pixel pipelines and eight vertex shading units, the 7800 GT features 20 pixel pipes and seven vertex units. Additionally, the reference GT's core clock is 30MHz slower than the GTX, and its memory clock is 100MHz (200MHz effective) slower. XFX didn't settle for 400MHz on the core, though. The company boosted it to a healthy 450MHz. The memory doesn't get that big of a boost as it is only overclocked by 25MHz (50MHz effective). On the positive side of things, the GT has a lower peak power consumption than the GTX (15W less to be exact). The GT's peak power consumption is 85W.
Closer Look & Bundle

---
Closer Look
As I've mentioned in other recent video card reviews, most companies are not deviating much from NVIDIA's reference 7800 GT design. XFX is no exception. You can see the reference cooler in the pictures below. Although not very flashy, it is pretty nifty for a reference cooler, and it is a one-slot solution.
In the first picture below, the TV-out and two DVI connectors are visible. The second image shows the 6-pin PCI Express power connector. You will want a decent power supply to run a GT and an even better one to run two in SLI. In the last picture, you can see the strip of metal that runs along the top of the card. I think XFX is the only company to add that.
Bundle
XFX includes both practical and fun stuff in its 7800 GT bundle. The practical stuff includes an HDTV / VIVO cable, two S-video cables, two DVI-to-VGA adapters, a power cable, manuals and a driver CD. The fun stuff consists of three full version games: Far Cry, X2: The Threat and MotoGP2.
XFX 7800 GT
HDTV / VIVO cable
2 S-video cables
2 DVI-to-VGA adapters
PCI Express power cable
Manuals
Driver CD
Far Cry (full)
X2: The Threat (full)
MotoGP2 (full)
The mix of games will help the bundle appeal to more gamers. Of the three, I've only played Far Cry, and I think we all know how popular that one is. Plus, it's a good game to push the limits of your new 7800 GT. To me, it's the highlight of the bundle; I'm glad XFX includes it.
Test System & Benchmarks

---
Test System
AMD Athlon 64 3800+
DFI LANParty NF4 SLI-DR Motherboard (review)
Video Card 1: XFX GeForce 7800 GT – DirectX 9.0c, ForceWare 78.01
Video Card 2: Gigabyte GeForce 7800 GTX – DirectX 9.0c, ForceWare 78.01
Video Card 3: Gigabyte GeForce 7800 GT – DirectX 9.0c, ForceWare 78.01
Video Card 4: NVIDIA Reference GeForce 6800 GT – DirectX 9.0c, ForceWare 78.01
Maxtor 120GB Serial ATA 7200RPM Hard Drive
Windows XP with Service Pack 2
20″ Dell LCD Monitor – max resolution 1600×1200
Benchmarks
3DMark03 v3.6.0 – default settings and 4xAA / 8xAF
3DMark05 v1.2.0 – default settings
AquaMark3 – 4xAA / 8xAF, high quality
Counter-Strike: Source – 4xAA / 8xAF
Doom 3 – NoAA / High Quality and 4xAA / High Quality, both with highest details set in game
Far Cry – NoAA / 1xAF and 4xAA / 8xAF
X2: The Threat, Rolling Demo – automatic quality set in benchmark with antialiasing, bumpmaps and shadows enabled in benchmark
Benchmark Results – 3DMark03

---
Let's start by seeing how the XFX 7800 GT compares to the Gigabyte 7800 GT, Gigabyte 7800 GTX and reference 6800 GT in 3DMark03's feature and game tests. The two comparisons I would pay attention to are the XFX 7800 GT versus the Gigabyte 7800 GT and GTX (which aren't overclocked) and the Gigabyte 7800 GTX versus the two XFX 7800 GTs in SLI.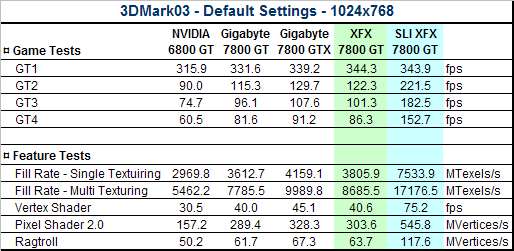 The 50MHz edge that the XFX GT has over the Gigabyte GT boosts performance quite nicely, and the SLI XFX GTs really shine. This is the first time I have had the chance to test two 7 Series cards in SLI, and these numbers got me excited and made me look forward to the rest of the testing.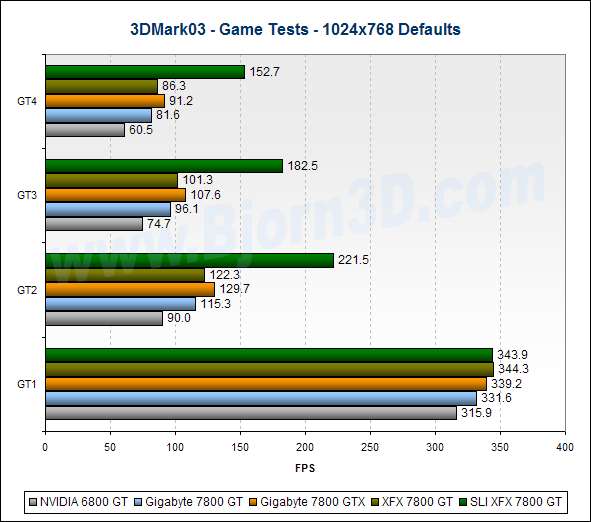 Now have a look at the official 3DMark03 results at the default settings and 4x anti-aliasing (AA) and 8x anisotropic filtering (AF).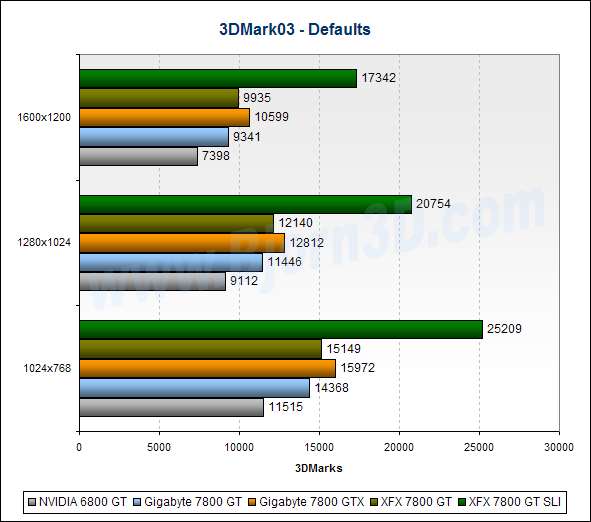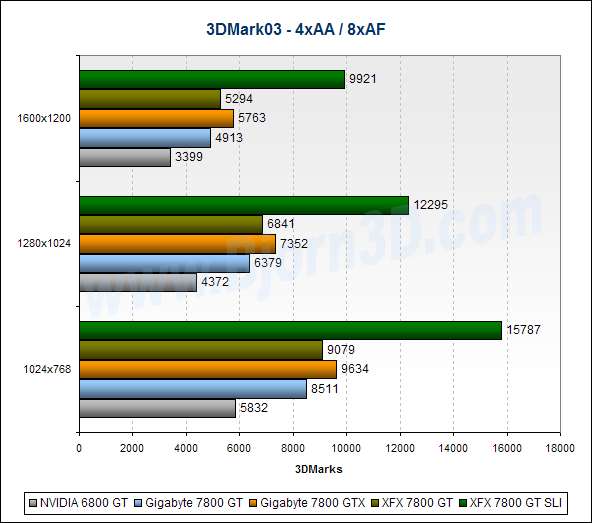 Benchmark Results – 3DMark05

---
The feature and game test results in 3DMark05 are also worth a quick look to see how the cards compare.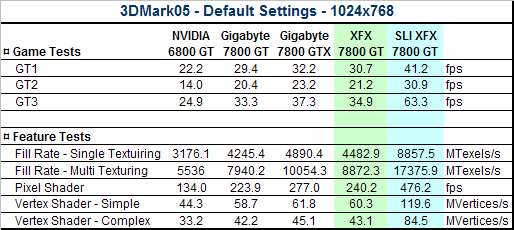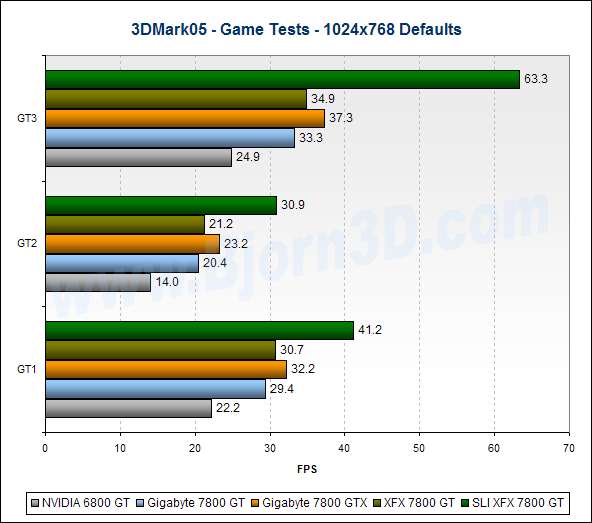 Once again, these test show the benefits of the out-of-the-box overclock that the XFX 7800 GT offers over one that is not overclocked. Plus, the SLI results are impressive again as well.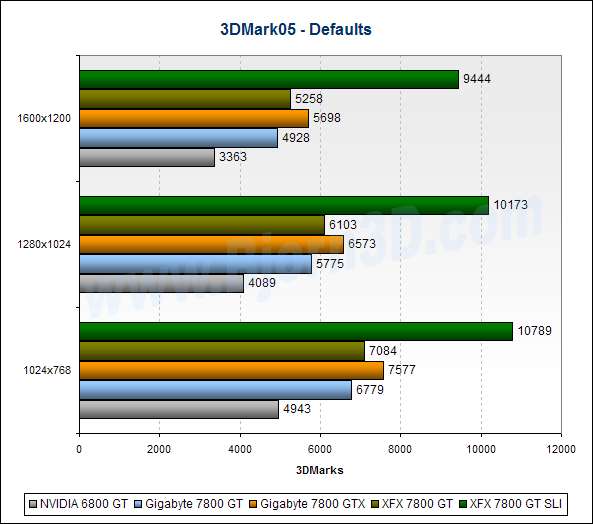 With the XFX 7800 GTs in SLI, my system surpassed the 10k mark for the first time.
Benchmark Results – AquaMark3 & X2: The Threat

---
AquaMark3
The AquaMark3 benchmark is based on an actual game engine, and some parts of the benchmark can really stress even the most modern cards. I ran the benchmark with 4xAA and 8xAF in the application and "Application Preference" set in the driver control panel.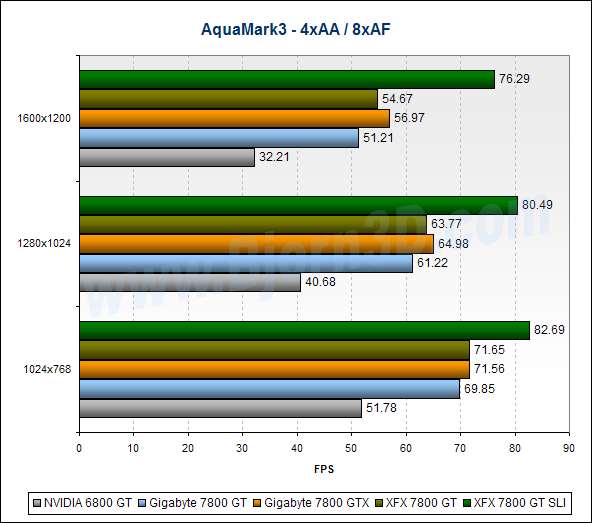 X2: The Threat Rolling Demo
This demo is also based on a game, and that is X2: The Threat, of course. The Rolling Demo renders a bunch of different game scenes and reports scores for each scene and an average score in frames per second (FPS). The chart below just shows the average. This benchmark was run with bumpmaps, shadows and anti-aliasing set to "On" in the application and with "Application Preference" set in the driver control panel.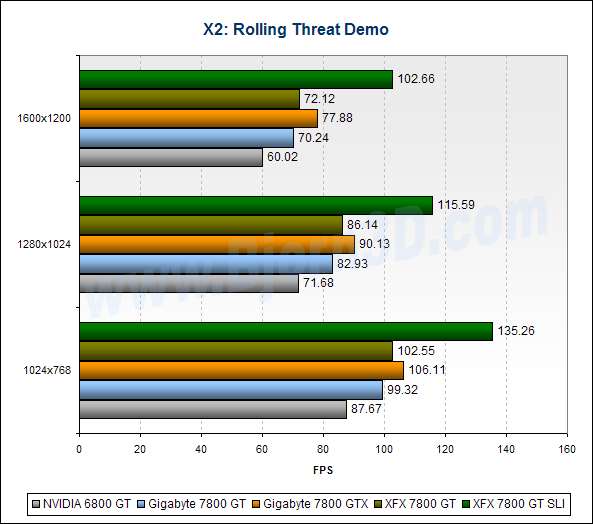 Benchmark Results – CS: Source VST & Doom 3

---
CS: Source VST
Until I replace my Half-Life 2 demos that were left unusable after the last Steam update, I'll be substituting in the Counter-Strike: Source video stress test, which can be found in the CS: Source game menu.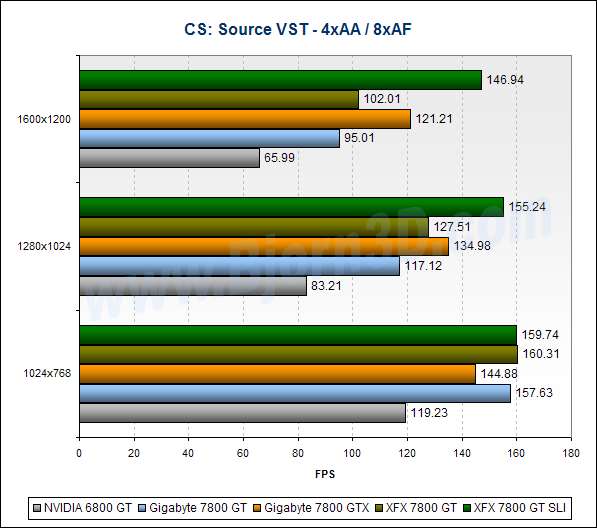 Doom 3
While it can play fairly well on low-end systems at lower resolutions, Doom 3 can really punish a system if you crank up the details and resolution. I ran the included demo1 timedemo with quality set to high and AA turned off and also with quality set to high and AA set to 4x in the game.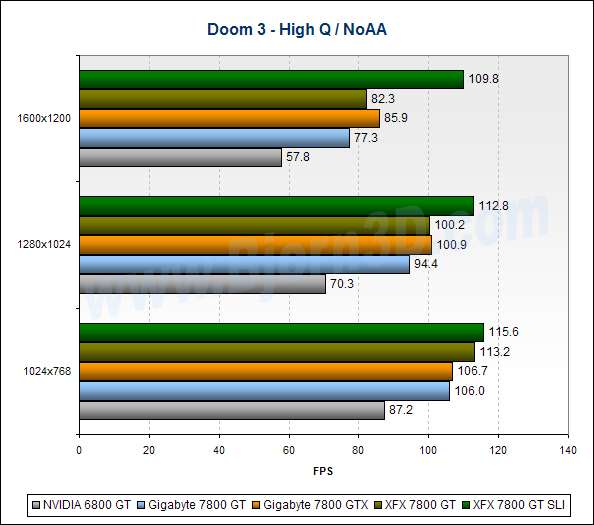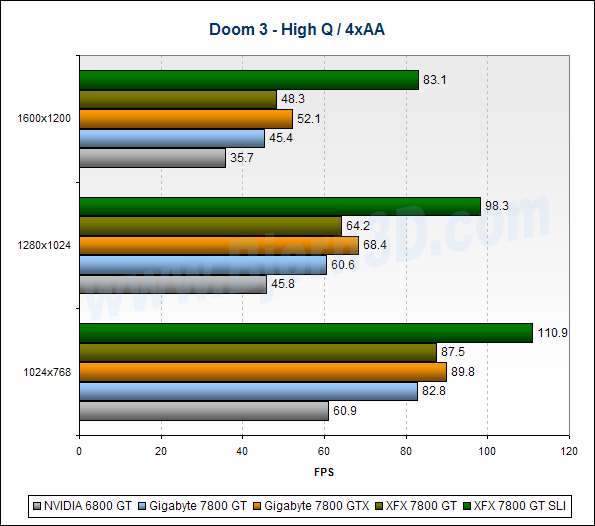 I was surprised by how well the XFX 7800 GT fares against the Gigabyte 7800 GTX in these tests. The GTX would definitely pull away more at even higher resolutions or higher AA/AF levels, but at the levels tested, there isn't much of a compelling reason to get a GTX. Then, take the SLI results into consideration and XFX's offering gets even more enticing.
Benchmark Results – Far Cry

---
Far Cry, which is included with the XFX 7800 GT, can be a very punishing game to even the top machines. I used a benchmarking utility from HardwareOC to benchmark this game. I used the HOC volcano and river demos for testing. In the NoAA / 1xAF tests, my system is definitely CPU limited.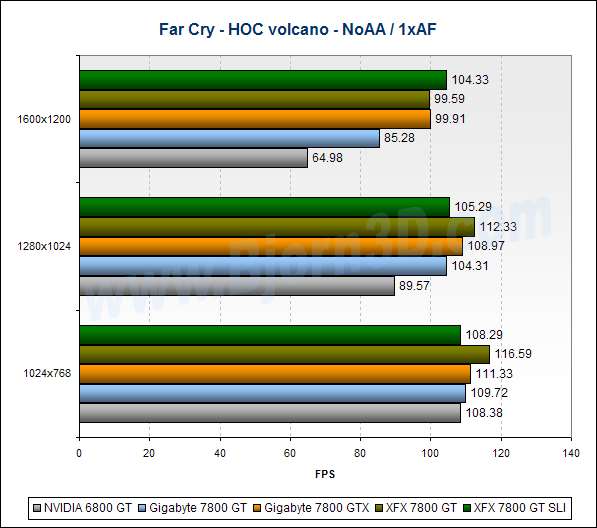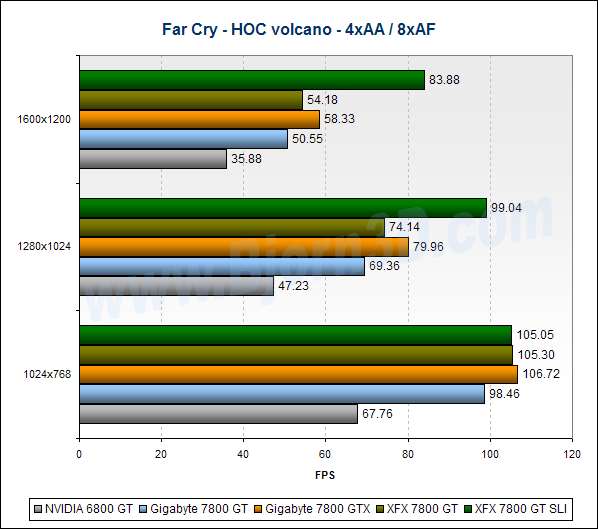 The benefits of SLI are very clear here. No wonder cards like these are going to be on everyone's Christmas list this year!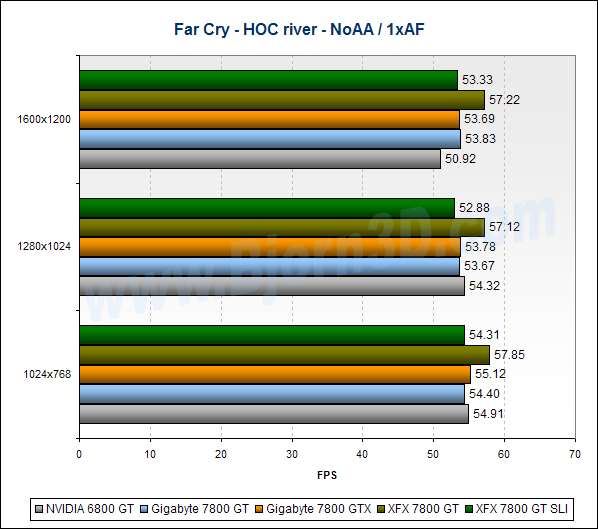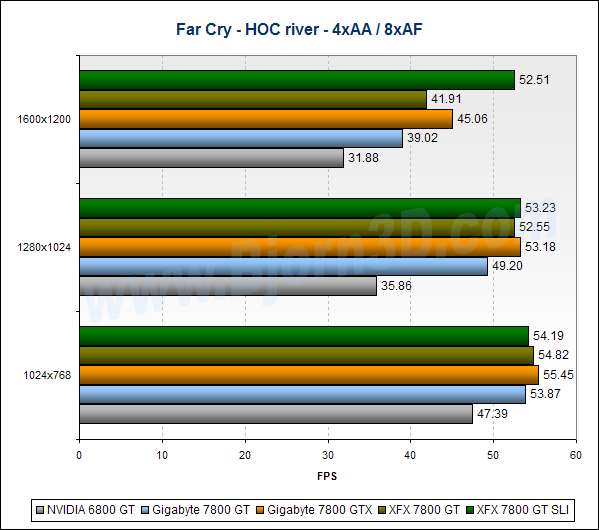 The river map doesn't produce very exciting results, but the 1600×1200 4x/8xAF results are what we would expect to see.
Overclocking

---
For those of you not happy enough with the awesome performance that the XFX 7800 GT offers at its factory overclock, you'll be happy to know it has more headroom. Each card will overclock differently of course, and before overclocking you should read your warranty closely and understand the risks involved.
Both of XFX 7800 GTs I tested were able to reach 470MHz core and 1,100MHz memory, which resulted in performance increasing between five and fourteen percent.
Conclusion

---
If you are considering a jump to the GeForce 7 Series, do yourself a favor and look at XFX's 7800 GT. It comes with a nice factory overclock of 450/1050MHz, a nice bundle and a great Double Lifetime Warranty. I was totally impressed by the performance of this card, especially when running in SLI mode.
It really makes no sense to buy a non-overclocked 7800 GT when the XFX 7800 GT exists. If it didn't come with a lifetime warranty, I could understand some conservative buyers reluctance, but that is not the case. Just look how this card performs compared to a non-overclocked 7800 GTX that costs $120-170 more. It's a no-brainer for those who can splurge a little but don't quite have $450-500 to buy the absolute best. If you have $700 set aside for pixel pushing and have a monitor that can push 1600×1200 or higher, then get two and prepare to smile huge.
All the greatness of the XFX 7800 GT can be had for just under $340 right now at ZipZoomFly, which easily the best price. Monarch Computer and Newegg are both offering it for about $360.
Pros:
+ Awesome factory overclock
+ Awesome performance
+ Add another for SLI action!
+ Nice bundle
+ Double lifetime warranty
Cons:
– Not cheap, but no 7800 GT is
Final Score: 9.5 out of 10 and the Bjorn3D Golden Bear Award