We take a look at our first retail GeForce 7800 GTX 512 card to see how fast it flies. The GTX 512 is undoubtedly the fastest performing card on the block right now, but is it worth the current asking price? Read this review of XFX's 7800 GTX 512 XXX Edition to get a better idea.
Introduction

---
NVIDIA is on one heck of a good streak lately. With its 7 Series cards and SLI, NVIDIA was the undisputed gaming performance leader for months. Then, ATI finally released its X1800 XT, a 512MB powerhouse, and NVIDIA lost the lead in many games. Not to worry, though, NVIDIA fans. NVIDIA had its response ready and waiting to pounce. That response is the GeForce 7800 GTX 512, which we recently covered in a preview article.
In that preview article, I talked about the XFX GeForce 7800 GTX 512 XXX Edition graphics card. Today, it's time to take a closer look at that card as promised. Those three letters ("XXX") might already have your head in the gutter, but here's what XFX wants you to know about its XXX Edition cards.
"Products marked with the label XXX have a new level of graphics performance and experience. During selection of the components, the absolute top is being separated from the masses, including the GPU's. During the production, only the best yield has been selected to go forward into the XXX production. During this extensive tuning process, the products are being pushed to the max and then made ready for the assembly process. This is why we have called this level of graphics cards eXtreme, eXtreme and eXtreme again, visualized into the 'XXX' logo. The three X's stand for eXtreme overclocking, eXtreme performance and eXtreme cooling."
So, let's get to the review of this awesome new card.
Features & Specifications

---
The 7800 GTX 512 is based off the same core design of the original 256MB 7800 GTX, but it has 512MB of GDDR3 and is running at higher clock speeds thanks to a PCB redesign, new cooling solution and new higher speed RAM. NVIDIA set the reference clock speeds for the GTX 512 to 550MHz for the core and 1.7GHz for the memory (effective), which is quite a jump up from the original GTX's 430MHz core and 1.2GHz memory. For its 7800 GTX 512 XXX Edition, XFX factory overclocks both the core and memory by 30MHz (which makes them 580MHz and 1.73GHz, respectively).
Features
Next-generation superscalar GPU architecture
NVIDIA SLI Ready
NVIDIA CineFX 4.0 engine
Microsoft DirectX 9.0 Shader Model 3.0 support
64-bit texture filtering and blending
NVIDIA Intellisample 4.0 technology
NVIDIA PureVideo technology
NVIDIA ForceWare Unified Driver Architecture (UDA)
NVIDIA nView multi-display technology
OpenGL 2.0 support
2 x DVI-I and TV-Out connectors
XFX Exclusive Double Lifetime Warranty (USA & Canada only)
Factory overclock
Specifications
| | | | |
| --- | --- | --- | --- |
|   | Reference 7800 GTX | Reference 7800 GTX 512 | XFX 7800 GTX 512 XXX |
| Graphics Bus Technology | PCI Express | PCI Express | PCI Express |
| Memory Interface | 256-bit | 256-bit | 256-bit |
| Memory | 256MB GDDR3 | 512MB GDDR3 | 512MB GDDR3 |
| Core Clock | 430MHz | 550MHz | 580MHz |
| Memory Clock | 1.2GHz | 1.7GHz | 1.73GHz |
| Pixels per Clock (peak) | 24 | 24 | 24 |
| RAMDACs | 400 MHz | 400 MHz | 400 MHz |
Closer Look & Bundle

---
Closer Look
The only deviation from NVIDIA's reference design that XFX implemented for its GTX 512 XXX cards (other than overclocking) was adding its sticker to the fan. Everything else you see in the pictures below is exactly the same as the reference design.
The GTX 512 uses a rather large cooler, one that was originally seen on NVIDIA's Quadro FX 4500. This cooler is a two-slot beast, so prepare yourself for some crowding in your case, especially if you go with an SLI setup. The cooler consists of four heatpipes and covers the GPU and all the memory chips. The large fan is located directly above the GPU.
Like other high-end video cards, the XFX 7800 GTX 512 XXX features dual DVI out. It also has an HDTV/VIVO connector. Also just like other high-end cards, this card requires power from your power supply via the 6-pin power connector, which you can see in the second shot below.
Bundle
XFX includes both practical and fun stuff in its 7800 GTX 512 XXX bundle. The practical stuff includes an HDTV / VIVO cable, two S-video cables, two DVI-to-VGA adapters, a power cable, manuals and a driver CD. The fun stuff consists of three full version games: Far Cry, X2: The Threat and MotoGP2. The inclusion of three games is great, and the variety of titles should help the bundle appeal to a wider range of gamers.
XFX 7800 GTX 512 XXX
HDTV / VIVO cable
2 S-video cables
2 DVI-to-VGA adapters
PCI Express power cable
Manuals
Driver CD
Far Cry (full)
X2: The Threat (full)
MotoGP2 (full)
XFX's eye-catching X-shaped box appears to have disappeared for this launch; it was replaced by a more typical rectangular box. While the X-shaped boxes were cool, they weren't the quickest boxes to open up and get into. XFX still found a way to make its box distinctive, though. And I know that the XXX moniker got your attention!
Test System & Benchmarks

---
Test System
Now, let's take a look at the performance of a single XFX 7800 GTX 512 XXX Edition versus the performance of two XFX 7800 GTs in SLI and a single Gigabyte 7800 GTX. One thing that makes the XFX 7800 GT SLI versus XFX 7800 GTX 512 comparison so interesting is the price of each setup. Two XFX 7800 GTs would cost you about $680-700 while the XFX 7800 GTX 512 XXX is around $750-800 (quite a hike above the GTX 512's MSRP of $649).
Unfortunately, we don't have a Radeon X1800 XT for comparison today as we still haven't gotten a sample in our US labs yet. When we get the chance to review one in the US, we'll definitely compare it to the GTX 512. Check out the specs of my review system below.
DFI LANParty NF4 SLI-DR Motherboard (review)
AMD Athlon 64 3800+
Corsair TWINX1024-3200XL (review)
Maxtor 120GB Serial ATA 7200RPM Hard Drive
Graphics 1: XFX GeForce 7800 GTX 512 XXX Edition
Graphics 2: 2 x XFX GeForce 7800 GT in SLI
Graphics 3: Gigabyte GeForce 7800 GTX
Windows XP with Service Pack 2
ForceWare 81.89 and DirectX 9.0c
Benchmarks
3DMark03 v3.6.0 – default settings and 4xAA / 8xAF
3DMark05 v1.2.0 – default settings
AquaMark3 – 4xAA / 8xAF, high quality
Counter-Strike: Source, Video Stress Test – 4xAA / 8xAF
Doom 3 – NoAA / High Quality and 4xAA / High Quality, both with highest details set in game
Far Cry – NoAA / 1xAF and 4xAA / 8xAF
X2: The Threat, Rolling Demo – automatic quality set in benchmark with antialiasing, bumpmaps and shadows enabled in benchmark
Please note that all benchmarks were run at the High Quality setting in NVIDIA's driver control panel in order to insure the best image quality possible. When spending this much money, you ought to be able to not compromise on IQ.
Benchmark Results – 3DMark03

---
An introduction to 3DMark is probably unnecessary. Many reviewers have totally dropped 3DMark from their test suites, but I still like to include both 3DMark03 and 3DMark05 since so many people love to compare 3DMark results and since so many people are familiar with the tests.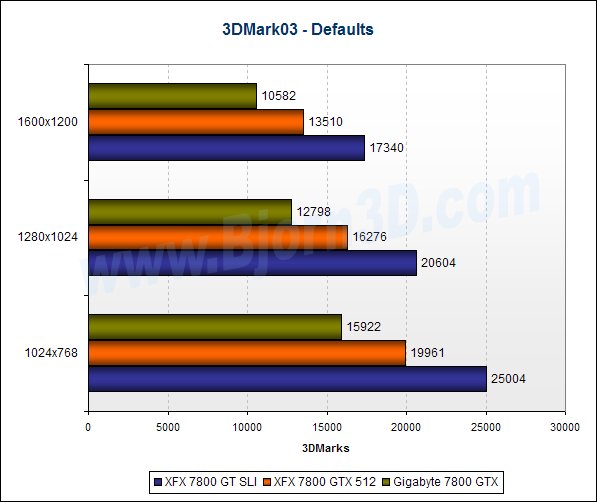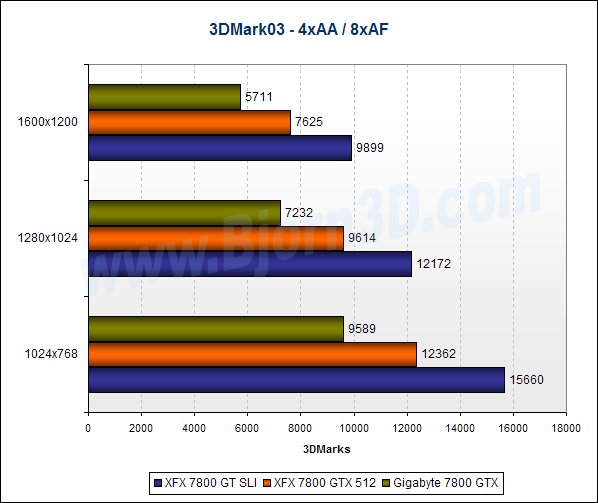 Keep in mind that the 3DMark tests are just synthetic benchmarks and should be taken with a grain of salt. These results show that the XFX 7800 GTX 512 XXX performs quite a bit better than the 256MB Gigabyte 7800 GTX, but the GTX 512 can't quite keep up with two 7800 GTs in SLI.
Benchmark Results – 3DMark05

---
In addition to the official test scores for 3DMark05, you can see the results from the feature tests below. The tests are good for showing the relative power of each card in regards to fillrates and shader capabilities.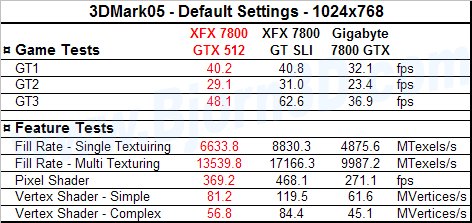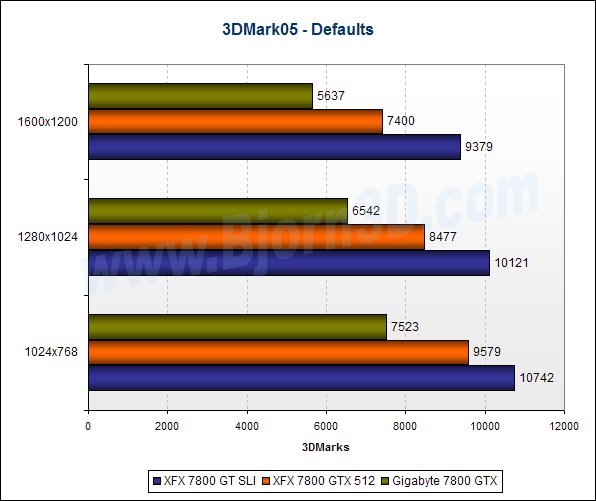 As expected, the results in 3DMark05 tell us the same thing as 3DMark03.
Benchmark Results – AquaMark3 & X2: The Threat

---
AquaMark3
The AquaMark3 benchmark is based on an actual game engine, and some parts of the benchmark can really stress even the most modern cards. I ran the benchmark with 4xAA and 8xAF in the application and "Application Preference" set in the driver control panel.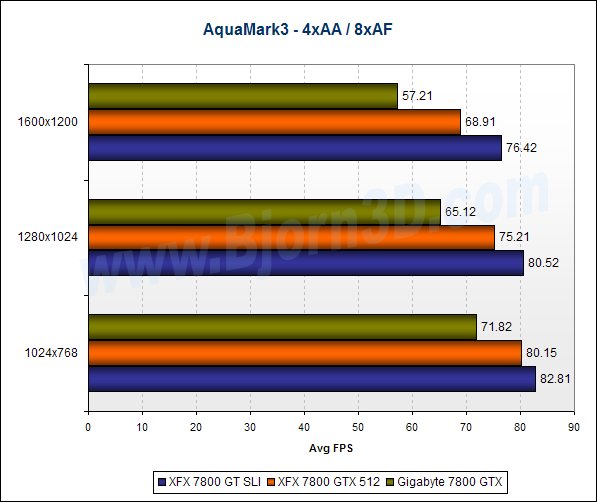 Once again, the XFX 7800 GTX 512 XXX outpaces the regular GTX by a considerable margin, but the SLI GTs are too much for it, although the GTX 512's performance is pretty close at 1024×768 and 1280×1024.
X2: The Threat, Rolling Demo
This demo is also based on a game, and that is X2: The Threat, of course. The Rolling Demo renders a bunch of different game scenes and reports scores for each scene and an average score in frames per second (FPS). The chart below just shows the average. This benchmark was run with bumpmaps, shadows and anti-aliasing set to "On" in the application and with "Application Preference" set in the driver control panel.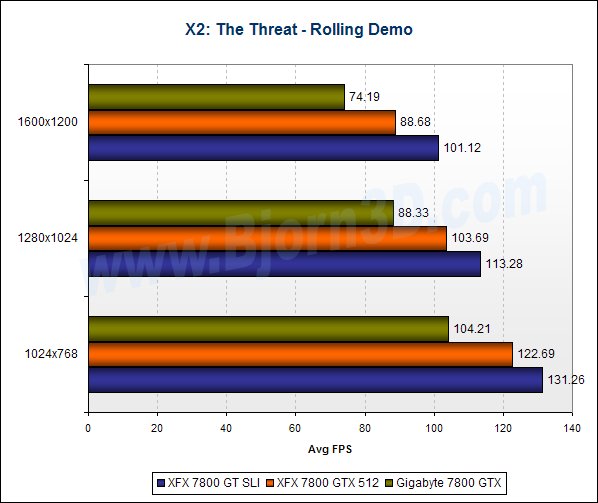 It's the same story again here. I'm really impressed by how much the GTX 512 XXX's performance surpasses the 7800 GTX.
Benchmark Results – CS: Source VST & Doom 3

---
CS: Source VST
The Counter-Strike: Source video stress test, which can be found in the CS: Source game menu, is a quick benchmark that tests a card's ability to render various scenes that demonstrate the Source engine's advanced capabilities. The average FPS is shown on the graph.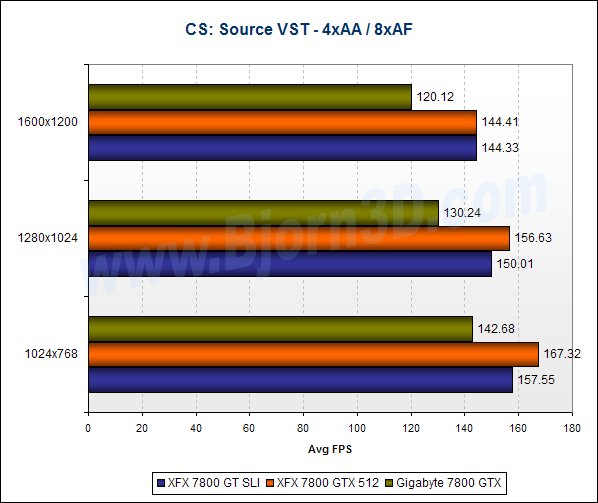 Here the XFX 7800 GTX 512 XXX really shines and actually performs quite a bit better than the 7800 GTs in SLI. These results are quite impressive.
Doom 3
While it can play fairly well on low-end systems at lower resolutions, Doom 3 can really punish a system if you crank up the details and resolution. I ran the included demo1 timedemo with quality set to high and AA turned off and also with quality set to high and AA set to 4x in the game.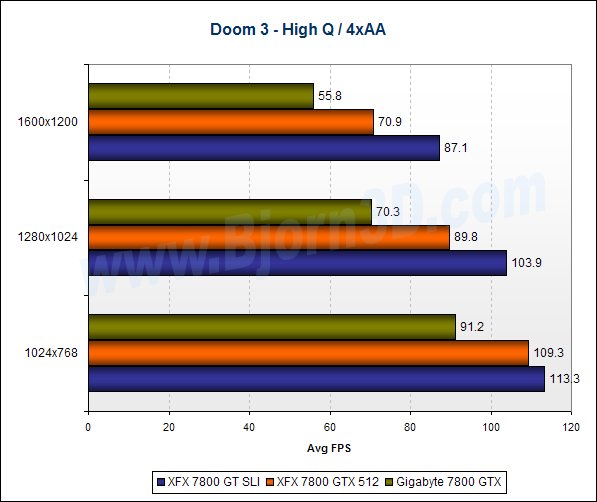 The XFX 7800 GTX 512 XXX shines a little brighter here as well, especially with AA disabled. The SLI GTs take back their commanding lead, though, once 4xAA is enabled.
Benchmark Results – Far Cry

---
Far Cry, which is included with the XFX 7800 GTX 512 XXX, can be a very punishing game to even the top machines. I used a benchmarking utility from HardwareOC to benchmark this game. I used the HOC volcano and river demos for testing. In the NoAA / 1xAF tests, my system is definitely CPU limited.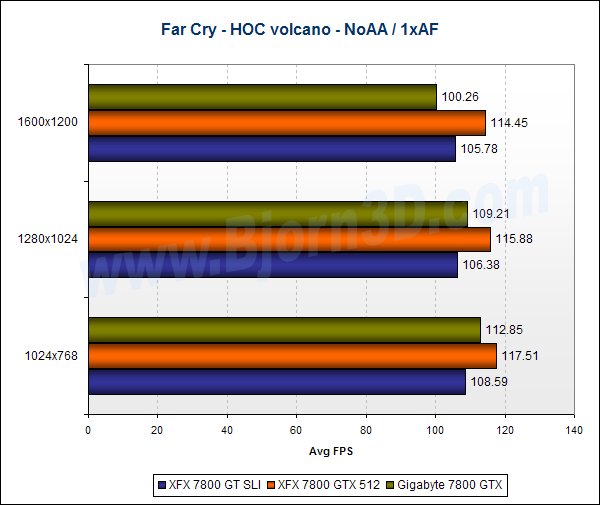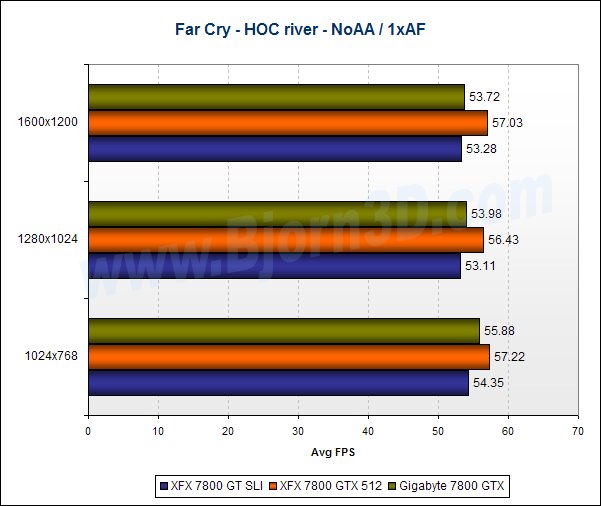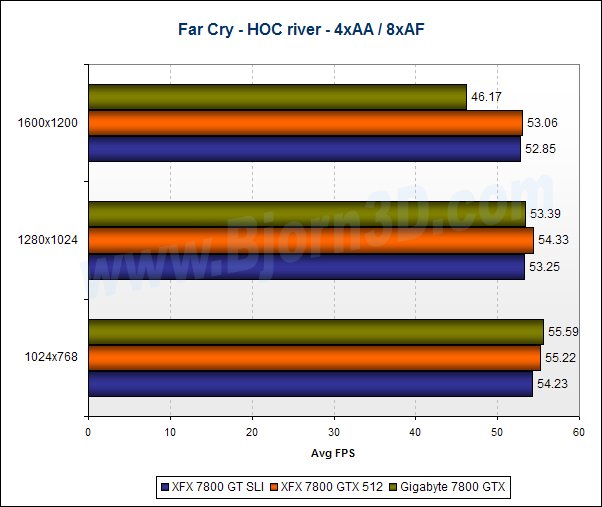 Benchmark Results – F.E.A.R.

---
F.E.A.R. is a game known for nice graphics, and it happens to be a good test of a powerful machine if you turn up all the eye candy. When running the performance test, I set all settings in the game to maximum, but I left soft shadows disabled. This test was only done on the GTs in SLI and the GTX 512 XXX.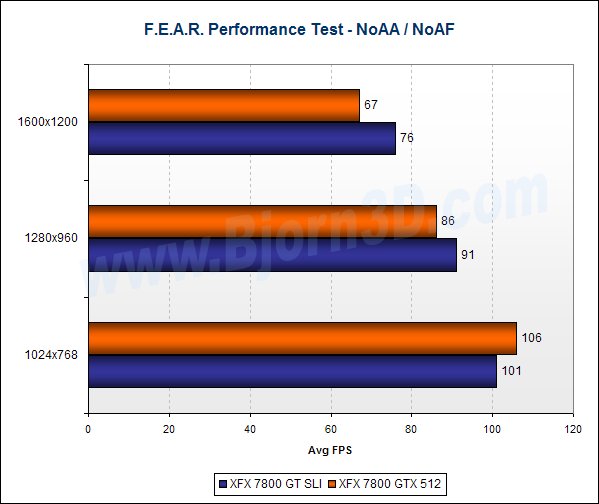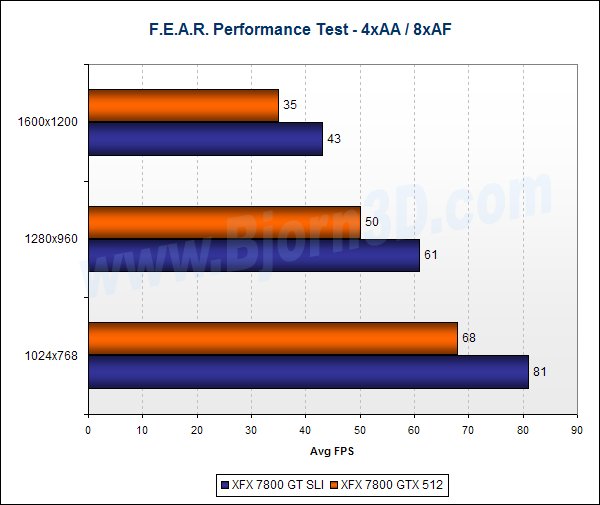 Here you can see the XFX 7800 GTX 512 XXX performing very well again. The two GTs don't beat it by too big of a margin.
Overclocking

---
I'm not really sure why you would need or want to even overclock this card, but I don't want anyone to yell at me for not trying. So, I gave it a go. For overclocking, I just use the Coolbits registry hack. I reached speeds of 605MHz on the core and 1.78GHz on the memory, which isn't too shabby over the 580MHz and 1.73GHz factory overclock.
When I tried to go higher, I noticed some graphic anomalies in 3DMark05. The 605/1.78 overclock resulted in a 2-6% performance increase in various tests I ran. As always, your overclocking experience will vary.
Conclusion

---
The XFX GeForce 7800 GTX 512 XXX Edition is, hands down, the best single card solution that I have ever seen for playing games. Therefore, two XFX GeForce 7800 GTX 512 XXX Edition cards would then have to be the absolute greatest solution money can buy right now for hardcore, no-holds-barred gaming performance. Can you say gratuitous? If an excess of money happens to be a problem you enjoy having, then I'm guessing you are already shopping for or in the middle of buying these cards. You won't regret it, and I'm sure you'll be bragging on three different forums within one hour of installation.
More than just performance makes this card a good choice if you want the performance crown. XFX also offers its Double Lifetime Warranty and a very nice bundle that includes three games in addition to the practical accessories. That warranty shows XFX's confidence in its products and its willingness to back them. It really doesn't get much better than this.
Only two factors make this card not recommendable to everyone: price and size. Currently, this card will cost you between $750 and $800, considerably more than the $649 MSRP. The card also seems to be out of stock or low on stock at all major online retailers. I have seen suggestions that the first shipment will be the only shipment, so we'll have to watch to see if stock comes in again for GTX 512 cards or not. Whatever the case, it's obvious the stock isn't as strong as it was for the 256MB GTX. We were all happy to see the 7800 GTX fall from about $600 to $500 rather quickly, but a quick price drop isn't likely this time if the supply isn't as large while the demand is relatively high. No matter how you slice it, $750 is a lot of money to spend on a video card or any component. Is it worth it? Only if you must have the best and can afford it.
As far as size goes, most rigs will handle the card fine, but if you plan to go SLI, then check things out first. You probably will only be able to use one PCI card once both of these are installed on your motherboard, and even that will be a tight fit more than likely.
Pros:
+ Awesome factory overclock
+ Jaw-dropping performance
+ Add another for SLI action!
+ Nice bundle
+ Double Lifetime Warranty
Cons:
– Very expensive
– Very expensive (yes, that's repeated on purpose)
– Big, 2-slot beast
Final Score: 9 out of 10 and the Bjorn3D Seal of Approval