Enermax delivers an attractive, flexible, and powerful PSU with its new Liberty ELT620AWT. If you are looking for a high-end modular power supply, do yourself a favor and check out this review!
Introduction

---
Power supplies used to be the least-sexy component in your PC. Power supply makers spent their marketing dollars on convincing us of the benefits of quality power versus fancy bells and whistles. That changed not too long ago when customized cases came into vogue. Now you can buy power supplies with neon lights, blinking strobes, and just about anything else desired to pimp your rig. But product differentiation doesn't end at cosmetics thanks to recent hardware innovations and requirements. Modular connections were introduced in 2004 and have become a popular feature. The SATA IDE and PCI-E interfaces added new power needs, as did the return of dual video cards. Reduced noise and heat output are also high on the desired features list. And don't forget the potential replacement of the ATX form factor with BTX.
Enermax is a well-established and respected supplier of power supplies (among other things, including cases and various peripherals). Their new Liberty line of power supplies is intended to address the need for style and features and, of course, reliable power.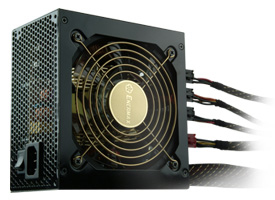 Specifications and Features:
The subject of this review is the Enermax Liberty ELT620AWT, kindly supplied by Enermax's U.S. subsidiary, Coolergiant Computers, Inc. As you may have inferred from the model name, the ELT620AWT has a bodacious 620 Watts of combined power output. That should pretty much settle the issue if you're wondering if it has enough juice to take care of your current and future power needs!
Here are the features and specifications as provided by Enermax:
Full compliance with the highest standard to desktop power requirements.
Split 12V rails provide most stable current to CPU,GPU,MB and drives.
Full Support of Dual Core systems (incl. Pentium D EE and Athlon 64 X2) & Dual CPU systems.
Convertible design to power up ATX/BTX systems and support Dual CPU entry-level server/workstation.
PF value up to 0.99 to provide stable and clean power under 100-240VAC by auto switching.
High efficiency of about 80% under wide load range (30-100%) minimizes your electricity bill.
Special design 12cm fan combines silence and cooling by intelligent speed control.
Protected by OCP,OVP,UVP,OLP,SCP,OTP for maximum safety. Full rated power under 0-40°C/32-104°F ambient temp.
Smarter cable choice and better cable routing for a neat and tidy case.
Unique 4-pin Molex + SATA connectors in pairs give you free choice on using either PATA or SATA devices.
Support of Dual PCI-E graphics cards (SLI or CrossFire).
Toughest EMI shielding protects your system and near-by appliances.
ELT620AWT

AC Input

Universal 100-240VAC input

Current rating

4A-9.5A

Frequency

50Hz – 60Hz

DC Output Rating

+3.3V

28A

170W

+5V

32A

+12V1

22A

432W(36A)

+12V2

22A

+3.3V,+5V
+12V1,+12V2 Combined

597.8W

-12V

0.6A

22.2W

+5Vsb

3A

Total Power

620W

Connector Configuration

ETERNITY PAIR
(SATA+4PMolex)

10 pairs(10+10)

PCI-E

2

FDD

2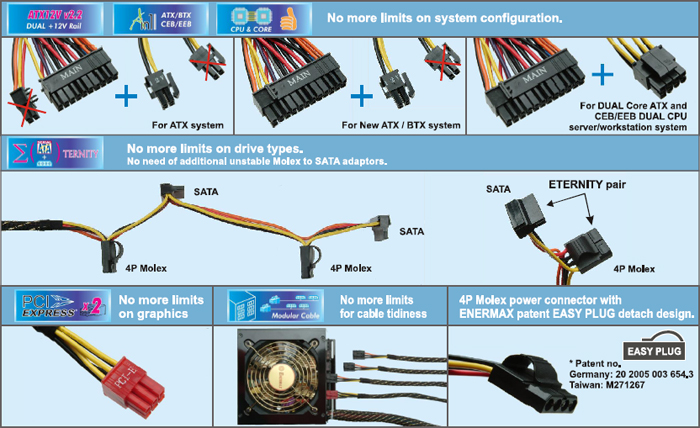 Installation

---
If you haven't used a power supply with modular connectors, then you'll have tears of joy when you realize you no longer have to tie up and hide the wires and connectors you don't need. The Liberty's wires are all braided with nylon mesh which makes them easy to route through a case and gives them a very neat appearance. The reduced number and diameters of the cables (smaller diameter than cables without a mesh wrapper) can also result in better airflow within your case. The ELT620AWT comes with all cables neatly stowed in a nice nylon bag. You can reuse the bag for tools, other parts, or just throw it in your parts bin and hold the spare cables for any future config changes. The ELT620AWT also comes with an Enermax-branded lanyard, from which you can hang your flash drive, ID card, backstage pass, or even the nylon cable bag.

The actual power supply bolts in just like any other unit and it fits the standard ATX form factor. The cables attach securely to the unit as well. The Molex power connectors use Enermax's EASY PLUG design which makes connecting your peripherals a snap. Literally. No more wrestling with an ill-fitting Moly plug; the EASY PLUG design slips in easily and is secure once connected.
The unit is attractive without being gaudy. The paint finish is a glossy metallic black. The single 120mm fan is iridescent and shows off the gold-colored heatsink quite nicely. Although looks aren't everything, the exposed components all look substantial and appear solidly connected.
The Eternity System cables give you the option of using one cable for either a SATA or PATA device without having to replace the entire cable. So if you're currently using a PATA hard drive and switch to SATA, you will not have to unplug the current power line; just use the SATA connector that's already in place. The ELT620AWT is fully compatible with both NVIDIA SLI and ATI Crossfire dual videocard setups.


SATA & Moly connectors
Under operation, the ELT620AWT ran coolly and quietly thanks to the 120MM fan, large heatsink, and the honeycomb grill at the rear of the PSU.
Testing

---
The test system has an Asus A8N32-SLI Deluxe motherboard, AMD Athlon 64 X2 4400+ CPU, two BFG 6800GT videocards, 2 SATA HD's, and 1 each PATA CD and DVD writer. A Radio Shack multimeter was used to measure output at idle and with the system fully loaded to determine if there are significant voltage differences or even anomalies. Power was drawn through a power conditioning UPS to remove any test variances attributable to voltage fluctuations.
Load test comprised of concurrent execution of Prime95, [email protected], AVG anti-virus scan, and ripping a DVD.
 

+3.3v

+5v

+12v

+12v

Idle

3.30

5.11

12.06

12.09

Full Load

3.29

5.08

12.04

12.06
The results show excellent stability under a full load, which is exactly why you pay money for a brand name PSU!
Conclusion

---
Although there's nothing revolutionary about the Enermax ELT620AWT, it does everything very well, and it has some nice evolutionary changes.  The Eternity connectors let you switch from Moly to SATA and back without re-wiring the PSU.  The Easy Plug connectors are definitely preferable to those that refuse to budge, then suddenly let go resulting in skinned knuckles, broken parts, and other calamities. The ELT620AWT is attractive, easy to configure, powerful, and shows excellent consistency under load. If you are looking for high powered modular PSU, then I highly recommend the Enermax ELT620AWT.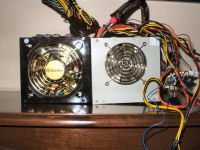 Old vs. New:  The ELT620AWT side-by-side with an Antec PSU.  Note the spaghetti!
Pros:
+ Modular connectors
+ Attractive without being gaudy
+ Runs quiet, cool, and predictably
+ Eternity SATA & Moly connectors
+ Easy Plug connectors
Cons:
– May not be gaudy enough if you want people to really notice your PSU.

Final Score: 8.5 out of 10