To make the long story short, it would't be wise of me not to recommend this card. Everyone who is seeking a cheap upgrade yet wants decent performance should give PowerColor X800 GTO16 a considerate and detailed look. Whether you're a gamer, enthusiast or graphics editor you should not look beyond what Tul offers with this rebranded XL video card. This board is packed with features (including dual DVI links) and great performance. At $179 USD it's simply a steal. The only gripe I have is lack of VIVO capability — only TV out.
Introduction – the power of 16

A bit of a history lesson before I start. If you want to get familiar with RADEON X800 GT, it's based on one of the three cores: R420, R423 or R480. Those scrap silicons with two non working quads had made a lot of fuss in the market — some where fully operational X850 GPUs. The obvious differences were clock speeds and number of pixel pipelines which put this card in the middle-end sector.

The power of 16 for $180 USD has finally arrived. Given the fact RADEON X800 XL is still priced at $200 and over, Tul had decided to throw in another X800 card into the mix. We've seen a lot of RADEON GT's on the market from various manufacturers. A while ago I reviewed a PowerColor X800 GT which was based on non-moddable R480 core. A week later, Sapphire figured it would be nice to release a board where you could unlock the additional quad. That was the RADEON X800 GTO² with its 12 pipelines. It didn't take long before w1zzard wrote an article on X800 GTO to X850 XT mod.
If you'd like more information on X800 SKU, please visit this Beyond3D thread.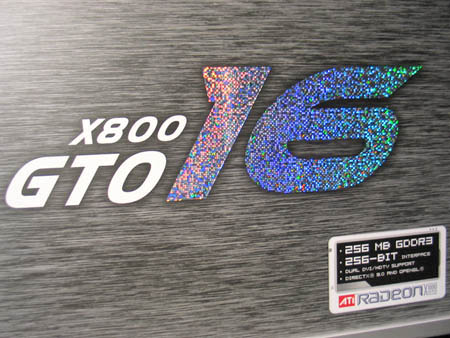 The card I'm displaying off today is last years generation based on ATi's RADEON X800 XL (R430) — both core and design wise. The price you have to pay however is not $599. It's not even $399, $299 or $199. You can get a rebranded X800 XL for as low as $179. So you're scratching your head and thinking where is the catch?

For those not in the know Tul Corporation is a Tier-1 provider of ATI-based graphic cards. The company is also a leader in providing motherboards and barebone systems. So what about PowerColor?


PowerColor is a consumer brand focused on providing cutting-edge graphics card products to retail customers. Our goal for the Tul brand is to be the industry's number one provider of technology product solutions. Our goal for the PowerColor brand is to be the world's number one brand of graphics cards. PowerColor is in effect owned by Tul Corporation, however the brands are operated independently of each other.

VPU Specifications

The card I'm displaying off today is last years generation based on ATi's RADEON X800 XL (R430) — both core and design wise. The price you have to pay however is not $599. It's not even $399, $299 or $199. You can get a rebranded X800 XL for as low as $179. So you're scratching your head and thinking where is the catch? There is no major catch, but there are few differences. First of all Tul needed to cut the cost of the board. With that in mind they decided to exclude VIVO capabilities from this card. Another difference is slower memory though that does not affect performance at all. The obvious and most important change was product name. The XL was rebranded with GTO16 instead. Price tag was lowered as well.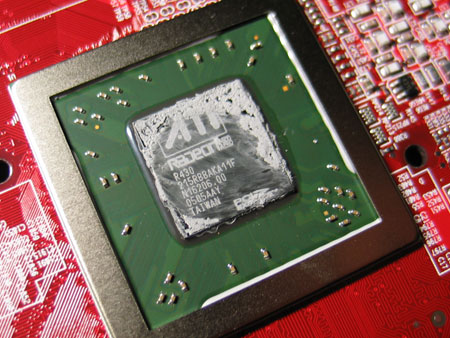 When you look at the specifications of the PowerColor X800 GTO16, they are the same as with XL. There are no architectural differences. GTO16 model is here to compete against 16 pixel pipeline GeForce 6800GT at a low price point.
| | | | |
| --- | --- | --- | --- |
| PowerColor | X800 GTO16 | X800 GT | X800 XL 512MB |
| VPU (256-bit) | R430 | R480 | R430 |
| Chip Architecture | .13µ low-k (TSMC fab) | .13µ low-k (TSMC fab) | .11µ (TSMC fab) |
| Transistors | ~160 Million | ~160 Million | ~160 Million |
| Memory Architecture | 256-bit | 256-bit | 256-bit |
| Frame Buffer Size | 256 MB GDDR-3 | 256 MB GDDR-3 | 512 MB GDDR-3 |
| Pixel Pipelines | 16 | 8 | 16 |
| Vertex Pipelines | 6 | 6 | 6 |
| TMU(s) per Pipeline | 1 | 1 | 1 |
| Engine | SMARTSHADER HD | SMARTSHADER HD | SMARTSHADER HD |
| Bus Type | PCI-e 16x | PCI-e 16x | PCI-e 16x |
| Core Clock | 400 MHz | 475 MHz | 400 MHz |
| Memory Clock | 980 MHz DDR | 980 MHz DDR | 980 MHz DDR |
| RAMDACs | 2x 400 MHz DACs | 2x 400 MHz DACs | 2x 400 MHz DACs |
| Memory Bandwidth | 31.4 GB / sec | 31.4 GB / sec | 31.4 GB / sec |
| Pixel Fillrate | 6.4 GPixels / sec | 3.8 GPixels / sec | 6.4 GPixels / sec |
| Texel Fillrate | 6.4 GPixels / sec | 3.8 GTexels / sec | 6.4 GPixels / sec |
| DirectX Version | 9.0c | 9.0c | 9.0c |
| Pixel Shader | 2.0b | 2.0b | 2.0b |
| Vertex Shader | 2.0b | 2.0b | 2.0 |
SMARTSHADER™ HD
Support for Microsoft® DirectX® 9.0 programmable vertex and pixel shaders in hardware
DirectX® 9.0 Vertex Shaders

Vertex programs up to 65,280 instructions with flow control
Single cycle trigonometric operations (SIN & COS)

DirectX® 9.0 Extended Pixel Shaders

Up to 1,536 instructions and 16textures per rendering pass
2nd generation F-buffer technology accelerates multi-pass pixel shader programs with unlimited instructions
32 temporary and constant registers
Facing register for two-sided lighting
128-bit, 64-bit & 32-bit per pixel floating point color formats
Multiple Render Target (MRT) support

Complete feature set also supported in OpenGL® via extensions
SMOOTHVISION™ HD
2x/4x/6x Anti-Aliasing modes

Sparse multi-sample algorithm with gamma correction, programmable sample patterns, and centroid sampling
Lossless Color Compression (up to6:1)at all resolutions, including widescreen HDTV resolutions
Temporal Anti-Aliasing

2x/4x/8x/16x Anisotropic Filtering modes

Up to 128-tap texture filtering
Adaptive algorithm with bilinear (performance) and trilinear (quality) options
3Dc™
High quality 4:1 Normal Map Compression
Works with any two-channel data format
HYPER Z™ HD
3-level Hierarchical Z-Buffer with Early Z Test
Lossless Z-Buffer Compression (up to 48:1)
Fast Z-Buffer Clear
Z Cache optimized for real-time shadow rendering
Optimized for performance at high display resolutions, including widescreen HDTV resolutions
VIDEOSHADER™ HD
Seamless integration of pixel shaders with video in real time
FULLSTREAM™ video de-blocking technology for Real, DivX, and WMV9 formats
VIDEOSOAP™ noise removal filtering for captured video
All-format DTV/HDTV decoding
Adaptive Per-Pixel De-Interlacing and Frame Rate Conversion (temporal filtering)
DISPLAY FEATURES
Dual integrated display controllers
Dual integrated 10 bit per channel 400 MHz DACs
Integrated 165 MHz TMDS transmitter (DVI 1.0 / HDMI compliant and HDCP ready)
Integrated TV Output support up to 1024×768 resolution
YPrPb component output for direct drive of HDTV displays†
Single and dual link external TMDS transmitter support for high resolution and/or multi-monitor DVI configurations
Compatible with ATI's THEATER™ video decode and capture devices for VIVO (Video Input / Video Output) configurations on certain X800 graphic cards
ADDITIONAL FEATURES
Windows® Logo Program compliant
CATALYST™ Software Suite
In terms of feature set, there are no major differences from R300 / R350 GPUs, except for improved pixel / vertex shader instructions and additional map compression.
The Card
Playing with high-end X1K cards and looking back at the size of PowerColor X800 GTO16 is bringing back old memories of small PCI graphics adapters. Despite different generations, performance did not improve as far as overall changes in design. Sure, most top shelf cards wear fancy patented cooling systems or other flashy equippment, but that just adds to the price tag.
Let's see a rather plain looking X800 GTO16 also known as RADEON X800 XL.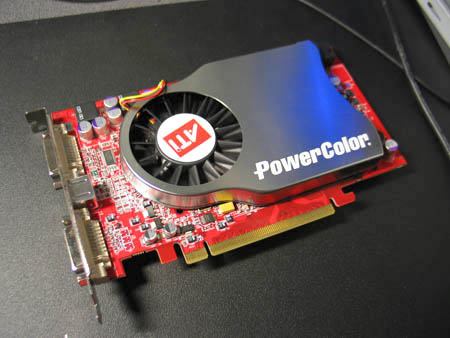 I could swear this is PowerColor's X800 XL standard edition. With the rebranded name, it is no longer a valid assumption.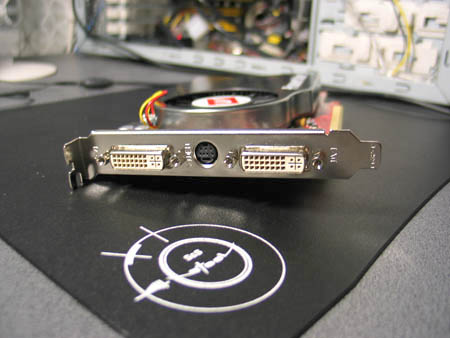 The backplate features Dual DVI-I outputs as well as S-Video out. The card carries a standard display support: VGA compatible, VESA compatible BIOS for SVGA and DDC 1/2b/2b+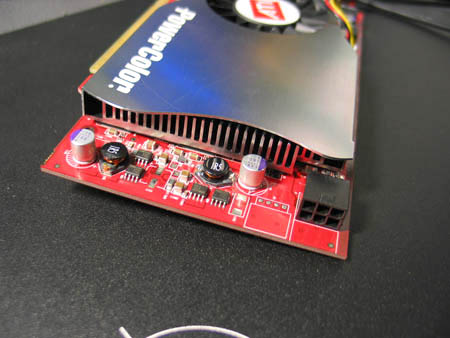 All high-end boards carry external power supply sockets. The above is 6-pin PCI-e connector so make sure you plug in more juice, otherwise the card wont boot. No voltage regulators here, move along!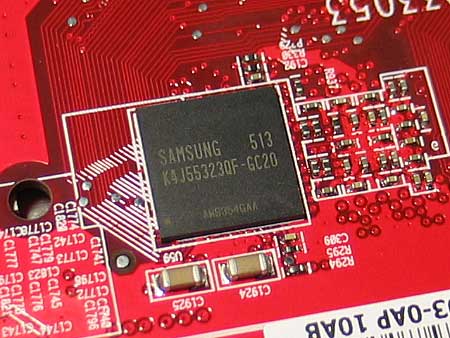 Above you can see is one of the memory chips found on PowerColor X800 GTO16. What we have here is 256-bit SAMSUMG K4J55323QF-GC20 GDDR3 SDRAM with maximum frequency of 500 MHz / 1000 MHz effective DDR.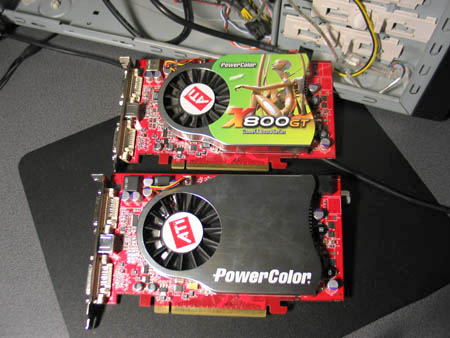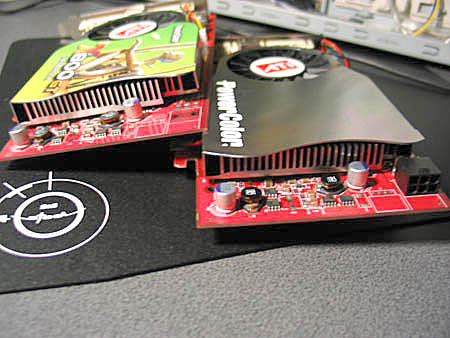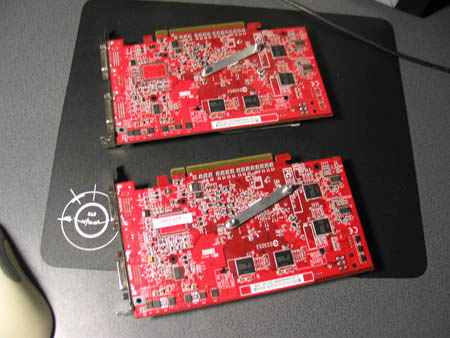 Bundle
In terms of package and bundle you'll find a standard PowerColor box with accessories and software. If you're looking for new games, you'll be disappointed.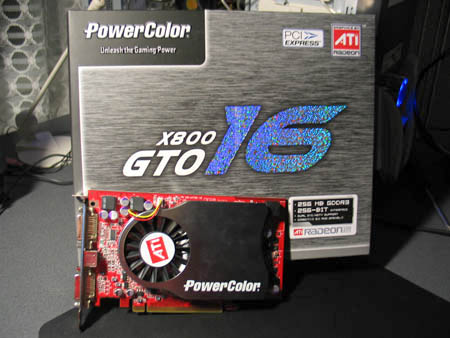 The almighty and el-cheapo PowerColor X800 GTO16. The box is very unique and quite different from other designs I have seen. In the middle you are flatted number 16 which we all know the meaning hopefully. Those who don't have a clue should revisit the VPU Specifications page and look for an answer there.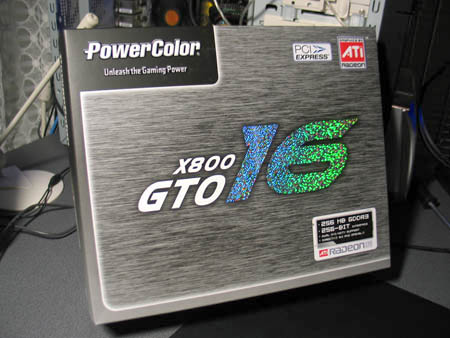 The front of the box again. That number in the middle is made up of flashy little thingamajig. Changing the angle results in different colors.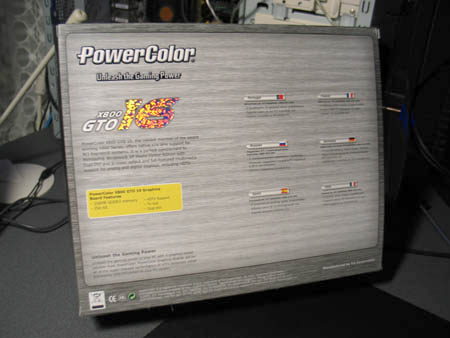 The back is standard; specs and some catch phrases in six different languages. The yellow box exposes main features of the card; in our case 256MB GDDR3 memory, 256-bit bus, HDTV support, TV out and Dual DVI link.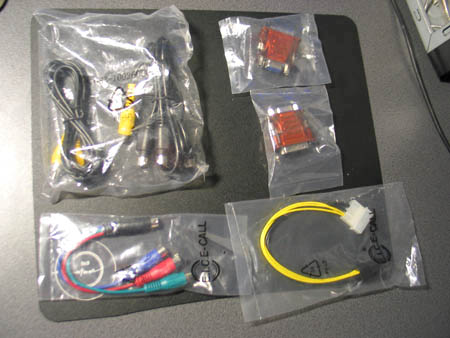 Accessories
S-Video Cable
Composite Cable
DVI-I Connector
User's Manual
The following is included in the pouch:
Driver CD
CyberLink DVD Solutions

PowerDVD 5
PowerProducer 2 Gold DVD
PowerDirector 3
Power2Go 3

Pacific Fighters full game
Setup and Installation
All of our benchmarks were ran on Athlon64 3000+ clocked at 2.5GHz. I will stack PowerColor X800 GTO16 against various cards including high-end X1K GPUs. That includes PowerColor X1800 XT and HiS X1800 XL. Additionally I will throw in scores from reference ATi X800 XT. The table below shows test system configuration as well benchmarks used throughout the review.
Components
– DFI NF4 Ultra-D
– Athlon64 3000+ Venice
– 2x256MB Corsair PC3200LLP (Dual Channel)
– Thermaltake 520 Watt PSU
– PowerColor X800 GTO16
– PowerColor X1800 XT 512 MB
– HiS X1800 XL
– ATi X800 XT

Software
– Windows XP SP2
– DirectX 9.0c
– nForce4 6.53 drivers
– CATALYST 5.11
Synthetic Benchmarks
– 3DMark 2005 v1.2.0
– D3D Right Mark 1.0.5.0 beta 4
Gaming Benchmarks
– F.E.A.R / ingame benchmark + Fraps
– Half-Life 2 / custom d13c17 timedemo + Fraps
– Doom 3 / default timedemo + Fraps
– Quake 4 / custom timedemo
– Serious Sam II / Fraps
– NFS: Most Wanted / Fraps
– NFS: Underground 2 / Fraps
– Far Cry 1.32 / custom timedemo + Fraps
Notes
CPU clocked at 2.5GHz
Putting the card in was a routine job. I haven't experienced any problems during the installation process. Every step went smoothly and without a hitch. Below is a picture of the card; the other image shows X1800 XT for comparison.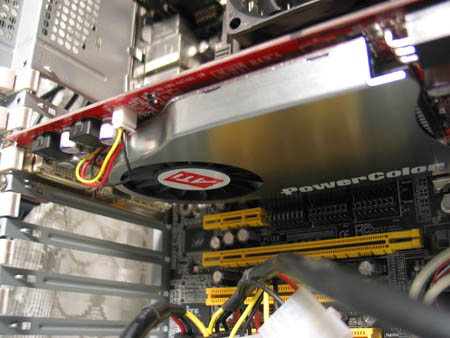 PowerColor X800 GTO16 inside the case. Takes a lot less space than…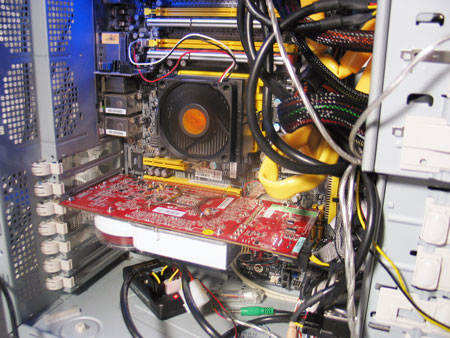 PowerColor X1800 XT
Synthetic Benchmarks

3DMark05
I've used Futuremark's 3DMark 2005 to measure the actual throughput of PowerColor X800 GTO16 and compared it against the rest of the bunch, that is: X1800 XT, X1800 XL as well as reference X800 XT.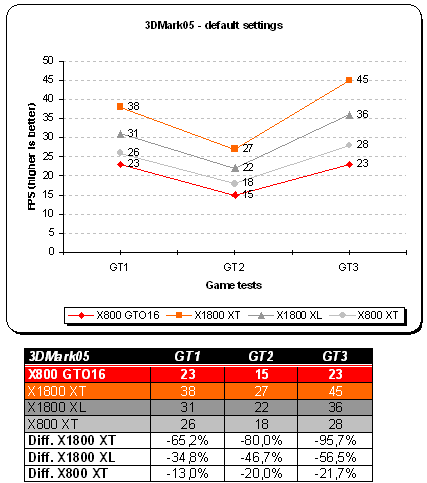 PowerColor X800 GTO16 gets similar scores to X800 XT, but because of lower clocks the performance is lower and ranges from 13 to ~22%. This is fine, but even with overclocked core / memory I wasn't able to reach XT scores. More info on that later on.
RightMark
D3D RightMark is a very useful tool for measuring different theoretical throughputs of a graphics chip. I ran couple of synthetic tests to stress out GTO16 and put it against the rest of the cards. The main focus of theses tests will be to stress out Geometric Processing (Vertex Shading) as well as Pixel Shaders.
With D3D RightMark you will be able to get the following information about your video card:
Features supported by your video card
Pixel Fillrate and Texel Fillrate
Pixel shader processing speed (all shader models)
Vertex shader (geometry) processing speed (all shader models)
Point sprites drawing speed
HSR efficency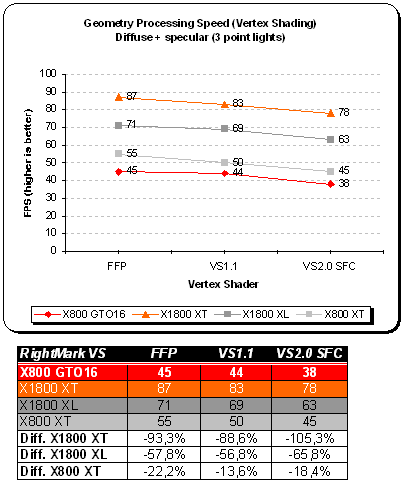 In this test, we are looking at the vertex shader's (geometry) processing speed. I chose Diffuse + specular (3 point lights) for our lightning profile which is probably the most useful setting. This will give us peak geometrical throughput. In order to get a clearer overlook, three different shader profiles were used: Fixed Function Pipeline (FFP) VS1.0 and VS 2.0 flow control.
Although X800 GTO16 falls behind and grabs the last position, it is still performing very well compared to XT counterpart model.
On par Pixel Shading performance was expected with X800 GTO16. Lightning (Phong) PS 2.0 shading profile is a very good synthetic test that nicely stresses the pixel pipeline. We get 217 FPS with both 16-bit and 32-bit FP
F.E.A.R
On August 5th this year, VUGames have released F.E.A.R demo to the public. The game is being made over at Monolith Productions studio and should be out later this year. Since almost everyone has been waiting for this demo, I've decided to give it a shot and bench it with our X800 GTO16.
Texture caching in retail F.E.A.R has been improved a little. You won't see a lot of chugging when abruptly turning around. Our benchmarking method was simple. I used default F.E.A.R benchmarking utility which nicely shows all effects and technology used throughout the game.
Game Overview
An unidentified paramilitary force infiltrates a multi-billion dollar aerospace compound, taking hostages but issuing no demands. The government responds by sending in special forces, but loses contact as an eerie signal interrupts radio communications. When the interference subsides moments later, the team has been obliterated. As part of a classified strike team created to deal with threats no one else can handle, your mission is simple: Eliminate the intruders at any cost. Determine the origin of the signal. And contain the crisis before it spirals out of control.
As you probably know, F.E.A.R uses a very sophisticated game engine (FEAR).
Rendering

FEAR is powered by a new flexible, extensible, and data driven DirectX 9 renderer that uses materials for rendering all visual objects. Each material associates an HLSL shader with artist-editable parameters used for rendering, including texture maps (normal, specular, emissive, etc.), colors, and numeric constants.

Lightning Model

FEAR features a unified Blinn-Phong per-pixel lighting model, allowing each light to generate both diffuse and specular lighting consistently across all solid objects in the environment. The lighting pipeline uses the following passes:

Emissive: The emissive pass allows objects to display a glow effect and establishes the depth buffer to improve performance.

Lighting: The lighting pass renders each light, first by generating shadows and then by applying the lighting onto any pixels that are visible and not shadowed.
Translucency: The translucent pass blends all translucent objects into the scene using back to front sorting.

Visual Effects

FEAR features a new optimized, data driven effects system that allows for the creation of key-framed effects that can be comprised of dynamic lights, particle systems, models, and sounds. Examples of the effects that can be created using this system include weapon muzzle flashes, explosions, footsteps, fire, snow, steam, smoke, dust, and debris.

Sample Lights

FEAR's lighting model is very flexible and allows developers to easily add new lights. Existing lights include:

Point Light: The point light is a single point that emits light equally in all directions.
Spotlight: Similar to a flashlight, the spotlight projects light within a specified field of view. The spotlight can also use a texture to tint the color of the lighting on a per pixel basis.
Cube Projector: Similar to the point light, the cube projector uses a cubic texture to tint each lit pixel.
Directional Light: This lighting is emitted from a rectangular plane and is used to simulate directional lights like sunlight.

Point Fill: Although similar to the point light, the point fill is an efficient option because it does not utilize specular lighting or cast shadows.
A more detailed overview of other F.E.A.R technologies can be found over at Touchdown Entertainment. These include: Havok Physics Engine and Modeling / Animations System.
As you can see I ran our benchmarks in high quality mode. Only soft shadows were turned off and volumetric light was knocked down to medium. This will give us more satisfactory scores. F.E.A.R stressed out our PowerColor X800 GTO16 pretty roughly. The following scores were recorded: 47 FPS at 10×7, 32 FPS at 12×9 and measly 18 FPS when in 16×12.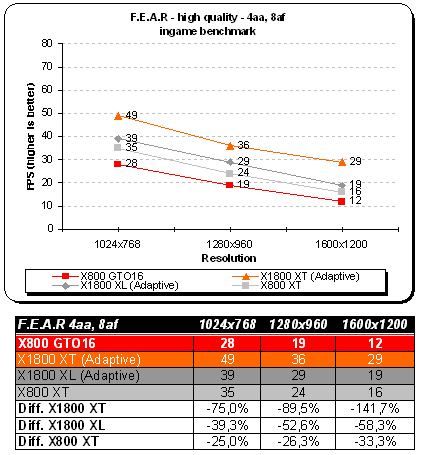 With additional quality enhancements such as AA and AF our performance with this card goes down the drain — if I can say that. Enabling those options with this game kills FPS big time. Just take a look at the graph and table above.
Half-Life 2
We all love Half-Life 2 and we all want best performance out of our hardware. This has to be one of the most graphic demanding games currently on the market. Half-Life 2 is built around Source engine which utilizes a very wide range of DirectX 8 / 9 special effects. Those include:
Diffuse / specular bump mapping
Dynamic soft shadows
Localized / global valumetric fog
Dynamic refraction
High Level-of-Detail (LOD)
Note that users with DirectX 7 and older hardware (NVIDIA MX series for example) will not be able to enjoy the above effects. Let's see what PowerColor X800 GTO16 is made of.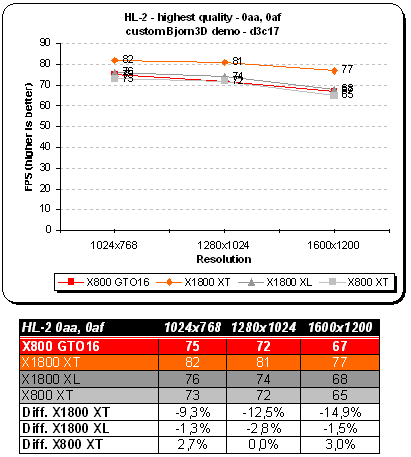 This game will inevitably become a classic among others we've benchmarked. I have benched Half-Life 2 using
HardwareOC Half-Life 2 Benchmark tool
with our custom d3c17 demo. Suprisingly, without AA and AF GTO16 scores 75 FPS at 10×7, 72 FPS at 12×1 and 67 FPS at 16×12. That's better than X800 XT by roughly ~3%. Scores are also comparable to X1800 XL.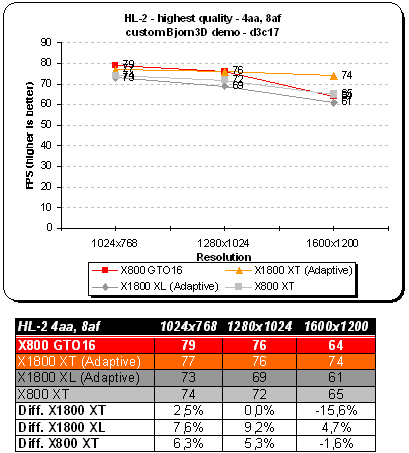 The above might seem quite odd, but true to the bone. Given the fact X1K is running Adaptive AA, X800 GTO16 gets higher scores without any AA/AF applied. I have ran the benchmark three times and the gaps were quite within the margin of error. The biggest advantage we have is at 12×10 where X1800 XL gets only 69 FPS where as GTO16 reports higher scores by 9%.
Doom 3
Now that we are past Doom 3s release, some gamers have been left with a bit of disappointment. Main reason is Half-Life 2 and its Source engine which really showed a vast amount of potential and scalability.
Although this game needs no introduction, I will go over some of the game features and technology behind Doom 3. It took the guys at id Software over four years to complete this project. Lead programmer, John Carmack spent an awful lot of time designing the game engine, but his hard work paid off — to some extent since this is first title which houses Doom 3 engine.
Let's look at some of the engine tech features which are present in Doom 3:
Unified lightning and shadowing engine

Dynamic per-pixel lightning
Stencil shadowing
Specular lightning

Realistic bumpmapping
Dynamic and ambient six-channel audio
However you look at it, Carmack's lightning engine is the essence of Doom 3. With OpenGL being the primary API, shaders have been put to a heavy use in order to create the realisticly looking environment. Instead of using lightmaps the game engine now processes all shadows in real-time. This technique is called stencil shadowing which can accurately shadow other objects in the scene. There are disadvantage to this method however:
Requires a lot of fillrate
Fast CPU is needed for shadow calculations
Inability to render soft shadows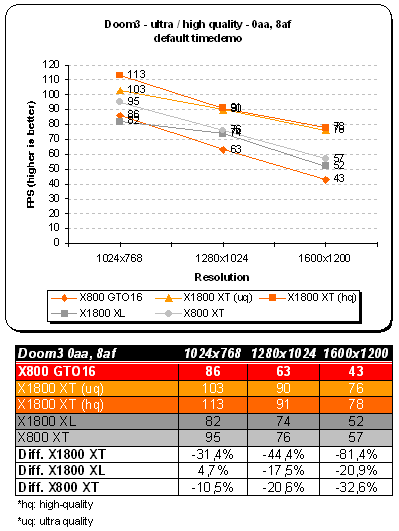 With new CATALYST 5.11, OpenGL titles have been said to run much faster. Here is what ATi has to say:
The ATI Radeon® X1800 has massive gains in OpenGL when 4X Anti-aliasing is enabled. Increases include:


* Doom 3 performance improvement of up to 38%
* Quake 4 performance improvement of up to 60%
* Older OpenGL titles such as Quake 3, Arena, and Wolfenstein: Enemy Territory, have performance improvements of up to 50%
The ATI Radeon® X1300 has a performance improvement of 10-15% in Quake 4.
The Vertex Shader has performance improvement of 3-5% across multiple products.
Although I wasn't able to test older driver running X1K cards, performance in Doom 3 seems top notch. With 1024×768 Doom 3 runs at 103 FPS (Ultra Quality) and 113 FPS (High Quality). Scores narrow down between those two quality modes when going into 1280×1024 and 1600×1200. Ultra Quality on PowerColor X1800 XT is definitely a worthy step if you want to play with maximum ingame settings. For obvious reasons (256MB) X1800 XL and X800 XT did not like the highest mode therefore scores were not included.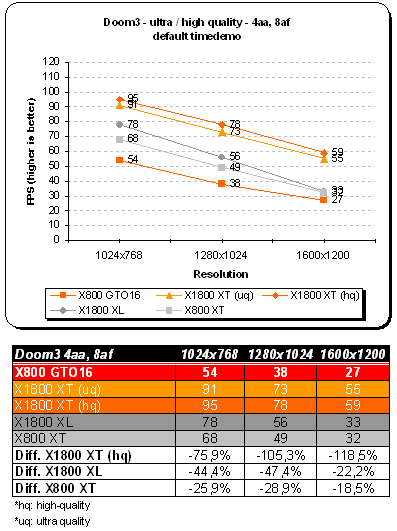 With 4xAA enabled and ultra quality on, we still get top notch performance with PowerColor X1800 XT. The card averages 55 FPS at 1600×1200 which is around 40% better than X1800 XL and X800 XT.
Quake 4

This is another good title worth looking at. With success of Quake 3, id Software decided (after few years) it would be proper to have a sequel. Designed over at Raven Software's farm, Q4 features rich single player as well as intensive and popular multiplayer mode.
It uses Doom 3 engine so you should be familiar with available effects. In any case, I listed them below
Unified lightning and shadowing engine

Dynamic per-pixel lightning
Stencil shadowing
Specular lightning

Realistic bumpmapping
Dynamic and ambient six-channel audio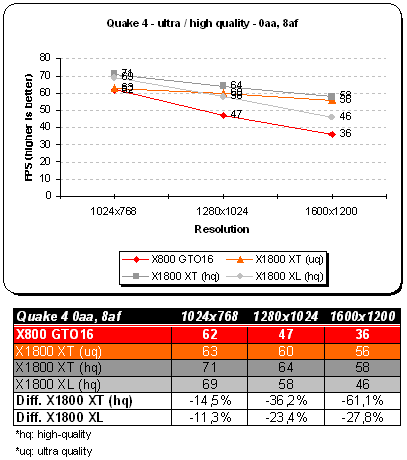 With Quake 4, FPS counter rolls us decent numbers. At 10×7 X800 GTO16 receives 62 FPS (only 15% worse than X1800 XT and 11% less than X1800 XL). Things change a little when moving up the resolution. There is 36% loss against X1800 XT and 23% against X1800 XL. At 16×12 we only get 36 FPS on average. Remember that high settings in Quake 4 and Doom 3 automatically apply level 8 of Anisotropic Filtering.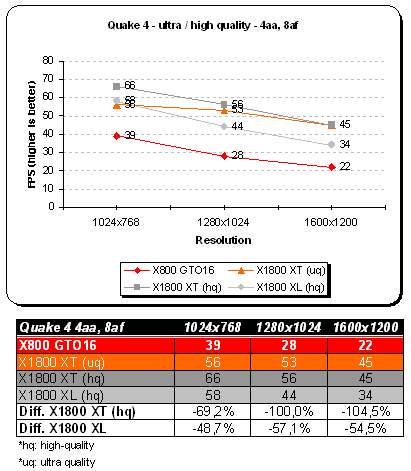 Setting 4x Antialiasing almost halves the performance with this title. Our PowerColor X800 GTO16 holds tight at 10×7, but raising the resolution it can no longer hold the place scoring only 28 FPS at 12×10 and 22 FPS at 16×12.
Serious Sam II

A highly anticipated sequel from Croteam has arrived. The madness continues as Sam runs around destroying anything that stands in his way. The environment looks great though level design could have used some more work. Enemies are bigger and there is plenty of action going on. Obviously the rendering engine went through a major redesign. As with previous Sam titles it features OpenGL 3D API which has undergone a full transition.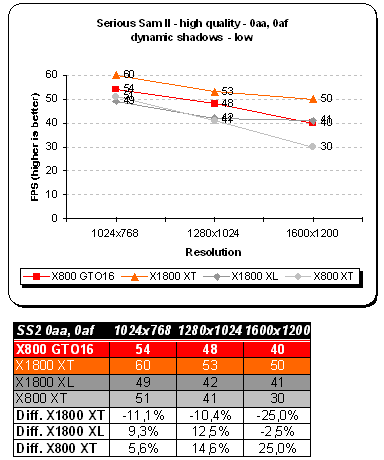 Another weird situation. This time GTO16 and Serious Sam II gives me headaches. The card scores higher than X1800 XL and X800 XT. Firstly it's faster than XL by ~9% at 10×7 and ~13% at 12×10. The X800 XT loses the position across all resolutions including 16×12 where it scores 25% less FPS than PowerColor X800 GTO16.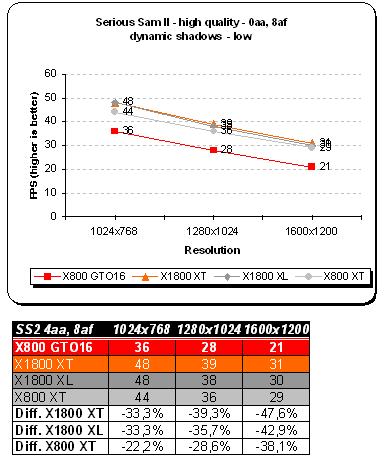 Enough of the joy; I get more creditable scores while enabling Antialiasing and Anisotropic Filtering. The numbers are above. Beyond 10×7 it's rather an unplayable title.
Need For Speed: Most Wanted
We have quite a few sequels in this review and this is another one, this time from Electronic Arts. If you've played NFS Hot Pursuit you know what I'm talking about. There are a lot of ideas taken out from the older NFS. The main difference between Most Wanted and Underground (in terms of graphics) is addition of HDR-type effects. It's pseudo-HDR (more like bloom), but looks lovely nonetheless. Additionally the game sports flashy new reflections, better object geometry, improved lightning system and finally physics engine.
Here we have a fresh new title with bells and whistles waiting to get benched.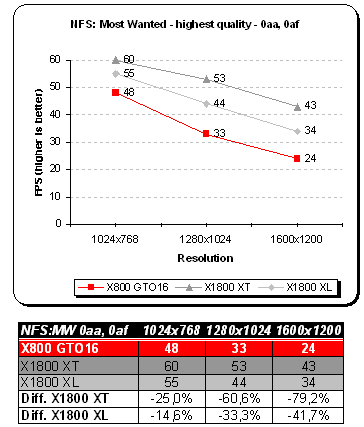 Setting all the video options to high (without AA) makes for a good run with PowerColor's new GTO: 48 FPS at 10×7, 33 FPS at 12×10 and 24 FPS at 16×12. That last resolution does not provide acceptable frame rates thus I cannot recommend it to anyway. Maybe if you turned down a few options you would get acceptable score.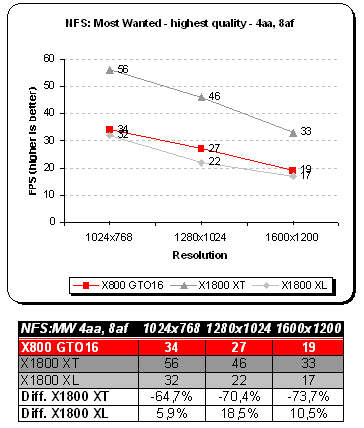 With AA and AF on, GTO16 blasts its way through X1800 XL and ends up faster by ~6 to ~10%.
Need For Speed: Underground 2
Another DirectX 9 title with nicely shaped up graphics. The neverending title from EA Sports has brought many plenty of fun as with previous NFS series. The game uses various effects mostly found in Shader Model 2.0 such as motion blur, light / glow trails or reflections. The good thing is, all those effects are compatible when Antialiasing is enabled.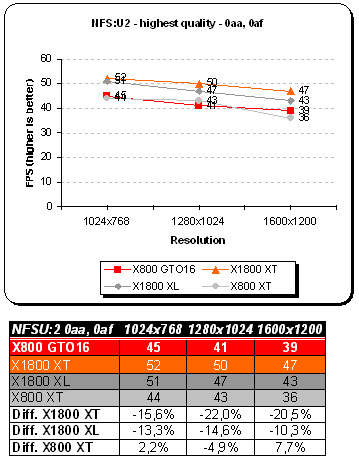 With NFS: Underground 2 X800 GTO16 processes the game code at a faster rate than Most Wanted. Obviously we don't have such effects in this title, nonetheless the performance isn't so bad — totally playable across all modes and even faster than X800 XT in some cases.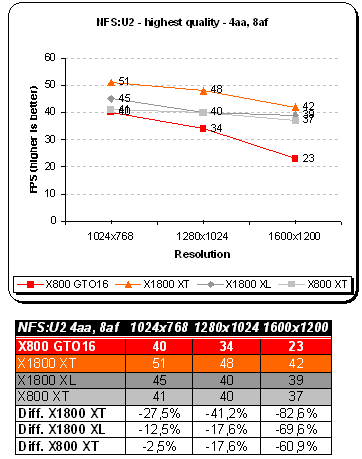 Let's kick GTO16 into a higher gear and enable some AA and AF. We end up with 40 FPS at 10×7, 34 FPS at 12×10 and 23 FPS at 16×12. The differences in scores are colossal, but that's understandable as X800 GTO16 aka X800 XL is clocked much lower than the XT's.
Far Cry 1.32
The company behind this game is Crytek. It was pretty much the first title which used a heavy load of PS 2.0 shaders. For our benching purposes we are using the full version with the newest 1.32 patch applied (mainly fixes SM 3.0 issues that caused graphic corruption on newer ATI hardware). Anyone who played this title will admire the draw distance, beautiful outside vegetation and incredibly spooky indoor environment. The game also features topnotch self-learning A.I and very realistic physics.
Far Cry's CryEngine is pretty scalable, however you'd need at least DirectX 8 class hardware to enjoy the refractive water effects, ripples, real time per-pixel lighting, specular bump-mapping or volumetric effects.
The map of choice was Research. It's a high-polygon map with both outdoor and indoor environment.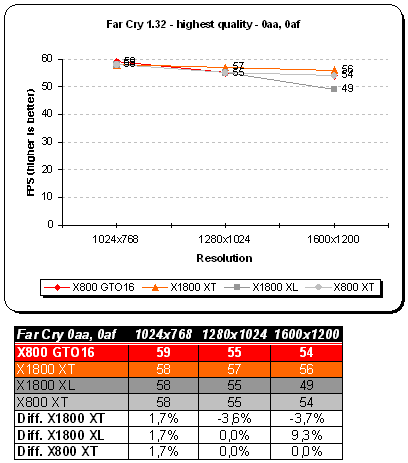 The performance in this title is similar when compared to X1800 XT, X1800 XL and X800 XT. The reason being is I'm RAM and CPU limited (mostly RAM). Things get a bit more interesting with AA and AF enabled.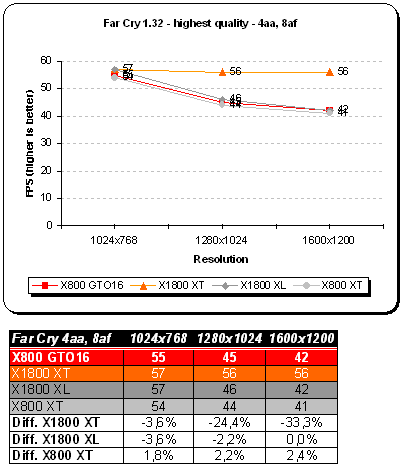 X1800 XT destroys each and every card in the above situation, however the card tested performs as expected at the level of X800 XT. I found X800 GTO16's performance surprisingly similar to that of X1800 XL, just look at the numbers.
Overclocking and Conclusions
Bearing in mind PowerColor X800 GTO16 is basically a rebranded X800 XL, I already new the limitation of this card. Just as with PowerColor X800 XL 512MB. The only two differences are memory and VIVO capabilities (it does not support VIVO); on the GTO16 we have SAMSUNG K4J55323QF-GC20 (maximum rated frequency of 500 MHz), but the X800 XL 512MB model sports SAMSUNG K4J55323QF-GC16 which maxes out at 600 MHz. Go ahead and check out XL's overclocking page for your viewing pleasure.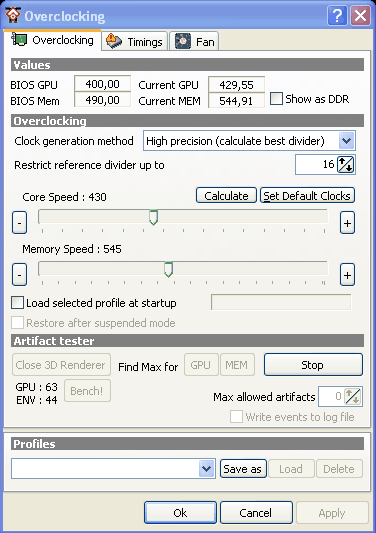 It's funny because PowerColor's XL model uses faster memory yet I wasn't able to attain the magical 600 MHz mark (ending up at 520 MHz). It's a little different story with X800 GTO16. Here I got the memory all the way up to 545 MHz (1090 MHz effective DDR) from default 490 MHz. It isn't a bad overclock at all considering maximum frequency is 500 MHz. As for core, 430 MHz was max I squeezed out of the card without any artifacts — a little on the low side, but fairly decent.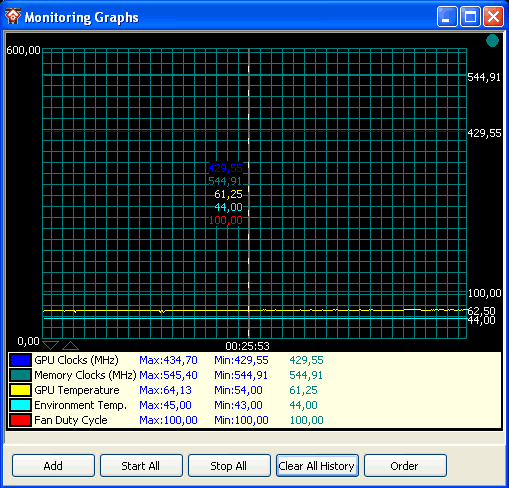 Maximum overclock always yields impressive amount of heat. Since that has to be drawn away from the core I decided (as with all my cards) to run the fan at 100%. This leaves the card more stable and happier. Recorded values are found in the picture above
GPU Temperature: Max 64,13 C
Environment Temperature: Max 45 C
Fan Duty Cycle: 100%
The recorded temperature is similar to that of X800 GT (61.25 C). It's definitely not as bad as X1800 XTs core.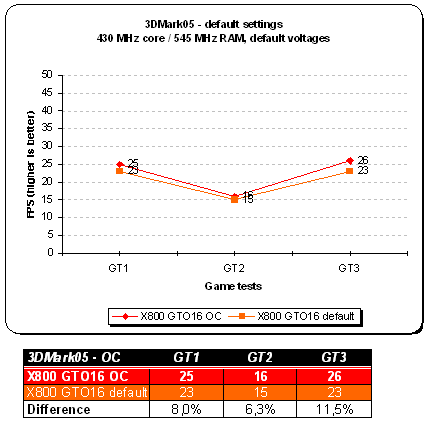 PowerColor X800 GTO16 OC: Core at 430 MHz, memory at 545 MHz (1090 MHz effective DDR). Hitting higher clocks with custom cooling shouldn't be a problem. For those of you that are interested, final 3DMark05 score ended up being 5,441 (default 4,990) — not bad though I thought core would overclock a little better.
To make the long story short, it would't be wise of me not to recommend this card. Everyone who is seeking a cheap upgrade yet wants decent performance should give PowerColor X800 GTO16 a considerate and detailed look. Whether you're a gamer, enthusiast or graphics editor you should not look beyond what Tul offers with this rebranded XL video card. This board is packed with features (including dual DVI links) and great performance. At $179 USD it's simply a steal. The only gripe I have is lack of VIVO capability — only TV out.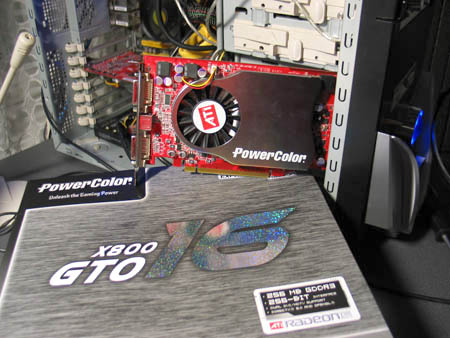 Pros:+ Great performance
+ Good memory overclock
+ Nice package
+ Dirt cheap
+ Available now

Cons:
– No VIVO capability (No ATI Rage Theater chip)
– Core could overclock higher
– Outdated bundle
For great performance, 16 pipelines and low price, PowerColor X800 GTO 16 gets the rating of 9.0 (Extremely Good) out of 10 and Bjorn3D.com Golden Bear Award.