Need some portable storage? USB flash drives don't quite cut it? Then maybe you should take a look at our review of the 40GB Transcend StoreJet 2.5 portable hard drive.
Introduction

---
I decided a couple of months back that I needed to find a good portable solution to backup data files for when traveling or rebuilding one of my many computer systems. After looking around, I found Transcend's StoreJet 2.5. The StoreJet is actually an aluminum USB 2.0 case for 2.5″ hard drives, but Transcend also offers it with a 40GB or 80GB HDD already installed. In this review, I'm going to be looking at the 40GB StoreJet.
For those of you that have not heard of Transcend, here is a description of the company.
Transcend Information. Inc. was founded in 1988 by Mr. Peter Shu and has its headquarters in Taipei, Taiwan. Our extensive product portfolio has grown to include over 2,000 memory modules of every type, flash memory cards, USB pen drives, portable HDDs, multimedia products, graphics cards and accessories. Transcend products are available for proprietary equipment, as well as for mass marketed PCs.

Transcend is a global company; with offices around the world we are able serve all the major markets and provide superior quality of service to our customers. Our offices were opened in The USA (1990), Germany (1992), The Netherlands (1996), Japan (1997), Hong Kong (2000), and China (2000). Transcend is a strategically integrated Hi-Tech company, not only do we design, develop, and manufacture our branded products, but we also market and sell our own devices. Transcend has a very successful retail store chain in Taiwan and after we launched our initial foray into e-commerce in May 2000 our on-line sales have grown exponentially.
Features, Specs & Package Contents

---
Features
USB Interface,True Plug and Play
Compliant with USB2.0 specification and backwards-compatible with USB 1.1
Powered by USB port
480Mbit/sec (60MB/sec) data transfer at full speed
Supports up to 120GB 2.5″ HDD (9.5mm)
LEDs indicate power and data access
Recommended operating temperture: 5°C(41°F) to 55°C(131°F)
StoreJet Software includes PC Lock, Security HDD (2GB), My Documents, Mobile IE Favorites, Mobile Outlook Express and Address Book Editor.
2 year warranty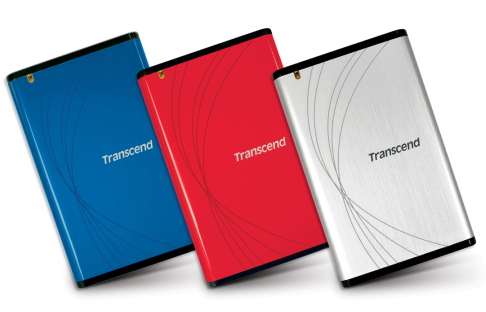 Specifications
Size : 129mm x 79.9mm x 13mm
Op. Voltage : DC 5V from USB port
Op. Temperature : 5°C(41°F) to 55°C(131°F)
LED Indicators : Green:Power On, Red:Data Access
Weight : 88g (No HDD)
Package Contents
Included with the drive is a USB cable, USB power cable, carrying case, driver software, instruction manual and warranty card.

Testing

---
To test the StoreJet, I hooked it up to several different computers I have and only had one machine using an older Leadtek nForce2 motherboard that required me to also use the USB power cable to run the drive. And in that case, it could have been due to the quality of the front-mount USB cable not letting enough power come off the motherboard to run the drive.
Below are the specifications of the machine I used to get the benchmark scores of the drive.
Asus A8N32-SLI Deluxe
AMD Athlon 64 X2 4800+
2 x 1GB Corsair 3500LL
3 x 250GB Maxtor Diamond 10 in RAID 5
Lian-Li V1200
Windows XP SP2
Antec True Power 550W EPS12V
Creative X-Fi Platinum Sound Card
2 x Reference 7800 GTX 512
SiSoftware Sandra 2005

From the above Sandra score, we can see the drive is performing right in line with other USB 2.0 and Firewire drives.
HD Tach 3.0.1.0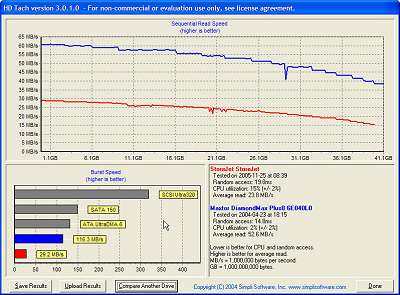 From the HD Tach 3 score, we can see that the drive does perform in the 23MB/s range that it also did in Sandra 2005. The performance is quite good for a USB drive and is as fast as hard drives that used to be used in machines as little as 4-5 years ago.
Conclusion

---
The 40GB StoreJet 2.5 performed on par with other external HDD devices we have tested in the past. The drive itself is very quiet, and its size makes it easy to carry in a briefcase or laptop carrying case.
The drive at this time can be purchased straight from Transcend's online store for $138.00. If you are interested in the StoreJet but think $138 is too much, remember that you can buy the aluminum housing by itself and then add the 2.5″ HDD of your choice.
Pros:
+ Quiet drive
+ Performance in line with other external USB 2.0 Drives
+ IRuns cool, never got hot
Cons:
– Pricey, the price you pay for external storage
Final Score: 8.5 out of 10 and the Bjorn3D Seal of Approval