Check out our review of the Gigabyte GA-8I955X Royal to see if it deserves to be called "royal" or not. This high-end 955X motherboard boasts a lot of great features and an extensive bundle, but the layout isn't perfect. Read the review to find out the details.
Introduction

---
Rare jewels (diamond), precious metals (platinum), positions of distinction (royal)… all of these are common themes used by manufacturers to distinguish its flagship products from the rest of the pack. For Gigabyte, the theme is royalty, and the board to most recently grace our labs is the GA-8I955X Royal.
As the name suggests, this is an Intel 955X-based board. What makes it "Royal?" Well, for starters, it features support for 888MHz DDR2, Gigabyte's patented Universal-Plus Dual Power System, dual gigabit LAN and IEEE 1394b. Kudos to Gigabyte for supporting IEEE 1394b and not just 1394a and for including support for three ports.
Other nice features include a GigaRAID IDE RAID controller, Intel Matrix Storage Technology, Intel High Definition Audio, Gigabyte's patented DualBIOS and Gigabyte's ShieldWare. The board sports six SATA II connectors, two of which are provided by the Silicon Image Sil3132 SATA II controller. Additionally, the GA-8I955X Royal was designed for Dolby Master Studio, which according to Gigabyte's site "provides the ultimate set of audio presentation capabilities with up to 7.1 channels of surround sound for the most compelling, natural, and dramatic Dolby listening experience possible from all of your entertainment."
Follow along as we see just how well this Royal motherboard performs. Is it worthy of such a distinguished name?
Features & Specifications

---
Features
Intel® 955X Express Chipset
Optimized for Intel® Pentium Processor Extreme Edition
64bit Ready with Intel® EM64T
Dual Channel DDR2 888 Memory Architecture
GIGABYTE Patented Technology Universal-Plus Dual Power System (U-Plus D.P.S.)
Dual Gigabit LAN connectivity
IEEE 1394b Firewire Interface
GigaRAID IDE RAID Controller
Intel® Matrix Storage Technology
Designed for Dolby Master Studio
PCI Express Interface
GIGABYTE Patented DualBIOS
Intel® High Definition Audio
GIGABYTE ShieldWare
Specifications
Processor
LGA775 Intel® Pentium® D processor
LGA775 Intel® Pentium® 4 processor
Supports 1066/800/533MHz FSB
*Note: Rev 1.0 includes 2×2 pin ATX 12V power connector. Rev 1.1 includes 2×4 pin ATX 12V power connector for Intel Pentium D Extreme Edition processor power recommendation.
Chipset
Northbridge: Intel® 955X Chipset
Southbridge: Intel® ICH7R
Silicon Image Sil3132 SATA II controller
T.I IEEE1394b controller
GigaRAID ITE8212 IDE RAID controller
2 x Broadcom 5751 Gigabit Ethernet controller
Realtek ALC882M audio codec
Memory
4 DDR II DIMM memory slots (supports up to 8GB memory)
Supports dual channel DDR II 888*/667/533/400 unbuffered DIMM
*Note:DDRII 888 support by FSB 1066 CPU
Supports 1.8V DDR II DIMM
Supports 72bit ECC type DRAM integrity mode
Internal I/O Connectors
1 x U-Plus D.P.S connector
6 x Serial ATA II 3.0Gb/s connectors
1 x UDMA ATA 100/66/33 connectors
2 x UDMA ATA 133/100/66 connectors (For HDDs only)
1 x FDD connector
2 x IEEE1394b connectors (supports 3 ports)
2 x USB 2.0/1.1 connector (supports 4 ports)
3 x Cooling fan pin headers
Expansion Slots
1 PCI Express x 16 slot
2 PCI Express x 1 slots
3 PCI slots
Rear Panel I/O
4 x USB 2.0/1.1 ports
2 x RJ45 ports
6 x Audio ports (4 x Line-out/ 1 x Line-in/ 1 x MIC)
1 x Coaxial S/P-DIF out
1 x Optical S/P-DIF out
PS/2 Keyboard/ Mouse
1 x COM port connector
1 x LPT port
Form Factor
ATX form factor; 30.5cm x 24.4cm
Other Features
U-Plus D.P.S.
DualBIOS
C.I.A. 2
M.I.B. 2
R.G.B.
Board Layout

---
The GA-8I955X Royal is a great looking board with its blue PCG and multi-colored slot scheme. I really like the red, yellow, green and orange accents that the slots create. Also, the two gold heatsinks look very nice; the northbridge one is especially cool looking. Overall, the layout is logical and doesn't have too much crowding in any particular spot.
In the southbridge corner of the board, Gigabyte located the four main SATA II connectors, two UDMA ATA 133/100/66 connectors, which are for HDDs only according the specs, the front panel headers, USB 2.0 headers, GigaRAID chip and the DualBIOS chip among other stuff. Jumping over to the right, you see the four DDR2 DIMM slots, a FDD connector, a UDMA ATA 100/66/33 connector, a fan header and the 24-pin main power connector.
Let's flip the board and look at the other corners. Here you can see the LGA775 socket, which has a decent amount of clearance around it. That big northbridge heatsink and the U-Plus D.P.S. connector (orange) might be too close for comfort for some users (check the Installation Notes page for more on this). The northbridge heatsink can also be fitted with an optional fan that Gigabyte includes. Moving to the right, you can see the expansion slots: one PCI Express x16 slot, two PCI Express x1 slot and three PCI slots. To the right of these slots, there are two SATA II connectors and the IEEE 1394b headers.
That last section of this motherboard to take a look at is the rear I/O ports. For your computing convenience, Gigabyte includes the following ports: four USB 2.0, two RJ45, six audio (4 x Line-out/ 1 x Line-in/ 1 x MIC), one coaxial S/P-DIF out, one optical S/P-DIF out, one PS/2 keyboard, one PS/2 mouse, one COM and one LPT.

Bundle (Package Contents)

---
The GA-8I955X Royal comes in a large box in order to pack in all the extras Gigabyte throws in. The box does a very good job of advertising the board and its great features.
Wondering what's inside the box? Here's a list of what Gigabyte includes.
Gigabyte GA-8I955X Royal motherboard
User's Manual
Hardware Installation Guidebook
Processor Installation Instructions
SATA RAID manual for Sil3132
Driver / Utility CD

Chipset / SATA / RAID / Network / Audio drivers
EasyTune 5 – system enhancement utility
Gigabyte C.O.M. – system management utility

Gigabyte Bonus CD

CyberLink DVD Solution: PowerProducer and Power2Go
Norton Internet Security 2005 (multi-language)

Bluetooth USB Adapter driver CD
Bluetooth USB dongle
6 SATA cables
1 floppy cable
1 PATA cable
1 USB / FireWire bracket
2 USB brackets
3 SATA power cables
Rear I/O shield
Northbridge fan
U-Plus D.P.S module
Most of the goodies you see in the above pictures aren't too surprising. The unique inclusions are the U-Plus D.P.S. module, northbridge fan and Bluetooth USB dongle. You can see what the U-Plus D.P.S. module and northbridge fan look like installed on the following page.
Installation Notes & BIOS

---
Installation Notes
The main thing I wanted to about the installation is the area around the CPU socket. Once you install the U-Plus D.P.S. module, the crowding begins. It's designed to "go around" the socket and cooler, but I could still see it causing problems for certain heatsink/fan combos, especially larger ones.
As you can see, it works fine with a retail Intel cooler. I didn't have any other coolers on hand to test for compatibility unfortunately, but I would keep the pictures above in mind when choosing your cooler for this board if you plan to install the U-Plus D.P.S. module. The one thing you can't avoid with this setup is that the U-Plus D.P.S. module's heatpipe and fins hover directly above the CPU fan header, making it a hassle to connect and disconnect your cooler's fan. The 4-pin power connector is also located in this area, which was a poor choice by Gigabyte.
In addition to the U-Plus D.P.S. module, you can also see the northbridge fan installed in the images above. This fan is pretty simple and straightforward to install. The instructions lay out the steps relatively well. This fan is optional of course and is included mainly for cooling/overclocking enthusiasts.
BIOS
Gigabyte's boards are typically not the highest overclockers around, but Gigabyte consistently provides nice tweaking options on many of its boards. Here are the tweaker-friendly options you can change and their ranges.
CPU Host Frequency: 100MHz – 600MHz
PCI Express Frequency: AUTO, 90MHz – 150MHz
System Memory Multiplier: AUTO, 2.00x, 2.66x, 3.33x, 3.00x, 4.00x, 1.50x, 2.50x
DIMM OverVoltage Control: Normal, +0.1v – +0.6v
PCI-E OverVoltage Control: Normal, +0.05v – +0.35v
FSB OverVoltage Control: Normal, +0.05v – +0.35v
CPU Voltage Control: Normal, 0.8375v – 1.6v
Interestingly enough, you have to press Ctrl+F1 on your keyboard when you are at the main BIOS screen in order to access all of the tweaking options. This key combo unveils the "Top Performance" options, where you can adjust memory latencies. All adjustments (voltage, FSB, etc.) can be found and made on the "MB Intelligent Tweaker (M.I.T.)" page. Gigabyte was generous enough to allow FSB adjustment all the way to 600MHz, which is ludicrous speed squared and not likely to be used by anyone any time soon.
Test System & Benchmarks

---
Test System
For testing, I compared the Gigabyte GA-8I955X Royal to Intel's D945GTPLR 945G motherboard. All of the other components were the same for each setup. Here is a list of the components.
Intel Pentium 4 670 (3.8GHz)
Gigabyte GA-8I955X Royal or Intel 945G Express (D945GTPLR)
1GB Corsair 675MHz DDR2 (Twin2X1024-5400UL)
NVIDIA Reference PCI Express GeForce 6800 GT – DirectX 9.0c, ForceWare 81.98
74GB Western Digital 10k Raptor SATA Hard Drive
Windows XP with Service Pack 2
Benchmarks
FutureMark PCMark2004 v130
SiSoftware Sandra 2005 SR1

CPU Arithmetic
CPU Multi-Media
Memory Bandwidth
File System

Super PI
POV-Ray 3.6
FutureMark 3DMark03 v360
FutureMark 3DMark05 v120
AquaMark3
Test Results – System

---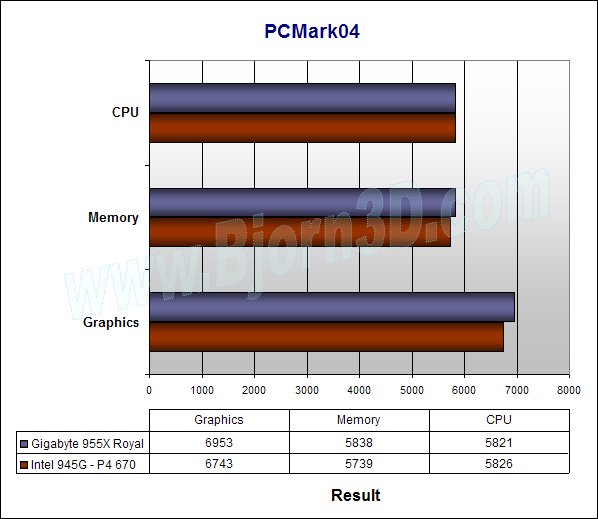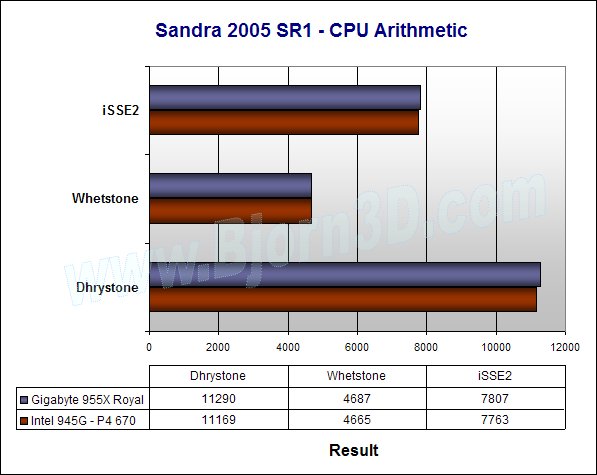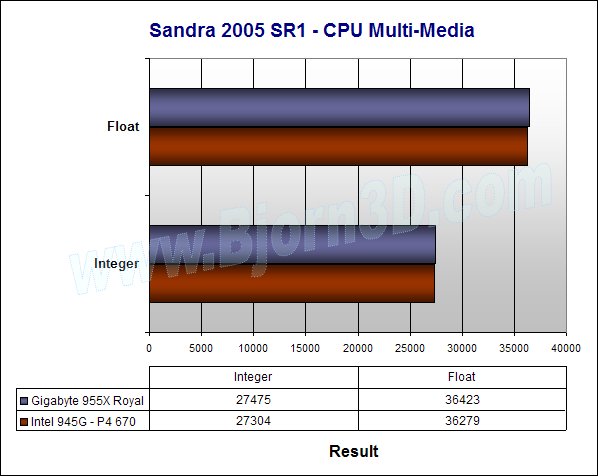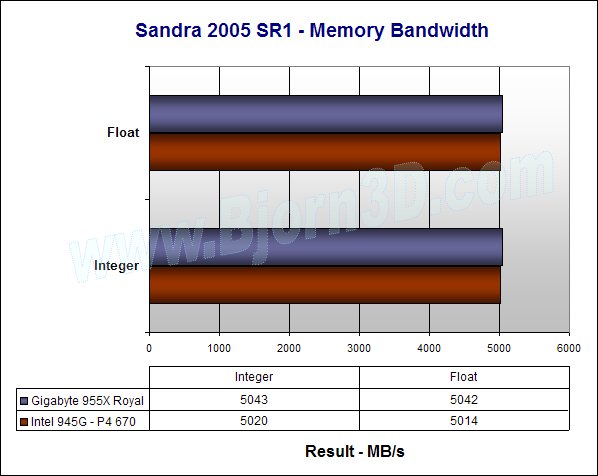 Sandra 2005 – File System

Gigabyte GA-8I955X Royal
56 MB/s
Intel 945G D945GTPLR
57 MB/s
Super PI – 32M (lower is better)

Gigabyte GA-8I955X Royal
29m 17s
Intel 945G D945GTPLR
29m 47s
POV-Ray 3.6 (higher is better)

Gigabyte GA-8I955X Royal
92.04 PPS
Intel 945G D945GTPLR
92.39 PPS
Test Results – Gaming

---
The GA-8I955X Royal shows that it at least has the potential to perform slightly better in gaming than the 945G board, as you can see in the results below.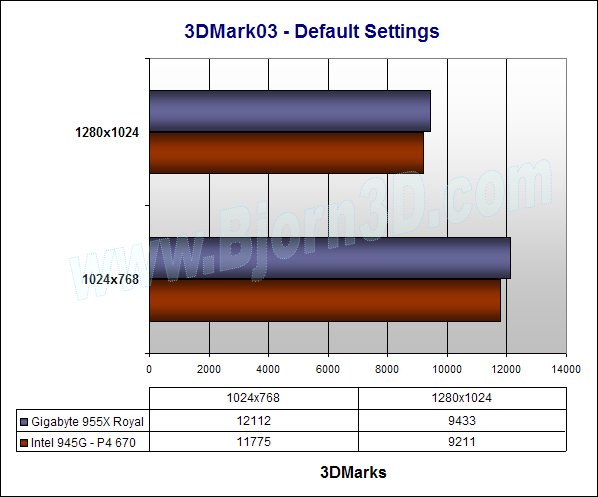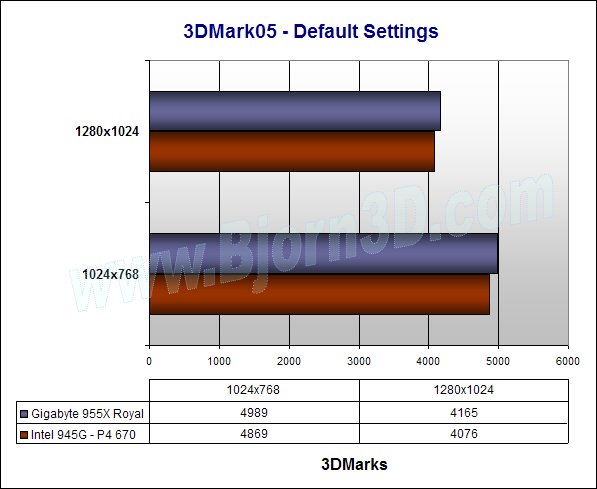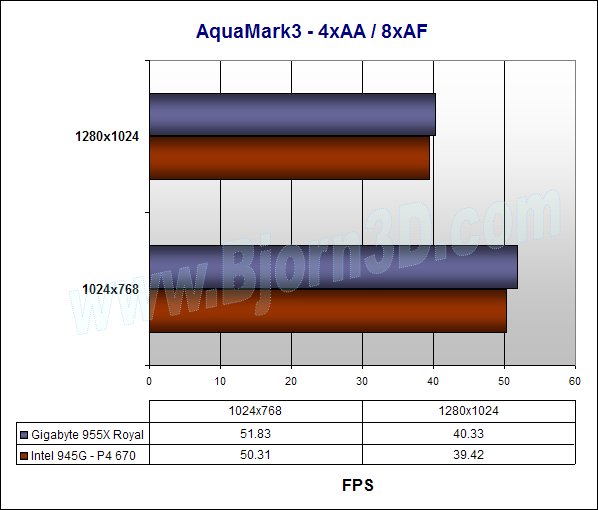 Overclocking

---
For testing the overclocking ability of the GA-8I955X Royal, I dropped the multiplier down to 14x and started cranking up the front side bus (FSB). With only a little adjustment, I was able to hit 275MHz FSB, which is a solid result. It's not the highest I've seen for a 945/955 motherboards, but it's definitely better than a lot of boards out there. Additionally, I've seen several references to users reaching 270-280MHz with this same board. As always, though, all boards are different when it comes to overclocking, so your mileage may vary.
Conclusion

---
My experience with the Gigabyte GA-8I955X Royal has been a very positive one. In addition to packing in many great features, the board prooved to be very stable and performed pretty well. I was pleasantly surprised by the overclocking-friendly BIOS and by how well the board overclocked. The size and usefulness of the included bundle is impressive and superior to many competitors' offerings.
No motherboard is perfect though, and one area that might cause a headache or two for users is the layout around the CPU socket, including the CPU cooler fan header and the 4-pin 12V power connector. After installing the U-Plus D.P.S. module, that area is quite cluttered. The safest route when switching coolers would probably be to uinstall the U-Plus D.P.S. module and then reinstall it after installing the cooler. How big of an issue that is depends on how often you switch out coolers (or how often you plug/unplug the cooler fan). In addition to clutter, the U-Plus D.P.S. will prevent larger coolers (like the Thermaltake Golden Orb II for example) from even fitting. So, if you plan to use a large cooler, research whether or not it is compatible with this board if you want to use the U-Plus D.P.S.
Currently, this board can be found for around $210-220 according to PriceGrabber. Over $200 is common for high-end Intel boards, so this isn't too surprising. With all the extras that Gigabyte throws in and the great features and performance, I think the price is justified. If you are in search of a high-end Intel solution, I recommend you give the Gigabyte GA-8I955X Royal at least a couple looks. For a dual graphics card solution, you might want to consider the GA-G1975X.
If you want to see more benchmark results with this motherboard but with a dual-core Pentium D 840 processor, check out this article.
Pros:
+ Great performance
+ Excellent and useful bundles
+ Nice overclocking ability and options
+ Great and unique features (DualBIOS, U-Plus D.P.S., etc)
Cons:
– Crowding issues near CPU socket
– U-Plus D.P.S. limits coolers you can use
Final Score: 9 out of 10 and Bjorn3D Seal of Approval