With more and more fans in your computer the noiselevel is bound to go up. A fan controller can be the solution for keeping your computer coll while as far as possible keeping the noise down. We've tested Sansuns's Thermal Monster to see if it will do the trick.
Introduction


I hate fan noise. Maybe it is because I am getting old, but I no longer can stand having several fans spinning loudly in my case. At the same time, I need those fans to keep all my components cool. The solution? A fan controller of course. Today, I am testing the Sansun Thermal Monster fan controller.
Specifications


The Thermal Monster from Sansun is a fan controller that fits into a 3.5" drive bay. It has three thermal probes that each controls a fan. It features a blue backlit LCD-display on the front which shows temperatures, fan speed, hard drive activity and time.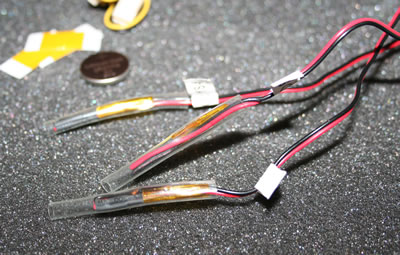 The Box

The fan controller comes in a small pretty cheap looking box. Inside you'll find the fan controller, a lot of cables for the fans as well as the temperature probes.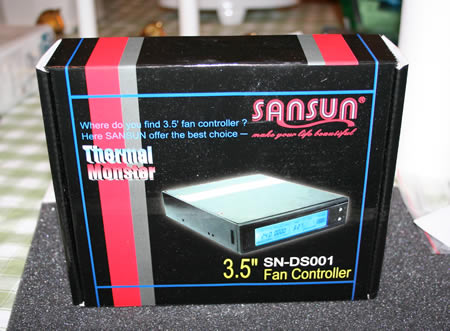 There are also instructions included in English and German. You also find a few thermal stickers, used to attach the probes, as well as an extra battery.
Installation

Installing the fan controller is easy.  Even though the instructions come on a single sheet of paper they are easy to follow. You hook up each fan to the fan controller and then place the probes in spots that will measure a temperature relevant to the fan you are controlling. Some motherboards don't like it if you do not connect a CPU-fan. Sansun includes the necessary extension cables needed to hook up 2 fans both to the motherboard and the controller at the same time taking care of that problem.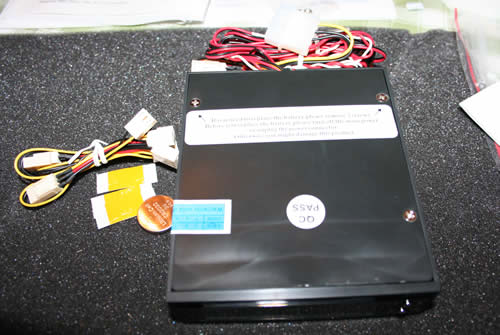 Testing

When you start the computer the fans will spin up to full speed for a while before settling at a much lower speed. As expected the sound level is greatly reduced. You set up the temperatures where you want each fan to spin up and as soon as that temperature is reached the fans will spin up again.
Unfortunately the controller is a fixed fan speed controller meaning you cannot dynamically change the speed of the fan. It's either slow speed or full speed and you cannot turn the fans up/down manually without changing the temperature-setting.  This makes it extra important to set the various temperature setpoints right.

Conclusion

The Sansun Thermal Monster is simple no-frills fan controller that does its job. If you want more control over the fan speeds this is probably not for you but otherwise it's a nice little fan controller.  
Pro
+ easy to set up
+ controls up to three fans
+ easy to read LCD
Con 
– Only fixed fan speed