In this review, we look at the GA-K8N51PVMT-9, Gigabyte's latest entry into the all-in-one motherboard market, ideal for business PCs and media center devices. The board features the nForce 430 chipset and the GeForce 6150 graphics processor.
Introduction

---
Integrated graphics have had a bad reputation for years, offering performance bad enough to be called "graphics decelerators" by many. Choked by relatively slow system memory and comparatively simple circuitry, integrated graphics have historically been a poor substitute for add-in cards. NVIDIA hopes to reverse this trend with its new GeForce 6150 integrated graphics processor.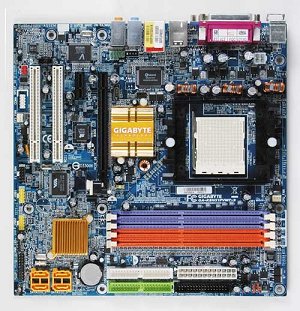 Today, we'll be looking at the GA-K8N51PVMT-9, Gigabyte's latest entry into the all-in-one motherboard market, ideal for business PCs and media center devices. Boasting the usual array of features plus integrated CineFX 3.0 graphics, this board includes nearly everything needed to get a PC up and running for a budget price, all wrapped up in a micro-ATX form factor.
Features & Specifications

---
Features
NVIDIA nForce 430 chipset
Integrated GeForce 6150 graphics processor
Dual-channel DDR400 support
Gigabit LAN
IEEE 1394 interface
Serial ATA II
PCI Express
Realtek High Definition 7.1 Channel Audio
HDTV/TV out
NVIDIA RAID
NVIDIA Mediashield
NVIDIA Firewall
MicroATX form factor
Specifications
Processor
Socket 939 Athlon 64 processor
Socket 939 Athlon FX processor
Socket 939 Athlon 64 X2 processor
Chipset
NVIDIA nForce 430
Graphics: NVIDIA GeForce 6150
Realtek ALC880 audio
VIA VT 6307 IEEE 1394 controller
Cicada VSC 8201 gigabit LAN
Memory
Four dual-channel DDR400 DIMM slots
Up to 4 GB
Internal I/O Connectors
Two ATA133/100/66 connectors
One FDD connector
Four Serial ATA II ports
Two IEEE 1394 headers
Two USB 2.0/1.1 headers, supports four ports
Two cooling fan headers
Expansion Slots
One PCI Express x16 slot
One PCI Express x1 slot
Two PCI slots
Rear-Panel I/O
PS/2 keyboard and mouse connectors
LPT port
VGA output
HDTV/TV output
Four USB 2.0 ports
IEEE 1394 port
Gigabit LAN RJ45 port
Board Layout

---
The GA-K8N51PVMT-9 uses Gigabyte's typical blue PCB and primarily yellow and gold components, as well as other multicolored slots for easy identification. The RAM slots are colored to make it easy to identify which slots correspond to each memory channel. The chipsets use Gigabyte's typical eye-catching gold heatsinks.
Looking at the top-right corner of the board, you can see the RAM slots, floppy disk connector, two IDE connectors, and the 24-pin ATX power supply connector. I have never been a fan of this placement for the PSU connector, as in smaller cases it requires the power supply cable to be run completely across the board and in particular across the CPU heatsink. In larger cases, it isn't as much of an issue as the PSU is higher up, but that isn't this board's target market. Another problem that pops up in this area of the board is that the bottom DIMM slot clips bump into almost any video card. The clips won't even open with the video card installed, so changing out memory requires removal of the video card.
Looking to the left, we can see that the area around the CPU socket is fairly crowded. Immediately to the left of the heatsink retention mechanism are a row of capacitors and inductors, and immediately below the heatsink mounting area is the northbridge heatsink. Any heatsink larger than the AMD stock heatsink could possibly run into issues. Fortunately these components aren't all that tall, so heatsinks designed to clear components around the socket area could possibly still fit.
Moving on to the area just below the northbridge, we see the PCI Express and PCI slots. The first thing you'll notice is that there isn't much space between the PCI Express x16 slot and the PCI Express x1 slot. Any video card that requires two slots will completely block the PCI Express x1 slot. This isn't much of an issue for most people as there aren't many PCI Express x1 devices out there, but it is something to keep in mind. Finally, off to the right we see the southbridge, two USB headers, and the four SATA II ports.
Keep in mind that a lot of the aforementioned issues are unavoidable; Gigabyte is working with a small form factor, as their target market is smaller PCs. Expanding the CPU socket area, making more space between the video card and DIMM slots, or making room between the two PCI Express slots would have required more real estate, which micro-ATX boards just can't afford. All things considered, I think that Gigabyte did a great job in making the most of the available space, but I think these issues are important to note for enthusiasts looking for an upgrade.
Finally, let's take a look at the rear ports. There isn't really much out of the ordinary here, with the exception of a few things. Gigabyte has included PS/2 keyboard and mouse connectors, four USB ports, one IEEE1394 (FireWire) port, one gigabit Ethernet port, and six audio (four speaker line-outs, one line-in, and one microphone) outputs.

One quibble I have with the assortment of ports is the use of a VGA out instead of a DVI port. This limits the board's use for corporate desktops, as a large number of corporate workstations are moving to LCD monitors. This may not matter to a lot of people as a large number of people still have CRTs, but if you have a DVI-equipped LCD and want to take advantage of the onboard video then this is definitely something you'll want to keep in mind.
Bundle

---
Being a budget board, the GA-K8N51PVMT-9's bundle is rather sparse. The package includes the following:
The GA-K8N51PVMT-9 board
User's manual
Software driver/utility disc
One IDE cable
One floppy drive cable
One Serial ATA cable
The HDTV/TV-out module
Rear I/O panel cover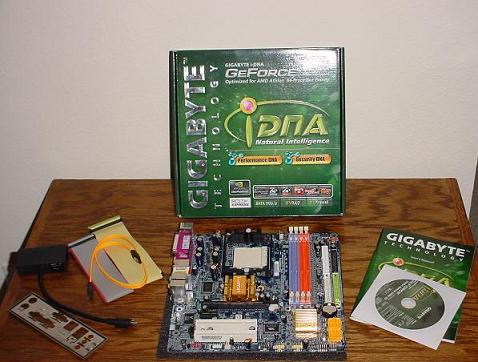 The only notable inclusion is the HDTV/TV-out module, allowing the use of component video cables or an S-VIDEO cable to connect to a television.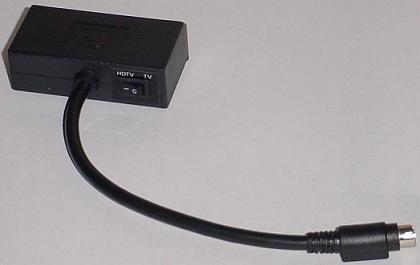 Installation & BIOS
---
Installation Notes
There wasn't anything noteworthy about the physical installation. If you've ever built a Socket 939 system before, there's nothing out of the ordinary here. As far as driver installation goes, I found that the Realtek Hi-Def Audio driver on the disc for Windows XP x64 didn't work properly. The latest driver off of Realtek's website worked fine. Another problem is that I had some serious image quality issues with the included video drivers and my Dell 2405FPW. Everything seemed really blurry when running at 1920×1200. Downloading the latest nForce 430 drivers from NVIDIA's website cleared the problem up for the most part. The image was still a little blurrier than I'm used to, but more than likely it was just the analog VGA connection and not an actual problem with the board or drivers. Apparently, I've been spoiled by DVI.
BIOS
The GA-K8N51PVMT-9 uses the Award BIOS that we all know and love. There aren't any special tweaking menus, which should be no surprise on a board like this. Most of the tweaking options are hidden initially. After pressing Ctrl+F1 on the main BIOS screen, a lot of the options became unlocked. Still, the BIOS is incredibly sparse. There are no voltage adjustments, and the memory frequencies are locked to the standard DDR frequencies. It also doesn't have a voltage readout, just a bunch of status lines that say "OK" if the voltage is within Gigabyte's tolerances. The "CPU bus" frequency is adjustable by 1 MHz increments from 200 to 300 MHz; the PCI Express frequency is adjustable in 1 MHz frequencies; and the clock multiplier is adjustable between five and the processor's default multiplier. One issue I had is that my XMS 3200's memory frequency was detected as 133 MHz, and had I not checked this frequency in the unlocked settings, I never would have noticed it. It would have been nice for the memory frequency to have been shown on the POST screen. For that matter, it would have been nice if Gigabyte would just dump this whole Ctrl+F1 thing altogether.
Performance – Productivity Comparison

---
First, we'll start with the productivity benchmarks, using PCMark05. Note that I didn't run the graphics suite, as I don't have the components necessary to make an apples-to-apples comparison. The tests were run with the onboard video and with an add-in card to give you an idea of how much the onboard video will hamper performance in non-graphical applications. My test systems were as follows:
Test System 1
Athlon 64 3500+
Gigabyte K8N51PVMT-9
1.5 GB Corsair XMS3200C2
Antec TrueControl II 550 W PSU
Western Digital Caviar 80 GB 7200 RPM ATA100 with 8 MB cache
Western Digital Caviar 120 GB 7200 RPM SATA with 8 MB cache
Onboard sound and Ethernet
Onboard GeForce 6150 graphics
Windows XP x64 Edition SP1
Frame buffer size set to 16 MB
Test System 2
Athlon 64 3500+
Gigabyte K8N51PVMT-9
1.5 GB Corsair XMS3200C2
Antec TrueControl II 550 W PSU
Western Digital Caviar 80 GB 7200 RPM ATA100 with 8 MB cache
Western Digital Caviar 120 GB 7200 RPM SATA with 8 MB cache
Onboard sound and Ethernet
Sapphire Radeon X1900XTX
Windows XP x64 Edition SP1
Comparison System
Athlon 64 3500+
Gigabyte K8NSNXP-939
1.5 GB Corsair XMS3200C2
Antec TrueControl 550 W PSU
Western Digital Caviar 80 GB 7200 RPM ATA100 with 8 MB cache
Western Digital Caviar 120 GB 7200 RPM SATA with 8 MB cache
Onboard sound and Ethernet
ATI Radeon X800XT Platinum Edition
Windows XP x64 Edition SP1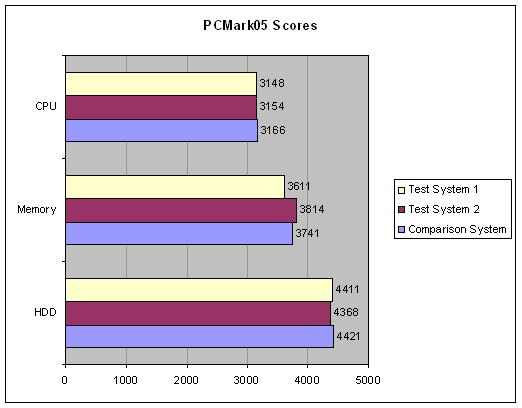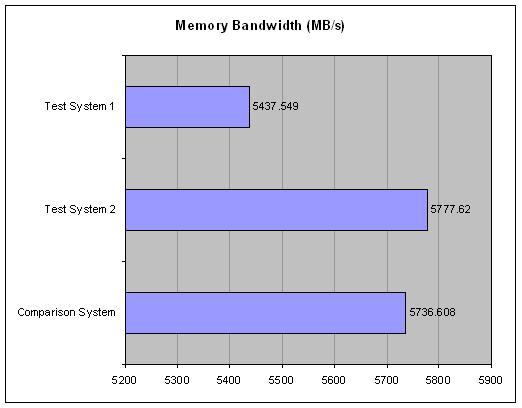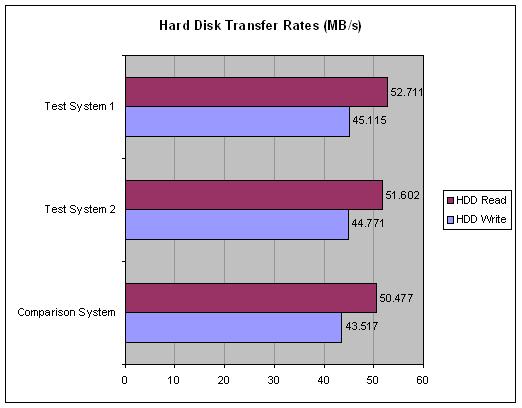 The benchmarks with an add-in video card were pretty much what you'd expect, a slight improvement over the nForce3 Ultra. The CPU score seems to buck that trend, but the scores are easily within the margin of error. The slight increase in the hard drive score is the most notable improvement here, as hard disk transfer rates would be the bottleneck in most of the applications that a board like this is suited for.
As expected, onboard video does consume a bit of memory bandwidth, but not enough to make it unsuitable for use on the corporate desktop or in a media center. The decrease in memory bandwidth doesn't appear to bottleneck the CPU in any way.
Performance – Gaming Benchmarks and Impressions

---
The following is a set of benchmarks and impressions of games running at their highest playable settings on the GA-K8N51PVMT-9's onboard video. Note that the frame buffer settings were adjusted to 128MB for the gaming tests.
Half-Life 2
We'll start the gaming tests with Half-Life 2. The Source engine is the most scalable of the modern engines, so it's definitely a good place to start. Below are the results for what I consider to be the highest playable setting, 800×600 at default settings, and the next step up, which is 1024×768 at default settings.
| | | |
| --- | --- | --- |
| Resolutions | Average | Variability |
| 800×600 | 35.72 FPS | 2.866 FPS |
| 1024×768 | 24.40 FPS | 2.429 FPS |
As you can see, at high quality settings with reasonable resolution Half-Life 2 is completely playable. There isn't really any power to spare, but the GeForce 6150 does get the job done. Stepping up to 1024×768 pretty much renders the game unplayable. It will run at that resolution with lower graphical settings, but the poor graphical quality really harms the experience. So if you want to play Half-Life 2 sitting on the living room sofa on your media center PC then this board will suffice. Then again, an Xbox will get the job done as well.
F.E.A.R.
On the high-end, we'll move on to F.E.A.R. This game taxes any system at higher settings, so let's see if it's even playable using on-board video. The resolution was set to 640×480. All optional graphical details were set to minimum for this test, with the exception of pixel doubling, which was left off.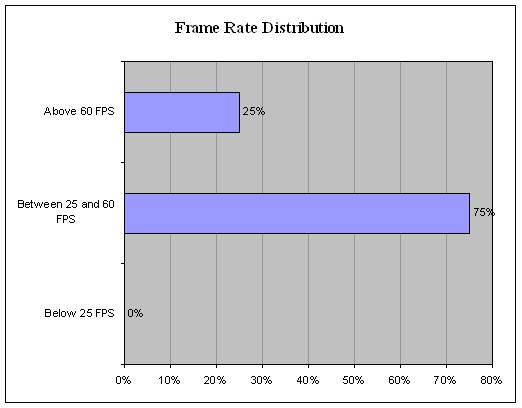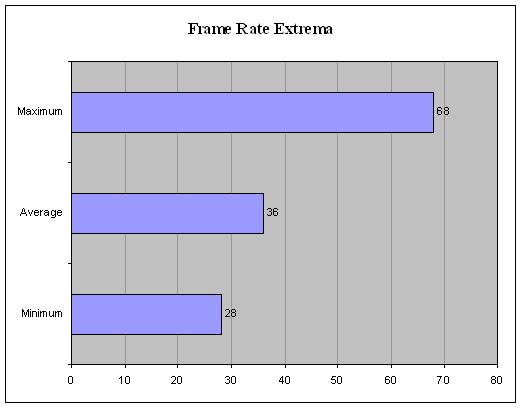 As you can see, with absolutely every graphical bell and whistle disabled, F.E.A.R. still barely exceeds the 30 FPS mark. Granted, this is perfectly playable, but at these settings, is this really F.E.A.R. anymore? F.E.A.R. is about ambience and the play between light and shadow, and at these settings, there aren't even any shadows! If you want to play this one while sitting on the living room sofa, you'll have to get an add-in card and most likely some additional ventilation.
Civilization 4
Getting away from first-person shooters for a few minutes here, we'll turn to Civilization 4. Civ can't really be counted on to provide reliable benchmarks, so we'll put this one in the "impressions" category. The framerate in Civilization definitely doesn't stay above the 30 FPS mark, but in a turn-based strategy game that threshold isn't as important. The game is very playable, but like with the other two games, it isn't the smoothest experience. Still, if a system based on this board is all you have around and you're craving some Civilization, the onboard graphics will get the job done.
Impressions

---
There's nothing worse than having your work PC crash, with the exception of course of having your media center PC crash, so stability is the most important factor when looking at a board like this. Fortunately, the GA-K8N51PVMT-9 is a solid performer. After over a week of using the board for gaming, programming, and office use, my system hasn't crashed on me a single time.
In terms of subjective performance, the system is extremely responsive under normal use and boots up reasonably quickly. The small amount of memory bandwidth that the onboard video consumes doesn't seem to be noticable in day-to-day use.
Conclusion

---
The Gigabyte GA-K8N51PVMT-9 isn't an enthusiast's dream; it's not meant to be. It was meant to be in a small media center device or in a workstation, and it does it well for the most part.
The one glaring problem is the lack of any sort of digital video output for the integrated graphics chip. The missing DVI port could be a problem for corporate desktops, as more and more businesses are switching to LCD displays for their workstations. For the media center market, the board is just about perfect. HDMI output would be nice, but component video is adequate for almost any media center. The Realtek High Definition 7.1 channel audio should please most media center users.
So basically what it boils down to is that this board is perfect for the media center, requiring no add-in components to get a system running. Gaming media center devices, however, will require an add-in video card for running anything other than old standbys like Unreal Tournament 2004 or Warcraft III. The GeForce 6150 is probably the fastest desktop integrated video out there, but it's not the holy grail of computer graphics. Gamers will just have to continue dealing with large, expensive, hot, and loud add-in cards for the time being.
Pros:
+ Stable
+ Almost an entire system crammed into one board
+ Attractive pricing at about $80
+ Small form factor
+ Realtek ALC880 audio
Cons:
– Crowded CPU socket
– Graphics card crowds the DIMM slots
– Lack of BIOS features, even for a non-tweaker's board
Final Score: 8 out of 10