Leadtek Research, Inc. well known for their line of video cards also manufactures TV capture devices. It is indeed our fortune to review their newest external capture systems, the WinFast Walkie TV.
Introduction
TV capture is a small yet very popular subset of the ongoing multimedia frenzy. Almost every major video card manufacturer currently markets either cards that are dedicated solely to TV tuning/capture or combination cards that allow the user to view TV and capture it in various video formats in addition to the card's graphics capability. Initially, most of the offerings were internal cards that fit in either an AGP or PCI slot in your desktop PC. More recently with the boom in laptop sales, manufacturers have introduced small, efficient external boxes that are virtually unlimited in their function.
These compact devices offer not only excellent solid state tuners that are quick and reliable, but also a vast array of capture features allowing you to use your computer much in the same vein as the considerably more expensive devices such as TIVO™. Video editing software of various types is usually packaged with the device to allow the user to manipulate the video capture to his/her liking.
Leadtek Research, Inc., well known for their quite successful line of video cards, also manufactures several internal cards as well as stand alone TV capture devices. It is indeed our fortune today to review one of their newest external capture systems, the WinFast Walkie TV.
Features…WinFast Hardware
True hardware MPEG 1/2/4 encoding:   Freeing up your CPU loading
DirectBurn:   Capture video directly from external video devices to DVD/SVCD/VCD ¡V saving both time and valuable hard-drive space
De-interlacing:   Produce the highest quality fast-motion videos, with no noise or flickers on the edge of objects in motion
Picture in Picture:  With one picture for live and the other for captured images, the sub screen can be displayed anywhere in any size, and the main and sub screens can be easily alternated.
Scheduled Power-up:  Schedule your TV recordings on a daily, weekly or once only basis, and select Stand by/Hibernate (S3/S4) mode for scheduled power saving.
Time-Shifting:  Interrupted during your favorite show? No problem! Use the Time Shifting function and then on your return you can choose to view the part you missed, or you can search for a particular scene.
Support worldwide analog TV standards:   Including NTSC, PAL, and SECAM
Support worldwide audio decoding standards:   Including NICAM, A2, MTS, BTSC, and EIAJ
Remote control:   With TV-like power-on and off functions
Features…WinFast PVR Software
WinFast PVR Version 3.0.10.79
Supports closed captioning.
Supports MPEG1, MPEG2 codec, and MPEG4 compression format. Note:   The MPEG4 codec can be downloaded from some websites for free. You can download the codec and use it in your capture format profile.
Picture-in-picture screen with easy switch between main and sub screen.
Time Shifting support that allows you to view recorded video when the recording is still in progress.
Scheduler for pre-set recording and power-on.
Delicately designed software saves time in running the applications.
Unique Signal Indicator on the margin of screen.
Multi-function and quick-response software supports MP3, MIDI and many other different kinds of image formats.
Synchronously records live radio and plays recorded file.
Allows ten preset FM channels.
FM and TV applications can record the video and audio from any device connected with your capture card and sound card such as CD-ROM, VCR, camcorder, and a LDNCD/DVD player.
De-interlacing support for high quality video.
Packaging, Tuner, & Bundle
The Leadtek WinFast Walkie TV comes as one might expect in quality secure packaging.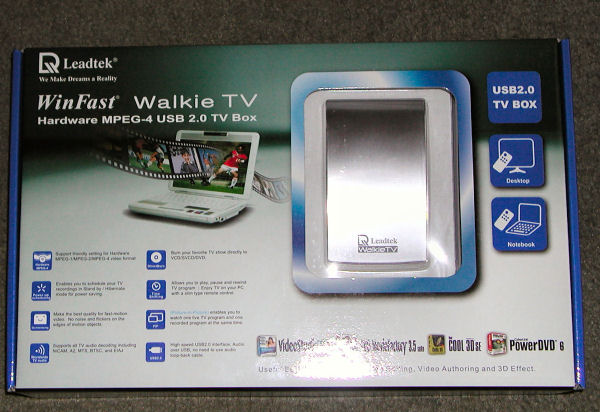 The tuner casing is extremely neat and stylish. Its actual size is just over half that of a typical 3.5 inch hard drive.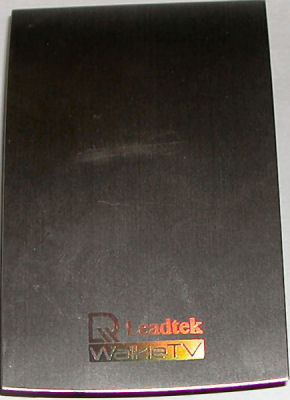 Top View

Side View

Rear View
Contents
WinFast TV Tuner
Slim type remote control
Power adapter connector
1 RF TV source reception
1 mini USB connector
1 MiniDin 9 pin for Video and Audio input
Software:
The remote control was extremely interesting from the standpoint it was completely full functioned and precise, while only being about the size of a regular cigarette pack and less than a 1/4″ in depth.
The accompanying software bundle is more than adequate to accomplish any video editing task that you might want to undertake.
Installation
This installation was extremely easy for a device of this type. First, attach your antenna/cable coax connection to the provided adapter and then to the marked input on the tuner. Next, attach the power adapter and mini end of the USB cable to the the tuner's remaining marked connectors. Plug the other end of the USB cable into any open USB 2.0 slot on your computer, and plug the power adapter into any 110 volt AC outlet. If you're running Windows XP, as was the case on my test system, your computer will immediately recognize the new USB device and ask for a driver's location. Simply cancel this operation, insert the WinFast PVR software CD into an available drive, and allow it to install. After a reboot, you're ready to surf in "TV Land"! I'm serious! The latest version of the software automatically scans your input source for all available channels and automatically takes you to the first available channel.
Operation & Performance
Next, we will take a look at the operation of the system and the function of some of the more noteworthy features. As all control of the system takes place in the various Control Panels, that seems like the most logical place to start.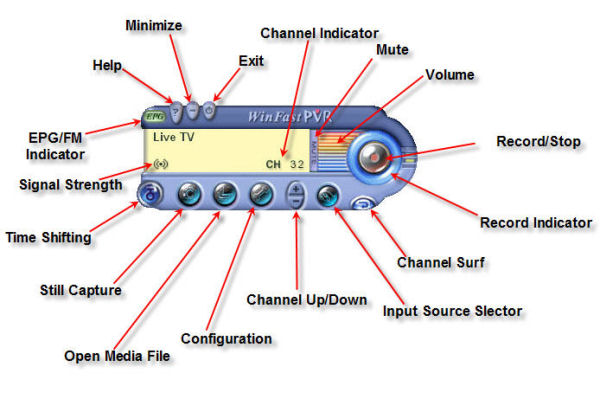 Live TV Control Panel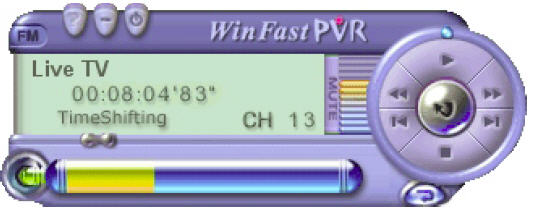 Playback Control Panel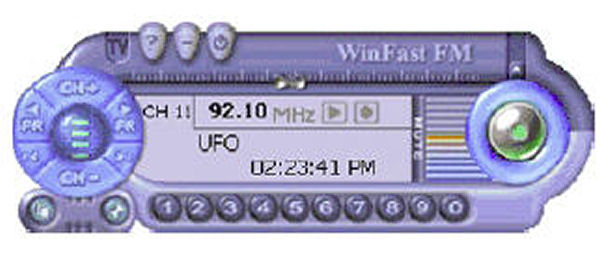 FM Control Panel
(Not Applicable to Walkie TV)
The WinFast PVR software allows you to view a complete list of available channels and from that list select your favorites.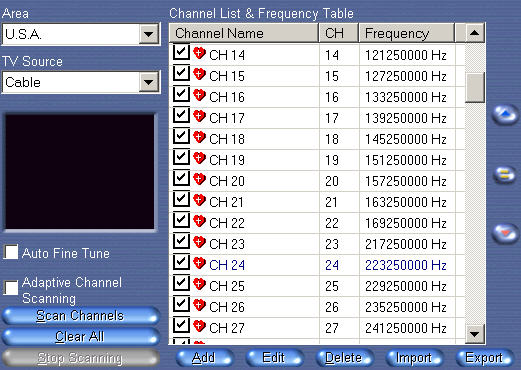 The next two images are of the Capture Options screens. The first shows the available capture modes in a drop-down menu. You will notice that MPEG 4 is not an available option even though supported by the software. I was disappointed that the MPEG 4 codec was not included in the package and is the responsibility of the user to find, download, and configure.
The second image shows the remaining options that were hidden below the drop-down menu.
Channel Surfing is an extremely neat feature. It allows you to view a mini image of the video taking place on that channel, and you can display as many channels as your system screen size will allow.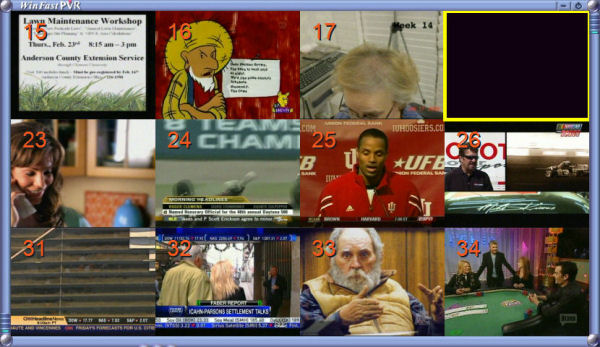 Time Shifting is probably my favorite feature on the software. Time Shifting is a type of recording that enables you to view, rewind or stop the playback of recorded video when its recording is still in progress. This function is used mainly when the viewing of a TV broadcast is interrupted, and you do not want to miss any of it. By clicking the Time Shifting button, you start recording the TV broadcast; when you return, you can choose to view the part you have missed or search for what you want to view while the TV broadcast is still playing.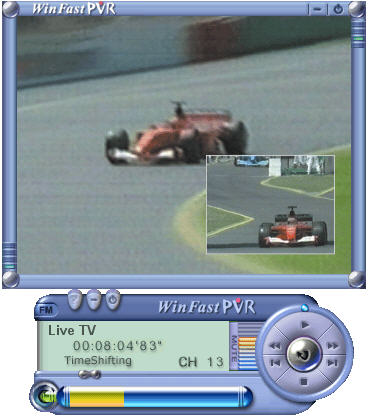 Picture-in-picture allows the user to view the action on two screens at once with the secondary smaller screen being meshed into the primary screen.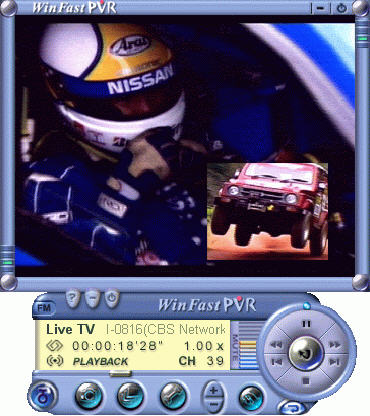 Finally, a few still shots taken from live TV at 640 X 480 to show the image quality.
Impressions & Conclusion
Leadtek has once again produced its usual high quality product that users have come to expect. There are, however, several small things worth mentioning that I feel would have helped make the Walkie TV capture system even better. As I stated earlier in the review, the inclusion of the MPEG 4 codec would have greatly enhanced the program's worth. There are also a number of other capture formats that might bear strong consideration for inclusion in future iterations of this product.
I had difficulty finding this product at any of the major retailers in the US. I did find it at a Canadian retailer, Logic Computer House for a price of $145.99 CAD which would convert to approximately $125.00 USD. As feature-laden as this product is, I still find that price to be a bit steep.
I only highlighted my favorites amongst the vast array of features provided in the WinFast Walkie TV. There are numerous others that had I elaborated on would have made this review way too long to hold your interest. I should also note for the record that I'm sure my screen captures do not do the product product image true justice as my cable system still requires analog conversion to digital. True digital cable would have probably presented an even better representative sample. Leadtek also claims this device has the fastest channel surfing available; I found no evidence to the contrary to contradict this claim.
Overall, this is an excellent product and quite worth your consideration for purchase if you are looking for a complete TV/video capture system, although those of us stateside might have a bit of difficulty finding it at this point in time.
Pros:
+  Easy and fast setup
+  Channel Surfing
+  Picture-In-Picture
+  Direct Burn to DVD, HD, or VCR
+  Time Shifting
+  Bundled video editing software
Cons:
– Price
– MPEG 4 Codec not provided and configured
Final Score: 8 out of 10 and the Bjorn3D Seal of Approval